Upstairs at The Gatehouse | 11th December 2019 – 26th January 2020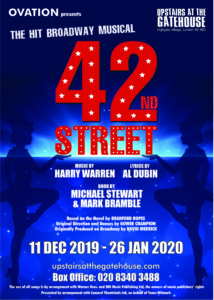 Music by Harry Warren 
Lyrics by Al Dubin
Book by Michael Stewart & Mark Bramble | Based on the Novel by Bradford Ropes
Director: John Plews
Producer: Katie Plews for Ovation
Choreographer: Simon Adkins
Musical Director: John Reddel
Designer: Emily Bestow
Casting: Pearson Casting
42nd Street tells the story of Peggy Sawyer, a talented young performer with stars in her eyes. She arrives in New York City from Allentown, Pennsylvania, armed with her tap shoes and big dreams. When the leading lady drops out of the show, Peggy gets her big break on Broadway.
Musical numbers include: 'We're in the Money', 'Lullaby of Broadway', 'You're Getting to be a Habit with Me' and the title song, '42nd Street'.
Cast
Alex Wadham – Julian Marsh

Training: Guildford School of Acting (Postgraduate Acting Prize Winner) and Aberystwyth University.

For Ovation: High Society and Buddy: The Buddy Holly Story.

Theatre credits include: A Midsummer Night's Dream (Oddsocks), Next To Normal (Vienna's English Theatre), Beauty and the Beast (Salisbury Playhouse), Wardrobe In Concert (Sands Films Studio), The Full Monty (Old Joint Stock, Birmingham), I Love You, You're Perfect, Now Change (The English Theatre of Hamburg), V For Victory (Stockwell Playhouse), Company and Cabaret (Aberdeen Arts Centre), Eyes Closed, Ears Covered (Bunker Theatre), Sunny Afternoon (UK/Ireland Tour), The Mousetrap (UK Tour), Beauty and the Beast (The Capitol, Horsham), Cinderella and A Christmas Carol (Lichfield Garrick), Rapunzel and the Rascal Prince (Theatre Royal, Bury St. Edmunds), Wind in the Willows (UK Tour), If I Were You (UK Tour), On The Rocks (Pentameters Theatre), AngelRust (The River People/Edinburgh Fringe) and Crazy For You (London Palladium).

Film/TV credits include: Paratrooper (TV series in production), The Expert (Web Series for Film 0.1), Reading for Survival (48hr London Sci-Fi Film Festival), One More Kiss, Dear (Long Water Films) and The Science of Attraction (Channel 4/Objective Productions).

Other credits include: Lead Soloist (AIDA Cruises 2013-14) and Lead Soloist (Brick Lane Music Hall).

Charlie Burt – Maggie Jones

Training: The Royal Central School for Speech and Drama, and Trinity Laban Conservatoire for Music and Dance.

Theatre credits include: Myrtle Wilson in The Great Gatsby (Guild of Misrule, London / Brussels), Autolycus in The Winter's Tale (Minack Theatre); Elle in OfWed (Theatre 503); Dancer in Heavy Metal (Broadway Barking / Electrowerkz); Mary in Life On Toast (Waterloo East Theatre); Mrs Smythe/Ensemble in A Christmas Carol (Stockwell Playhouse); Jack in Jack of the Beanstalk (Tour), Elaine in Love is not a Science (Royal Central School for Speech and Drama).

Television & Film includes: Featured Dancer in The Little Stranger (Element Pictures); Dancer in Our Dancing Town (BBC Two).

Christopher Foley – Pat Denning / Willard

Training: Laine Theatre Arts

Recent credits include: Ensemble in Jack and the Blingstalk (Harold Pinter Theater), Danny Zuko in Grease (RCCL), Ensemble/Understudy Smee in Peter Pan (Hull New Theatre), Ensemble/Understudy Wishee Washee in Aladdin (YAT, Guildford)

Credits whilst training: Robert in Company (LTA) 

Christopher Hewitt – Abner Dillon / Frankie

Training: The Urdang Academy

Theatre includes: Pierre in Beauty and the Beast (Harrow Arts); Cap'n Turbot in Nicoelodeon's Paw Patrol Live!: The Great Pirate Adventure (UK Arena Tour); The Sheriff of Nottingham in Lionel Bart's Twang!! (Union Theatre); Disaster! The Musical (Charing Cross Theatre)

Workshops include: Tainted: A New Musical (The Vaults)

Credits whilst in training: Man in Chair in The Drowsy Chaperone (Pleasance Theatre), Nostradamus in Something Rotten!, Sir Robin in Spamalot and John Jasper/Clive Paget in The Mystery of Edwin Drood (Urdang Academy)

Twitter: @chrishewittuk

Ethan Tanner – Andy Lee

Training: Laine Theatre Arts

Theatre includes: Cover Toni Manero in Saturday Night Fever, Ensemble in Dick Whittington (The New Wimbledon Theatre), Ensemble in Robin Hood (Milton Keynes), Lead Vocalist on RCCL (Spectrum Of The Seas)

Helen Rose – Phyllis Dale


Training: Bird College

Credits include: Last Night in Soho (Feature Film); Len Goodman's Tea for Two for Children in Need (BBC); Dick Whittington (Theatre Royal Plymouth); Capezio Fashion Show (Move It); The Gatsby Girls; Nicola Mac & The Queens.

Jessica Wright – Lorraine Flemming

Training: Performers College

Theatre credits include: Susan Parks in Billy Elliot the Musical (Victoria Palace Theatre), Leading Player in Godspell (St Paul's Church, Covent Garden).

Other credits include: Dancer at NFL final (Wembley Stadium for Mass Movement), Dancer at The Antony Nolan Trust- Daisy Ball (for Brian Rogers).

Credits whilst training include: Penelope Pennywise in Urinetown (Stratford Circus), Romaine Patterson, Aaron Kriefels, Tiffany Edwards in The Laramie Project (John Brant for Performers College), Sheila Bryant in A Chorus Line, Alice/ Ensemble in Thoroughly Modern Millie.

Josef Pitura-Riley – Oscar (On-Stage Pianist)

Training: The BRIT School

Theatre credits include: Between Us – Composer & Musical Director (Jermyn Street Theatre & UK Tour); Donnie in Save The Last Dance For Me (UK Tour); Jeremy/Paul McCartney in Dreamboats And Miniskirts (UK Tour); Jeremy (understudy Andy) in Dreamboats And Petticoats (UK Tour); Show Me The World (Theatre 503, Edinburgh Fringe); The Human Comedy (The Young Vic); Leo Frank in Parade (Rhoda McGaw Theatre); Oklahoma! (The Obie Theatre); Siegfried and The Cunning Little Vixen (Royal Opera House) and On Red Hill (The Tabard Theatre).

Film credits include: REWIND; Wacker; Another Mother's Son; Playing The Moldovans At Tennis; Siegfried and Memory Run.

Josef is the composer of Between Us: A New Musical, which premiered at The Jermyn Street Theatre in 2018 before embarking on a short tour in early 2019. He is also an upcoming Singer/Songwriter and has released two EP's of original songs on iTunes and Spotify, with a third due for release in early 2020.

Kate-Anne Fenton – Peggy Sawyer

Training: Bird College

Theatre credits include: On Stage Swing/Flute in the UK tour of Crazy For You (Watermill/JWP Productions); Ginnie/Sister in Goodnight Mister Tom at the East Riding Theatre; Ensemble/Understudy Princess in Aladdin (Qdos) at Venue Cymru Llandudno; Spirit of The Dance UK tour; At The Movies – A life In Pictures at Bridlington Spa Theatre; Movement director for Under Milk Wood Malvern Theatre Young Company/ Edinburgh Fringe (Nic Lloyd).

Television credits include: Don't Miss Out for Sky Sports Ireland 2019. Queen Elizabeth I in The World's Greatest Mysteries, a documentary for TX Japan (TBS Network).

Workshops include: Love Dyed in 8 Shades of Purple (Beverley Andrews/Abigail Pickard Price)

Credits whilst training: Eileen Sherwood in Wonderful Town; Minnie Fay in Hello Dolly

Rory Shafford – Billy Lawlor

Training: The Urdang Academy

Theatre includes: Mike/Ensemble in Oklahoma! (Chichester Festival Theatre).

Theatre whilst training: Glen Guglia/Understudy Robbie Hart in The Wedding Singer (Rob Archibald / Jane McMurtrie / Michael Cotton); Billy Flynn in Chicago (Regan Shepherd).

Concerts: Featured Dancer in West End Does Christmas (Cadogan Hall); Featured Dancer in West End Does Halloween (Fortune Theatre).

Samantha Noel – Ann Reilly

Training: Bird College

Theatre credits: Ensemble / Understudy Molly, Ghost (UK & International Tour); Gertie Cummings, Oklahoma (Gordon Craig Theatre); Ensemble, The Producers (Gordon Craig Theatre); Rapunzel, Rapunzel (Gordon Craig Theatre); Ensemble, Jack and the Beanstalk (Theatre Royal Windsor); Kara, Santa Claus and the Night Before Christmas (Wimbledon Studios); Handmaiden (Cover Narrator), Joseph and the Amazing Technicolor Dreamcoat (UK Tour); Lead Vocalist, Headliners (P&O Cruises); Solo Vocalist, Thomson Gold. College credits include: Hooray for Hollywood!, The Dance of Bollywood, Anita, West Side Story, Chess, Broadway Then and Now, Burlesque and Other Distractions.

Tamsin Dowsett – Dorothy Brock

Training: Royal Academy of Music

Theatre: Locket Crone/Cover Madame Thenardier in Les Miserables: The Staged Concert (Gielgud Theatre), Peggy in Jeff Wayne's The War Of The Worlds: The Immersive Experience (Dot Dot Dot); Myrtle Grimsby in Brass The Musical (Union Theatre); Officer B in Inside Pussy Riot (Les Enfants Terribles); The Queen of Hearts in Alice's Adventures Underground (Les Enfants Terribles); Crone/Cover Madame Thenardier Les Misérables (Queen's Theatre); Lead Vocalist in Alex Parker's Sondheim: Smiles on a Summer Nice (Cadogan Hall); Pitti-Sing in The Mikado (Congress Theatre); Fairy Sprout/Fairy Drought in Jack and the Beanstalk (Oldham Coliseum Theatre); Mrs Lottie Child/ Patricia in Crazy for You (Upstairs at the Gatehouse); Grace 'Lambchops' Lamb in Fame (Gordon Craig Theatre); Tiger Lilly in Peter Pan (Tabard Theatre); Lucy in Do Us Part (Hampstead Theatre); Mummar Anne in A Little Neck (Hampton Court Palace); Kid in First Time Voters (Bush Theatre); Lead Vocalist in Licence to Thrill (02 Arena); Vocal Captain in The Olympic Handover Ceremony (The Bird's Nest Stadium, Beijing).  

@tamsindowsett

Tom Lowe – Bert Barry

Training: Bird College

Theatre credits whilst training include Eddie in Sister Act and Dancer in Skin a Cat (Bunker Theatre, London Bridge).

TV credits include The Lord Mayor's Show 2019 and X-Factor Live Semi Final.
Band
John Reddel – Keys (Musical Director)
Matthew Hinchliffe – Woodwind
Tomyr Warcaba-Wood – Trombone
Jonny Munn – Trumpet
Jess Martin – Double Bass
Liam McCloud – Drums
Creatives
Director: John Plews
Musical Director & Arranger: John Reddel
Choreographer: Simon Adkins
Set & Costume Designer: Emily Bestow
Lighting Designer: Sam Waddington
Sound Design & Production Manager: Chris Silvester
Head Carpenter: Gary Swain
Assistant Director: Adam Crossley
Assistant Choreographer: Christina Shand
Stage Manager & Lighting Operator: Ally Southern
Sound Technician: James Thorne
Associate Lighting Designer: Paige Leaf-Wright
Voice Coach: Eleanor Boyce
Poster Design: Mary Musker
Set Builders: Michael Ranson, Helen Caulfield, Lee Elston
Assistant Stage Manager: Zoe MacKinnon
Costume Assistants: Polyanna Elston, Rachael Ryan, Kirsten Reichanbach
Casting: Pearson Casting
Photographer: Darren Bell
Producer: Katie Plews

Photos
by Darren Bell
Reviews
Richard Lambert, Theatre Reviews ★★★★★

★★★★★

Once again Ovation has pulled out all the stops to create an amazing musical on the Fringe. Take one of the biggest Broadway shows ever produced and squeeze it into a London Pub Fringe Theatre. Could it work?

Oh yes! It does! It's brave, bold and very exciting!

With a cast of 13 the stage is awash with fast swirling dancers and costumes.

From the Opening Tap-Dancing number to the Finale it's an upbeat sensation. Everyone has done a superb job on this production – Set and Costumes (Emily Bristow), Choreography (Simon Adkins), the band (John Reddel), the Director (John Plews), and all held together by Stage Management (Ally Southern).

One of the busiest departments for any large-scale musical is always going to be the lighting. It needs 100s of lighting Cues, each one individually painted, with timed changes that match the live action, the music, the blocking. Put this into a traverse theatre which adds the complication of the audience view point being skewed, along with the possibility of the audience being blinded by the additional lighting angles needed. A true master of this is Sam Waddington.  Many well-known West End lighting designers could learn a thing or two from the lighting shown here on 42nd Street. Glorious lighting throughout. The colour addition at exactly the right moment for the Feather Costumes' entrance – truly crafted from a very talented lighting designer!

But any show still needs a wonderful cast and no disappointments here! Every single cast member has full-on charisma, performance, and triple threat skills! No doubt there were 100s of applicants to be cast in this wonderful production and Ovation have been spot-on in their choice!

Absolutely adored this gem of a show!

Howard Loxton, The British Theatre Guide

Another Sparkling Success for Ovation

This zippy-zappy, tappy-happy 42nd Street is another sparkling success for Ovation, which has the knack of taking a big show and packing it into a small space to deliver great entertainment.

With relatively simple scenic elements at either end of traverse staging, the lack of West End glitz may give a deceptive impression to an incoming audience, but showbiz takes over when the band strikes up. As the bare stage fills with dancing feet and colourful costumes, it's irresistible.

It is pretty daring of Ovation to mount this fringe première so soon after a lavish Drury Lane production, but the result turns out to be a Christmas treat.

Of course, it helps that this tale of a shy youngster from Allentown, Pennsylvania, who can hardly pluck up the courage to enter the stage door and misses her audition, is packed with lively numbers. "Lullaby of Broadway," "Keep Young and Beautiful," "I Only Have Eyes For You" and "You're Getting to Be a Habit With Me" are all in this show as well as the title number for, though based on the 1933 movie and the original novel, the stage version added other songs Warren and Dubin had written (including "We're in the Money," shoehorned in rather awkwardly). As we follow Miss Peggy Sawyer's progress from chorine to new star, they get sung with gusto and danced delightfully.

Kate-Anne Fenton as Peggy arrives open-mouthed but faces rejection until rescued by Rory Shafford's Billy Lawlor (rich-voiced and romantic as befits the leading man of Pretty Girl, the new show which is starting rehearsal) and then gets into the chorus. With Fenton's fizzing feet, you see why she gets promoted to lead when star Dorothy Brock (who's not much of a dancer) is injured.

Tamsin Dowsett's Dorothy might be choreographically challenged but hey, this caustic diva can sing! Her silly ass ageing admirer is a caricature character that gets a matching performance from young Christopher Hewitt, but Alex Wadham brings humanity to Pretty Lady's hard-nosed director as he appreciates Peggy's talent. Charlie Burt gives a vivid performance as the show's writer and there is strong support from the whole company who deliver Simon Adkins choreography with aplomb.

The plot may be rather a cliché, but Emily Bestow's costumes providing lots of glitz, great songs and the fast-tapping feet of the talented cast all come together under John Plews's direction to give him another success to celebrate. These thirteen hardworking performers (chosen after auditioning 200 out of 700 who applied for the show) do themselves credit providing a show that fizzes and is full of fun.

View the original review at The British Theatre Guide


Richard Osley, Camden New Journal ★★★★★

★★★★★

If you were lucky enough to see the spectacular, big budget 42nd Street in Drury Lane before the Theatre Royal closed for refurbishment, you may be wondering what they are smoking up in Highgate village, where they are putting on their own version with a cast of 13 in the slightly more intimate arena of the Upstairs At The Gatehouse theatre.

But the challenge is conquered with beautiful simplicity, tight tap choreography and stunning individual performances. It should come as no surprise; this theatre always produces a classy alternative to panto season at Christmas by lovingly reimagining some of our favourite musicals.

Almost mocking its own story, Sheena Easton and Lulu were celeb ticket-sellers in the role of Dorothy Brock in the West End, but Tamsin Dowsett's power voice stretches her take beyond the grouchy diva norm. You'd pay to hear her sing alone.

The story goes that Brock is cast in a hopeful production called Pretty Woman, only to be catastrophically injured when accidentally stepped on by small-town girl Peggy Sawyer on opening night. Sawyer despondently begins to trudge back to the station, her dreams shattered, but, wait, you can guess the rest…

There is wonderful melodrama, lots of people shouting that the show is cancelled with one breath or the show must go on with another, while perking themselves up with eye-popping set pieces.

We're in the Money and The Lullaby of Broadway, everybody's favourites, are delivered using every inch of a smart set. Then there's more of Dowsett's ballads. It's a perfect mix.

And while Drury Lane had zillion pound revolving mirrors and squads of dancing girls, who could afford the front row seat to watch it all up close? Here in Highgate, you're so near to the action, you really see how hard this cast is working.

This is five stars. I'd go again.

Deborah Jeffries, London Pub Theatres ★★★★.5

★★★★.5

Ovation's annual festive show is always a feel-good celebration of music, dance and showmanship. 42nd STREET leaves you reeling with its quick-fire pizzazz, the energy is unrelenting.  

Not currently playing in the West End due to its Drury lane home having closed for refurbishment, John and Katie Plews were able to secure the rights. This is the first professional production off west end and it's a tribute to John Plews talents as director that it has proved itself worthy.

The well-known story involves Peggy Sawyer (played with sweet innocence and modesty by Kate Anne-Fenton), a young talented performer with big dreams arriving in New York from Pennsylvania to audition for a show. When the leading lady Dorothy Brock (played with acerbic wit by Tamsin Dowsett) is injured, Peggy gets her chance to step into the role. It's an all singing, all dancing feast for the eyes and ears.

The brilliant young ensemble has just a few moments for some costume changes and the gorgeous costumes, designed by Emily Bestow, just keep coming. The choreography, by Simon Adkins is another highlight of the show. The rhythms of the tap routines are superb and the precision with which they strike the floor is spot on the music which is flawlessly presented by the band. It is all so dazzling that the backdrop of the early 1930s politics (just recovering from the Wall Street crash and period of prohibition) seems unimportant. At the present time, this is surely a relief for us all.

It's guaranteed that you'll go home humming the tunes, most probably the title song, 42ND STREET, but there's also the very memorable 'We're in the Money' and 'Lullaby of Broadway'. Do, watch out for the surprise elements of the moveable set (designed by Emily Bestow) which brings West End glamour to the small stage and all at very affordable ticket prices.

David Guest, Reviews Hub ★★★★★

★★★★

★

When the huge recent production of the musical 42nd Street was staged at the Theatre Royal, Drury Lane, it boasted a cast of more than 50, claiming to be the largest company ever in the West End on the biggest stage. Less than a year later Ovation is bravely producing the first fringe production of the show Upstairs at the Gatehouse in Highgate Village with a cast of just 13 – and it is a bold blockbuster.

How on earth the company manages it may be a mystery never to be solved this side of eternity, but the venue's end of year productions simply get bigger and better, defying every single expectation. With 42nd Street the small traverse stage might seem to be the most unlikely setting for one of the biggest and most popular Broadway musicals, but director John Plews and a uniformly hard-working ensemble still create a stunning spectacle.

By using Simon Adkins as choreographer, who was the resident choreographer for the Drury Lane run, the company cannily utilises the large-scale experience for the small-scale production. There are some knowing references to the bigger production with such nods and winks as the curtain rising on six pairs of tapping feet instead of 50 and the American coin podiums for the We're In the Money number but all in all this version isn't trying to copy any predecessors, rather it gives it a heart and soul of its own.

In this small space there is no escape: every routine and every step have to be perfect as the performers are being watched back and front by an audience only inches away. Not only does it work, but it dazzles, with no holds barred musical numbers, amazingly swift costume changes and big efforts from everyone involved not to be daunted by the constraints.

The story is the stuff on which all performing dreams are based: a naive and untested Peggy Sawyer (a wonderful and bright Kate-Anne Fenton) hopes to try out for the chorus line in a new show, Pretty Lady, ends up in the chorus line by a fluke and finally lands the leading role when the star breaks an ankle.

Every number is breath-taking, whether the more intimate (such as About a Quarter to Nine) or the brash showbiz of Dames, Lullaby of Broadway and the title number. Emily Bestow's clever and captivating design means the stage is well used, with an adaptable theatre marquee at one end and a raised stage (concealing surprises) at the other, and the costumes are both period chic and lavishly sparkling.

Alex Wadham plays the notorious and demanding director Julian Marsh with panache, making the iconic line "You're going out there a youngster, but you've got to come back a star!" the demand of a caring professional. Tamsin Dowsett is in glorious form as Dorothy Brock, the Prima Donna past her best, giving her a glint of genuine compassion in spite of the steely demeanour, while Rory Shafford is perfect as the all-singing, all-dancing (and acrobatic) leading man in the show, Billy Lawlor.  Charlie Burt and Tom Lowe find plenty of humour in their roles as the co-writers of the show, Ethan Tanner is an impressive choreographer putting everyone through their paces, and Christopher Hewitt has some fun with Dorothy's Texan sugar daddy Abner. Christopher Foley is a likeable Pat Denning, Dorothy's ex-Vaudeville partner, and there's pleasing support from Samantha Noël, Helen Rose and Jessica Wright as the chorus kids who befriend, support and encourage Peggy.

Musical director John Reddel and the five-piece band sit on a platform barely seen behind raised portions of set but making their presence felt fabulously in hit number after hit number. Sam Waddington's lighting is almost a character in its own right, coming into its own for the Shadow Waltz number but also assisting in rapid scene changes.

Of course in the small theatre above a Highgate pub, you are not seeing 42nd Street in all its pizzazz, the sort of musical extravaganza you would expect to find on Broadway or in the West End. But this magical pared-down version is a masterpiece in its own right, deserving applause and awards for its skilful, intrepid and triumphant audacity.

View the original review at Reviews Hub

Julia Rank, The Stage ★★★★

★★★★

It's musical comedy – the two most glorious words in English," declares 42nd Street's director Julian Marsh when trying to persuade heartbroken ingénue Peggy Sawyer to save his show. This production makes it hard not to agree.

A large-scale production of this show, based on the 1933 film, has filled Theatre Royal Drury Lane for two years. John Plews' UK fringe premiere is a triumph of paring down. The narrow traverse layout, which hampered 2017's Top Hat, manages to work thanks to the precision of Simon Adkins' choreography (resident choreographer on the Drury Lane production), crisply executed by the 13-strong cast.

The story of a chorus girl's fateful rise to stardom, assisted by music and lyrics by Harry Warren and Al Dubin, is a beloved showbusiness archetype. Kate-Anne Fenton provides graceful tapping and understated charm as the untried Peggy – too nice to get carried away by the trappings of fame. The intimate scale also highlights the tight-knit nature of the chorus line on and off stage.

Charlie Burt nails the acerbic comedy as streetwise hoofer Maggie Jones.  Alex Wadham is enjoyable as the suave but increasingly stressed-out director and Rory Shafford demonstrates some nifty moves as juvenile lead Billy Lawlor.

Designer Emily Bestow keeps things stylish with an illuminated marquee and a colourful parade of costumes. The Depression-era setting is lightly worn but acts as a reminder that song and dance can lift the spirits in the bleakest of times.

View the original review at The Stage

William Russell, Reviews Gate ★★★★

★★★★

Possibly the best dressed show on the fringe as well as the one with the most tap dancing this sparkling production directed by John Plews may have a smaller cast and sets than the various Drury Lane productions but the dancing is every bit as good and the sequins and ostrich feathers are there in abundance.

If Kate Anne Fenton lacks the gamine charm of Ruby Keeler, who created the role of Peggy Sawyer, in the 1933 film on which this is based, she is a far better tap dancer, singer and actress. She dazzles. But she is not alone. Plews has fielded a strong cast led by Alex Wadham as Julian Marsh, the tyrannical and legendary Broadway director who is putting on a new musical called Pretty Girl starring a slightly over the hill star called Dorothy Brock. Wadham is suitably tyrannical and rises to the final number when he at last gets to sing proving he can do what he asks of his casts, along with Tamsin Dowsett who sings rather well. It is full of vintage show tunes and get danced to the hilt.

The story line is slight. Peggy, an innocent from the boondocks, turns up to audition for the new Marsh show, is taken under the wing of the juvenile lead, Billy Lawler, played by Rory Shafford, and the chorus girls including Any Time Annie, so called for obvious reasons, played by Samantha Noel.  Shafford has a nice tenor voice, a cheeky personality and reaches his high notes with aplomb while Noel oozes the necessary availability as Annie.  Peggy gets the sack, is reinstated and on opening night of the tryout in Philadelphia she bumps into Brock who breaks an ankle. But the show must go on and, there being no understudy for reasons that are not quite clear, who gets the job but Peggy, after being stopped at the railway station leading to Marsh uttering the immortal words – "Sawyer, you're going out a youngster, but you've got to come back a star!"

On the fringe with a thirteen strong cast, and a first rate band one would think this show could not work at all. But they look breath-taking and the ostrich feathers, sequins and silk clad legs, not to mention dishy chorus boys, are there in abundance. The Plews' Christmas musical at the Gatehouse – Katie Plews is the producer – is usually pretty good and this one is up there with the very best.

View the original review at Reviews Gate

Aline, AWtheatricals ★★★★

★★★★

This is a show packed with high style, exuberance, and an enormous array of artistic talent. The huge Drury Lane production of 42nd Street ended nearly a year ago. This gave John Plews director at the Gatehouse an idea. To hone down the musical to fit the Gatehouse Theatre stage without losing any of the fun.

The trick of course was to find the right creative personnel and the choice of John Reddel as Musical Director was a moment of inspiration. The songs are what this show is about. The story is not particularly interesting any more, it has been done so many times. A chorus girl who saves a show and becomes a star is such a cliché. But the songs come along thick and fast and need to be carefully orchestrated.

The exceptional dance routines may have a diminished number of perpetrators, but the artistic merit still rules under the direction of the well-known performer at the Gatehouse (Don Lockwood in 'Singin' in the Rain') and the actual Drury Lane 42nd Street Resident Choreographer Simon Adkin – a magnificent job.

All thirteen members of the cast are talented singers and expert tappers and all with individual personalities.

Could there be that many sequins in the world? Emily Bestow makes sure every tiny scene glitters with her brilliant costume design. I particularly loved the gold finale with the girls in golden sequin dresses with the boys in matching bow ties and braces.

The reluctant upcoming star Peggy Sawyer is played by Kate-Anne Fenton who manages to out-dance everybody else in the show, but is not allowed to display her magical vocal chords until her very last number. Yes, this girl has destiny! Charlie Burt was jolly and funny as Maggie Jones, the soubrette and Tamsin Dowsett was a little over the top as Dorothy Brock the bitchy leading lady.

Alex Wadham was well cast as Julian Marsh, the director. A mainly acting part but he also has a chance to have a bold sing out near the end of the show. The principals in this show have to play second to the wondrous ensemble, but everybody does their bit and the company numbers and the few solo items work really well.

John Plews has done his usual magical job – but, I believe, is even more successful this time. The comedy comes over so well in the small venue – and somehow, with the assistance of his wonderful creatives, it is still a spectacular show in the Katie and John Plews', very own highly stylish way.

Antonia Hebbert, Fairy Powered ★★★★

★★★★

Take a big, glitzy Broadway and West End musical and fit it into what is basically a largeish room above a pub. Shrink the huge cast to 13, and put the audience down two sides so that those big dance numbers happen in a narrow space and have to face both ways. Perverse? Yes, but it works – thanks to inventive choreography, mesmerising dancing and great ensemble singing.

The story is pretty slight – small-town hopeful Peggy Sawyer joins the chorus line in a new musical, but has a lucky break (literally – the leading lady cracks her ankle) and gets to play the lead role. The attraction of 42nd Street is the dancing, and a string of catchy 1930s songs by Harry Warren and Al Dubin – the kind you know without knowing you know them ('We're in the Money', 'Lullaby of Broadway', 'Forty Second Street', etc). Satisfyingly, the show starts with a curtain rising to show tap-dancing feet – just like the Broadway/West End version.

The choreography is by Simon Adkins, who worked on the West End 42nd Street. It's very ingenious in this narrow space, and requires the dancers to be razor sharp and quick. Unlike in a West End theatre, you're no more than a few metres away, and what you lose in sheer force of numbers, you gain in seeing the detail and feeling the energy. It's a good show for male and female dancers, and the costumes (Emily Bestow) are a lot of fun, with many sequins and nods to the 1930s.

Tamsin Dowsett is majestically awful (in a good way) as Dorothy Brock, the somewhat past-it leading lady who can't dance. Dowsett has a showstopping voice that was literally a hard act to follow. Kate-Anne Fenton is perfect as the sweet, wide-eyed talented newcomer.  Just sit back and enjoy that irresistible, spirit-lifting music, the rapid costume changes and one great dance routine after another.

Rory Shafford's Billy Lawlor has a big personality, and belts out the high notes with conviction. Charlie Burt makes a sparkly Maggie Jones, and Helen Rose, Samantha Noel and Jessica Wright are endlessly bright and fun as chorus girls. Musical director and band leader is John Reddel, and the director is John Plews.

View the original review at Fairy Powered

Adam Tipping, Pocketsize Theatre ★★★★

★★★★

Following their 21st anniversary last year, Ovation's latest production sees them tackle the tap extravaganza musical favourite, 42nd Street; currently playing its UK fringe theatre premiere at Upstairs at the Gatehouse in Highgate. 

Vastly downsizing to a cast made up of 13 compared to the recent West End production at Drury Lane, which consisted of an impressive cast of 58 members, Ovation's adaptation can be nothing short of applauded for the mammoth challenge they have taken on; in particular within the effective use of limited space.

Staged in a promenade setting with entrances at either end, the production was directed thoughtfully to ensure all audience members had an excellent view of each scene and number. This was particularly apparent whenever choreography was introduced throughout.

Known for its timeless and stylish choreography, in my eyes, 42nd Street is a production where you go to be dazzled by perhaps the most charming dance style there is; tap dance. And anyone that saw the in-town production will tell you just how huge a spectacle each musical number was due to the endless ensemble members performing all choreography in perfect synchronisation on stage. But this didn't intimidate resident choreographer Simon Adkins from the West End production, who was brought on board by Ovation to choreograph their adaptation.

Surprisingly, the tap incorporated appeared to be of a much more intricate and complex standard than that of the West End production. Each cast member delivered stellar and crisp presentations of the choreography set, not missing a beat from start to finish. And trust me, when you are sat four feet away from the tap shoes themselves, you can certainly see that no click tracks are at play in this adaptation!   Led to victory by leading lady Kate-Anne Fenton (Peggy Sawyer), the cast exuberated class and charm, delivering a unified performance packed full of charisma. In particular this charisma burst out of Rory Shafford (Billy Lawlor) who was the perfect personification of what is best about this golden era of musicals. Endless amounts of charm, and ease throughout delivery of choreography, vocals and dialogue. The comedy came thick and fast from Charlie Burt (Maggie Jones), Samantha Noel (Anne Reilly) and Christopher Hewitt (Abner Dillon/Frankie) throughout, delivering punch lines with ease, not to mention their classic rich toned vocals. Credit also must be given to Tamsin Dowsett (Dorothy Brock) for her exceptional performance. It is clear to see why she is hot off the Les Miserables: The Staged Concert which recently closed at the Gielgud Theatre in the West End.

As the UK fringe premiere production, Ovation have delivered a solid and charismatic adaptation of this musical classic. While the production may not deliver the spectacle within budget or size of ensemble members like the West End production did, Ovation have created an adaptation that allows you to intimately immerse yourself within the Big Apple, while being dazzled by some of the hottest tappers London has to offer.

Patrick Honoré, Musical Theatre Review ★★★★★

★★★★★

Just a year after the most spectacular version ever of 42nd Street closed at Theatre Royal Drury Lane, Ovation is treating us to the most intimate ever as the company's eagerly-awaited yearly musical arrives at Upstairs At The Gatehouse in Highgate Village.  With the West End production recently shown in cinemas across the globe, this is really a bold choice and I must admit that for the first few minutes seeing less than 10 pairs of tapping feet appear below the raising curtain seemed disappointing.

But director John Plews and his producer wife Katie have once again assembled such a talented cast and so brilliantly worked their way around the obvious space limitations for this UK Fringe premiere.

True the traverse stage restricts the dancing space even a little bit more, but clever use of a small upper stage on one side and the transforming marquee on the other side create a perfect design for this intimate gem of a production, giving the audience a sort of insider's perspective.

Responsible for that fitting design is Emily Bestow, also in charge of the colourful and glittery costumes.  Another Gatehouse veteran, Sam Waddington, is responsible for the impressive lighting design and John Reddel is on the keyboard leading the six-piece band for which he has also written some nice arrangements.

À smart move on the part of the Plews was to request the services of Simon Adkins, who previously played the lead in Singin' in the Rain at the Gatehouse and was resident choreographer in the last West End revival. Adkin does not make the mistake of duplicating the original choreography but instead has created his own routines, working wonders with the space and the excellent cast.

If Kate-Anne Fenton didn't quite captivate at first as Peggy Sawyer, she did grow on me in Act II and boy she can dance.

Alex Wadham, already seen at the Gatehouse in High Society, is the perfect Julian Marsh, closing the show with his impressive rendition of the title song. Tamsin Dowsett is equally perfect casting as a two-dimensional and temperamental Dorothy Brock.

The supporting cast is equally excellent but the discovery of the evening is recent Urdang Academy graduate Rory Shafford who is a showstopping Billy Lawford, demonstrating his amazing singing and dancing talents plus some acrobatics thrown in.

The enthusiasm of this youthful cast is indeed contagious and if this Fringe production doesn't have some of the usual spectacle, it sure makes up for that in sheer energy.

It also puts back the emphasis on Michael Stewart and Mack Bramble's original book, showing off how funny it really is.

So please rush to the Gatehouse before 26 January and get a taste of this timeless show from another angle, you surely won't regret it.

Jonathan Evans, The Spy In The Stalls ★★★★

★★★★

Like Marsh says to the blossoming Peggy as she's seconds out from her Broadway debut; "You're going out a youngster, but you gotta come back a star", this show will undoubtedly grow into a sure-fire hit.

Based on the novel by Bradford Ropes, and the 1933 film of the same name, "42nd Street" is a Jukebox musical of sorts. There were barely five songs in the film, so the show ransacks composer Harry Warren's and lyricist Al Dubin's stockpile of numbers they had written for other films at around the same time. Whilst this is a bonus, there are moments when it appears obvious that these musical numbers were not written for this show, and they feel shoehorned into Michael Stewart's and Mark Bramble's whimsical and high-spirited script. But this is easily forgiven as we are swept along by the sheer feelgood factor built into the show, and the absolute precision and fluidity of this all-singing, all-dancing cast.

The show focuses on the efforts of celebrated but tough director Julian Marsh to mount the 'greatest musical on Broadway' during the Great Depression. He needs a hit and he needs the money, so he hires fading diva, Dorothy Brock, because of the investment pouring from her sugar-daddy. Meanwhile, out-of-town Peggy gate-crashes the auditions stealing hearts, and then the spotlight. An accident takes Dorothy out of the show and the rest is beautifully predictable and heart-warmingly uplifting.

The defining moment of the plot, just before Peggy steps in to save the show, occurs just before interval when the director cancels the performance and urges the audience to collect their refund at box office. A clever theatrical device that sets up the second act; but one that also reflects this particular production. Stylistically it is a show of two halves. Initially the pace is a touch laboured, lacking the light-hearted approach needed to do justice to the throwaway comedy of the dialogue. But, boy, the second act comes into its own, as do the cast. "42nd Street" depicts a bygone era, before reality celebrity and social media, when talent was what made a star. And Katie and John Plews have assembled a star-studded team. Each a triple-threat, they work together as a synchronised unit with barely a foot or a note out of place. Simon Adkins' choreography could easily quickstep down Highgate Hill into the West End.

The show belongs to them all, the ensemble and principals alike. Kate-Anne Fenton's Peggy is a light under a bushel, humble yet unafraid to be coaxed into living her dream. She is well complemented by the heartthrob voice and looks of Rory Shafford as Billy Lawlor. Tamsin Dowsett pitches just right the understated hamminess of Dorothy Brock, whose broken ankle fractures her career but heals her broken heart. Pulling the strings, though, is Alex Wadham's commanding performance as the tough yet tender Julian Marsh. Still, the generosity of the leading players leaves the doors wide open for the minor characters to steal any scene they can. Charlie Burt is a ball of energy who lights up the stage, eclipsed only by the dynamic chorus trio of Helen Rose, Jessica Wright and Samantha Noël; their close-knit harmonies strikingly evocative of the period. An age brought even closer to us by Emily Bestow's razzmatazz fashion parade of costume, and the array of well-known and well-loved showtunes, including 'Lullaby of Broadway', 'We're In The Money', 'Dames', 'I Only Have Eyes For You' and the eponymous '42nd Street'.

A little slow off the starting line, we forget by the time we've reached the rousing and moving finale. And the show is only at the beginning of its run. Like Marsh says to the blossoming Peggy as she's seconds out from her Broadway debut; "You're going out a youngster, but you gotta come back a star", this show will undoubtedly grow into a sure-fire hit.

Clive Davis, The Times ★★★★

★★★★

Anyone looking for an all-out extravaganza would be advised to pass by on the other side. But if a fringe venue above a pub in north London can't compete with the West End in terms of glitz, there's still an awful lot to savour in this less-is-more version of the backstage yarn that enjoyed such a successful run in Drury Lane.

The director John Plews cuts everything down to basics without sacrificing the spirit of a show that is an old-fashioned love letter to musical theatre. The storyline is paper-thin; the Harry Warren-Al Dubin songs are irresistible. And if the production has to get by with a skeleton cast and a breezy, six-piece band, the choreographer Simon Adkins is a veteran of the Drury Lane production. We are safe in his hands.

It takes all of five minutes to adjust to the reduced sense of scale. As the young cast tap and shimmy their way along the traverse stage, only feet from the audience, the physical sensation is overpowering. This is as close as most of us are going to get to having a pop-up musical staged in our living room.

It's a hokey tale, perhaps, but as reassuringly predictable in its way as a panto. A young wannabe from the boondocks, Peggy Sawyer, wants to see her name in lights and gets her chance in a new show, Pretty Lady, when the star injures an ankle. Can Peggy learn all those songs and routines in a matter of days? Well, the question can have only one answer.

As Peggy, Kate-Anne Fenton is chipper and demure. Tamsin Dowsett gets the meatier lines as Dorothy Brock, the leading lady whose career has already peaked. Alex Wadham exudes authority, and a smidgin of vulnerability, as Julian Marsh, the archetypal director-cum-dictator with a heart of gold.

Harry Warren's name isn't usually uttered in the same breath as Irving Berlin and co, but as Michael Feinstein demonstrated in a mesmerising one-man show in the West End many moons ago, Warren bequeathed us a remarkably long list of classic tunes. We're in the Money, Lullaby of Broadway and About a Quarter to Nine shimmer here.

Emily Bestow's set enhances the spit-and-sawdust backstage ambience. The musical director and arranger John Reddel leads a band that, largely hidden from view, embellishes the standards with authentically jazzy joie de vivre. The thoroughfare that the hoofers call "the glorious gulch" may be less crowded than usual, but it hasn't lost its allure.

View the original review at The Times