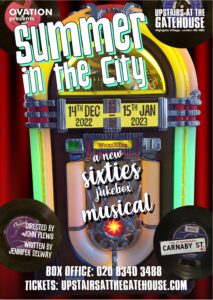 A New Sixties Compilation (Jukebox) Musical
This production played at Upstairs at The Gatehouse from:
14th December 2022 – 15th January 2023
Written by Jennifer Selway
Directed & Devised by John Plews
Musical Supervisor Kevin Oliver Jones
Summer In The City is set in a Carnaby Street coffee bar and follows the lives of six groovy characters, including a singing traffic warden, a former GI and a cheeky scouser.
Live music from a five piece band will transport you back to swinging London between 1965 and 1967.
Director John Plews has once again teamed up with journalist and author Jennifer Selway (Flat Out, Odette, Wallis) to bring you the songs and stories from that unforgettable era.
Songs include…
Downtown, Will You Love Me Tomorrow, The Shoop Shoop Song, Ferry 'Cross the Mersey, Because, The First Cut Is The Deepest, I'm a Believer, Don't Throw Your Love Away, Land of 1000 Dances
MD / Keys 2 / Reeds / Guitar – Curtis Lavender
Keys 1 – Jordan Paul Clarke
Guitars – Tom Parrish
Bass – Chris Hampson
Drums – Georgia Ayew
Director – John Plews
Associate Director & Choreographer – Aimee Leigh
Musical Supervisor – Kevin Oliver Jones
Musical Director – Curtis Lavender
Set Designer – Ruby Boswell Green
Lighting Designer – Aaron Dootson
Associate Lighting Designer – Luke Marino
Costume Designer – Jean Gray
Hair & Make Up Consultant – Jessica Plews
Voice Consultant – Eleanor Boyce
Sound Technician – Tyrian Purple
Stage Manager – Molly Tackaberry
Set Builder – Michael Giambrone
Production Manager – Gary Swain
Assistant Producer – Annlouise Butt
Poster Design – Mary Musker 
Casting – Pearson Casting

Producer – Katie Plews for OVATION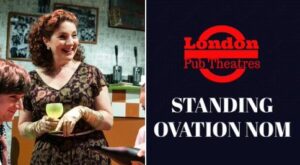 London Pub Theatres Standing Ovation Nomination
"Helen Goldwyn for her performance as Hetty. Helen has a cracking voice, flawless vocal technique, a fabulous stage presence"

Jean Gray for 'Costume Design'
John Plews for 'Director'
Connor Arnold, Candis Butler Jones, Harry Curley, Helen Goldwyn, Eliza Shea & Elizabeth Walker for 'Performance Ensemble'
Anita (4/5)
The setting is a Carnaby Street coffee bar where chance connections create musical opportunities! The songs just keep coming, it was like listening to a 60s jukebox, the cleverly written script acting as the prompt for each song, 22 in all: a real nostalgic feast.
Barbara (5/5)
I loved every minute of this. An array of classic 60s songs… A much needed feel good experience on a rainy afternoon.
Bernadette (5/5)
Great show!
Carolyn (5/5)
Excellent entertaining show.
Denise (5/5)
A definite feelgood show. Talented performers. I very much enjoyed this and would highly recommend it.
Dinny (5/5)
It was a great fun story, set round hit songs of 1965 and 67.
Natacha (5/5)
Absolutely loved it. Full of joy, fun, great storyline, beautiful and moving acting, and of course, fabulous singing and dancing.