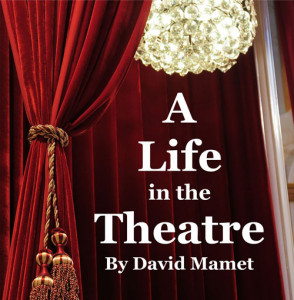 By David Mamet

Inspired by Mamet's early years as an actor, A Life in the Theatre is a charming and humorous exploration of the drama and pitfalls of life behind the footlights.
Unusually quaint for Mamet, the story follows Robert, a self-important, insecure theatre veteran, and John, an up and coming younger actor, through a series of haphazard quick change set ups in which wardrobe unexpectedly fails, props break and lines are fluffed!
Through the taut and revealing dialogue, Mamet explores the quintessential passion and excitement involved in choosing a life in the theatre, making fun of the rampant insecurity that plagues many actors.
A Life in the Theatre played Upstairs at the Gatehouse
Tuesday 14th – Sunday 19th August 2012
Directed by Zoe Ford and presented by Hiraeth Artistic Productions in association with Ovation
Presented by arrangement with Samuel French Limited
For Ovation: Dr. Manette A Tale of Two Cities (Charing Cross Theatre and Upstairs at the Gatehouse). John recently played Victor Velasco in Barefoot in the Park (The South of France English Theatre); he created the role of Don in the premiere of The Co. of Strangers in London and he has just voiced Charlie Chaplin in an animated feature Mr London. Prior to this he was The Starkeeper in Carousel (The Landor). John has played Paravicini in the West End production of the world's longest running play The Mousetrap a record breaking 2300 times, including a pioneering trip to Shanghai! Other West End appearances include: Sowerberry & Fagin in Oliver! (Albery Theatre with Helen Shapiro); Dearly Beloved (Aldwych Theatre); and Give a Dog a Bone and The Gingerbread Man (Westminster). He has made over 100 radio broadcasts including playing the villain in The Pale Horse the 50th anniversary of Saturday Night Theatre and has appeared with Opera Viva and Opera Restor'd. National tours include: House of Ghosts with Colin Baker, Cat on a Hot Tin Roof, A Study in Scarlet, Rose Marie with John Hanson, Scrooge with Antony Newley and a European tour of West Side Story. He has worked at The English Speaking Theatre of Hamburg and was a founder member of The Southern Exchange Theatre Co. He has played seasons at Pitlochry Festival, Century Theatre Keswick, Manchester Library Theatre, Bristol Old Vic, Theatre Royal York, Northcott Exeter, Theatr Clwyd, Chester, Cheltenham, Harrogate and Lancaster, where he played Quince in the first and tenth anniversary open air promenade productions of A Midsummer Night's Dream.
Favourite roles include: Samuel Parris in The Crucible, Major Flack in Privates on Parade, Cardinal Richelieu in The Three Musketeers, Pirelli in Sweeney Todd, Rev. Humphrey in See How They Run, Boolie in Driving Miss Daisy, Chaplain in Catch 22 and Crippen! His many television and film credits include: The Naked Civil Servant, Roger Roger, The Peter Principle, Strange But True, The Brittas Empire, Sorry, The Dougherty Brothers, Hush Little Baby and Distress Signals. John has directed productions of Equus, Separation, Conjugal Rights, Who Killed Agatha Christie? and Children of the Wolf.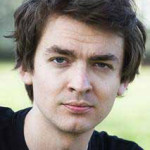 After graduating from the Central School of Speech and Drama, Duncan trained at the Moscow Arts Theatre. Favourite roles to date include Mercutio in Romeo andJuliet (Mokitagrit – The Chocolate Factory), Butler in the musical Better Than Sex (The Courtyard Theatre and Budapest tour), Jilly in the experimental devised piece The Return of the Exile (The Yard and Athens tour), and the horribly abused Werefox in the chilling Margate panto A Dreamland Sideshow Christmas.
Mamet's 1977 play, which has been described as "a love letter to theatre", clearly draws on the dramatist's own early experience as an actor. While acerbically eschewing sentiment, it is full of an affection and nostalgia for the business and especially the kind of stock company to which his two protagonists belong.
Robert is a veteran, an old school actor, part of an on-going tradition. He may pontificate from his vast experience but his confidence and self-esteem are challenged by new blood, aware of his own loneliness, not such a "perfect study" as he used to be. Sharing a dressing room with him is John, a young actor of growing skill and confidence. He is respectful of the older man's experience but increasingly finds his tolerance challenged by Robert's manner.
In a series of short scenes, we see the changing balance of their relationship as the season continues in situations before a show and after, in rehearsal, just about to make an entrance and, interspersed between these funny but, as it were, "real life" scenes, are brief glimpses of them in the varied repertoire of a stock company from a World War II battle scene to French Revolution romance and hospital drama, scenes which affectionately send up both the plays and the performance styles of stock theatre forty or more years ago.
Zoé Ford's production doesn't attempt a naturalistic staging. Suzi Lombardelli's setting has costume racks, light-bulb framed arches and necessary furniture and a scattering of objects around the perimeters and hanging from above, some of which are there for practical purposes, some no doubt intended to be symbolic, though I never worked out of what, but it enables scenes to flow easily and rapidly one after another. The playing however is very real, with a use of consciously richer tones when the actors are playing roles.
John Fleming makes Robert by turns avuncular, patronising, mentoring and tetchy. As John, Duncan Williams passes from respectful accommodation to exasperation. Their generational differences nicely marked by the different exercises they use to warm up, that Robert uses greasepaint, John pancake makeup. They are well-matched in presenting the pendulum swings of their relationship.
There is no attempt to assume American accents. The actors here are played as though they are members of a mid-twentieth century rep or summer season company in Britain which perhaps makes it even easier to identify with them for I am sure that any theatre professionals in the audience will recognize the situation very well.
This early play is relatively lightweight but nevertheless in its seventy-five or so minutes playing time it gives an amusing glimpse backstage that says something about generational competition that has a certain poignancy, not just in the presentation of Robert but in the uncertain future that lies ahead for John, despite his current growing confidence.
"David Mamet's Sparkling Theatrical Comedy"
*****
David Mamet is a gem among playwrights and this play is a positive jewel that sparkles with wit and theatrical wisdom from start to finish.
Only two actors are involved in this piece which is about the relationship of two actors; an older, very experienced thespian Robert and his young counterpart John who is comparatively new to the business..
The play is set in a theatrical dressing room . Here the two men are thrown together There are long mirrors with lights around them; Two dress rails full of assorted clothes, a table and two chairs.
But the action slips away every so often to show them on stage. It is a double relationship between the performing actors and the selves that they reveal to each off stage.
Robert the older loves to show ofF his knowledge and likes to give advice to John, the younger one who is willing to learn but occasionally irritated by Robert's autocratic advice.
Robert is given to talk about the play they are doing with unselfconscious pomposity
"I think this audience gave the play another shade of meaning" amd "A show like this makes you feel fulfilled" "This play is meaty oN the inside and light all round"
There is a wonderful moment when Robert says 'In our scene I think you should do…less" There is a stunned pause "less?" says John beginning to realise that his performance may possibly be outshining that of his mentor and he is starting to witness the disintegration of the older actor.
Robert is beginning to have a memory problem and literally to lose the plot. He insists that he is just tired, It's just too much, too much. I'm tired" But in the next scene he is as perky as ever. The magic of Dr Footlights!
The jokes are incisive, a little unkind but totally affectionate. He explores the inner nervousness of the actor. The terror just before the entrance "What's my first line, what's my first line?" Culminated each time by the anguished cry "Has anybody got a script?"
To Mamet actors are his family and he is able to ridicule them with love.
John Fleming's performance as Robert is absolutely spot on – and despite his bombast and pomposity we feel for him and worry about his condition.
Duncan Wilkins is a very fine young actor playing John who, after his initial fear and reverence of his mentor, is able to take over the relationship with authority.
Both the men give sterling performances and, as they say, it is a privilege to have these words to say.
It is also a privilege to be a member of the audience on such an occasion. It is only on for a week so booking is urgent.