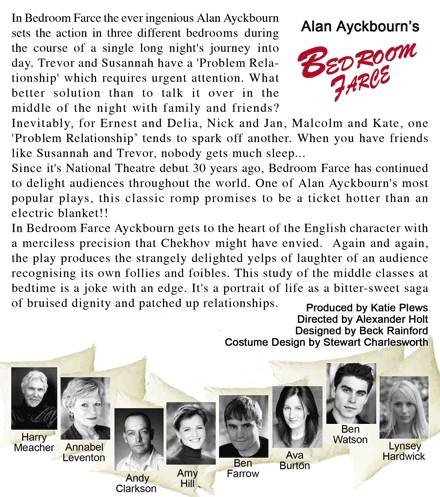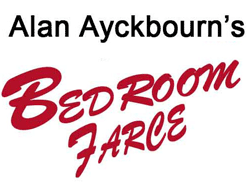 Harry Meacher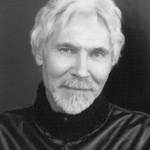 After winning the Ronson Award, The Principal's Medal and an honorary diploma at R.A.D.A. , Harry went on to perform at the National Theatre, The Royal Court, the West End, Citizens Glasgow, Liverpool Playhouse and most of the major English repertory companies. For five years he acted and directed internationally, touring capital cities in the Middle and Far East, Australia and New Zealand. He has written several plays the most recent being In Love With Anton, Cardboard Dreams and Silver's Secret.
Harry has played title roles in King Lear, Macbeth, Merchant Of Venice, Othello, Dracula, Sherlock Holmes, Richard 111, Platonov and Valmont in Les Liasons Dangereuses. He has directed and performed in Chekhov's Uncle Vanya (Time Out. Critic's Choice), Three Sisters, The Seagull and The Cherry Orchard, Ibsen's Hedda Gabler; The Lady From The Sea and The Wild Duck.
Early last year he co-founded Coach House Films and produced, wrote and acted in their first project Happy Days. He has written two new plays, Buccaneer and A Haunting Twist and performed them in New York and Boston. Last year He directed Jane Austen's Emma (Upstairs at the Gatehouse) and recently Joe Orton's Ruffian On the Stair (Pentameters). He adapted, acted and directed Gorky's The Lower Depths and his own play Essex. He also directed and appeared in John Cooper's new play The Education Of A Lap Dancer (Pleasance). In March he will direct School for Scandal for Traffic of the Stage also Upstairs at the Gatehouse. Later in the year he will be touring the Mediterranean with Judi Bowker giving performances on Noel Coward and performing in a new play Look At Me Leonard.
Film and television appearances include: The Scarlet Pimpernel, Atlantic, Happy Days, Mating Behaviour and Lover's And Ghosts. His screenplays include Lovers and Ghosts, Rainbird, The Albatros and The Sensualist.
Amy Hill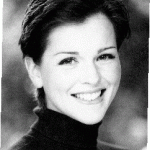 Amy graduated from Mountview Theatre School. Theatre credits include: See You Next Tuesday (Tour and Albery Theatre, West End); Lindsay Posner's Sexual Perversity In Chicago (Comedy Theatre) and Amy Mulhoone in Between Love And Passion (New End). She has taken part in workshop productions of the Broadway hit Urinetown, Blag- The Musical and Keeler directed by Paul Nicholas.
Television and Film Credits include: Tina in Holby City (BBC); Lauren in Eastenders (BBC); The Basil Brush Show (BBC); Natasha in Night And Day (LWT); Brittany in She's The One (Warner Bros.) and Sue in Sunburn (BBC).
Amy has appeared in various corporate videos and promos for the BBC/ITV, several commercials and a short charity film to raise date rape awareness.
Bedroom Farce is her second collaboration with Tenth Planet Productions having previously played Mrs Marwood in The Way Of The World (Pentameters).
Andy Clarkson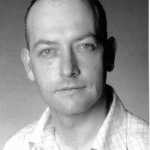 Andy graduated from Mountview Theatre School in 1996. He has worked with the Forbidden Theatre Company, in their production of Lorcas When Five Years Pass at the Chelsea Arts Centre, and The Salisbury Playhouse Companies Christmas production of Jack And The Beanstalk. He appeared as Tony in the Number One tour of Girls Night Out and Neville at the Octagan Theatre, Yeovil and the Pomegranate Theatre Chesterfield in Bruce James production of Alan Ayckbourn's Seasons Greetings. Andy then went on to appear as Graham in the play Equal Partners at the Stag Theatre, Sevenoaks and the Trinity Theatre Tunbridge Wells and played the part of Frank in Educating Rita at the Blackfriars Arts Center Boston where he has just returned from appearing as King Cuthbert in their Christmas Production of Sleeping Beauty.
Television credits include Mirrorball, 2 Point 4 Children, Other Animals and various television commercials.
This is Andy's first appearance Upstairs at the Gatehouse and he is looking forward to it very much.
Annabel Leventon
Theatre includes: Mrs Rummel in Pillars of the Community (National Theatre); Her Ladyship in The Dresser (on tour and Duke of York's Theatre)' Muriel Belcher et al in Jeffrey Bernard Is Unwell (Apollo, Shaftesbury and Old Vic Theatres), Gertrude Lawrence in Noel and Gertie, Lily/Liliane in Noel Coward Tonight (Jermyn Street Theatre), Dot/Lowbutt in Honk! The Ugly Duckling – Olivier Award Musical of the year 2000 (National Theatre), Countess in Edward lll, Claire in Paris Match (Theatr Clwyd), herself in They Liked Me! (Kings Head, Jermyn Street and Pizza On The Park), Mother Beatrice in Once A Catholic (Tricycle), Belle in Rocket To The Moon (Hampstead and Apollo), Daisy in Spokesong (Kings Head and Vaudeville), Beatrice in Much Ado About Nothing, Helena in Midsummer Night's Dream (Regents Park Open Air Theatre), Celia in The Philanthropist (Mayfair Theatre), Jocasta in Oedipus Rex, Bianca in Taming Of The Shrew, Virgin Mary in The Wakefield Nativity Plays (Young Vic), Sheila in the original London production of Hair! (Shaftesbury Theatre) nominated as Actress of the Year, also Sheila in the Paris production of Hair! (Theatre de la Porte St Martin), The Duchess of Malfi, (Oxford Playhouse), Lucienne in Flea In Her Ear, Regina in Ghosts, Lika in The Promise (Bristol Old Vic).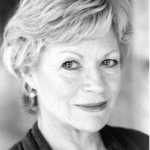 Film includes: Wimbledon, M.Butterfly, Alive And Kicking, A Business Affair, Rocky Horror Picture Show, Shock Treatment, Defence Of The Realm, Le Mur de l'Atlantique, Every Home Should Have One, Aisling, Work Experience (Oscar-winning short).
Television includes: Eve Fleming in Ian Fleming, Judge Amanda Styles in North Square, Nancy in London Bridge, Janna in Penmarric, Alas Smith and Jones (first series), Strike It Rich (first series), Touching Evil, Touch of Frost, Mussolini, Doctors, Minder, Bergerac, Casualty, Boon, New Avengers, Van der Valk, etc. She also presented the series Cover To Cover for LWT.
Cabaret and revue: Ritz Hotel, Pizza On The Park, Savoy Hotel, Edinburgh Festival, The Establishment Club, Jermyn St Theatre. Annabel is a founder member of the three-woman rock group Rock Bottom, on which the award-winning television series Rock Follies is based.
Ava Burton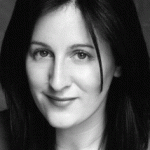 Ava trained at East 15 Acting School. Theatre credits include: Janet in Stand which she toured with Reform Theatre, La Merteiul in Quartet performed at Theatro Technis, Helena in A Midsummer Nights Dream with Creation Theatre, Mistress Anne Page in The Merry Wives of Windsor for Hamptworth Theatre, Trish in O'Leary's Daughters at Studio Salford and Doris in My Mother Said I Never Should at Theatre Antibes, France. Other theatre work includes Karen in Pieces at The Soho Theatre, Helen in Leaving The Boy & part of the Comedy Rep ensemble also at The Soho Theatre, Beatrice in Much Ado About Nothing, Lady Macduff in Macbeth, Helena in A Midsummer Nights Dream, Viola in Twelfth Night, Calpurnia in Julius Caesar, Titania in A Midsummer Nights Dream and the Nurse in Romeo & Juliet all for The Shakespearean Young Peoples Theatre company. The Narrator in Falstaff; The Snow Queen in a Pendle Productions tour of The Snow Queen, Rhys Page in One Goes Mad in Burmah for Grip Theatre and The Therapist in Sessions at the Finborough Theatre.
Ava has also played Moira in the feature film Jam & the Judge in the short film Desperate Measures. She has appeared as various comedy characters for the Johnny Vaughan Tonight show, was the face of the Eurotunnel 2003 Summer campaign & more recently played the 'Kissing' young mum in an advert for the New Woman CD.
Ben Farrow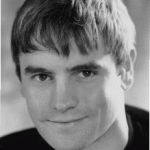 Ben trained at Middlesex University, completing a performing arts degree, then at Webber Douglas Academy of Dramatic art.
This is his third production Upstairs at the Gatehouse and he is delighted to be able to walk to work once again.
Ben's theatre credits include Evans and Fenton in the Hamptworth production of The Merry Wives Of Windsor, Ko Ko in The Hot Mikado and Clifford Anderson in Deathtrap Upstairs at the Gatehouse, the title role in Hippolytus in Athens Greece (learning ancient Greek), Davey in Why Not Stay For Breakfast? at the Mill in Sonning, Sebastian in Twelfth Night at Grovelands House out door theatre, Jonathan in Heights (UK premiere) in Richmond, Michael in Paradise Lost at the Redgrave Theatre in Bristol, The Boy in Sessions at the Finborough theatre and the Blackbox Theatre in Oslo, Young Buddy in Follies at the Chanticleer Theatre, Pantomime Horse rear and other parts in Cinderella at the Theatre Royal Windsor.
He co wrote a production of David And The Duke and was in a collection of short plays both at the Edinburgh Fringe.
Television credits include roles in Casualty, Keen Eddie and Make My Day.
Film credits include Julian in High Heels and Low Lifes; Snaps; Hair; Souvenir; The Last Conversation; Sammy and Tim; Good Cop/Dead Cop and Hike Route B.
Ben Watson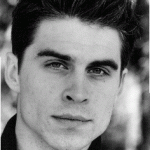 Ben trained at The Central School of Speech and Drama. His theatre credits include Macbeth in Cahoots Macbeth and Alan in Torch Song Trilogy (both at the Kings Head Theatre, Islington), Godfrey in Who's Harry? (Fringe First winner at the Edinburgh Festival/Pleasance London, Frank Gardner u/s in Mrs Warrens Profession (Theatre Royal Bath UK tour), Jean in Miss Julie (Barons Court Theatre), Tom Goodchild in Learning to Love the Grey (Y Touring), The Blind Man in Mysterio Buffo (Live Theatre, Newcastle). He has just completed a UK tour of The Jungle Book playing Tabaqui the Jackal.
His film credits include a slightly unhinged cleaner in Ten Minutes (Scanner-Rhodes Productions), Michael Hawkin in Nine days of Hell (Sprigg Productions) and Jean-Claude in Heroes and Villains (One Vision Films) due out in cinemas this summer.
Ben appeared as the abusive boyfriend in Gemma Fox's music video "Girlfriend" for Flynn Films/MTV. He has also worked for Carlton, Channel 9 in Ireland and Sky One.
Nicholas Sagar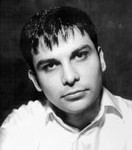 Theatre includes: Bosun in Return to the Forbidden Planet (Upstairs at the Gatehouse) Godspell for Pain & Panic Productions (Tolbooth Theatre, Stirling), Professor Bumble/King Christophe in Sleeping Beauty for M&M Productions (UK Tour). Nick Created the role of Robert in February's Child for Carnival Productions (Edinburgh Festival and Tour). Cabaret includes: Piano Vocalist/Cocktail Pianist for Live Business, Lead Vocalist with Blue Room Audio, Corporate Cabaret to 5 star hotels across UK Bass Player for Ellie Jay aboard The Pride Of Hull, Lead Singer with cover band Out Of The Blue. Nick has been Musical Director for several productions with Live Business and for Stageworx Theatre School.
Lynsey Hardwick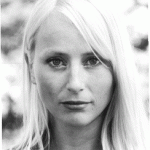 Lynsey studied Acting and Musical Theatre at Mountview Theatre School graduating in 1996.
Her credits include Georgie in the West-End premiere of Matchstalk Man by Billy Woods, Chekhov's Platonov, playing the ill-fated wife Sasha and another ill fated wife Hannah in A Chorus Of Disapproval, both Upstairs at the Gatehouse, Elvira in Il Palchetto Stage's Italian tour of Blythe Spirit, Puss in Boots in the panto of the same name (Bury St Edmonds), Joanna Brown in Lanford Wilson's Home Free and most recently she gave her all as Principal boy, Prince Handsome in The Connaught Theatre's production of Snow White and the Seven Dwarfs.
Although Lynsey sympathises with her character of Susannah in this production she would like to reassure her husband to be that she is a much more rounded individual and slightly less insane!
Lynsey is delighted to be returning to Upstairs at the Gatehouse for her fourth production with Tenth Planet.
Racky Plews - Director / Choreographer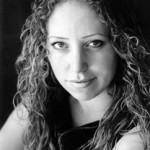 Racky trained on the Musical Theatre course at the Arts Educational School in London. She recently returned from the Middle East where she choreographed Rough Crossing for (Sh! Productions). Racky also choreographed and managed the national tour for Ovation's production of Forever Plaid and London productions of From a Jack to a King, It's Only Make Believe and Return to the Forbidden Planet. You can see her latest dance-style on Emily Blunt's music video (Sensation). Theatre credits include: Penny Scyllen in Return to the Forbidden Planet, Ronnette in Little Shop of Horrors, Penny in A Slice of Saturday Night, Kim in Daydream Believer (Upstairs at the Gatehouse), Banging the Drum (YBS Dance Tour), Phantom in The Rocky Horror Tribute Show (Lauderdale House) and A Funny Thing Happened on the Way to the Musical. This is Racky's debut as a director and she is thrilled to be working with such a talented company.
Chris Lambert - Musical Director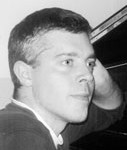 Chris grew up in Stoke-on-Trent before going on to study violin and piano at the Purcell School and then conducting at the Birmingham Conservatoire. Chris has worked as Musical Director on such diverse shows as a national tour of Man of La Mancha in which he also played the barber, Ned Sherrin's Lunchtime Chat Show at the Edinburgh Fringe Festival, Singing in the Rain at Birmingham Old Rep and was also the Musical Director for the National Youth Music Theatre's acclaimed production of Into the Woods. He has written arrangements for The Supremes and worked on The Threepenny Opera in New York. Chris has been Musical Director on five pantomimes at the Theatre Royal Windsor where he had the good fortune to work closely with Eric Sykes for two years creating and performing comedy musical sketches. By some strange turn of events over the last few years, Chris has also become a voice-over artist and one of the Country's most experienced travel news presenters. He is now a regular broadcaster for the Classic FM Travel Centre and appeared in the BBC TV documentary Dying to Get There! His image songs and jingles are currently in use by BBC Radio.
Stuart Green - Lighting Designer
Stuart trained at Mountview Academy of Theatre Arts and is currently Technical Manager at St. Paul's School in London. Stuart is pleased to be working Upstairs at the Gatehouse on this production of Cole. Recent design credits include Twelfth Night (Courtyard Theatre), Lord of The Flies (St. Paul's), Sweeney Todd (Wilde Theatre-Bracknell, Electric-Guildford and Princess-Aldershot), A Servant of Two Masters (St. Paul's), Love Me, Love My Dog (Hen and Chickens), Cinderella (Westminster Theatre) and Acting Showcases at the Criterion and Shaw Theatres. Associate work includes Boulevard Solitude transfer to Italy for Paul Pyant (Royal Opera), Seasons and Dante for Mark Jonathan (Birmingham Royal Ballet), and Aida at the Theatro Lirico in Cagliari. As a freelance technician Stuart has had the pleasure at working at numerous venues around the country including The Royal National Theatre, Sadler's Wells, Peacock, Cochrane and Mercury Theatre Colchester.
Isabel Muñoz - Costumes
Isabel trained as a classical dancer at the Bilbao Dance Studio and later trained in Stage Design in Birmingham. She has performed across Spain and Portugal. Design credits for Ballet de Euzkadi include Giselle, Nutcracker, Petrushka and Carmen. UK theatre work includes: Collision (The Old Red Lion Theatre), Desdemona: A Play About A Handkerchief (Hill Street Theatre at the 2003 Edinburgh Fringe Festival). Costume work includes: Woyzek (City of Birmingham Opera), Exclude Me (The Chelsea Theatre) and Under the Curse (Gate Theatre); Scenic Artist for The Bartered Bride (Crescent Theatre), The Dice House (Arts Theatre), Majnoun (Riverside Studios), Design Assistant for Nicholas Nickleby (Red Shift) and Lady Chatterley's Lover (Hull Truck Theatre).
Jessica Plews - Hair and Make-Up
Jessica was educated at Queen's College, Harley Street where she studied Music Technology and Theatre Studies. Last year she completed a Theatrical Film and Stage Make-Up course at the Delamar Academy. Theatre work includes Wig Mistress and Make-up Artist on Return to the Forbidden Planet (Upstairs at the Gatehouse), Assistant Wig Stylist on Chitty Chitty Bang Bang (London Palladium), Chief Make-up Artist Rocky Horror Tribute (Lauderdale House) and Wig and Make-up Advisor Rough Crossing (Upstairs at the Gatehouse). Films include Wig Mistress and Make-up Artist Last Ship Over (Odd Couple Productions), Make-up Artist Wallflower (Jade Syed-Bokhari). Chief Make-up Artist Weekend (Embargo Films) and Make-up Artist Rolling Balls (Nicola Marshall). Jessica is also the personal Hair and Make-up Artist for Zoe Evangeline for her live performances and has been Hair and Make-up Artist on various photo shoots.
Charlotte Harber - Stage Manager
Charlotte studied Fine Art at Sunderland University and has just completed a ten month residency at The King's Head, Islington. Whilst there she directed Rialto, Who Would Believe Marilyn, Receive This Light and Baglady by Frank McGuinness which is transferring to the Edinburgh Fringe Festival. Charlotte has written, directed and produced two short films and has recently completed The Tell-Tale Heart assisting Peter Murton which can be seen at the Cannes Film Festival. This is Charlotte's debut as a Stage Manager and first production Upstairs at the Gatehouse.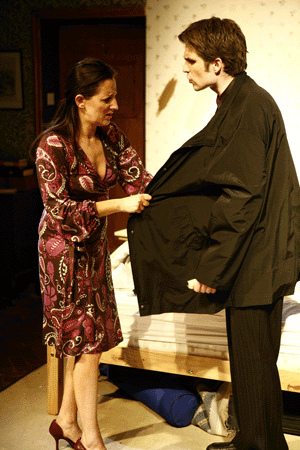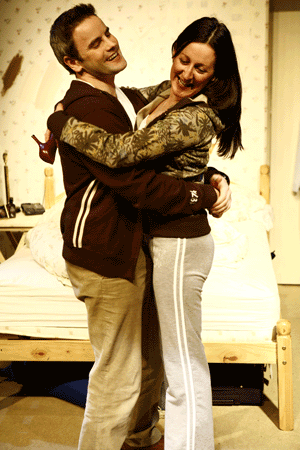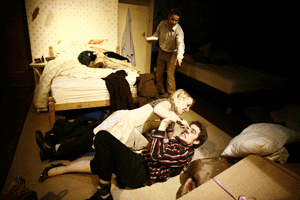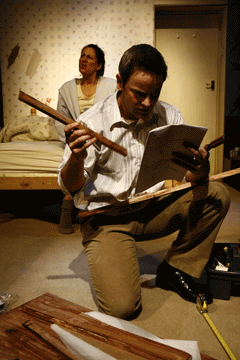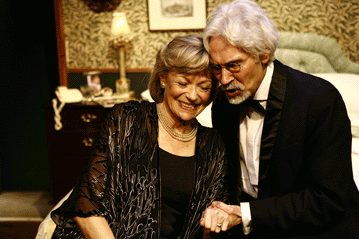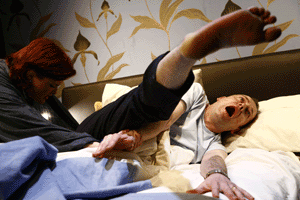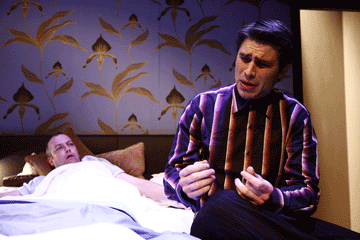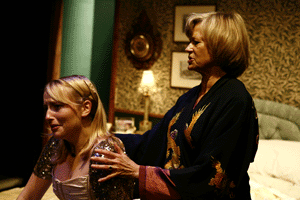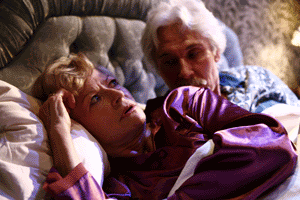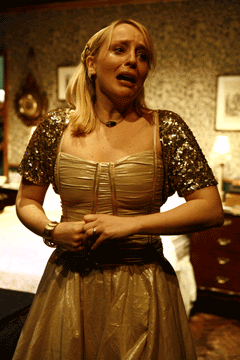 Olly Gruner, Camden New Journal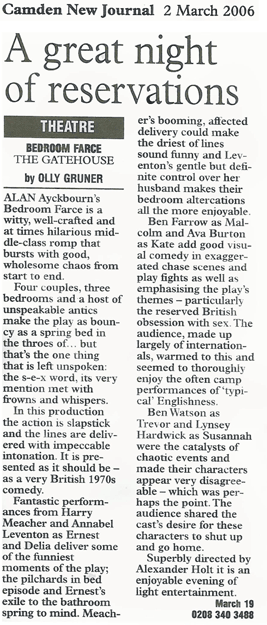 Aline Waites, Ham & High

Alice Jones, The Independent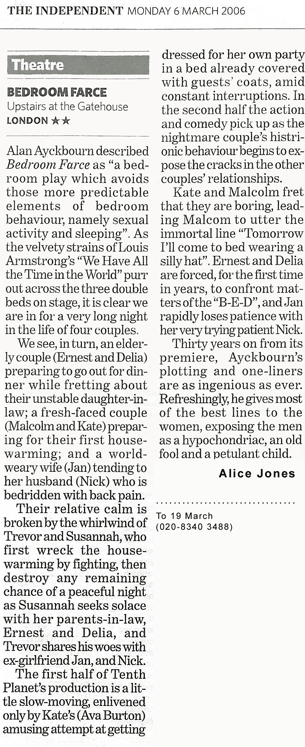 Julia Hickman, Theatreworld Internet Magazine