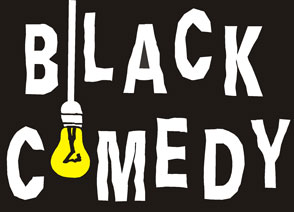 by Peter Shaffer
Black Comedy is an unusual play in which light and dark are reversed on the stage; when the lights go out for the characters they come on for the audience. This is an idea borrowed from classical Chinese opera when duels supposed to be taking place in total darkness are hilariously re-enacted by two men with much ducking, wild thrusting and bumping into each other.
Black Comedy develops this tradition in one of the most hilarious displays of pure comic invention ever seen on the stage. The scene is sculptor Brindsley Miller's flat where he has to cope, not only with an electrical failure, but the simultaneous presence of a deb fiancée, her irate military father, a neighbour from whom he has borrowed some expensive antiques and his former girl-friend. And, as his guests fumble in the dark in full view of the audience, the wit of the dialogue complements the physical situation in which they find themselves.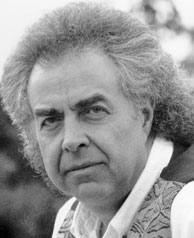 John trained at LAMDA and spent several years in Rep including a long stay at the Theatre Royal, Windsor where, in 1969, he was ASM on Michael Meacham's production of
Black Comedy
. He has directed and produced numerous shows including many for cruise lines Cunard and P & O. John (in partnership with Katie Plews) runs Ovation Productions, one of the country's leading producers of corporate events, organising conferences and roadshows for a wide variety of clients.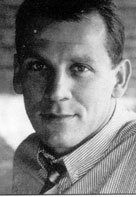 Simon has previously been to the Fringe as an actor. He took on the Bard in Edinburgh appearing in both
Twelfth Night
and
As You Like It
. Other recent stage work includes the Warehouse Theatre production of
Sugar Hill Blues
which he played at Hampstead. His face is well know to TV viewers for performances in Jasper Carrot's
The Detectives
and
McCallum
for Scottish Television. In the Autumn Simon will be seen in a new children's programme
Out of Spirit
, and he is currently shooting a three part drama entitled
The Fragile Heart
.
Black Comedy
is his debut as a Director for Ovation Productions.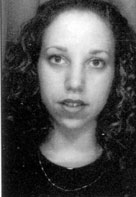 Racky is currently a student as the Arts Educational School in London, and has recently stage managed the pupil's production of the musical
Dracula Spectacula
. She has been to the Fringe many times although this is her Stage Management debut. Her real aspirations lie in choreography, and from September she will be studying Musical Theatre under Ian Watt-Smith. One of Racky's responsibilities during the pre-production period of
Black Comedy
has been the making of Harold Gorringe's priceless Chinese Buddha.