by Sam Shepard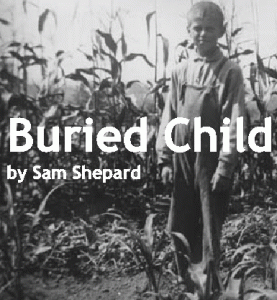 A humorous yet disturbing portrait of a family forgotten then discovered….
In this most bizarre of family reunions, a young man and his new girlfriend confront his eccentric relatives in an old farmhouse in rural Illinois. Increasingly strange events unfurl, leading towards the revelation of a dark secret that will change their lives forever. Buried Child is by turns farcical and tragic in its compelling and moving representation of familial bonds.
***1979 Pulitzer Prize Winner***
"thrills, chills and comedy" …The Daily Telegraph
Buried Child, which catapulted Shepard into becoming America's greatest living playwright, portrays a family that is painfully funny, scary and familiar.
John Atterbury - George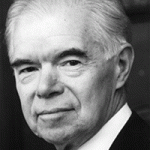 Training: Central School of Speech and Drama.
John started as a disc-jockey on the RAF Gibraltar network before his first Rep. job in his native Swansea. Since then he has enjoyed a jobbing actors life of rep., tours, panto, television and film.
Enjoyable stints in the West End include: No Sex Please We're British; Rolls Hyphen Royce; Licence to Murder; Our Town; and Bent (National Theatre). Most recently John was Pettersen in Michael Grandage's The Wild Duck; and Ivanov (Wyndham's Theatre, West End).
Other credits include: Zeus in Iliad; Studies for a Portrait (King's Head); Duchess in Alice in Wonderland; Mr Cinders (Kings Head); Pope's Wedding (Cock Tavern); Slave in Die Zauberfloete; and Toad in Toad of Toad Hall. John has also worked extensively abroad in Kenya, Korea, Germany, South Africa, Holland and the USA.
Film credits include: Sir Anthony Eden in the Egyptian film Nasser; The Parent Trap; Merriman (Maggie Smith's chauffeur) in Gosford Park; Harry Potter and the Order of the Phoenix; Robin Hood; and No Ordinary Trifle.
Television credits include: Dr Who; Blind Justice; The Jump; Scarlett; Midsummer Murders.
Eileen Nicholas - Halie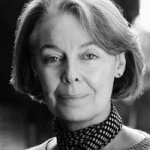 Theatre credits include: Lobster and Vantastic (The Oval Theatre); Saraband (Jermyn St Theatre); Anastasia (PushkinHouse); All About My Mother (Old Vic); Misery (Edinburgh Festival); Woman From The North (Oran Mor); Through the Leaves and Elizabeth Gordon Quinn (Traverse and Bush Theatre); Same Old Moon (Guilgud, West End); Juno and the Paycock (Royal Lyceum); American Bagpipes (The Royal Court and Royal Exchange Manchester); Nell in Endgame and Request Programme (Time Out London Theatre Award – The Donmar Warehouse); Revenger's Tragedy (Cambridge Theatre Co.); Lady of Letters (Theatre Royal, Bury St Edmunds).
Television credits include: Law and Order UK; Half Broken Things; Taggart; Between the Lines; The Bill; Casualty; Dr Findley's Casebook; Doctors; The Final Run; and Mitch.
Film Features: Bomber (Three International 'Best Actress' awards); Regeneration; Widowmaker; and Mrs Renton in Trainspotting. Film Shorts: The Child; Hush; The Lump; and Mr Corbett's Ghost.
Math Sams - Tilden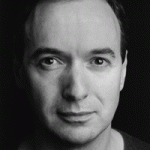 Training: Birmingham School of Acting
Math Sams has returned to theatre after a significant break, retrained and graduated in 2009.
Credits whilst training: Mr Rochester in Jane Eyre; Judge Bract in Hedda Gabler; and Harroun al Rashid in Arabian Nights.
Earlier credits include: Alan Strang in Equus; the title role in Uncle Vanya; MacDuff in Macbeth; Oberon & Theseus in A Midsummer Night's Dream; Leonardo Da Vinci in Leonardo's Last Supper; St Pior in Noonday Demons; Tommy in Female Transport; Tesman in Hedda Gabler; Mitch in The Caretaker; Felix Humble in Humble Boy; Berowne in Love's Labours Lost; and Norman in The Dresser. More recently he has toured Ireland as King Arthur; the UK as Scrooge; and Benedick in Much Ado About Nothing in Wolverhampton.
Math has several film credits, two plays written and performs his own poetry. He plays the Old English Harp.
Jed Aukin - Bradley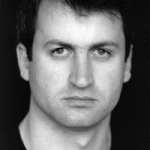 Theatre credits include: The Case of the Crushed Petunias (King's Head); Anastasia (Pushkin House); The Caucasian Chalk Circle (West Yorkshire PH/Nottingham PH/Tour); The Star's that Play with Laughing Sam's Dice (Pentameters); Albert (Canal Cafe Theatre); and Black Snow (Pushkin House).
Television: Jack the Ripper USA (Discovery Channel).
Tala Gouveia - Shelly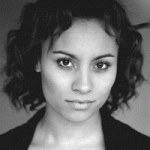 Training: Bristol Old Vic Theatre School
Credits whilst training: Evelyn in The Shape of Things; Luciana in The Comedy of Errors; Sarah in Translations; Alice in Dick Whittington; Tess in Tess of the d'Urervilles; Hermia in A Midsummer Night's Dream; Cordelia in King Lear; Miss Julie in Miss Julie; Kalina in The Pain and the Itch; Yulka in Ladybird; and Lady Teazle in The School for Scandal.
Buried Child marked Tala's professional debut.
Joe Jameson - Vince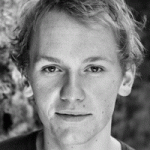 Training: Bristol Old Vic Theatre School
Credits whilst training: Edward in Someone Who'll Watch Over Me; Yolland in Translations; Angel Clare in Tess of the d'Urbervilles; Tommo in Private Peaceful; Demetrius and Bottom in A Midsummer Night's Dream; Andy in Attempts On Her Life; Billy Block in Dick Whittington; Clay in The Pain and the Itch; and Dima in Ladybird.
Buried Child marked Joe's professional debut.
John Conroy - Father Dewis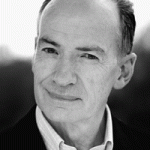 Most recently John played Parchester – the family solicitor in Me and My Girl at the Crucible Theatre Sheffield.
West End credits include: Arvide in Guys and Dolls (Donmar at the Piccadilly); Sandor in Grand Hotel (Donmar); Mr Schumacher in Dirty Dancing (Aldwych); Shelley Levine in Glengarry Glen Ross (Piccadilly); Captain Hook in Peter Pan (Royal Festival Hall); Mr Lyons in Blood Brothers (London and Toronto); Bob Hope in What a Performance (Queens); Frankie Holmes in Jolson (London and Toronto); Pilate in Jesus Christ Superstar (Palace); and The Doctor in On the 20th Century (Her Majesty's).
Other theatre includes: Donald Hall in Take Flight (Menier Chocolate Factory); Peadar Cassidy in The Ha'penny Bridge (The Point Dublin); four seasons at Regents Park Open Air Theatre playing Peter Quince in A Midsummer Night's Dream; Sir Nathaniel in Loves Labours Lost; Verges in Much Ado About Nothing; Don Antonio in Two Gentlemen of Verona; and The Narrator in Oh What a Lovely War! Last year he played Mr Barraclough in the stage version of Porridge.
For the RSC he played The Caterpillar in Alice in Wonderland (Barbican and Stratford); Peter Shirley in Major Barbara; and Lane/Morrison in The Importance of Being Earnest (Royal Exchange, Manchester).
Television credits include: Young Indiana Jones; The Mrs Bradley Mysteries; Pay and Display; Hollyoaks; Holby City; The Bill; The Ruth Rendall Mysteries; and The Omid Djalilli Show.
John is a member of the T.V. Times Leukaemia and Lymphoma Research Running Team.
Racky Plews - Producer for Ovation
For Upstairs at the Gatehouse as producer: High Society ('Best Producer' nomination Off West End Awards); and Buddy – The Buddy Holly Story ('Best Entertainment' nomination Off West End Awards and Time Out's Critics Choice).
As director in residence: London fringe premiere of The Drowsy Chaperone 'Best Off-West End Production' nomination Whatsonstage and 'Best Director' nomination Off West End Awards; Into the Woods; The Young Ones; Side by Side by Sondheim; Starting Here Starting Now; and Cole.
As choreographer in residence: A Slice of Saturday Night ('Best Choreographer' finalist Off West End Awards); A Tale of Two Cities (Directed by Paul Nicholas); Forever Plaid; The Wiz; Hot Mikado; and Victoria Wood's Talent.
Other recent credits include: Resident Director at Trafalgar Studios for State Fair; Crazy For You (London Palladium); Aladdin (Qdos & JC Productions, Hastings); A Christmas Carol (The Kings Head 'Best Play' London Festival Award 2010); Fresher (Edinburgh Festival Fringe 'Most Promising New Musical' MTM Award 2010); Stop Dreamin' (Chas & Dave's new musical Directed by Ray Cooney & Carole Todd); The Tender Land (The Arcola); Big Bruvva The Musical (World Premiere); Marriage of Figaro (Shaw Theatre); La Traviata (Hampstead Garden Opera); Mac Bitch! (Perfect Pitch); and Assassins (Landor Theatre).
Buried Child marked Racky Plews' debut as a producer of drama.
Timothy Trimmingham Lee - Director
Timothy Trimingham Lee trained and worked extensively in the US before getting his MA in Directing at Central School of Speech and Drama.
He has worked at many theatres throughout America and has collaborated with some of the country's most renowned theatre artists, including Lynn Redgrave and Tony-winning director Doug Hughes. Timothy was awarded The Drama League Directors Program's Roundabout Theatre Assistant Directorship and assisted Scott Ellis on the first Broadway revival of The Boys from Syracuse. He has directed several plays by Shakespeare and Beckett as well as revivals of works by contemporary American writers. Timothy wrote and directed A Dreamland Sideshow Christmas for the reopening of the Tom Thumb Theatre in 2010, and his work was displayed at Theatre Delicatessen's Theatre Souk. He recently taught acting at Mountview Academy of Theatre Arts and is currently directing More Light there.
Timothy is an Artistic Director of Flying Orchard, which is developing a site-responsive event based on Greek myth that has been shortlisted for The Oxford Samuel Beckett Theatre Trust Award.
Martin Thomas - Designer
For Upstairs at the Gatehouse: The Drowsy Chaperone ('Best Design' nomination Offie Awards).
Other credits include: Smokey Joe's Café (Landor Theatre 'Best Design' nomination Offie Awards); Yoroboshi (Wimbledon Studio); Harvey (Cooma Theatre, Australia); Relax (Warehouse, Croydon); Three Minute Hero (The Cock Tavern); A Streetcar Named Desire and Europe (Oxford Playhouse); Blowing Whistles (The Sound Theatre); Skara Brae (White Bear); The Kindness of Strangers (Warehouse Theatre, Croydon); Blasted (Old Fire Station, Oxford); Conversations After a Burial (Burton Taylor); Dancing at Lughnasa and Hedda Garbler (Morley Studio Theatre).
Martin spent a year in Australia where he worked with choreographers at the Victorian College of the Arts, Melbourne, designing and lighting performance spaces for contemporary choreographic works.
Martin has also worked for many Designers as a design assistant and is currently working for acclaimed British designer, Isabella Bywater on Aida at the Royal Albert Hall.
Anieka Russell - Associate Costume Designer
For Upstairs at the Gatehouse: A Slice of Saturday Night.
Annie comes to us in a roundabout manner via a career of teaching children and adults in the UK and abroad while designing costumes for various productions as a sideline along the way.
Productions include: Honk!; The Ugly Duckling Musical (Bermuda High School Theatre);Julius Caesar and Romeo and Juliet (Alan Ayckbourn Theatre, Haileybury College, Holland, Belgium and Germany); and Hay Fever (Oratory Theatre). She was the wardrobe supervisor for a new opera commission The Lovely Ladies which is set to tour to Buxton Festival and Hong Kong later this year.
Annie is thoroughly enjoying working with such a dedicated and lovely production team and cast.
Howard Hudson - Lighting Design
For Upstairs at the Gatehouse: A Slice of Saturday Night; High Society; Buddy – The Buddy Holly Story; Victoria Wood's Talent; Forever Plaid; The Young Ones; Into the Woods; and A Tale of Two Cities.
Training: Fine Art at Chelsea College of Art and Design.
Howard won the 2011 Off West End Award for Best Lighting Design for Me and Juliet (Finborough – European Premiere) and Tomorrow Morning (Landor). Other nominations, The Drowsy Chaperone (Upstairs at the Gatehouse); Bent (Landor and Tabard).
Other credits include: Educating Rita (English Theatre Frankfurt); Miranda (Tara Arts and tour to India); State Fair (Trafalgar Studios); Just So (Tabard); Smokey Joes Café (Landor);Calamity Jane and Great Pretenders (Gatehouse); 1936 (Arcola and UK tour); People's Romeo (Tara Arts, UK Tour); Classic Moments, Hidden Treasures (Jermyn Street); Twelfth Night (Creation Theatre Company, Oxford); Romeo and Juliet (Jermyn Street and tour to Poland); Yoroboshi (New Wimbledon Studio); The Importance of Being Earnest (Jermyn Street and 2010 revival tour); The Shakespeare Revue (New End and UK Tour); My Beautiful Laundrette; Dangerous; Blink!, Blink Twice!; Maurice (and 2010 revival); Bathhouse the Musical (all Above the Stag); Copland's The Tender Land (Arcola and Cochrane); Much Ado About Nothing; The Lion the Witch and the Wardrobe; Richard III; Romeo and Juliet; Twelfth Night; A Midsummer Night's Dream (Antic Disposition); Casanova (Kings Head); Histrionics (Edinburgh); and The Forty First (Drama Centre).
Associate credits with Mike Robertson include: Francis Rufelle, Lynda Carter, Caroline O'Connor (Garrick, West End); By Jeeves (Landor); Du ska få en dag i mårå… (The Norwegian Theatre, Oslo); All Bob's Women (Arts); Legacy Falls (New Players); Hair; Deathtrap; and Five Guys Named Moe (English Theatre Frankfurt).
Please visit www.howardhudson.co.uk
Fitz Gitler - Sound Designer
Fitz Gitler was born in New York City but grew up in jazz clubs and festivals around the world. He was Head Sound Designer at Connecticut College's Palmer Auditorium from 1994 to 1996 as well as Program Director of WCNI, New London and a member of the still continuing electronic blues band Techniken Defunkus.
He has designed sound for dozens of plays including Shakespeare's Hamlet; Beggar To The Air (adapted from Timon of Athens); Samuel Beckett's Rough for Theatre II; Play; Footfalls; Act Without Words II; That Time; Waiting For Godot; Strindberg's Miss Julie; Wallace Shawn's The Fever; and many more.
This production of Buried Child marked a mind-altering decade of constant collaborations with director Timothy Trimingham Lee.
Eva Auster - Visual Media Artist
Training: Central School of Speech Drama
Eva has been working professionally as a Video & Projection Designer for three years, whereby she has created visuals for a number of theatrical and live performances as well as working as a video editor and AV technician. She has worked with a number of UK theatre companies and directors, which have included: Kali Theatre; Tamasha; Rifco Arts; Soho Theatre; Theatre503; SEK in Croatia; and The Southwark Playhouse. Later this year in May 2011, Eva is scheduled to take part in the Musion Academy whereby she will be learning to use and develop 3D projections.
For further information about her work, credits and contact details please visit http://flavors.me/auster
Ellie Collyer-Bristow - Casting
For Upstairs at the Gatehouse: The Drowsy Chaperone and Buddy – The Buddy Holly Story.
Other credits as a casting director include: Naked Boys Singing 2011 (Charing Cross Theatre); Car Park (Oval House Theatre); Bright Lights Big City (Hoxton Hall); This Is How It Goes; A Christmas Carol ('Best Play' London Festival Award 2010); and Flash of Light (all at The King's Head); Romeo & Juliet (Mosaica@The Chocolate Factory); Stiffed! (Tabard Theatre); Much (The Cock Tavern); Da (Warehouse Theatre); Pages: Promised Land; (Union Theatre); and Offshoot (River Dark Productions). She has worked as casting assistant to Anna Kennedy and Marilyn Johnson CDG on projects including feature films: Pimp and Legacy. Short films: Edward's Turmoil. Television: Come Rain or Come Shine (ITV); Hattie (BBC4); When Boris Met Dave (Ch4); The Adventures of Daniel; and Off The Hook (BBC3).
Credits as a producer include: Double Falsehood (Time Out Critic's Choice, Union Theatre and Charing Cross Theatre); A Very Musical Evening in aid of Teenage Cancer Trust (Bull Theatre & Wilton's Music Hall); Romeo & Juliet (Mosaica@The Chocolate Factory); Off the King's Road (Trafalgar Studio 2); X – The Musical (Drury Lane); and Best Friends and Butterflies performed with the BBC Big Band. Credits as assistant producer include Blood Wedding and Petite Rouge (The Scoop); Crazy For You (London Palladium); and Pluto (GRIT Productions).
Ellie recently attended the Stage One Workshop for New Producers.
Kate Glasheen - Accent Coach
Ri McDaid-Wren - Associate Producer
Tom O'Brien - Assistant Director
Jess Levy - Assistant to the Designers
Rebecca Day - Rehearsal Stage Manager
Charlotte Lane - Show Stage Manager and Operator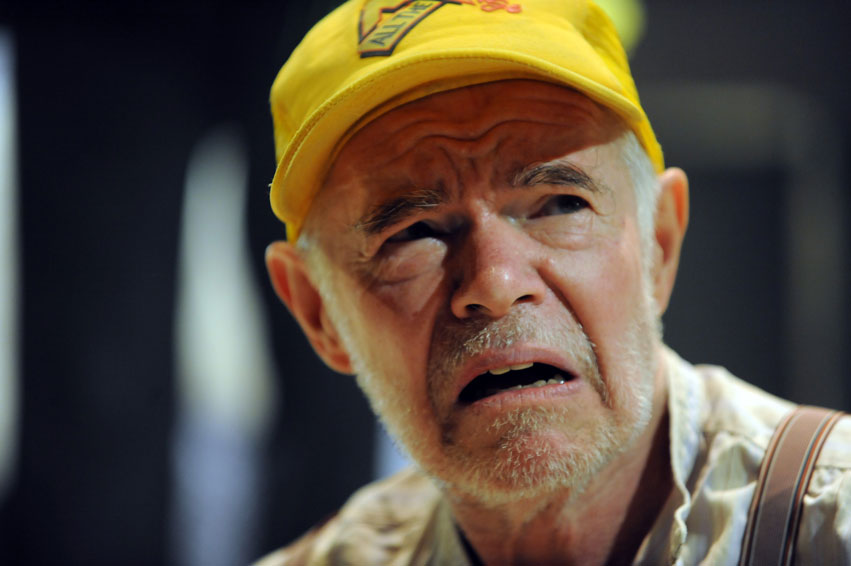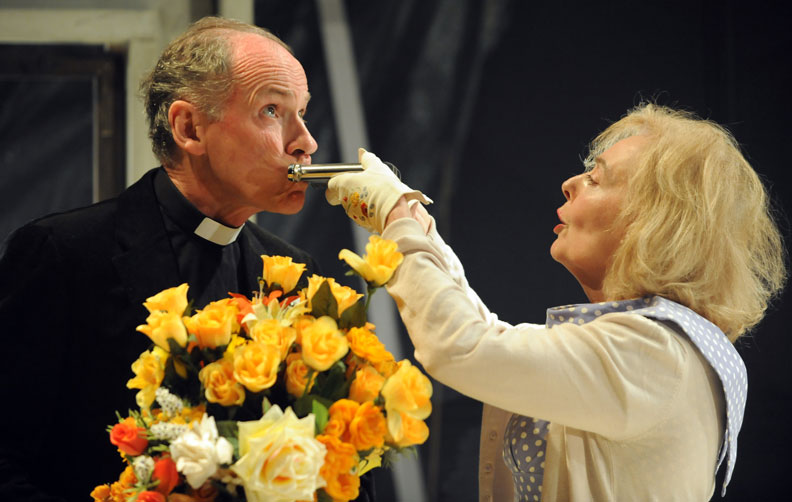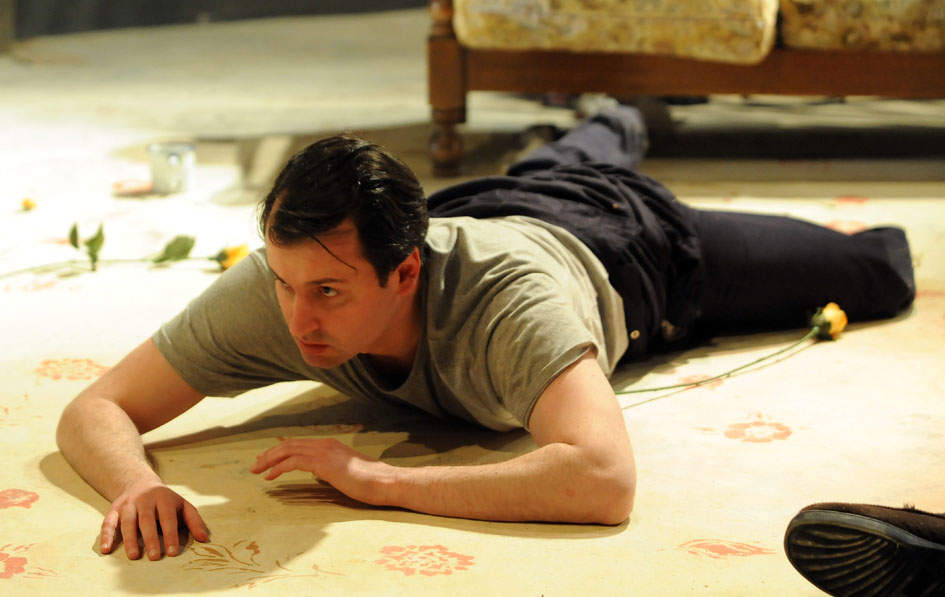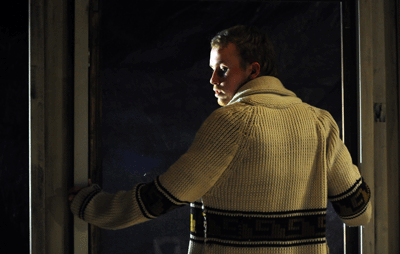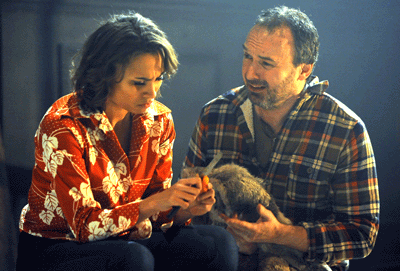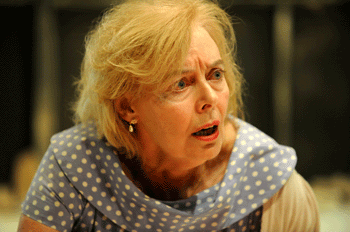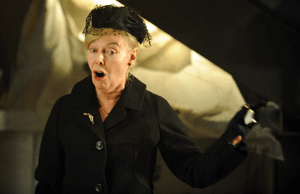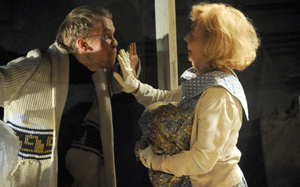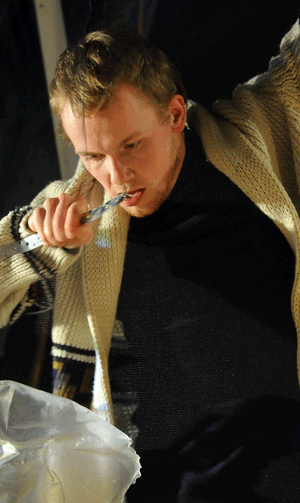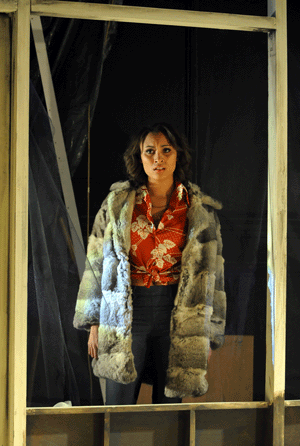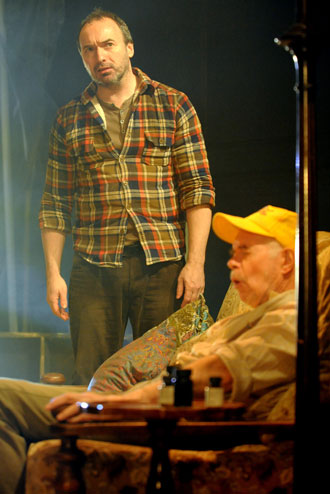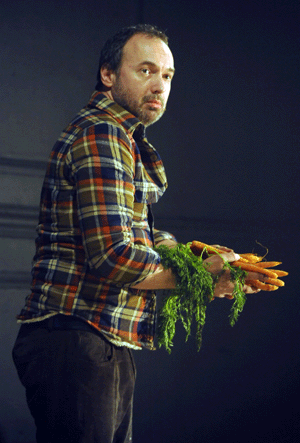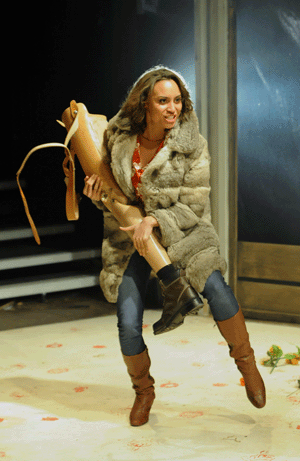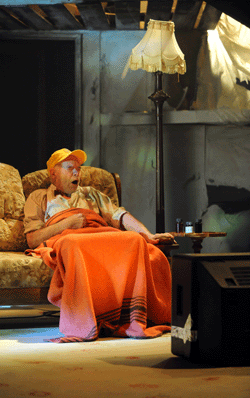 Claudia A, Film News
Welcome to dysfunctional rural Illinois in 1978, where nothing is like it seems and family values crumble as much as the squalid farmhouse in which Buried Child is set. The play, written by acclaimed actor and director Sam Shepard, won a 'Pulitzer Price For Drama' in 1979 and put Shepard firmly on the map as a respected playwright.
Ovation have boldly decided to make a little detour from their usually more musical- and comedy orientated offerings by staging Buried Child for the London fringe. It proved to be a clever decision, for not only have they chosen a challenging piece of work, but the direction by Timothy Trimingham Lee, the compelling performances by the cast as well as the effective set design by Martin Thomas make this an accomplished piece of teamwork.
Shepard's play is absurdist comedy and surreal drama in equal measures, although economically speaking it had without doubt more impact back in the 70s. Buried Child deals with pretty much everything that shakes the American dream by its very foundations, from the collapse of family values to the collapse of the rural economy. Alcoholism, murder, incest, religious hypocrisy, affairs, physical and psychological immobility – there is enough playground to inspire a hundred David Lynch movies!
Central character and patriarch Dodge (John Atterbury) is an alcoholic and depended on other people's help, he spends his days slumped on the sofa, bickering with his wife Halie (Eileen Nicholas) and craving the next bottle of whiskey. On the outside, Halie is a pillar of morality but a dark secret she carries with her has tarnished family relations for years. She worships her dead son Ansel, onto whom she projects all the ambitions and dreams her two living sons Tilden (Math Sams) and Bradley (Jed Aukin) have failed to succeed. While Tilden is psychologically disturbed, Bradley is physically handicapped – therefore both sons are unable to look after their ageing parents as well as the crumbling farm and failed crops.
One day, Tilden's son Vince (Joe Jameson) returns to the farm with sassy girlfriend Shelly (Tala Gouveia) in tow. He reclaims possession of the house but is not recognised by anyone upon his arrival. Shelly – at first disgusted by Vince's family – is determined to find out more about the family relation and the dark secret that has cast a shadow over everyone.
While this may sound heavy (and it is), the script contains enough parody and pitch-black humour to make this a merry course through the wilderness of the soul. The performances are terrific throughout (in particular John Atterbury and Eileen Nicholas, who says that she watched Wim Wender's Paris, Texas to get to the structure of the play). Math Sams reveals that he wasn't familiar with the play before he accepted the part, but felt drawn to it because it's a real challenge for any actor. Admittedly, some of the cast succeed more in displaying that distinctive Midwest drawl than others, but all in all the production, produced by Racky Plews, is a success. Comic relief is also provided by John Conroy as Father Dewis, who plays his part funny yet disturbing at the same time.
"There's no place like home" says Dorothy in The Wizard Of Oz. There's certainly no home like this one, where traditions and values are as twisted as a barn roof in a hurricane.
Aline Waites, Ham & High
TRAGEDY AND WEIRDNESS IN AMERICA
****
In 1979, Sam Shepard won the Pulitzer Prize for this macabre but highly comical play of disillusion, incest, rape and murder.
On the surface, it seems realistic – set in a farm in deepest Illinois. A grandfather sits on the sofa, coughing his life away and soothing himself with a bottle of whisky hidden behind the cushions. He watches TV with the sound off and the only noise is of the ear-shattering thunder and heavy rain clattering outside. His wife Halie remains upstairs the whole of the first section of the play and they communicate in a series of shouts.
They have two sons, Tilde and Bradley, and there is a grandson who hasn't visited for seven years.
It soon becomes clear that this is not a case of Happy Families – there is drama and antagonism between all the characters and somewhere, buried in the garden is the dark secret.
After the birth and death of his child, Tilden is practically inarticulate as he shucks corn and chops the carrots which he has grown in the otherwise derelict property out back. Bradley has had an accident with a chain saw and wears a prosthetic leg.
Halie and Dodge never meet eachother face to face – and Halie has got a bad case of religion, having an affair with corrupt clergyman Father Dewis.
When grandson Vince arrives with his girlfriend Shelly, he is dismayed that nobody in the family recognises him. Dodge seems unaware that he even has a grandson. Shelly is brought into the family home as a device – to be the outsider who can witness the behaviour of this tragic, weird and sometime hilariously farcicial family.
Dodge is played by the wonderful John Atterbury, who is rapidly becoming my favourite actor of all time, and the rest of the actors are very well cast. Eileen Nicholas is a flirtatious Halie, Math Sams, the monosyllabic Tilden, and Jed Aukin, the violent but disabled Bradley. Tala Gouvela and Joe Jameson are the young couple and Father Dewis is a delightful rogue played by John Conroy.
Direction is by Timothy Trimmingham Lee.
Camden New Journal
Buried Child at the reputedly haunted Gatehouse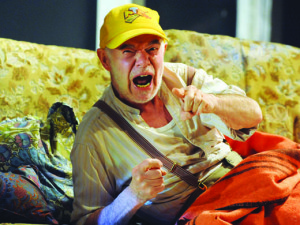 HARD-headed materialists might scoff at the longstanding claims of some local residents that The Gatehouse is haunted – but regardless of whether or not you believe in ghosts, you might leave feeling spooked if you pay a visit to this homely Highgate pub over the next few weeks.
This is not on account of the pub itself but the drama currently playing on the stage upstairs – Buried Child, the Pulitzer Prize-winning work by great American playwright Sam Shepard.
It's an eerie affair for sure but is frustratingly abstract at times, and am I alone in preferring Shepard's more accessible and funnier work Simpatico, which was produced not long ago at the Old Red Lion? Buried Child concerns a dysfunctional family composed of Dodge (John Atterbury, pictured), an ageing alcoholic who "festers and decomposes" on the sofa in his collapsing Illinois farmstead with his strange wife Halie fluttering about upstairs and his two sons – one physically disabled, the other psychologically scarred – wafting in and out. Enter Vince (Joe Jameson), who claims to be Dodge's grandson. Events become increasingly bizarre and a terrible secret is revealed.
This production is a mixed bag. While aspects of it are great – the set is arresting and Atterbury's performance is outstanding – others are ropey. It probably doesn't help that conventional plotline is frequently eschewed in favour of subtle metaphor. The subject matter – the death of the American dream – makes the play as relevant now as when it was first performed in 1978.
When one of the sons, Tilden, walks in carrying a bundle of corn, we are reminded of that biblical saying about reaping what you sow. At one point in an attempt to explain her son's odd behaviour, Halie mutters something about how, when he went out West, Tilden got "mixed up" with the wrong crowd – but in the end everything in this play is disoriented and mixed up.