by Sam Shepard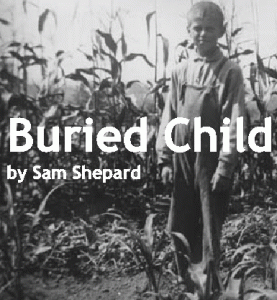 A humorous yet disturbing portrait of a family forgotten then discovered….
In this most bizarre of family reunions, a young man and his new girlfriend confront his eccentric relatives in an old farmhouse in rural Illinois. Increasingly strange events unfurl, leading towards the revelation of a dark secret that will change their lives forever. Buried Child is by turns farcical and tragic in its compelling and moving representation of familial bonds.
***1979 Pulitzer Prize Winner***
"thrills, chills and comedy" …The Daily Telegraph
Buried Child, which catapulted Shepard into becoming America's greatest living playwright, portrays a family that is painfully funny, scary and familiar.
Welcome to dysfunctional rural Illinois in 1978, where nothing is like it seems and family values crumble as much as the squalid farmhouse in which Buried Child is set. The play, written by acclaimed actor and director Sam Shepard, won a 'Pulitzer Price For Drama' in 1979 and put Shepard firmly on the map as a respected playwright.
Ovation have boldly decided to make a little detour from their usually more musical- and comedy orientated offerings by staging Buried Child for the London fringe. It proved to be a clever decision, for not only have they chosen a challenging piece of work, but the direction by Timothy Trimingham Lee, the compelling performances by the cast as well as the effective set design by Martin Thomas make this an accomplished piece of teamwork.
Shepard's play is absurdist comedy and surreal drama in equal measures, although economically speaking it had without doubt more impact back in the 70s. Buried Child deals with pretty much everything that shakes the American dream by its very foundations, from the collapse of family values to the collapse of the rural economy. Alcoholism, murder, incest, religious hypocrisy, affairs, physical and psychological immobility – there is enough playground to inspire a hundred David Lynch movies!
Central character and patriarch Dodge (John Atterbury) is an alcoholic and depended on other people's help, he spends his days slumped on the sofa, bickering with his wife Halie (Eileen Nicholas) and craving the next bottle of whiskey. On the outside, Halie is a pillar of morality but a dark secret she carries with her has tarnished family relations for years. She worships her dead son Ansel, onto whom she projects all the ambitions and dreams her two living sons Tilden (Math Sams) and Bradley (Jed Aukin) have failed to succeed. While Tilden is psychologically disturbed, Bradley is physically handicapped – therefore both sons are unable to look after their ageing parents as well as the crumbling farm and failed crops.
One day, Tilden's son Vince (Joe Jameson) returns to the farm with sassy girlfriend Shelly (Tala Gouveia) in tow. He reclaims possession of the house but is not recognised by anyone upon his arrival. Shelly – at first disgusted by Vince's family – is determined to find out more about the family relation and the dark secret that has cast a shadow over everyone.
While this may sound heavy (and it is), the script contains enough parody and pitch-black humour to make this a merry course through the wilderness of the soul. The performances are terrific throughout (in particular John Atterbury and Eileen Nicholas, who says that she watched Wim Wender's Paris, Texas to get to the structure of the play). Math Sams reveals that he wasn't familiar with the play before he accepted the part, but felt drawn to it because it's a real challenge for any actor. Admittedly, some of the cast succeed more in displaying that distinctive Midwest drawl than others, but all in all the production, produced by Racky Plews, is a success. Comic relief is also provided by John Conroy as Father Dewis, who plays his part funny yet disturbing at the same time.
"There's no place like home" says Dorothy in The Wizard Of Oz. There's certainly no home like this one, where traditions and values are as twisted as a barn roof in a hurricane.
TRAGEDY AND WEIRDNESS IN AMERICA
****
In 1979, Sam Shepard won the Pulitzer Prize for this macabre but highly comical play of disillusion, incest, rape and murder.
On the surface, it seems realistic – set in a farm in deepest Illinois. A grandfather sits on the sofa, coughing his life away and soothing himself with a bottle of whisky hidden behind the cushions. He watches TV with the sound off and the only noise is of the ear-shattering thunder and heavy rain clattering outside. His wife Halie remains upstairs the whole of the first section of the play and they communicate in a series of shouts.
They have two sons, Tilde and Bradley, and there is a grandson who hasn't visited for seven years.
It soon becomes clear that this is not a case of Happy Families – there is drama and antagonism between all the characters and somewhere, buried in the garden is the dark secret.
After the birth and death of his child, Tilden is practically inarticulate as he shucks corn and chops the carrots which he has grown in the otherwise derelict property out back. Bradley has had an accident with a chain saw and wears a prosthetic leg.
Halie and Dodge never meet eachother face to face – and Halie has got a bad case of religion, having an affair with corrupt clergyman Father Dewis.
When grandson Vince arrives with his girlfriend Shelly, he is dismayed that nobody in the family recognises him. Dodge seems unaware that he even has a grandson. Shelly is brought into the family home as a device – to be the outsider who can witness the behaviour of this tragic, weird and sometime hilariously farcicial family.
Dodge is played by the wonderful John Atterbury, who is rapidly becoming my favourite actor of all time, and the rest of the actors are very well cast. Eileen Nicholas is a flirtatious Halie, Math Sams, the monosyllabic Tilden, and Jed Aukin, the violent but disabled Bradley. Tala Gouvela and Joe Jameson are the young couple and Father Dewis is a delightful rogue played by John Conroy.
Direction is by Timothy Trimmingham Lee.
Buried Child at the reputedly haunted Gatehouse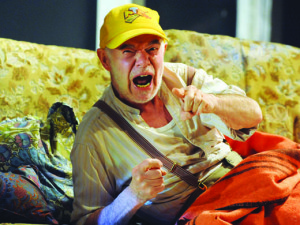 HARD-headed materialists might scoff at the longstanding claims of some local residents that The Gatehouse is haunted – but regardless of whether or not you believe in ghosts, you might leave feeling spooked if you pay a visit to this homely Highgate pub over the next few weeks.
This is not on account of the pub itself but the drama currently playing on the stage upstairs – Buried Child, the Pulitzer Prize-winning work by great American playwright Sam Shepard.
It's an eerie affair for sure but is frustratingly abstract at times, and am I alone in preferring Shepard's more accessible and funnier work Simpatico, which was produced not long ago at the Old Red Lion? Buried Child concerns a dysfunctional family composed of Dodge (John Atterbury, pictured), an ageing alcoholic who "festers and decomposes" on the sofa in his collapsing Illinois farmstead with his strange wife Halie fluttering about upstairs and his two sons – one physically disabled, the other psychologically scarred – wafting in and out. Enter Vince (Joe Jameson), who claims to be Dodge's grandson. Events become increasingly bizarre and a terrible secret is revealed.
This production is a mixed bag. While aspects of it are great – the set is arresting and Atterbury's performance is outstanding – others are ropey. It probably doesn't help that conventional plotline is frequently eschewed in favour of subtle metaphor. The subject matter – the death of the American dream – makes the play as relevant now as when it was first performed in 1978.
When one of the sons, Tilden, walks in carrying a bundle of corn, we are reminded of that biblical saying about reaping what you sow. At one point in an attempt to explain her son's odd behaviour, Halie mutters something about how, when he went out West, Tilden got "mixed up" with the wrong crowd – but in the end everything in this play is disoriented and mixed up.