An Entertainment based on the words and music of


COLE PORTER
Music and Lyrics by Cole Porter
devised by Benny Green and Alan Strachen
Original production by Bernard Miles at the Mermaid Theatre

"There's no love song finer, but how strange, the change from major to minor"
Cole Porter was one of the great song-writers of the twentieth century – his wit and playful style in lyrics and music will never be surpassed. Richard Rodgers said of him, "Few people realise how architecturally excellent his music is. There's a foundation, a structure and an embellishment – add the emotion he puts in and the result is unmistakable Cole Porter".
A cast of ten actors and musicians will entertain you with over forty of Cole Porter's songs.
Angela Bleasdale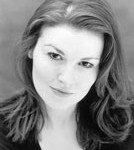 Angela is from Glasgow and has recently graduated from The Italia Conti Academy of Theatre Arts (BA Hons. Acting). She is delighted to be making her debut in 'Cole' at Upstairs at the Gatehouse. Angela's credits include: Belinda in Man of Mode at the Sheridan Studio, Jenny in Men Should Weep at the Avondale Theatre, Phaedra's Love at the Landor, Father in Marat-Sade at Avondale Theatre, Julia in Two Gentlemen of Verona at the Sheridan Studio, Young Woman in Machinal at the Sheridan Studio, and Low Dive Jenny in The Threepenny Opera (also at the Sheridan Studio). Angela has also appeared as Linda in Stags and Hens at Paisley Arts Centre and Juliet in Romeo and Juliet at the Ramshorn Theatre in Glasgow.
Gemma Morsley
Gemma trained in Performing Arts at Middlesex University, and has since performed mainly in Music Theatre and Revue. Her credits include Dominique du Monaco in Lucky Stiff, The Woman in Marry Me a Little at the King's Head Theatre, the title role in King Charming and the Bluebird of Paradise, a traditional pantomime at the Players' Theatre, and Prince Charming in Cinderella. She has also performed as Lead Vocalist in Romancing at the Nuffield Theatre, Southampton, and at the Thursford Christmas Spectacular. Film work includes Mother Immortal and The Last Horror Movie for Prolific films which will be released in cinemas this summer. Immediately after finishing this run of Cole, Gemma will be taking a vow of chastity, flogging her worldly possessions on ebay, and returning to the Nuffield Theatre to become Sister Robert Anne in the musical Nunsense. Find out more at www.gemmamorsley.co.uk
Georgina Wyatt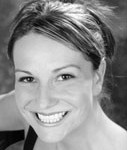 Georgina is from Surrey and graduated from the London School of Musical Theatre last year. Prior to that she trained at the BRIT School for Performing Arts and Technology in Croydon. During her student years Georgina performed the roles of the Scarecrow in The Wizard of Oz and more recently Frieda in the new musical Hope at the Cochrane Theatre as well as many showcases. In 2002 Georgina produced and starred in a one-woman concert One Day I'll Fly Away at the Charles Cryer theatre, Carshalton. In March of this year she made her debut Upstairs at the Gatehouse as a dancer in the new musical Czarinas. Other credits include Mary/Chief Priest in The Easter Story, Fairy Daisy/Princess Beauty in Sleeping Beauty, Ronny in Hair, Anita in West Side Story and a vocalist at the Children's BAFTA Awards. Georgina is delighted to be performing in Cole and would like to thank her wonderful parents for their support.
Hara Yannas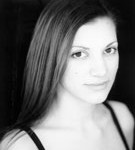 Hara recently graduated from the Musical Theatre course at the Royal Academy of Music, where she played Anne Egerman in A Little Night Music. Other credits include: Viola in Twelfth Night, Amy in Company (Simmonds Theatre), Beauty in Beauty and the Beast (Polka Theatre), Nell Gwyn in Plackets and Pockets, Not Quite Bedtime (Pleasance Theatre, Edinburgh), Aurelius with the National Youth Music Theatre (Assembly Rooms, Edinburgh).
James Pearson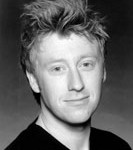 James trained at the London School of Musical Theatre. Theatre credits include, The Twits (Belgrade Theatre Coventry and UK No 1 tour), Snoopy the Musical (Rosemary Branch), Me and My Girl (Alexander Theatre Birmingham), Jesus Christ Superstar (UK No1 Tour), Whistle Down the Wind (Aldwych), Between Mouthfuls, Ball Boys, Graceland Experience and Damn Yankees (The Bridewell), A Midsummer Night's Dream (Bushey Park), The Misanthrope (Bloomsbury, Temptations (Pentameters) and The Little Match Girl (The Bull in Barnet), Elvis the Musical (The Prince of Wales), Sondheim Tonight (Barbican Concert Hall), Tomorrow Never Knows (Hen and Chickens). Film and television credits include Kavanagh QC for Carlton T.V. and The Winning Ticket for Zig Zag Productions. James is also featured in the latest Fosters commercial. His directorial credits include; Mother Figure, Drinking Companions and The Boss for Lunch all at the Bridewell and A Lasting Encounter (which he also wrote) and Secrets both at the Hen and Chickens. James has also done extensive voice over work for the BBC and recording work for Warner Chappells Music Look Ma I'm Tapping.
John Plews - Narrator / Drums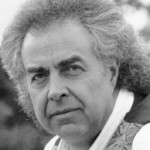 John trained at LAMDA where his most notable achievement was to share a flat with Clive Hornby (Jack Sugden in Emmerdale). Touring roles include Second Officer in Twelfth Night, Third Passer-by in Send Me No Flowers, Programme Seller in The Rocky Horror Show and Tall Rabbi in the Crowd in Fiddler on the Roof. Cole will be John's second appearance Upstairs at the Gatehouse. Who could forget (unfortunately many did) his definitive 'Funny Policeman' in From a Jack to a King. Playing the Narrator provides a new challenge in his long and varied career. Playing the drums takes him back to 1964.
Lincoln Stone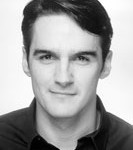 Lincoln has recently moved to London after studying Musical Theatre at Australia's National Institute of Dramatic Art, although his training started at the age of seven here in England at the West Sussex Theatre Studios Drama School. Recent roles in Sydney include Johnny Angel in the original cast of Cruisin', Archibald in The Secret Garden, Enjolras in Les Misérables, Captain Tempest in Return To The Forbidden Planet and Frederic in The Pirates of Penzance. While in Sydney Lincoln trained vocally with Leonie Cambage and Greg Crease, and since moving to London he has been training with Craig Barbour. Lincoln also performs regularly for The Council For Music In Hospitals, and in future his hospital concerts will certainly contain more of the uplifting, comic and risqué genius of Cole Porter.
Nicholas Sagar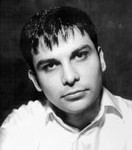 Theatre includes: Bosun in Return to the Forbidden Planet (Upstairs at the Gatehouse) Godspell for Pain & Panic Productions (Tolbooth Theatre, Stirling), Professor Bumble/King Christophe in Sleeping Beauty for M&M Productions (UK Tour). Nick Created the role of Robert in February's Child for Carnival Productions (Edinburgh Festival and Tour). Cabaret includes: Piano Vocalist/Cocktail Pianist for Live Business, Lead Vocalist with Blue Room Audio, Corporate Cabaret to 5 star hotels across UK Bass Player for Ellie Jay aboard The Pride Of Hull, Lead Singer with cover band Out Of The Blue. Nick has been Musical Director for several productions with Live Business and for Stageworx Theatre School.
Tim McArthur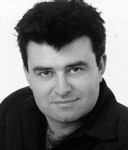 Tim trained in musical theatre at Mountview. His credits include Fred Astaire-His Daughter's Tribute (London Palladium), Company (Palace Theatre, Westcliff), You're Gonna Love Tomorrow (Greenwich Playhouse), South Pacific (Aberystwyth Arts Centre), Wizard of Oz (Yvonne Arnaud), and two productions of Joseph. He has also appeared in As You Like It, Another Country, played the lead role of Frank 'n' Furter in Rocky Horror Tribute, Judas in Godspell (Millfield Theatre), and toured in Helen Lederer's One Night Stand. Tim's one- man shows have been performed at such venues as the Purcell Room, Pizza on the Park, The King's Head and Don't Tell Mama's (New York). The most recent, Over the Rainbow, which started life here Upstairs at the Gatehouse, will play at the Jermyn Street theatre in August. As well as hosting the Cabaret in the House and Jermyn Street Jewels seasons, he regularly performs as his alter ego, Sister Mary McArthur, and has supported Bobby Davro, Julian Clary, and Graham Norton. Directing credits include Silver Heaven, Love Sex and Retrofeminity, and Rocky Horror. In November, he will direct the European premiere of Seduction at Baron's Court Theatre. TV work includes Eastenders, The Richard Blackwood Show and Ginger Beer. He can be heard presenting on BBC Radio London with Sadie Nine and FiveLive with Matthew Bannister. Having previously performed here in Forever Plaid, Tim is delighted to be in Cole back at his favourite local theatre. www.timmcarthur.com
Racky Plews - Director / Choreographer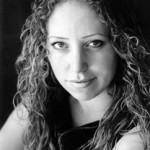 Racky trained on the Musical Theatre course at the Arts Educational School in London. She recently returned from the Middle East where she choreographed Rough Crossing for (Sh! Productions). Racky also choreographed and managed the national tour for Ovation's production of Forever Plaid and London productions of From a Jack to a King, It's Only Make Believe and Return to the Forbidden Planet. You can see her latest dance-style on Emily Blunt's music video (Sensation). Theatre credits include: Penny Scyllen in Return to the Forbidden Planet, Ronnette in Little Shop of Horrors, Penny in A Slice of Saturday Night, Kim in Daydream Believer (Upstairs at the Gatehouse), Banging the Drum (YBS Dance Tour), Phantom in The Rocky Horror Tribute Show (Lauderdale House) and A Funny Thing Happened on the Way to the Musical. This is Racky's debut as a director and she is thrilled to be working with such a talented company.
Chris Lambert - Musical Director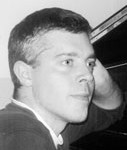 Chris grew up in Stoke-on-Trent before going on to study violin and piano at the Purcell School and then conducting at the Birmingham Conservatoire. Chris has worked as Musical Director on such diverse shows as a national tour of Man of La Mancha in which he also played the barber, Ned Sherrin's Lunchtime Chat Show at the Edinburgh Fringe Festival, Singing in the Rain at Birmingham Old Rep and was also the Musical Director for the National Youth Music Theatre's acclaimed production of Into the Woods. He has written arrangements for The Supremes and worked on The Threepenny Opera in New York. Chris has been Musical Director on five pantomimes at the Theatre Royal Windsor where he had the good fortune to work closely with Eric Sykes for two years creating and performing comedy musical sketches. By some strange turn of events over the last few years, Chris has also become a voice-over artist and one of the Country's most experienced travel news presenters. He is now a regular broadcaster for the Classic FM Travel Centre and appeared in the BBC TV documentary Dying to Get There! His image songs and jingles are currently in use by BBC Radio.
Stuart Green - Lighting Designer
Stuart trained at Mountview Academy of Theatre Arts and is currently Technical Manager at St. Paul's School in London. Stuart is pleased to be working Upstairs at the Gatehouse on this production of Cole. Recent design credits include Twelfth Night (Courtyard Theatre), Lord of The Flies (St. Paul's), Sweeney Todd (Wilde Theatre-Bracknell, Electric-Guildford and Princess-Aldershot), A Servant of Two Masters (St. Paul's), Love Me, Love My Dog (Hen and Chickens), Cinderella (Westminster Theatre) and Acting Showcases at the Criterion and Shaw Theatres. Associate work includes Boulevard Solitude transfer to Italy for Paul Pyant (Royal Opera), Seasons and Dante for Mark Jonathan (Birmingham Royal Ballet), and Aida at the Theatro Lirico in Cagliari. As a freelance technician Stuart has had the pleasure at working at numerous venues around the country including The Royal National Theatre, Sadler's Wells, Peacock, Cochrane and Mercury Theatre Colchester.
Isabel Muñoz - Costumes
Isabel trained as a classical dancer at the Bilbao Dance Studio and later trained in Stage Design in Birmingham. She has performed across Spain and Portugal. Design credits for Ballet de Euzkadi include Giselle, Nutcracker, Petrushka and Carmen. UK theatre work includes: Collision (The Old Red Lion Theatre), Desdemona: A Play About A Handkerchief (Hill Street Theatre at the 2003 Edinburgh Fringe Festival). Costume work includes: Woyzek (City of Birmingham Opera), Exclude Me (The Chelsea Theatre) and Under the Curse (Gate Theatre); Scenic Artist for The Bartered Bride (Crescent Theatre), The Dice House (Arts Theatre), Majnoun (Riverside Studios), Design Assistant for Nicholas Nickleby (Red Shift) and Lady Chatterley's Lover (Hull Truck Theatre).
Jessica Plews - Hair and Make-up
Jessica was educated at Queen's College, Harley Street where she studied Music Technology and Theatre Studies. Last year she completed a Theatrical Film and Stage Make-Up course at the Delamar Academy. Theatre work includes Wig Mistress and Make-up Artist on Return to the Forbidden Planet (Upstairs at the Gatehouse), Assistant Wig Stylist on Chitty Chitty Bang Bang (London Palladium), Chief Make-up Artist Rocky Horror Tribute (Lauderdale House) and Wig and Make-up Advisor Rough Crossing (Upstairs at the Gatehouse). Films include Wig Mistress and Make-up Artist Last Ship Over (Odd Couple Productions), Make-up Artist Wallflower (Jade Syed-Bokhari). Chief Make-up Artist Weekend (Embargo Films) and Make-up Artist Rolling Balls (Nicola Marshall). Jessica is also the personal Hair and Make-up Artist for Zoe Evangeline for her live performances and has been Hair and Make-up Artist on various photo shoots.
Charlotte Harber - Stage Manager
Charlotte studied Fine Art at Sunderland University and has just completed a ten month residency at The King's Head, Islington. Whilst there she directed Rialto, Who Would Believe Marilyn, Receive This Light and Baglady by Frank McGuinness which is transferring to the Edinburgh Fringe Festival. Charlotte has written, directed and produced two short films and has recently completed The Tell-Tale Heart assisting Peter Murton which can be seen at the Cannes Film Festival. This is Charlotte's debut as a Stage Manager and first production Upstairs at the Gatehouse.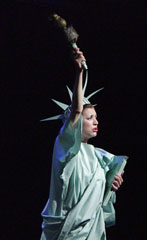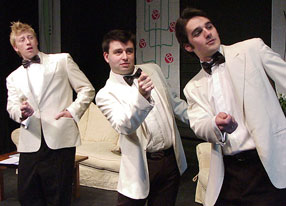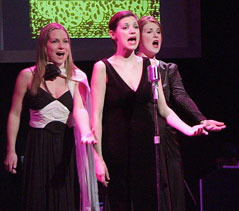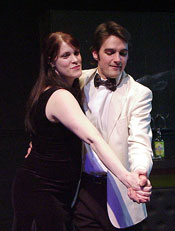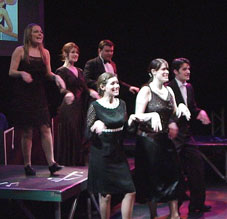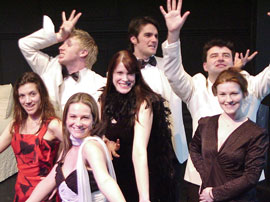 Richard Osley, Camden New Journal
If there is a better show tune than Anything Goes, argue it out with me. If there is a better show on the fringe than this right now, take me to it.
Racky Plews debuts as director in spectacular fashion with this winning version of Benny Green's warm homage to playboy composer, Cole Porter. For the captivating musical notes she can thank Porter's genius – but don't be fooled into thinking the hard work has been done for Plews and her cast of eight.
John Plews narrates the songwriter's biography with authority, walking us through Porter's achievements from Yale scholar to Broadway big-shot.
By the interval, we reach Anything Goes, the show still drawing rave reviews in the West End and that infectious title tune. The entire cast muscle in on this number to great effect.
Part two is just as good, whisking us to Porter's later success Kiss Me Kate with the slapstick fun of Brush Up Your Shakespeare.
Georgina Wyatt excels in her second Gatehouse show of the year, local celebrity Tim McArthur uses his booming voice to throw in an assured performance while James Pearson's majestic vocals add extra strength to the mix of voices.
But the audience leaves most enchanted by Hara Yannas. Big rolling eyes, a power punch voice, she turned filler songs such as Lost Liberty Blues (dressed as the Statue of Liberty) and The Laziest Gal in Town into show stoppers when they might have been eclipsed by the more obvious tunes in the Porter cookbook.
It's a long show but Cole doesn't run out of steam and as far as I was concerned they could have sung all night.
Kieron Quirke, Time Out
This tribute to Cole Porter is a lightly devised affair. The narrator talks us through Cole's life with chronological storytelling and the show opens with a few numbers from Porter's Yale years.
Once we're into his more fruitful period, the songs make the narrative worthwhile. Here are most of the standards plus a few surprises – James Pearson's performance of 'You Don't Know Paree' is one of the night's highlights. The performers are young and they're all able to shine when the material suits. Gemma Morsley offers fine sultry vocals in 'Love for Sale' and 'Every Time We Say Goodbye'. Lincoln Stone is a suave presence who seems ideally suited to 'I'm a Gigolo'. Hara Yannas' expressive features and sweet peep of a voice help her solo comic numbers, including 'The Laziest Girl in Town'. Special mention too should go to MD Chris Lambert, who not only takes keyboard duties, but has a show-stealing turn in the obligatory 'woman at bar' scene.
Aline Waites, Ham & High
The great Mr Porter is without doubt the master of melody, and his lyrics are second to none – think of the positive genius of rhyming that goes into Brush Up Your Shakespeare – "If your blonde won't respond when you flatter 'er / Tell her what Tony told Cleopatterer".
He belonged to the days when lyrics had wit and every one of his shows contained many tunes of such diversity that the paucity of melody in recent musicals looks pale indeed – choosing the items for this show must have been a nightmare task.
I Happen to Like New York is handled masterfully by Tim McArthur, and arranger Kenneth Moule's soaring harmonies in Most Gentlemen Don't Like Love bring joy to the most jaded palate. As a criticism, in order to get the full impact of Brush Up…, it should be done as in the original by a pair of hoodlums.
Despite these niggles, the incredibly talented cast do director and choreographer Racky Plews proud. The show deserves a bigger theatre and a wider audience.