COME BACK TO THE 5 & DIME, JIMMY DEAN, JIMMY DEAN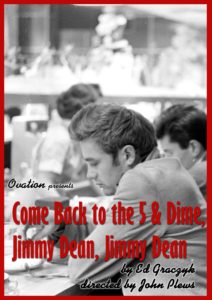 18th September – 18th October 2009
Come Back to the 5 & Dime, Jimmy Dean, Jimmy Dean is set in a 5 & Dime store in McCarthy, a small town in West Texas.
Ovation presents a revival of this intense and poignant American play about a reunion of 'The Disciples of James Dean' – a group of women who meet in a small Texas town in 1975 exactly twenty years after the death of their movie hero.
McCarthy was close to the location of the film 'Giant' which starred James Dean, along with Rock Hudson and Elizabeth Taylor.  Many residents of the nearby town of Marfa were featured as extras in the movie.  It was James Dean's third and final film – he died tragically in a car accident on 30th September 1955 whilst the film was in post-production.  Wednesday 30th September 2009 will be the date for our 'meet the director and cast' after the performance.    Come Back to the 5 & Dime opened on Broadway in 1982 starring Cher in her first non-singing role.  The play was then turned into a successful movie.
Written by Ed Graczyk
Directed by JOHN PLEWS
Design & Costume – PIERA LIZZERI
Lighting Design – LAWRENCE STROMSKI
Assistant Director – EMILY JENKINS
Production Manager – GEMMA HARRIS
Stage Manager – BETH CROCK
Sound Design – CATE DiGIROLAMO
Assistant Stage Manager – KAZ FLETCHER
Lighting Rigger – SIMEON MILLER
Scenic Painter – ATIE JAMIESON
Resident Intern – HANNAH JACOBS
Set Painters – EMILY BENET
SAM MCGREGOR /MARIA DOMICAN
Set Builders – SHOWTIME
Photographers – MITZI DE MARGARY
ALEX RUMFORD