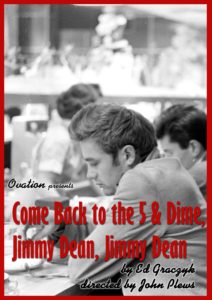 18th September – 18th October 2009
Come Back to the 5 & Dime, Jimmy Dean, Jimmy Dean is set in a 5 & Dime store in McCarthy, a small town in West Texas.
Ovation presents a revival of this intense and poignant American play about a reunion of 'The Disciples of James Dean' – a group of women who meet in a small Texas town in 1975 exactly twenty years after the death of their movie hero.
McCarthy was close to the location of the film 'Giant' which starred James Dean, along with Rock Hudson and Elizabeth Taylor.  Many residents of the nearby town of Marfa were featured as extras in the movie.  It was James Dean's third and final film – he died tragically in a car accident on 30th September 1955 whilst the film was in post-production.  Wednesday 30th September 2009 will be the date for our 'meet the director and cast' after the performance.    Come Back to the 5 & Dime opened on Broadway in 1982 starring Cher in her first non-singing role.  The play was then turned into a successful movie.
CAST

Jenny Marlowe - Juanita
Jenny has just completed a Master's degree in Text & Performance Studies at RADA and King's College, having previously studied English and Theatre at Princeton University. Credits include: The Parliament of Fowls (Warhorse Theatreworks); Words, Words, Words! (Southwark Playhouse), a solo piece; four French language productions for The French Theater Workshop at Princeton University; Columbia in The Rocky Horror Picture Show (FireHazards Performance Group); and Dinah in The Philadelphia Story (The Players' Club of Swarthmore). Jenny is a four-time winner of the Philadelphia Young Playwrights' Festival.

Coren Fitzgerald - Edna Louise
Coren trained at the Poor School. She recently performed in the TARA Arts portrayal of The Serpent's Wedding at the Southwark Playhouse and as Zoe in the Sturdy Beggars production of The City (Lion and Unicorn Theatre). Recent films include: TV comedy drama pilot 20 Anything for Tall Tales productions and short film Never So Lovely. Previous theatre roles include Catherine in Miles to Babylon; Desdemona in Othello (both at the Pacific Playhouse); and Princess Ivona in
Princess Ivona (Workhouse Theatre).

Kathryn Georghiou - Stella May
Kathryn trained at Mountview Academy of Theatre Arts. Her credits include: Sarah Daracott in Holby City (BBC); Philippa Carrington in Waking the Dead (BBC); Lady Macbeth in Macbeth (Young Shakespeare Company); Titania in Midsummer Nights Dreams (Young Shakespeare Company); Emma in Betrayal (White Horse Theatre Company); Rose in Beyond Ormarska (Box of Tricks); and Mirim in Dead Time (Short Film/RCA).

Eleanor Boyce - Joanne
Eleanor read Drama at Bristol University then trained at Drama Studio London. Theatre credits include Alice in Metal Remains (Alma Tavern Theatre); Dora in Airswimming (Edinburgh Fringe, Andrews Lane Theatre, Dublin and Etcetera Theatre); Bouncers (Helix Theatre, Dublin); Lynne in Stepping Out (Arts Depot); As You Like It (Shakespeare @ Tobacco Factory); Alice in A Couple (Alma Tavern Theatre); The Marowitz Hamlet (British Touring Shakespeare Company); A Midsummer Nights Dream (Bristol Old Vic Studio); Crave (Wickham Theatre); Roles whilst training include Mrs Heaton in Mystery at Greenfingers; Martha in The Constant Wife; Yelena in Uncle Vanya; Beatrice in Much Ado About Nothing; Lady Fidget in The Country Wife; and Darling in Nabokov's Gloves. Short Film and TV credits include: Coked-up Britain (Sky One); Can't Stop Losing My Cool… (BBC) and Calmly Confused (NYFA).

Josh Boyd-Rochford - Joe
Josh appeared as a singer with English National Opera for seven years before studying at Mountview Academy of Theatre Arts. His credits include Lamar in Godspell (Chelsea Theatre); Freddy Eynsford-Hill in My Fair Lady (European Tour); Tom in Catchy! (Brighton Festival); Ben in Rags (Spitalfields Festival); Casper/Cassie in Baggage (Pentameters Theatre); Clown in Titus Andronicus; Puck/Starvelling in Shakespeare Shorts (Edinburgh Fringe); Demetrius in A Midsummer Night's Dream (Broughton Open Air Festival); Rudolf Rassendyll in The Prisoner of Zenda (UK Tour). He appeared as a soloist in The West End Show (Regional Tour). Recently Josh developed the role of Harry Houdini in Houdini-The Musical (Shattered Nerve Productions). Josh's own production company, AfterView, is currently performing Proud To Say I Love You, a musical revue, across London, in which Josh appears.

Fiona Drummond - Mona(1955)-
Fiona trained at the Drama Centre, London. Credits include: Elaine Robinson in The Graduate (The Space); Juliet When Shakespeare's Ladies Meet (The Southbank); Mother Basil/Mary in Once a Catholic (Upstairs at the Gatehouse – Lost Theatre); Starvling/Mustardseed A Latesummer Night's Dream (Millpond Media); Choros (Southwark Playhouse); Bobby in The Railway Children (Tour); The Red Shoes (Edinburgh Fringe); Far Away (York Theatre Royal). Credits while training: Hedda in Hedda Gabler; Maria in The Tamer Tamed; Viola in Twelfth Night at Shakespeare's Globe; and Irina in Three Sisters at The Vakhtangov Institute Moscow.

Adrienne Matzen - Mona(1975)-
Adrienne recently graduated from LAMDA. Theatre credits while training include Alice in New England, Maureen in the world premiere of Passport to Pimlico; Queen Caroline in The Art of Success; Bereaved Mother in The Permanent Way; and Mrs. Bisket in Epsom Wells. Film credits include Hush (Flame Head Productions) and War Stories (Uncheckable Films).
Directing credits include 10. 10. Post 911 (Theatre on Consignment) and Desdemona: A Play About a Handkerchief (Welsbacher Theatre).

Catherine Nix-Collins - Sissy(1955)-
Catherine trained at The Arts Educational School of Acting. Theatre includes: Jill in Cooking With Elvis (Upstairs at the Gatehouse); Pure Joy in More Light (The Sassoon Gallery); Martha & Mrs Medlock in The Secret Garden (regional tour); ensemble in Nosferatu (Arcola); Irina in The Three Sisters (Teatro Vivo); Maria in The School for Scandal (Salisbury Playhouse); and Little Significance and Alone with Lamia (rehearsed readings at The Pleasance, London). Television credits include: Princess Daffodil and recent film credits include: They Mean a Lot to Me (La Ha Productions).

Julie Rose Smith - Sissy(1975)-
Julie trained at the Guildford School of Acting. Her theatre credits include: playing the title role in the one-woman show Spoonface Steinberg by Lee Hall (Nuffield Theatre Company/UK Tour); Cottonbud in You Beautiful Ewe (The Roundhouse); Ladybird in James and the Giant Peach (Nuffield Theatre); various characters in The Legend of Hercules (UK Tour); Viola in Twelfth Night (Guildford Shakespeare Company); Hero/3rd Watchman in Much Ado About Nothing (Clockhouse Theatre Company / Guernsey); and Starveling/First Fairy in A Midsummer Night's Dream (Guildford Shakespeare Company). Julie has also recorded a five-part radio-drama for the BBC, titled The Journey. Her film credits include: Alison in Needs (Short Film/Knighthood Films in assoc. w Explosive Studios) and Eliza in Dead Soul (Short Film/Motionfxpro).

CREATIVES
Written by Ed Graczyk
Directed by JOHN PLEWS
Design & Costume – PIERA LIZZERI
Lighting Design – LAWRENCE STROMSKI
Assistant Director – EMILY JENKINS
Production Manager – GEMMA HARRIS
Stage Manager – BETH CROCK
Sound Design – CATE DiGIROLAMO
Assistant Stage Manager – KAZ FLETCHER
Lighting Rigger – SIMEON MILLER
Scenic Painter – ATIE JAMIESON
Resident Intern – HANNAH JACOBS
Set Painters – EMILY BENET
SAM MCGREGOR /MARIA DOMICAN
Set Builders – SHOWTIME
Photographers – MITZI DE MARGARY
ALEX RUMFORD
Photos