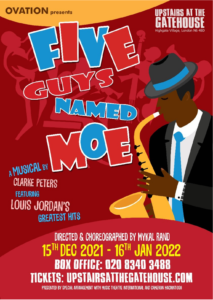 Upstairs at The Gatehouse | 15th December – 16th January 2022
Five Guys Named Moe is an explosion of entertainment using the great music of Louis Jordan.
A Musical by Clarke Peters 
Directed and Choreographed by Mykal Rand.
Presented by special arrangement with Music Theatre International and Cameron Makintosh 
Nomax is our Hero – he's broke, his girlfriend's left him, and he's listening to the radio at five in the morning. Out of the radio step Big Moe, Little Moe, Eat Moe, No Moe and Four Eyed Moe.

Singing and dancing to Jordan's jazz-laced rhythm and blues score, the Moes encourage Nomax to turn his life around, get his girl back, and encourage all of us to 'let the good times roll'.

Classic Louis Jordan numbers include Saturday Night Fish Fry; Safe Sane and Single; and Is You Is Or Is You Ain't My Baby.
Seen in the West End and on Broadway, Five Guys Named Moe won the Olivier Award in 1991 for 'Best Entertainment'
Director & Choreographer – Mykal Rand
Musical Supervisor – John Reddel
Musical Director – Griffin Jenkins
Sound Designer –Toby Burrow
Set Designer – Ryan Webster
Lighting Designer – Tim Kelly
Costume Designer – Jean Gray
Rehearsal Stage Manager – Molly Tackaberry
Show Stage Manager – Ryan Webster
Production Manager – Gary Swain
Assistant Producer – Annlouise Butt
Production Assistant – Natalie Leclaire
Poster Design – Mary Musker 
Casting – Pearson Casting

Producer – Katie & John Plews for OVATION
WINNER
Best Director (Musical) – Mykal Rand
FINALIST
Best Musical Production
Lead Performance in a Musical – Juan Jackson
Supporting Performance in a Musical – Christian Maynard
NOMINATION
Costume Design – Jean Gray