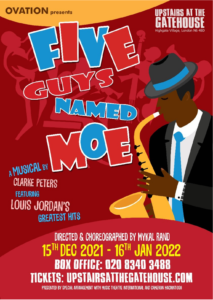 Upstairs at The Gatehouse | 15th December – 16th January 2022
Five Guys Named Moe is an explosion of entertainment using the great music of Louis Jordan.
A Musical by Clarke Peters
Directed and Choreographed by Mykal Rand.
Presented by special arrangement with Music Theatre International and Cameron Makintosh
Nomax is our Hero – he's broke, his girlfriend's left him, and he's listening to the radio at five in the morning. Out of the radio step Big Moe, Little Moe, Eat Moe, No Moe and Four Eyed Moe.

Singing and dancing to Jordan's jazz-laced rhythm and blues score, the Moes encourage Nomax to turn his life around, get his girl back, and encourage all of us to 'let the good times roll'.

Classic Louis Jordan numbers include Saturday Night Fish Fry; Safe Sane and Single; and Is You Is Or Is You Ain't My Baby.
Seen in the West End and on Broadway, Five Guys Named Moe won the Olivier Award in 1991 for 'Best Entertainment'
Cast
KM Drew Boateng – Big Moe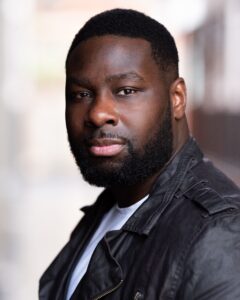 Training: WAC Arts.
Theatre: The Color Purple (Curve, Leicester + streaming during Covid-19); Motown the Musical (Shaftesbury Theatre); The Spalding Suite (UK Tour); The Realness (Hackney Studios); Hotel (National Theatre); Blues in the Night (Hackney Empire); Aladdin (Waddon Leisure Centre, Croydon); Aladdin (De Montfort Hall, Leicester); Dick Whittington, Jack and the Beanstalk, Mother Goose (all Hackney Empire); Oberon in A Midsummer Night's Dream (Hackney Empire, Edinburgh Fringe and The National Black Theatre, New York); Papa Arnold in The Warriors (Barbican Theatre) and Breakin' Convention (Sadler's Wells).
Workshops include: Once Upon A…; Heartbreak Hotel; and Futebol: The Alternative World Cup; Black Power Desk (Old Vic).
Film: Walking On Sunshine.
Andre Coulson – No Moe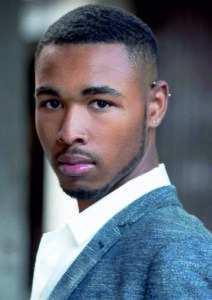 Training: The Italia Conti Academy Of Theatre Arts
Andre graduated this year and will be making his professional theatre debut, he feels thrilled to be playing the part of No Moe in Five Guys Named Moe.
Juan Jackson – Nomax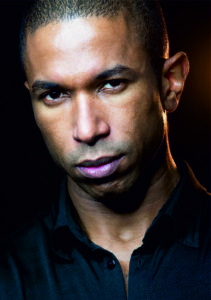 Training: Florida State University.
Theatre: Artaban (The Actor's Church), John in Miss Saigon, The King of Siam in The King and I, Frank N' Furter in The Rocky Horror Show, Old Deuteronomy in Cats, Dr Maden/Fine in Next To Normal and Tom Collins in Rent.
AJ Lewis – Eat Moe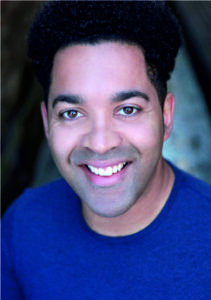 Training: The Italia Conti Academy Of Theatre Arts and London Studio Centre
Theatre includes: Show Boat (Royal Albert Hall, London), Original cast of Gershwins' Porgy and Bess (West End), Dancing in the streets (West End), Thriller Live (West End & European Tour), Bernstein's Mass (West End), Soul Train (UK Tour), Blues Brothers (European Tour), Songs of Sister Act (European Tour), Judah – Joseph and the Amazing Technicolor Dreamcoat (UK Tour), Montel/Jesus – Jerry Springer The Opera (Dublin), Courtney – Up Against the Wall (Octagon, Bolton), JJ – The Real Monty Comes Again (Original Cast – UK Tour).
TV includes: Backing vocals for X Factor, JLS, Michael Ball and Alfie Boe, Watchdog & Wildhouse (BBCTV). Singer in Death of a Princess (C4 Film), Live performance on the Gerry Kelly Show (UTV) Soapstar/Superstar advert (ITV1) Performer in the Supergroup – Don't Stop Believing (Channel 5).
Christian Maynard – Little Moe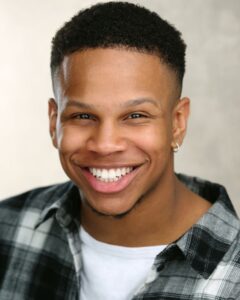 Training: Currently studying at the Urdang Academy – Graduating in 2022
Christian is excited to be making his professional debut as Little Moe in Five Guys Named Moe
Kieran McGinn- Four Eyed Moe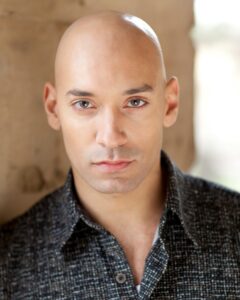 Training: Guildford School of Acting (BA Hons in Musical Theatre)
Theatre: u/s Jamie's Dada, Tray Sophisticay, Sandra Bollock & Laika Virgin in Everybody's Talking About Jamie (Apollo Theatre & UK Tour); Scarecrow in The Wizard of Oz (Winter Gardens, Blackpool); Jacobson & Cover Emil Foley, Louis Perryman & Fin Hooper in An Officer and a Gentleman (Curve, Leicester & UK tour); Swing & 1st Cover Smokey Robinson in Motown (Shaftesbury Theatre); Curtis in Save The Last Dance For Me (UK tour); Genie of the Lamp in Aladdin (Camberley Theatre); Studio 54 (Edinburgh Fringe Festival); Desire (The Albany, Deptford); Cinderella (Mercury Theatre, Colchester).
Other: Performing onboard the Silja Serenade for Belinda King Creative Productions; Cabaret performances at The Brickhouse; short film Souvenirs; The Late Sleepers (National Youth Music Theatre).
Band
Keys (Musical Supervisor) – John Reddel
Keys (Musical Director) – Griffin Jenkins
Trumpet – Jonny Munn
Reeds – Ellie Marsh
Bass – Myra Brownbridge / Mario Riccitelli
Drums – Liam McCloud

Creatives
Director & Choreographer – Mykal Rand
Musical Supervisor – John Reddel
Musical Director – Griffin Jenkins
Sound Designer –Toby Burrow
Set Designer – Ryan Webster
Lighting Designer – Tim Kelly
Costume Designer – Jean Gray
Rehearsal Stage Manager – Molly Tackaberry
Show Stage Manager – Ryan Webster
Production Manager – Gary Swain
Assistant Producer – Annlouise Butt
Production Assistant – Natalie Leclaire
Poster Design – Mary Musker
Casting – Pearson Casting

Producer – Katie & John Plews for OVATION

Off West End Awards
WINNER
Best Director (Musical) – Mykal Rand
FINALIST
Best Musical Production
Lead Performance in a Musical – Juan Jackson
Supporting Performance in a Musical – Christian Maynard
NOMINATION
Costume Design – Jean Gray

Photos
by Timothy Kelly
Reviews
★★★★★
'Everything about this musical is great!'
London Pub Theatres Magazine
★★★★★
'This is a fun show, guaranteed to lift your spirits, and who doesn't need a bit of that in their lives?'
Fairy Powered Productions
★★★★★
'A rare and beautiful thing to experience such virtuoso performances'
Last Minute Theatre Tickets
★★★★★
'This show that brings joy back into our lives could be retitled Six Guys Named WOW!'
London Living Large
★★★★
'This stellar cast will make you fall in love with each and every song and leave you with a smile on your face'
The Reviews Hub
★★★★
'A funny, sassy performance of cool tunes and smooth moves'
Ham & High
★★★★
'A fun, energetic and impressive production that brings the spirit and vitality of Louis Jordan's work to life'
LondonTheatre1
★★★★
'A compelling piece of entertainment'
Musical Theatre Review
'This is a show is waiting to bring you cheer'
British Theatre Guide
'Sensational production… guaranteed to put a smile on your face and a spring in your step'
Camden New Journal
'A cool, sophisticated evening'
Theatre Full Stop