by Bob Carlton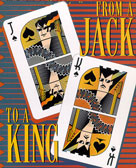 Macbeth meets Elvis in this Shakespearean tale of greed, ghosts and rock 'n' roll. A musical combining an early Scottish work of Bill Shakespeare (circa 1606) with a late English work of Bob Carlton (circa 1992). This is the same writing team who created "Return to the Forbidden Planet" and their original production of "From A Jack To A King" was seen at the Boulevard Theatre followed by a run at the Ambassadors in the West End. Enhancing Bob & Bill's fine collaboration are words and music made famous by, amongst others, The Righteous Brothers, Elvis Presley, Chuck Berry, The Beatles, Tina Turner, The Teddy Bears and Twinkle.
Songs in the show include Money, Blue Suede Shoes, To Know Him is to Love Him, Leader of the Pack, Chapel of Love, River Deep – Mountain High and You've Lost That Lovin' Feeling.
Ian Brandon - Terry King / The Reverend Jez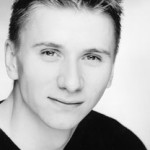 Ian recently graduated from the London School of Musical Theatre at Her Majesty's Theatre where he featured in 'Tis Pity She's A Whore, A Taste of Honey, The Crucible and Unidentified Human Remains & The True Nature of Love. Other theatre work includes Smudge in Forever Plaid (Edinburgh Festival / UK Tour), Anatoly in Chess at the Riley Smith Theatre, Leeds, Scarecrow in The Wizard of Oz and Claude in Hair at the City Varieties, Leeds. Ian has also recorded some demos for the composer Charles Miller, directed The Best Little Whorehouse in Texas and musically directed A Chorus Line at Leeds University.
Kelly O'Leary - Laura Ross
Kelly was among the first year of students to graduate from the Liverpool Institute of performing Arts (LIPA) in June 1998. Whilst in training, Kelly performed in various musicals including Into the Woods and Godspell. In December 1996 Kelly appeared in Big Book for Girls at the Pleasance Theatre with the National Student Theatre Company. In April 1998 Kelly was privileged to sing at Buckingham Palace for the Queen, other members of the Royal Family and Tony and Cherie Blair. Kelly has recently completed an 18 month repertory season with the Wigan Pier Theatre Company. Credits at Wigan include The Proposal, Century 'The Musical and 'A Christmas Carol' The Musical.
Gordon Kenney - Duke Box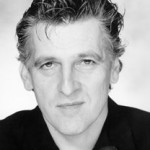 Gordon began his career as a singer/songwriter with the progressive rock band Incredible Hog enjoying chart success in Europe/South America in the Seventies. Sessions include The Rubettes, P.J. Proby, Screaming Lord Sutch, Brian Poole & tribute albums, Mott the Hoople, The Byrds and Animals. Since graduating from Mountview Theatre School, television/theatre credits include the Corporal in the award winning Erasmus Montanus (Greenwich), Charlie Dick in The Patsy Cline Musical (tour), Carlos in the EastEnders Valentine's Day Special, The Bill, London's Burning, and the Crooner in Aspects of Love. He has just returned from a European TV tour as guest of The Rubettes.
Scott Finlay - Eric Glamis
Scott trained as a singer with Ian Adam and Kate Hughes. He first started playing music at the age of five and as well as varied instrumental and singing work, in both Aberdeen and London, from soul singing through Ceilidh to opera, he has undertaken a number of projects as a musical director/arranger. Theatre credits include The Balladeer in Assassins, Paul in Company, The Dentist in Little Shop of Horrors and Henrik in A Little Night Music.
Charlotte Armer - Queenie
Charlotte studied for her BA in Drama at the University of East Anglia where she specialised in Physical Theatre and Technical/Production Management. A founding member of the Norwich based Fancy Free Productions she sang 'The Woman' in Blues in the Night and performed as a solo vocalist with The Chris Walls Big Band. Charlotte completed the post-graduate course at Mountview Theatre School in October. School credits include: a soloist in Closer Than Ever and Elegies for Angels, Punks and Raging Queens. Since graduating she has featured as an exhibition dancer at a night of Argentinian Tango at the Blackheath Halls.
Jenny Walters - Lennie-Anne Knox
Jenny trained at Rose Bruford College as an actor-musician and graduated with a degree in theatre. Since leaving college, Jenny's theatre credits include The Suicide (King's Head, Islington), Peaches (The Old Red Lion, Islington), Love's Labour's Lost (Quest Theatre Company), Love Unspoken (Baron's Court Theatre) and most recently Are You Me?, a physical theatre comedy devised by Hop Theatre. Jenny has appeared in many short films and will soon be seen in the forthcoming feature The Jolly Boys' Last Stand (The Bigger Picture Company).
Christopher Whitehead - Weird (Keys) Grifter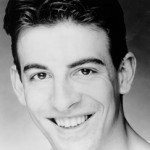 Chris trained at The Academy of Live and Recorded Arts on the Musical Theatre course. Theatre work includes the National Tour of Forever Plaid, Finch in How to Succeed in Business without Really Trying at the New Arch Theatre, Ensemble in Un Ballo in Maschera at the Holland Park Theatre, Charlie in When Movies Were Movies, National Tour. As a musical director, credits include Sherlock Holmes The Musical, Sleeping Beauty, When Movies Were Movies and Playing the Halls at various venues nationwide. Chris has also sung in and musically directed many one-man shows and showcases at Centrestage, Covent Garden, the Everyman Theatre in Hampstead and the Etcetera Theatre, Camden. Chris is the lead singer of Carbon Copy, who have just completed recording their debut album.
Mark Sangster - Weird (Skins) Grifter / Roscoe Scrim
Mark trained at the Royal Scottish Academy of Music and Drama. He recently performed The TellTale Heart in the Edgar Allan Poe Festival in Prague. Other credits include Roughnecks, How to Succeed in Business without Really Trying, Summer in the City, Bread and Butter and Great Balls of Fire. Mark also writes and performs stand-up comedy on the London circuit.
Adam Keast - Weird (Frets) Grifter / Roscoe Scrim
Since graduating from Webber Douglas, Adam has appeared in The Sound of Fury (Liverpool Playhouse and two tours), Three Steps to Heaven (Chester Gateway and tour), Itchycoo Park (tour), Ferry Cross the Mersey (Lyric, London and tour), Buddy (Victoria Palace, London and Toronto), Just Like That (tour and Edinburgh Festival), Puss in Boots (Theatre Royal, Windsor), and Noah's Ark (tour). On the London fringe, Grandma's Shoes (King's Head), and How to Succeed in Business without Really Trying (Landor). Television credits include All Very Well, Talking Telephone Numbers, London Tonight, Richard Littlejohn Show and a commercial for gas cookers! Future projects include Walking on Sunshine, co-written with D.R.P. Owen, which goes on national tour next Spring/ Summer.
John Plews - Director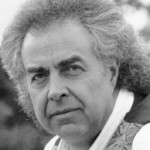 John trained at LAMDA and spent several years in Rep including a long stay at the Theatre Royal, Windsor. He has directed and produced numerous shows including many for cruise lines Cunard and P & O. At Upstairs at the Gatehouse John has directed Forever Plaid (also Edinburgh and National Tour) From a Jack to a King, It's Only Make Believe (which he co-wrote) and A Slice of Saturday Night. John is very much involved in the day to day administration of Ovation Theatres and Upstairs at the Gatehouse.
Racky - Choreographer / Stage Manager / Sound Operator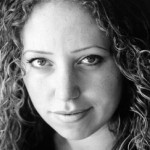 Racky trained on the Musical Theatre course at the Arts Educational School in London. Whilst there she appeared in and stage-managed many of the school's productions including Tin Pan Alley and Dracula Spectacula. She stage-managed Peter Schaffer's Black Comedy at the Bedlam Theatre during the 1996 Edinburgh Festival. Racky choreographed Ovation's production of Forever Plaid and has recently returned from managing its national tour. Racky's aspirations lie in performing as well as wishing to further her career in choreography.
Jessica Martyn - Lighting Technician
Jessica is studying GCSEs at Queen's College, Harley Street. She completed a lighting course at Queen's. Jessica has appeared in three recent productions at college and stage-managed one. She has also produced and performed in Big Spenders and Jazzmins Upstairs at the Gatehouse. She is the regular lighting technician for John Lenahan's Monday Night Magic Upstairs at the Gatehouse and was the lighting technician for Forever Plaid in Highgate Christmas 1998 and in Edinburgh 1999.
James Compton - Musical Director
James' West End productions include Good Rockin' Tonite, The Queen and I, Elvis the Musical, 4 Steps to Heaven and Saucy Jack and the Space Vixens. James was also musical director of The Jack Docherty Show on Channel 5.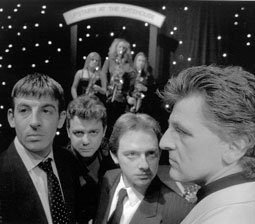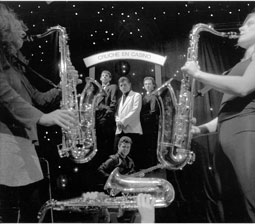 Tony Allcock, North London News
If you are looking for a festive night out full of fun, laughs and great music, this zany musical would be hard to beat.
Ovation Productions' Christmas show is a handclapping, toe-tapping five-star winner. It's Macbeth meets Elvis in this Shakespearean tale of greed, ghosts and rock 'n' roll.
Written by Bob Carlton, who also penned the similarly-styled Return To The Forbidden Planet, it's an homage to 1960s pop music, featuring great, great songs by the likes of Presley, The Righteous Brothers, Chuch Berry, The Beatles and Tina Turner, plus many more – from Blue Suede Shoes to Bad Moon Rising.
It's also an hilarious tongue-in-cheek send-up of everything Shakespearean, based very loosely as it is on the Macbeth story but also borrowing lines from many other Shakespearean plays.
Scott Finlay stars as Eric Glamis, a young would-be pop star who would kill to get to the top – and does. He gets his chance when Terry King, leader and singer of hit group The Coronets, mysteriously dies in an accident on the eve of a big concert. His wheeler-dealer manager Duke Box is desperate for a replacement and Eric is thrust forward from the backing band into the spotlight – as Thane Cawdor new rock sensation. But his misdeeds in the pursuit of fame come back to haunt him.
A nine-strong cast of multi-talented young professional actors and actresses really make this show sizzle. They all sing and play excellently, swapping instruments with amazing versatility.
Outstanding performances come from Kelly O'Leary as Terry King's girlfriend Laura, who gives feisty renditions of He's A Rebel and Leader Of The Pack, and Crouch End actress Charlotte Armer, as Queenie, the exotic jewel in the Coronet's crown and the object of Ereic's desires. She performs a breathtakingly exquisite version of You've Lost That Loving Feeling. And her duet with Scott Finlay on River Deep, Mountain High is the showstopper.
If you were brought up on the pop music of this era – as I was – you will simply love this nostalgic show. If you're of a younger generation come along and see what you missed. Congratulations to director John Plews on a production that so imaginatively uses its resources.
Upstairs at the Gatehouse already has the valuable support of local patrons from the showbiz world such as Gary Kemp, Jonathan Pryce, Victoria Wood, Sting, Les Dennis and Amanda Holden. With shows of this quality, it deserves a much wider audience.
Caroline McLaughlin, Camden New Journal
Following the successful partnership of Shakespeare and rock 'n' roll in Return To The Forbidden Planet, writer Bob Carlton repeats the formula in From A Jack To A King, combining sixties pop classics with an adaptation of Macbeth.
Eric Glamis (Scott Finlay) longs to join the Coronets, backing band to Terry King (Ian Brandon dressed as Elvis). He believes that this will win him the love of Queenie (Charlotte Armer), the glamorous backing singer.
Queenie, however, won't accept anything less than the star of the show, so together they plot to kill Terry and install Eric in his place. Terry is despatched with the help of a ghostly spanner, and Eric becomes Thane Cawdor leader of the Coronets.
The story is not really important as the snatches of dialogue last a couple of minutes at most and really only serve to string the songs together. The cast deliver them with great enthusiasm which was shared by the audience, particularly the children.