by Bob Carlton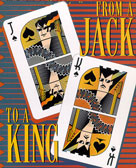 Macbeth meets Elvis in this Shakespearean tale of greed, ghosts and rock 'n' roll. A musical combining an early Scottish work of Bill Shakespeare (circa 1606) with a late English work of Bob Carlton (circa 1992). This is the same writing team who created "Return to the Forbidden Planet" and their original production of "From A Jack To A King" was seen at the Boulevard Theatre followed by a run at the Ambassadors in the West End. Enhancing Bob & Bill's fine collaboration are words and music made famous by, amongst others, The Righteous Brothers, Elvis Presley, Chuck Berry, The Beatles, Tina Turner, The Teddy Bears and Twinkle.
Songs in the show include Money, Blue Suede Shoes, To Know Him is to Love Him, Leader of the Pack, Chapel of Love, River Deep – Mountain High and You've Lost That Lovin' Feeling.
If you are looking for a festive night out full of fun, laughs and great music, this zany musical would be hard to beat.
Ovation Productions' Christmas show is a handclapping, toe-tapping five-star winner. It's Macbeth meets Elvis in this Shakespearean tale of greed, ghosts and rock 'n' roll.
Written by Bob Carlton, who also penned the similarly-styled Return To The Forbidden Planet, it's an homage to 1960s pop music, featuring great, great songs by the likes of Presley, The Righteous Brothers, Chuch Berry, The Beatles and Tina Turner, plus many more – from Blue Suede Shoes to Bad Moon Rising.
It's also an hilarious tongue-in-cheek send-up of everything Shakespearean, based very loosely as it is on the Macbeth story but also borrowing lines from many other Shakespearean plays.
Scott Finlay stars as Eric Glamis, a young would-be pop star who would kill to get to the top – and does. He gets his chance when Terry King, leader and singer of hit group The Coronets, mysteriously dies in an accident on the eve of a big concert. His wheeler-dealer manager Duke Box is desperate for a replacement and Eric is thrust forward from the backing band into the spotlight – as Thane Cawdor new rock sensation. But his misdeeds in the pursuit of fame come back to haunt him.
A nine-strong cast of multi-talented young professional actors and actresses really make this show sizzle. They all sing and play excellently, swapping instruments with amazing versatility.
Outstanding performances come from Kelly O'Leary as Terry King's girlfriend Laura, who gives feisty renditions of He's A Rebel and Leader Of The Pack, and Crouch End actress Charlotte Armer, as Queenie, the exotic jewel in the Coronet's crown and the object of Ereic's desires. She performs a breathtakingly exquisite version of You've Lost That Loving Feeling. And her duet with Scott Finlay on River Deep, Mountain High is the showstopper.
If you were brought up on the pop music of this era – as I was – you will simply love this nostalgic show. If you're of a younger generation come along and see what you missed. Congratulations to director John Plews on a production that so imaginatively uses its resources.
Upstairs at the Gatehouse already has the valuable support of local patrons from the showbiz world such as Gary Kemp, Jonathan Pryce, Victoria Wood, Sting, Les Dennis and Amanda Holden. With shows of this quality, it deserves a much wider audience.
Following the successful partnership of Shakespeare and rock 'n' roll in Return To The Forbidden Planet, writer Bob Carlton repeats the formula in From A Jack To A King, combining sixties pop classics with an adaptation of Macbeth. Eric Glamis (Scott Finlay) longs to join the Coronets, backing band to Terry King (Ian Brandon dressed as Elvis). He believes that this will win him the love of Queenie (Charlotte Armer), the glamorous backing singer. Queenie, however, won't accept anything less than the star of the show, so together they plot to kill Terry and install Eric in his place. Terry is despatched with the help of a ghostly spanner, and Eric becomes Thane Cawdor leader of the Coronets. The story is not really important as the snatches of dialogue last a couple of minutes at most and really only serve to string the songs together. The cast deliver them with great enthusiasm which was shared by the audience, particularly the children.
Old Rockers never die and the don't fade away either.
Years ago, before it was all the rage, I marvelled at a Rock'n'Roll version of Shakespeare's The Tempest where Miranda kept breaking into 'Why Must I be a Teenager in Love'.  Wonderful!  Since Shakespeare has been out of copyright for a long time, any imaginative writer can have ball.  'From a Jack to a King' is a very loose adaptation of 'Macbeth' by Bob Carlton, with a lot of hilarious Shakespearean language and 23 great hits from the 50's and 60's.
Carlton has written a clever book, and Director John Plews, with Musical Director James Compton and Choreographer Racky have coaxed some young and some not so young to produce excellent cover versions of some of the best Phil Spector's, Chuck Berry's, Berry Gordy's and others' great hits. It's the wall of sound on a smaller scale.
The cast of ten work their way through the numbers with energy, commitment and good voices.
Everybody watches the back up singers.  Moving together and always getting back to the microphones at the same time, it's one of the wonders of the modern world.  Charlotte Armer, Kelly O'Leary and Jenny Walters do a good job. They also get numbers of their own to sing. Gordon Kenny as 'Duke Box',  Ian Brandon an Elvis look-a-like and Scott Finlay.  Christopher Whitehead, Mark Sangster and Adam Feast all sing and play well together as the band.
This is a show for everyone.  It's charming and fun and if you don't like Rock'n'Roll, well you're probably too old to be out of doors anyway.