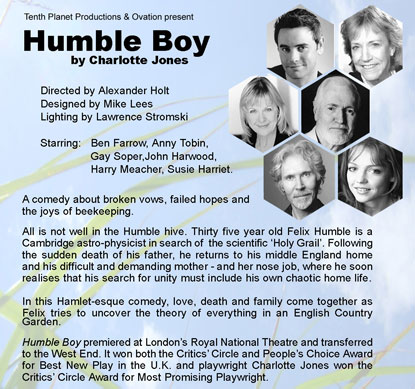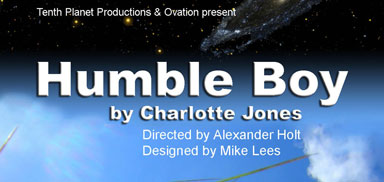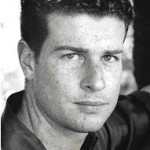 Alex has worked in the UK, USA, Gulf, Far East and South Africa in Theatre, Television and Film. Directing credits include in Film: Cassandra's Clock (starring Judi Bowker), Worth, Mouse Party (Starring Toby Kebbel and Paul Nicholas) and Everything But the Kitchen Sync (starring Darren Morfitt and Helen Latham and nominated for best newcomer in the 2006 Rushes Soho shorts film festival and best film at the Court Metrange film festival 2007). In theatre most recently Keeler with Paul Nicholas; Playhouse Creatures; Bedroom Farce; Kafka's Dick; Absurd Person Singular; Deathtrap; Taking Steps; Associate Director on Stones In His Pockets; Tom Stoppard's Rough Crossing; the UK premiere of Neil Simon's London Suite starring Christopher Cazenove; Jeffrey Bernard Is Unwell; Matchstalk Man (Bedlam Theatre); Les Liaisons Dangereuses; A Chorus of Disapproval;, How the Other Half Loves; The Secret Arch; Cowardy Custard (with Gay Lambert); The Wordsmith's Lament and Relatively Speaking all Upstairs at the Gatehouse London; Funeral Games and The Way of the World at the Pentameters London; A Midsummer Nights Dream as an open air production in Johannesburg; and Ultimate Islands (Famous Grouse House and subsequent transfer to Dynamic Earth, Edinburgh which received a fringe first nomination). Also transferred Deathtrap; Taking Steps; How The Other Half Loves; Relatively Speaking; Rough Crossing and London Suite to Bahrain, Kuwait, UAE and Oman for a limited tours with producer Susie Harriet.
Alex is currently producing Brief Encounters a series of Masterclasses for the Actors Centre which includes Julie Walters, Prunella Scales, Penelope Keith, Jeremy Irons, Robert Lindsay, Juliet Stevenson, Steven Berkoff, Terry Johnson and Maureen Lipman.
He has worked as assistant to Royal Shakespeare Company director John Barton in New York on a new film version of Playing Shakespeare for PBS. He has worked as Production Designer on the location Feature film Welcome to Ibiza for Alpha Beta International and on the sci-fi thriller Parasite for Fearnort Films & Rebellion 2000AD. Recently he completed a documentary The Show Must Go On with Sensation Pictures for PACT which was aired in Houses of Parliament and Cannes.
Last year he has produced The Trestle At Pope Lick Creek at the Royal Exchange, Manchester and produced Tamburlaine at the Rose Theatre in 2003, the first production in 400 years in this space. He has produced over 35 productions for Tenth Planet Productions and designed over 40 since graduating from Mountview in July 1997 and he is directing his first feature film Matchstalk Man in 2007 which stars Leo Gregory, Kelly Reilly, Neve Campbell and Billy Boyd. He was the 2005 recipient of the Stage One/Society Of London Theatre New Producer's Bursary.
A successful experiment in grief
HUMBLE BOY *****
THOUGH originally inspired by the Hamlet story, there are discernible traces here of both Michael Frayn and Anton Chekhov. It is a complicated web of allusions, metaphors and science dressed up as a traditional drawing room play – learned, funny, but full of humanity and with surprising moments of the broadest of black comedy.
Playwright Charlotte Jones is much concerned with grief and the different ways in which it is handled. The overture of Flight of the Bumble Bee immediately creates a feeling of unease in Mike Lees' exquisite garden setting. It is the aftermath of the funeral of James Humble – biologist and beekeeper. Felix, his son arrives, dressed in cricketing whites, stammering neurotically about the lack of bees and obsessively fingering his beard.
Felix, convincingly played by Ben Farrow, is a Cambridge research fellow in physics and terminally eccentric, unable to communicate. He is constantly beset by his problem with the unified field theory, hoping that eventually he will arrive at his 'Eureka' moment. His mother, Flora, is a self-absorbed woman devoted to apportioning blame and spreading guilt.
She arrives from the funeral in a cerise suit complaining that he has escaped from the church before giving the funeral oration and comments on his dress. "You're not wearing black" he says. "But this is Jean Muir" she replies. Gay Soper's crisp delivery is perfect for the role which is a barrage of one-liners. "I am doubly unlucky. I married a biologist and gave birth to a physicist.."
Although the play is primarily about the relationship between mother and son, the other characters are just as intriguing and it is easy to fall in love with each of them. Anny Tobin's performance as Mercy, Flora's friend, is a comedy delight. She is incredibly funny in her polite but totally confused reaction to Felix's lecture on astrophysics.
Equally bewildered is Harry Meacher's George Pye – rough diamond and Flora's long-time lover. Beautiful Susie Harriet is Rose, deserted by Felix, an Ophelia completely in control of her faculties. Director Alexander Holt has assembled an unusually brilliant cast for this fascinating play.