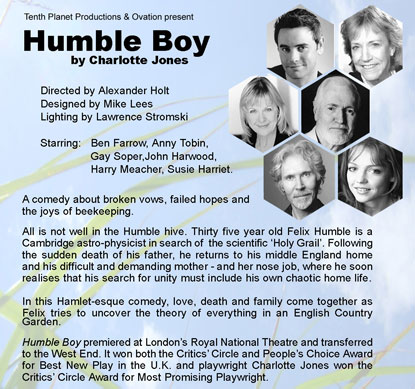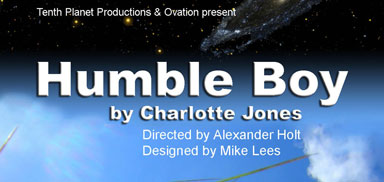 Ben Farrow - Felix Humble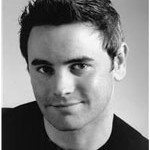 Ben trained at Middlesex University, completing a performing arts degree, then completed two years at Webber Douglas Academy of Dramatic art. This is his fourth production Upstairs at the Gatehouse and is delighted to be able to walk to work once again even in monsoon conditions.
His theatre credits include Malcolm in Bedroom Farce, Ko Ko in the Hot Mikado and Clifford Anderson in Deathtrap all Upstairs at the Gatehouse, Evans and Fenton in The Merry Wives Of Windsor Hamptworth, the title role in Hippolytus in Athens, Greece, Davey in Why Not Stay For Breakfast? at the Mill in Sonning, Sebastian in Twelfth Night at Grovelands House out door theatre, Jonathan in Heights UK premiere in Richmond, Michael in Paradise Lost (World Premier) at the Redgrave theatre in Bristol, The Boy in Sessions at the Finborough theatre and the Blackbox Theatre in Oslo, Young Buddy in Follies at the Chanticleer Theatre, Pantomime Horse rear and other parts in Cinderella at the Theatre Royal Windsor. He co wrote a production of David and the Duke and was in a collection of short plays both at the Edinburgh Fringe. Currently working on an adaptation of Macbeth and a comedy about Martial Arts.
Television credits include roles in Casualty, Keen Eddie and Make My Day.
Film credits include Julian in High Heels and Low Lifes; Snaps; Hair; Souvenir; The Last Conversation; Sammy and Tim; Good Cop/Dead Cop and Hike Route B.
Ben is also a professional model maker and his work can be seen in a new ITV show called Just Another Day presented by Adam Hart Davis.
He has put on sixteen pounds for the role of Felix and is looking forward to losing it again.
Anny Tobin - Mercy Lott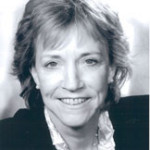 Theatre credits include; Martha in the original production of Martha, Josie & the Chinese Elvis – also by Charlotte Jones (Bolton Octagon); Kate in Dancing at Lughnasa (Garrick & Uk Tour – TMA nomination for Best Actress); Anna Pavlovna in War & Peace (Royal National Theatre/ Shared Experience); Mrs Raquin in The Bodies (Live Theatre Newcastle); Judith Bliss in Hay Fever and Joanne in Company (Northcott Exeter); Betty in A Passionate Woman (Northampton Royal Theatre); Daisy in Spring & Port Wine (West Yorkshire Playhouse); Susan in Bed Among The Lentils and Winnie in Happy Days (Bolton Octagon – awarded Best Actress by Manchester Evening News).
Other London credits include; productions at The Bush, The Gate, Regents Park Open Air Theatre, The Mermaid Studio, The Old Red Lion and The Cockpit Theatre.
TV and Film include; Beryl Peacock (Ashley's adoptive Mum) in Coronation Street; Auntie Maureen in Grafters I and II; Mrs Hibbert in Metropolis (Granada); Davina in The Russian Bride (Monogram Productions); Mrs Lavery in Monk Dawson (de Warenne Pictures); Mary-Ellen O'Brien in The Fifteen Streets (Worldwide TV/ Tyne Tees) and episodes of Doctors, Casualty, Fish. Barbara, Shadow of the Noose, Holby City (BBC); Soldier, Soldier (Central); Peak Practice (Carlton); The Bill (Thames); Wycliffe (HTV) and Brookside (Channel 4).
Radio credits include; Live Assurance, The Donahue Sisters, Dream of Spring, Gilbert without Sullivan and Thrush Green (all for BBC).
Following this production of Humble Boy, Anny will appear as Miss Erikson in Present Laughter at The Royal National Theatre.
Gay Soper - Flora Humble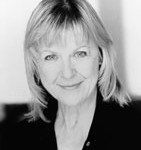 Gay Soper trained at LAMDA.
Theatre, West End: Sunday In The Park With George (Wyndhams Theatre/ Menier Chocolate Factory) – winner of Five Olivier Awards in 2007; Les Miserables (as Madame Thenardier, '88-91, Palace Theatre); Salad Days (Vaudeville); Which Witch (Piccadilly); The Mitford Girls (Globe); Side By Side By Sondheim, (Wyndhams, Garrick); Billy (Drury Lane); Godspell (Roundhouse and Wyndhams); Canterbury Tales (Phoenix); Jorrocks (Albery)
Royal National Theatre: Mother Courage (Olivier) RSC: Good (Aldwych).
Off West End/Fringe: The Lady's Not For Burning (Finborough Theatre); The Rink (Orange Tree Richmond); Killing Rasputin (Bridewell); Office Suite (Attic, Wimbledon); Mrs Steiner and The Byker Boy (Bush); Betjemania ( Orange Tree & Shaw )
Other theatre: My Fair Lady (Denmark, tour); Nude With Violin (Royal Exchange Manchester), Oliver! (Aberystwyth); Blithe Spirit (Stockholm), Cabaret (Frankfurt); Narnia; Betjemania (New York); Cole (Hong Kong Festival).
Opera/Operetta: Ruddigore, Figaro, Merry Widow, HMS Pinafore (all tours); Pirates of Penzance (Regents Park Open Air Theatre); Street Scene (Piccadilly); The Ratepayers' Iolanthe (Festival Hall & Phoenix)
TV includes: Moon and Son; The Bill; Rude Health; Doctors; Barbara; Father Dear Father; Bless This House; Never The Twain; Romany Jones; The Needle Match; History of Mr Polly.
Films: The Ups and Downs of a Handyman (1974); Lace (1998); A Christmas Carol (Hallmark Films, 2005)
Voices: all the voices of The Flumps (BBC TV). Recordings: many original cast albums, also Les Miserables symphonic recording (as Madame Thenardier), and solo album, Flying Fish and Fallen Angels ( www.dresscircle.co.uk )
Solo Cabaret: Pizza on the Park; Jermyn Street Theatre; City of London Festival; Lauderdale House.
John Harwood - Jim the Gardener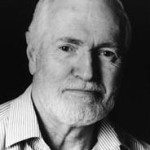 John began his career at the Bristol Old Vic and then joined the London Old Vic for Zefferelli's Romeo and Juliet. He worked for the Royal Shakespeare Company in the Brook/Scofield King Lear, The Beggar's Opera and Marat/Sade in London, New York and on film. He then spent a year in The Mousetrap and appeared in several productions at the Mermaid Theatre, notably in St. Joan and The Old Boys with Michael Redgrave.
John has traveled extensively to places as varied as Colchester, Pitlochry, Milford Haven, USSR, USA, Cairo, Wormwood Scrubs, and Windsor Castle, along with an appearance in La Scala, Milan. For a period of ten years, John was a director and actor with Vienna's English Theatre.
He has been at the National and Chichester as st joanwell as the West End with Maggie Smith and Tom Courtenay. 2006 was filled with a long two-part tour with the Acting Carlisle Company in The Hollow, between which he played Prospero for a European Youth Theatre in the open courtyard of a Castle in Austria.
Chris Johnston - George Pye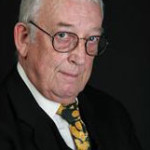 Chris's first acting job was at The Perth Playhouse, W.A. where he spent two years in monthly rep. There was a further freelance period in Adelaide and Sydney doing a wide variety of jobs, TV, radio, theatre, film, commercials etc.
In 1970 he returned to London and was hired by Brian Rix to understudy him for the last few months of his then current production at the West Ends' Garrick Theatre. In 1973 Ray Cooney saw Chris in A Season of Farces at the Jersey Opera House and invited him back to London to appear in a new play called My Son's Father at Leatherhead and then to understudy Derek Nimmo in Rays' West End production of Why Not Stay For Breakfast?
In the early eighties Chris was assistant to Ray Cooney for the Theatre of Comedy's inaugural production Run For Your Wife. Author/ producer/ director Ray Cooney's play ran for almost ten years, first at the Shaftesbury Theatre and then at the Criterion. During that time Chris re-staged productions of the play all round the world as well as playing in the West End.
Other West End acting credits include: Motherdear at the Ambassadors with Margaret Lockwood and Polly James, Murder at the Vicarage at the Savoy, Duet for One with Frances De la Tour, at the Duke of Yorks, Humble Boy at the Gielgud Theatre, Arsenic and Old Lace at the Strand, the national tour of Humble Boy and the West End smash hit production of Don Carlos with Sir Derek Jacobi. He was also part of the Old Vic company for Trevor Nunn's production of Richard II with Kevin Spacey.
He has directed plays at the Civic Theatre, Chesterfield; the Mill at Sonning, The Vienna English Theatre and the Shaw Festival Theatre in Canada. He also directed a UK tour of One For The Pot starring Mike Yarwood and Victor Spinetti and a spectacular pantomime Cinderella at the Theatre Royal, Brighton starring Ted Rogers and the late, great Bill Owen.
As an actor he has appeared on television many times from Terry and June via The Gentle Touch, Minder, Rumpole of the Bailey, Emmerdale, Agatha Christies' Partners in Crime to more recently London Bridge, The Bill, Backup and London's Burning.
Films include the multi million dollar pirate epic Cut Throat Island with Geena Davis and Matthew Modine.
Susie Harriet - Rosie Pye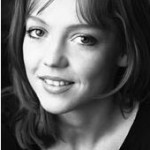 Training Royal Academy of Music (postgraduate course) Theatre credits include: Promises, Promises (Sheffield Crucible dir. Angus Jackson), Side by Side by Sondheim, Taking Steps (Gulf Tour), Jeffrey Bernard is Unwell, Audrey in Little Shop of Horrors, Gwendolyn in The Importance of Being Earnest (Upstairs at the Gatehouse), Shadowless (Bridewell), Lucy in The Three Penny Opera (UK Tour), Millament in The Way of the World (Pentameters), and in South Africa The King and I, in which she understudied and played Tuptim (State Theatre Pretoria), La Cage Aux Folles (Civic Theatre) and Joseph and his Amazing Technicolour Dreamcoat.
Recently Susie has been involved in a new musical Jazztales as Little Red Riding Hood (Greenwich Theatre).
In addition to her performing, Susie is also a producer. Credits include Art (Gulf Tour), Stones in His Pockets (The Gulf and Singapore), How the Other Half Loves, Relatively Speaking, Rough Crossing (London and Gulf Tours), London Suite (UK premiere and Gulf Tour) and The Big Comeback (UK premiere).
Alex Holt - Director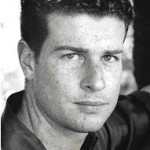 Alex has worked in the UK, USA, Gulf, Far East and South Africa in Theatre, Television and Film. Directing credits include in Film: Cassandra's Clock (starring Judi Bowker), Worth, Mouse Party (Starring Toby Kebbel and Paul Nicholas) and Everything But the Kitchen Sync (starring Darren Morfitt and Helen Latham and nominated for best newcomer in the 2006 Rushes Soho shorts film festival and best film at the Court Metrange film festival 2007). In theatre most recently Keeler with Paul Nicholas; Playhouse Creatures; Bedroom Farce; Kafka's Dick; Absurd Person Singular; Deathtrap; Taking Steps; Associate Director on Stones In His Pockets; Tom Stoppard's Rough Crossing; the UK premiere of Neil Simon's London Suite starring Christopher Cazenove; Jeffrey Bernard Is Unwell; Matchstalk Man (Bedlam Theatre); Les Liaisons Dangereuses; A Chorus of Disapproval;, How the Other Half Loves; The Secret Arch; Cowardy Custard (with Gay Lambert); The Wordsmith's Lament and Relatively Speaking all Upstairs at the Gatehouse London; Funeral Games and The Way of the World at the Pentameters London; A Midsummer Nights Dream as an open air production in Johannesburg; and Ultimate Islands (Famous Grouse House and subsequent transfer to Dynamic Earth, Edinburgh which received a fringe first nomination). Also transferred Deathtrap; Taking Steps; How The Other Half Loves; Relatively Speaking; Rough Crossing and London Suite to Bahrain, Kuwait, UAE and Oman for a limited tours with producer Susie Harriet.
Alex is currently producing Brief Encounters a series of Masterclasses for the Actors Centre which includes Julie Walters, Prunella Scales, Penelope Keith, Jeremy Irons, Robert Lindsay, Juliet Stevenson, Steven Berkoff, Terry Johnson and Maureen Lipman.
He has worked as assistant to Royal Shakespeare Company director John Barton in New York on a new film version of Playing Shakespeare for PBS. He has worked as Production Designer on the location Feature film Welcome to Ibiza for Alpha Beta International and on the sci-fi thriller Parasite for Fearnort Films & Rebellion 2000AD. Recently he completed a documentary The Show Must Go On with Sensation Pictures for PACT which was aired in Houses of Parliament and Cannes.
Last year he has produced The Trestle At Pope Lick Creek at the Royal Exchange, Manchester and produced Tamburlaine at the Rose Theatre in 2003, the first production in 400 years in this space. He has produced over 35 productions for Tenth Planet Productions and designed over 40 since graduating from Mountview in July 1997 and he is directing his first feature film Matchstalk Man in 2007 which stars Leo Gregory, Kelly Reilly, Neve Campbell and Billy Boyd. He was the 2005 recipient of the Stage One/Society Of London Theatre New Producer's Bursary.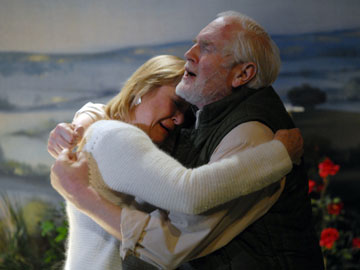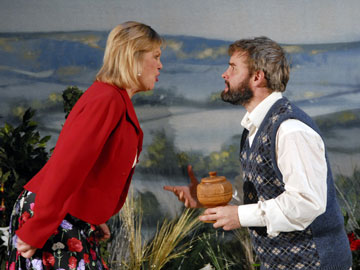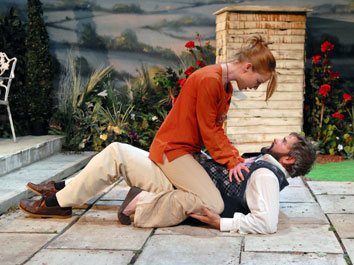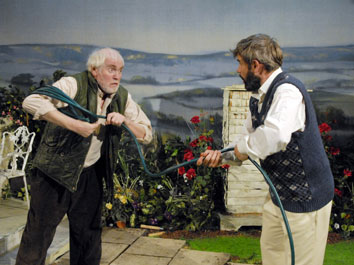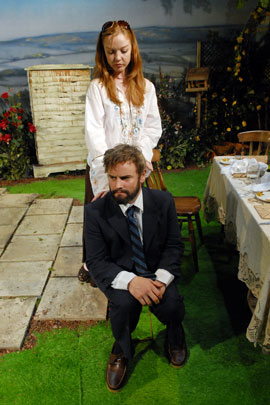 Aline Waites, Ham & High
A successful experiment in grief
HUMBLE BOY *****
THOUGH originally inspired by the Hamlet story, there are discernible traces here of both Michael Frayn and Anton Chekhov. It is a complicated web of allusions, metaphors and science dressed up as a traditional drawing room play – learned, funny, but full of humanity and with surprising moments of the broadest of black comedy.
Playwright Charlotte Jones is much concerned with grief and the different ways in which it is handled. The overture of Flight of the Bumble Bee immediately creates a feeling of unease in Mike Lees' exquisite garden setting. It is the aftermath of the funeral of James Humble – biologist and beekeeper. Felix, his son arrives, dressed in cricketing whites, stammering neurotically about the lack of bees and obsessively fingering his beard.
Felix, convincingly played by Ben Farrow, is a Cambridge research fellow in physics and terminally eccentric, unable to communicate. He is constantly beset by his problem with the unified field theory, hoping that eventually he will arrive at his 'Eureka' moment. His mother, Flora, is a self-absorbed woman devoted to apportioning blame and spreading guilt.
She arrives from the funeral in a cerise suit complaining that he has escaped from the church before giving the funeral oration and comments on his dress. "You're not wearing black" he says. "But this is Jean Muir" she replies. Gay Soper's crisp delivery is perfect for the role which is a barrage of one-liners. "I am doubly unlucky. I married a biologist and gave birth to a physicist.."
Although the play is primarily about the relationship between mother and son, the other characters are just as intriguing and it is easy to fall in love with each of them. Anny Tobin's performance as Mercy, Flora's friend, is a comedy delight. She is incredibly funny in her polite but totally confused reaction to Felix's lecture on astrophysics.
Equally bewildered is Harry Meacher's George Pye – rough diamond and Flora's long-time lover. Beautiful Susie Harriet is Rose, deserted by Felix, an Ophelia completely in control of her faculties. Director Alexander Holt has assembled an unusually brilliant cast for this fascinating play.