JEFFREY BERNARD IS UNWELL
By Keith Waterhouse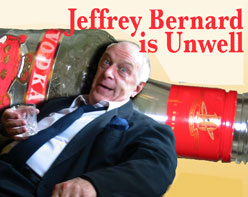 (Playwright, England, Born 1929)
Keith Spencer Waterhouse was born and educated in Leeds. A journalist, novelist, and dramatist, he enjoyed considerable success with his second novel, 'Billy Liar', a regional comedy about a youth who attempts to escape his dull family life through fantasy. The story was adapted for the stage in collaboration with W Hall (1960). Other novels include 'Billy Liar on the Moon' (1976), 'Office Life' (1978), 'Maggie Muggins' (1981), and 'Unsweet Charity' (1992). Waterhouse and Hall collaborated on many stage, screen, and television plays, adaptations, and musicals, including the film 'Whistle Down the Wind' (1961). He also wrote the screenplay of Stan Barstow's 'A Kind of Loving' (1960). 'Jeffrey Bernard Is Unwell' (1989) was Waterhouse's successful adaptation for the stage of Bernard's Spectator columns. 'City Lights' (1994) is the first part of his autobiography. His long-running newspaper column, now appearing in the Daily Mail, has six times won major press awards.
A portrait of a man –
Warts, Vodka bottle and all
"I was sired by a scenic designer who was himself by a theatrical impresario out of an actress. My dam was a singer by an itinerant pork butcher out of a gypsy." Thus Jeffrey Bernard's form-book description of his parentage. In fact, by the time Jeffrey was born in 1932, the youngest of four children, his father had become a successful architect, responsible for the Art Deco interiors of the Lyons corner House restaurants. His mother was an opera singer before four children curtailed her career. In later life, Bernard said of his mother," She looked like a cross between Maria Callas and Ava Gardner, and I fancied her so much it nearly drove me bonkers." When Jeffrey was seven, his father died leaving his family penniless. His mother shamelessly cadged money to keep her three sons at private schools. Jeffrey left the naval college at Pangbourne at sixteen, just before he was expelled. His brother Bruce introduced him to an entirely different world, and one where he became increasingly at home the Soho of the late forties "like walking out of Belsen into Disneyland."
He got by, scraping a living, by taking part-time jobs of any kind and scrounging off rich, old homosexuals. He had already started to become hooked on the adrenaline rush of gambling when he was conscripted into the army as a tank driver. On his first leave he went AWOL, staying on the run for four months before giving himself up to the military police. Not long after he faked a suicide attempt and was demobbed in 1951 for mental instability.
The following month he bumped into the girl he had lost his virginity to four years earlier, Anna Grice. They were married within two weeks and separated after four months. In the fifties Bernard spent most of his time in Soho, moving from one short lived job to another, begging stealing and borrowing, often from the many celebrities, poets, painters, philosophers, who frequented Soho at that period. Some of his friends even paid for him to go to film school in Paris, but he dropped out after two days.
After his first wife committed suicide, Bernard married Jacki, a promising young actress he met whilst working at the Old Vic as a stagehand, in 1959. Although at the start both funding and participating in her husband's drunken sprees (which cost him his job at the Old Vic), by 1962 Jacki had had enough and she threw Bernard out. The divorce cited her infidelity, although both partners had been consistently unfaithful to each other. Also at this time Bernard made the first of his many suicide attempts, none of which came anywhere close to success.
Then followed a period of exploiting his friendships with the rich, famous and infamous until in 1964, a hard drinking friend, Elizabeth Smart, gave him a job doing the racing column for Queen. However, Bernard's drinking and occasional gestures towards self-destruction tended to interfere with his writing. In 1965 came his first attack of acute pancreatitis; he ignored his doctor's advice to give up drinking.
The following year he married for a third time. A 23 year old clothes designer, Jill Stanley. This marriage, although "open", survived for seven years and produced Bernard's only child, a daughter, Isabel. Possibly due to a more settled life in a Suffolk cottage (although interspersed with frequent trips to Soho), Bernard began to get more journalistic work and, in 1970, got the first full-time job of his life, writing a racing column for Sporting Life. The column was an overnight success, probably because he was the first person to write from a punter's point of view. However, after a year he was sacked for repeated drunkenness, and especially for being sick in front of the Queen Mother and passing out when he was due to make a speech. Three months in an alcohol and drug addiction unit followed, but Bernard went straight back to his former habits.
Jill finally left him in 1973 and he reverted to drifting from woman to woman and from flat to flat. Illness became a recurrent theme in his life (he was now in his early forties), and he once spent the New Year at the Royal Free Hospital "where they told me I might have to be put down". His ruined pancreas caused him to develop diabetes, but he hated being teetotal; "I've never met such boring people as my friends when I'm sober, never been so miserable or so lonely". His sobriety lasted two and a half years, and it was then he began to frequent the Coach and Horses, a pub in Soho run by Norman Balon. Fortunately, writing work continued to come Bernard's way, from the Express, Men Only (for whom he wrote a column entitled Bedtime with Bernard, then in 1978 Private Eye gave him a column on racing. In the same year he met and married Sue Ashley, a 29 year old producer of television commercials. Sacked by the Express for unreliability and a one-track mind, the Spectator gave him a column called "Low Life" which, with its alternative title of A suicide note in weekly instalments", became a massive popular success probably because, said Bernard, "people like to read about someone who is deeper in the shit than they are".
Bernard's health continued to deteriorate, he was arrested for a dew minor ofences, invited to the CID Christmas Party and had his last real love affair, with Deidre Redgrave. Lawsuits of various kinds were weathered, both those against him and those instigated by him. Then in 1988, Keith Waterhouse suggested a play about Bernard's life. John Hurt, an old friend of Bernard's, turned down the part, but Peter O'Toole not only cancelled other engagements, but invested £20,000 in the project himself – Norman Balan invested £500. The success of the play made Bernard nationally famous; he was invited on Dessert Island Discs, where Sue Lawley shrewdly produced a bottle of vodka as he sat down, and Michael Corkrey painted his portrait, which hung for a while in the National Portrait Gallery. Financially, the taxman eventually took 80% of Bernard's share of the play's profits whilst, ironically, the Apollo Theatre, the West End venue for Jeffrey Bernard is Unwell took record profits at the bar.
Sickness brought on by his lifestyle and long-term devil-may-care attitude to its consequences began to loom ever larger in Bernard's life. Although he had kept his good looks until about the age of fifty, he became physically somewhat grotesque towards the end – a columnist in the Evening Standard even ran two photos of him, taken 25 years apart, as evidence of the effects of excessive drinking. In 1994 he lost the bottom half of his right leg through diabetic gangrene and his death, in September 1997 at the age of 65, was a result of his refusal to undergo any further kidney dialysis treatments. Whatever posterity may make, or has made of Jeffrey Bernard – 'the country's most famous lounge lizard, an object lesson in dissolution, the subject of television programmes, and a block busting play, a shrewd and fearless observer of life, his own and others' – maybe we should end with the picture conjured up by Peter O'Toole when he visited his friend Jeffrey Bernard in the Middlesex Hospital after his amputation.
Alex has worked in both the UK and South Africa in Theatre, Television and Film. Directing credits include: Most recently the UK premiere of Neil Simon's London Suite starring Christopher Cazenove, Matchstalk Man at the Bedlam Theatre Edinburgh, Les Liaisons Dangereuses, A Chorus of Disapproval, How the Other Half Loves, The Secret Arch, Cowardy Custard, The Wordsmith's Lament and Relatively Speaking all Upstairs at the Gatehouse London, Funeral Games and The Way of the World at the Pentameters London, A Midsummer Nights Dream as an open air production in Johannesburg, and last year's production of Ultimate Islands first at Famous Grouse House and subsequent transfer to Dynamic Earth, Edinburgh which received a fringe first nomination. Also transferred How The Other Half Loves, Relatively Speaking and London Suite to Bahrain and Abu Dhabi for a limited tours this year with producer Susie Harriet.
He has worked as assistant to Royal Shakespeare Company director John Barton in New York on a new film version of Playing Shakespeare for PBS. Last year he worked as Production Designer on the location Feature film Welcome to Ibiza for Alpha Beta International and this year as Production Designer on the sci-fi thriller Parasite for Fearnort Films and Rebellion 2000AD. Recently he completed a documentary The Show Must Go On with Sensation Pictures for PACT which has just been aired in the Houses of Parliament. Alex is currently working as an associate producer on two feature films for London and Bulgaria. He has produced over 25 productions for Tenth Planet Productions and designed over 20 since graduating from Mountview in July 1997. He has also worked extensively both here and abroad as an actor.
Katy studied Theatre Design at Nottingham Trent University. While there she designed Macbeth in conjunction with Nottingham Playhouse. After graduating Katy worked at The Mill at Sonning Theatre, designing Outside Edge, Sylvia's Wedding and Relatively Speaking. Freelance work comprises of Ruffian on the Stair and Funeral Games (Pentameters Theatre), Eclipsed (Riverside Studios) and work with Streets Alive Theatre Company in London and Ghana. Seven shows for Stagedoor Manor New York including Playing For Time, Merrily We Roll Along, 42nd Street and The Boyfriend. Other designs include Sweet Charity (Watford Palace Theatre) and Molly Malone (Riverside).
Katy has designed six shows for Upstairs at the Gatehouse including London Suite, The Wordsmith's Lament, Daydream Believer, A Slice Of Saturday Night, How The Other Half Loves, Duck Variations and Squirrels. Film work includes Production Designer on Parasite (Fearnort Films), design assistant on The Forthsyte Saga (Granada TV) and currently for the BBC on a variety of projects including The Saturday Show and Paradise Heights.
When Ned Sherrin directed the first production of Keith Waterhouse's rig-roaring play Jeffrey Bernard is Unwell at the Old Vic, the eponymous hero spent night after night holding up the theatre bar. Jeffrey Bernard died in 1997, but Waterhouse's play was recently revived with Tom Conte, now Kevin Colson takes the role of the world-weary alcoholic at Upstairs at the Gatehouse. The premise is simple. The Spectator columnist, (the play gets its title from the message that appeared in place of his Lowlife column when he was too ill from booze to write) wakes up on the floor of the Coach and Horses in Greek Street, Soho, run by the Rudest Landlord in London, Norman Balon. Locked in for the night, Jeffrey leads us on a tale of his life, from falling in love with Soho – "from that point I never looked forward" – through his four wives, sackings, and escapades with actors, painters and other hard drinking pals. The play is essentially a selection of comedic sketches. An especially hilarious passage sees Jeff desperately trying to find an alternative to horse racing which has been cancelled due to bad weather. He hits upon the idea of cat racing, and with food as an incentive, Jeff and his friends starve their moggies to make them go faster. The role of Jeff is very demanding. The character is on stage throughout the long play and has a great deal to say. Other actors are essentially there to perform as caricatures, allowing Jeffrey to shine, and , thankfully Kevin Colson in the role is excellent. From the moment he wakes up spluttering on the carpet Colson is utterly convincing, he is the irascible Jeffrey Bernard and his bravura performance makes for a constantly entertaining two hours.
Designers Katy Tuxford and Carolyn Wilson are the first people who should be praised for the set of this production, which is as realistic a pub as can be seen on the stage. So intent are the audience on admiring it upon entering the theatre they fail to notice the body of a man slumped on the floor beneath a table.
So begins the production of Keith Waterhouse's award-winning play based on the life of four-times married journalist, alcoholic and gambler Jeffrey Bernard. The script – the true star of the show – is hilarious and tight, keeping the audience's attention even during the opening cough which must stretch five minutes.
For this show to work, the actor taking on the role of Bernard has to have considerable skill. Fortunately Kevin Colson is more than able. His booming voice strikes the right tone between hilariously funny memories – including some classic one liners – and sad realism of the life of an alcoholic gambling addict.
Supporting players Peter Harding, Susan Harriet, Carola Stewart and Mark Underwood are all impressive, with Harding standing out, especially in the scene when – desperate for something to bet on when the racing is cancelled due to weather – Bernard and two friends race their own cats.
Director Alexander Holt lets the script do most of the work but there are pleasing entrances and exits utilising every inch of the wonderful set. All in all, an extremely moving and entertaining evening and a must-see show.