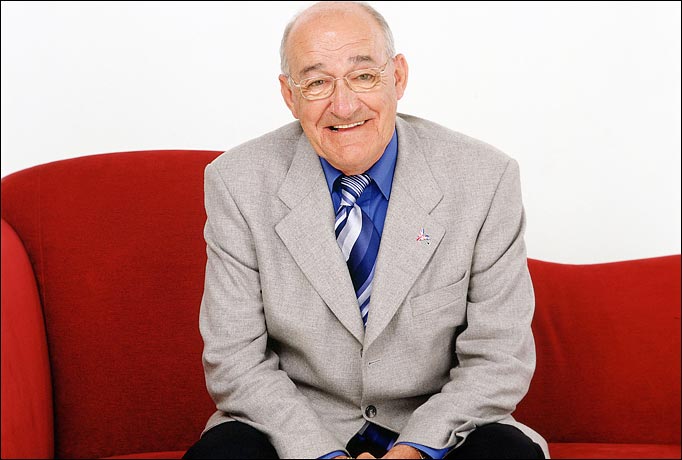 Jim Bowen 1937 – 2018
A lovely person and great comedian – it was a privilege to work with Jim for over thirty years.
Jim Bowen is like shoulder pads and loafers: all over us in the 80s and now nowhere to be seen. Aside from a sparkling turn on The Weakest Link recently, where he beat Anne at her own game with a series of self-deprecating gags, Mr Bowen's wit has been a scarce resource. He's kept himself busy of course, earning a crust on the radio, cameo slots on Phoenix Nights and the 'Amarillo' video with another long-lost icon, Mr Blobby. But when it came to writing his Fringe show, Bowen knew where to turn. 'No jokes, just tales', he announces on arrival, though he can't resist sharing a few, before setting off down Bullseye memory lane. If you spent the 1980s down a black hole, waiting to be born, or in a nation other than Britain, Bullseye will be unknown concept, making this show pretty much redundant. For everyone else, it was once an intrinsic part of family life. As synonymous with Sunday as roast dinner and closed shops.
Part general knowledge quiz, part darts game, the show spawned a handful of catchphrases, from Bowen's Fringe show title ('You Can't Beat a Bit of Bully') to the tragic denouement: 'Here's what you could have won'. But, we are shocked to discover, Bowen never actually said 'super, smashing, great', it just found its way into modern vernacular, much like Michael Caine's equally mythical 'not a lot of people know that'.
Such revelations are what this show is made of. Backstage stories about drunk contestants, camp directors (could have done without the wrist gesture, Jim) and overweight darts players are at best hilarious, at the very least interesting, and all told in the old-school style cultivated by Bowen et al on the Working Man's Club circuit. Paying homage to some of his comedic peers, Bowen reminisces about the halcyon days 'before it all went PC'. Mothers-in-law and the Welsh seem to be the only target now.
In fact, it's hard to dislike Bowen generally. When he briefly loses his thread during what he terms 'a senior moment' (the man is 67 after all) the front row is quick to help, rather than heckle. From the middle-aged folk who remember Bowen's Comedians days, to those who equate Sunday Bullseye with part of childhood, we're all here to hail the elder statesman of TV quiz shows.
Retro references, Butlins-styke blazer/grey slacks combo, perfectly honed performance and a host of references to all things naff. This could so easily be another character act – the 80s game show host reviving his career for an eager Fringe audience – but it's all the more special because Jim Bowen is the real deal. There's a lot of warmth from the capacity crowd, a nostalgic fondness for the days when light entertainment was king.
But "Old School" club comics like Bowen had a pretty rough ride through the 90s, all tarred with the same brush of being racist, sexist and politically incorrect. In fact, just about the only way in which their acts could be described as liberal is in their attitude towards intellectual property – comedians of Bowen's era are renowned for thinking all jokes are public property, with no qualms about performing somebody else's material. Bowen goes out of his way to dispel such preconceptions.
He might have the occasional snipe at political correctness, but he is happy to live by its rules. And when he does perform a joke purloined from his contemporaries, he gives credit – "Frank Carson, 1976". It's not larceny, its homage.
Bowen clearly has a lot of respect and affection for his contemporaries, opening his routine with some great anecdotes about the likes of Tommy Cooper and the South Shields British Legion. It's a slight detour for those wanting to hear about Bullseye, perhaps, but a wonderfully scenic route for all those who remember such days or have any kind of interest in British comedy heritage.
As the show's title suggest, however, the bulk of Bowen's performance centres around that bizarre darts-based game show. But Bowen is such a consummate story-teller it wouldn't matter if you had never seen it in your life.
There are arrogant contestants you don't want to win, impossibly stupid ones who somehow pull through and behind-the-scenes dramas that add to the chaos. The stories are long and the pay-offs far from immediate, yet the audience hangs on his every word, reaping the rewards with big belly laughs. It's hard to imagine current stand-ups being given this kind of space – modern audiences tend to want instant gratification. But Bowen has worked hard to earn respect from the crowd. On this evidence, he deserves it.
Comedy chain Jongleurs might seem an odd venue for a TV celebrity to make his Fringe debut, but it's perfect. These inner-city comedy venues-cum-nightclubs are the natural successors to the northern club scene: places where you can have a laugh, a pitcher of cheap drink and a dance – and end up with someone else's hand down your trousers. It is a big-city corporate version of Phoenix Nights and the ideal venue for a restyled club comic.
Bowen obviously feels at home here and wins the crowd over with tales from behind the scenes at the TV darts gameshow Bullseye. To his great delight the crowd includes fans of the programme, chiming in with the catchphrases and lapping up his tales of clueless contestants and worthless prizes. He sprinkles in a few reminiscences about 1970s comics and gently satirises the lack of sophistication of the quiz which made his name.
It's easy to get this comeback malarkey wrong on the Fringe, but Bowen pulls it off perfectly in a show with plenty of laughs. He knows he's a bit of a dinosaur – he must be the only man on the Fringe still telling mother-in-law jokes – but the overall impression is of a decent fella who appreciates the opportunities life has given him. It's a pleasure to spend an hour in his company.