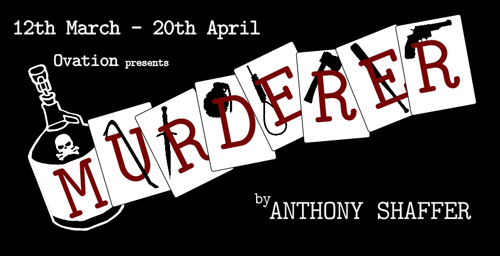 By Anthony Shaffer
Director – Tim Frost
Norman is a painter obsessed by notorious murders from the past. Now he hopes to perform the perfect crime of his own… Twists and turns abound in this tale of murder and revenge from the writer of Sleuth and The Wicker Man.
MURDERER played Upstairs at the Gatehouse
12th March – 20th April 2014
Andrew Ashford - Sergeant Stenning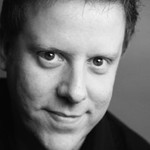 Andrew graduated from The Poor School in 2008. For Ovation Hipockets Duncan in Buddy – The Buddy Holly Story (Upstairs at The Gatehouse).
Other theatre credits include: The Ladykillers (UK No.1 tour and West End), his professional debut as Lennie in Of Mice and Men (The Dukes), and Billy Poggitt/Sir Gawain in the outdoor promenade production of Merlin (The Dukes, Williamson Park 2011).
Film includes: The Manual, Felix, Net and Nika and, most recently, Still Life with Eddie Marsan.
TV includes: Roy McCoy in Shelfstackers (BBC2), guest lead in Casualty, The Increasingly Poor Decisions of Todd Margaret and Call The Midwife.
Bradley Clarkson - Norman Bartholomew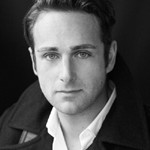 Bradley is originally from Hertfordshire and trained at Mountview Academy of Theatre Arts. Whilst there he appeared as a finalist on ITV's Grease is the Word. Theatre credits: Jimmie Shields in The Tailor Made Man (Arts Theatre), Philip A.S. Franklin in 41N 50W (St James Theatre and Davenport Studios New York), Jack Worthing in The Importance of Being Earnest (Theatre Royal, Windsor), Norman in Dreamboats and Petticoats (Playhouse Theatre), Sky Masterson in Guys and Dolls (Gordon Craig Theatre, Stevenage), Mark in Our Day Out (Royal Court Theatre, Liverpool), Sebastian in Twelfth Night (Theatre Royal, Bury St Edmunds and tour), Arthur in Come Dancing (Theatre Royal, Stratford East), various roles in The News Revue (Canal Café Theatre) and Alex in When Midnight Strikes (Finborough Theatre). Original cast recording: When Midnight Strikes. Film credits: the title role in Tom (Rockfall Films), Harvey in Facade (RHUL Films) and Sylvester in A Couple of Clowns (NFTS). Voiceover credits: Ted Glen and PC Selby in Postman Pat: Special Delivery Service (BBC/Classic Media) and various voices in the forthcoming feature film Postman Pat: The Movie – You Know You're the One (Classic Media/RGH Entertainment). Bradley regularly appears as Nick Massi in Big Girls Don't Cry (UK tour). More information on Bradley's career can be found at www.bradleyclarkson.com
Abby Forknall - Millie Sykes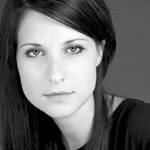 Abby graduated from Mountview Academy of Theatre Arts with a BA (Hons) in acting. Theatre credits include A View From the Bridge (Duke of Yorks Theatre); The Soup Dragon the clangers (Birmingham Stage Company); Hermia in a Midsummer Nights Dream (The Changling Theatre Company); Florinda in The Rover (Edinburgh Fringe) and Charlotte in Elegies For Raging Punks and Queens (The Shaw Theatre).
Abby has also presented the Kellkoo gadget shows and appeared in adverts for BBC radio 5 live, Unilever yogurts and The Picturehouse Cinemas.
Abby is part of the company Tiny Wallops as Little Miss Mini Fanny) who were Wilton's Music Hall's resident theatre troupe for over three years later performing at Jackson's Lane and The Arcola.
Zoë Teverson - Elizabeth Bartholomew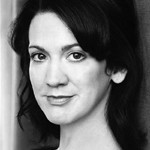 Recent roles include Claire Greenleaf in the UK premiere of Code of the West and Charlotte in Good Morning Alamo! (The Tabard). Other work in London includes: Gillian Holroyd in Bell, Book and Candle; M in Crave; Queen Isabella in Edward II; and Andromache in The Trojan Women. Zoë played the real life 1930s socialite and woman of great political influence, Lady Hazel Lavery in Bruce Panday's one woman piece A Very Leading Lady at The Guildhall Gallery.This production is hopefully to be reprised later in the year.
Zoe is a long term member of Kent Rep based at Hever Castle. Roles here include: Kate in The Taming of the Shrew; Doris in The Owl and the Pussycat; Susannah in Bedroom Farce; Sybil in Private Lives; and Olivia in Twelfth Night. Recent film credits: The Engagement and Waiting.
Tim Frost - Director
Tim has been a professional actor for the last twenty one years, working on projects from Shakespeare to musical theatre via Greek tragedy and improvised comedy. During that time he also directed Othello, A Midsummer Night's Dream and Charlie and the Chocolate Factory (Birmingham School of Speech and Drama), numerous pantomimes and musical reviews and Plague! The Musical which received rave reviews at the Edinburgh Festival Fringe. Tim is proud to be making his London directorial debut at Upstairs at the Gatehouse, a venue that holds a very special place in his heart.
Phil Lindley - Set Designer
Philip is Associate Designer at the Finborough Theatre, and has designed Mirror Teeth, Drama At Inish (2011), Autumn Fire, The American Clock, Merrie England, The Fear of Breathing, Passing By (2012), Somersaults, Rooms, As Is and Lost Boy (2013). Trained as an architect, Philip began his theatre career as a set and lighting designer before joining the BBC TV Design Department. During 25 years at the BBC, he worked on every type of production including Dr. Who, Blackadder, Top Of The Pops, Mastermind, Swap Shop, Play For Today, Play For Tomorrow, 30 Minute Theatre, Lorna Doone, Z For Zacharias, The Tripods, Juliet Bravo, Rings On Their Fingers, The Kamikaze Ground Staff Dinner Party, Goodbye Darling, Tomorrow's World, The 1981 Royal Wedding and The Scientist. After leaving the BBC, he worked as a freelance theatre consultant before moving to Lisbon where he continued to design sets and lighting for Portuguese theatre including productions of Cymbeline, Saturday Sunday Monday, The Bear, The Proposal, Recklessness, Tone Clusters, One For The Road, A Time For Farewells and Dracula. Since returning to live in the UK, he has designed Nerve, The Good Doctor and Sleeping Dogs (Baron's Court Theatre), Miss Julie (Teatro Technis) The Three Sisters and Endgame (Bridewell Theatre), Fair Em and Measure For Measure ( Union Theatre ), The Theban Plays ( The Scoop – Time Out best free London event of 2013 ), Passing By ( Tristan Bates Theatre) and The Keepers Of Innocent Space ( Park Theatre ).
Les Broughton
Les has worked in lighting for over forty years. He has designed lighting for theatre shows as diverse as Shakespeare and Agatha Christie with Ibsen and Brecht in between. He has also lit and rigged many a rock 'n roll show, variety and cabaret presentation and, for several seasons, The York Mystery Plays. He lit Ovation's London productions of Forever Plaid , From a Jack to a King and A Slice of Saturday Night. More recently he has been concentrating on trade shows and product launches not only in Britain but also in Hong Kong and the Far East.
Kirsty Gillmore - Sound Designer
Kirsty's career in sound and theatre began in New Zealand, where she worked with the University of Auckland, Music & Audio Institute of NZ and the Dolphin Theatre. After moving to London, she worked across radio and TV broadcasting for the BBC. In 2010 she left the BBC to establish her own sound design & voice production company, Sounds Wilde. Her sound design credits include The Secret Garden (UK tour), Boom & Bang Circus, Evita (Young Actors Theatre), Love on Trial (Ovalhouse) and The Shadow Formula (Greenwood Theatre). Sound credits include Mat Ricardo's London Varieties (Leicester Square Theatre), Dr Clive's Circus (Jacksons Lane), and The Murray Hill Show (Channel 4).
Alison Jacobson - Costume Supervisor
For Ovation: Costume Supervisor, Kiss Me Kate (Upstairs at the Gatehouse).
Although Alison started her working life in fashion and teaching she soon moved to being a clinician in the NHS. After working thirty years in the health service she returned to her career roots two years ago and is now a costume maker.
Costume credits include: wardrobe assistant for Epidemic (Old Vic New Voices); costume maintenance for Coney (Kensington Palace); second costume supervisor for the Cinderella with Arc (Broadway Theatre, Barking); and costume maker for the The First Musketeer (film).
Jeryn Daly - Stage Manager
Originally from Canada, Jeryn Daly did her Bachelor of Arts with an Emphasis in Theatre Studies at Trent University. Under the instruction of Marrie Mumford, Don White, Esther Vincent, and Deborah Ratelle she jumped into the world of professional theatre in 2009. Stage Management credits include: Seussical (Sell A Door, The Arts Theatre), As You Like It (The Rose, Bankside), Talking Movement (Picasso PRO), Zhishodewe (Indigenous Performance Initiatives), Gaabinjigabaa'aang (Indigenous Performance Initiatives), and Helen (Classics Drama Group).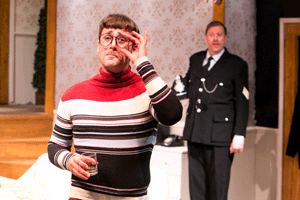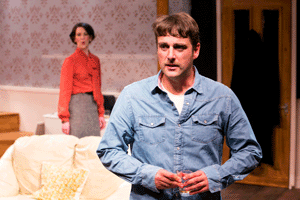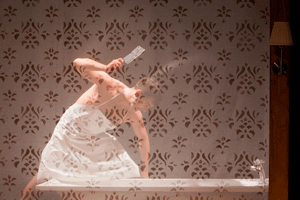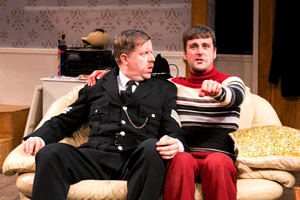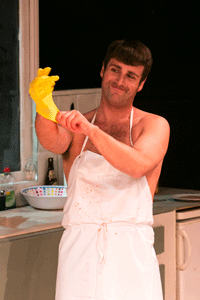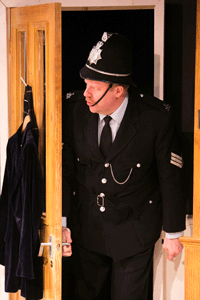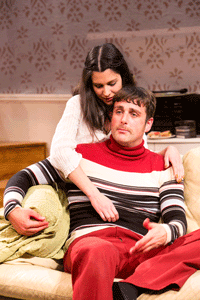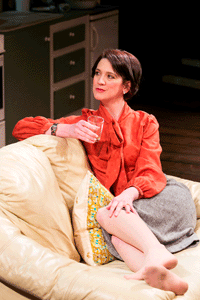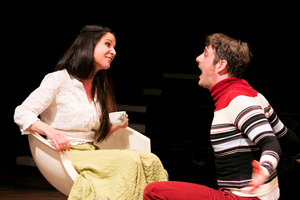 Faye Stockley, LondonTheatre1.com
"Bradley Clarkson delivers a very strong controlled performance, his comedic timing is spot on"
Murder dramas are loved by the British public. Agatha Christie is the world's bestselling novelist (outsold only by the Bible and Shakespeare) viewing figures for Poirot, Midsummer Murders and Lynda la Plant dramas are always sky-high, conspiracy theories a plenty regarding whom exactly Jack the Ripper was exist, and, as a nation we are all intrigued by the likes of Fred West, Myra Hindley and Ian Brady. It is therefore only right that the theatrical world has its own Crime and Murder specialist, for me this is Anthony Shaffer.
Anthony Shaffer, a Barrister by trade, penned some of the world's most loved murder/thriller plays, screen plays and novels. Amongst these is "Murderer" a dark comedic thriller that explores the obsession with Murder! In the intimate venue of Upstairs at the Gate House Theatre, close to the actual burial ground of Shaffer in Highgate East Cemetery, the audience is transported back to 1970s Dorset.
As an audience we are literally sat in Norman Bartholomew's (the protagonist's, living room) we are presented with a home full of contemporary artefacts, modern art, books, cutting edge furniture and of course a drinks cabinet in the shape of a globe! The 70s music starts and we observe a trendy middle class and arty couple flirt and dance around the living room. We are in the 70s there is no doubt, the music is playing, there is cheeky drinking and merriment in this household.
The performance starts fantastically, Bradley Clarkson's portrayal of the aspiring murderer Norman is beautifully executed. Clarkson has a very difficult task to keep an audience entertainment for the first 15 or so minutes of the play without being able to use any dialogue. We watch this clean freak who likes everything in its place, (takes a moment to plump cushions and put the magazines away) experience a lexicon of emotions whilst he drugs, strangles, and then proceeds to take his lover to the bathroom to perform Uxoricide.
As an audience there is a sense of uncertainly, a nervousness about whether we should be laughing or not as we voyeuristically observe Norman cruelly take a scarf and strangles someone whom we thought he loved in front of us. Soon though we find ourselves laughing loudly " if you want to get away with spousal disposal, you have to make the body unrecognisable!" we hear Norman state as he goes on to dissemble and dispose of the body via meat cleaver, axe, hacksaw and a number of power tools!
Maybe an early motivation for programmes like Dexter and films like American Psycho, Tim Frost has taken the text and created a very bloody and gruesome situation and made his audience laugh at it!
Bradley Clarkson delivers a very strong controlled performance, his comedic timing is spot on and he most certainly takes the audience on his journey – he wants to experience murder at its most intimate, he after all feels that murder is art! Bradley easily slips in and out of various characters as we watch him live out his dreams of murder over the space of one evening, we laugh with him and he really does become that enigmatic character that we can't help but love, even though it is quite clear that he is psychologically disturbed.
All four cast members gave great performances, however, Bradley Clarkson (Norman Bartholomew) and Andrew Ashford (Sgt Stenning) were in a different league. These two were faultless in my opinion. The scenes they have together flow beautifully, they play very well off each other and create a magic that must be seen.
I hesitate to give any plot details away and I beg you not to look up the plot synopsis before you go and see this show. Experience it raw with all its blood and glory! Bradley Clarkson is definitely an actor to keep an eye on for future productions.
James Fitzgerald, Londonist
"Fiendish Gothic Black Comedy In Highgate"
What exactly is it, in that west country air, which makes it England's unacknowledged murder capital? As Sherlock Holmes put it, "The lowest and vilest alleys in London do not present a more dreadful record of sin than does the smiling and beautiful countryside". It must be all that massive, maddening moorland. It'll turn a man wild, M'lord; into a killer, even. To the evidence stand, we call the Holmes adventure The Hound of the Baskervilles, ITV ratings-spinner Midsomer Murders, filmic spoof Hot Fuzz – and Anthony Shaffer's black comedy play Murderer.
A tale of a fiendish murder plot in a sleepy rural locale, the path that Shaffer's play rambles down is one well-trodden since the production first opened three decades ago. As if nodding to the (probably spurious) Jack the Ripper rumours that once lingered around artist Walter Sickert, it tells of a suave but murderous painter Norman Bartholomew (Bradley Clarkson), who believes killing can be an exhilarating artistic statement. He has a ghoulish obsession with history's most conniving murderers, and plots to bump off his wife in an inspired, artful fashion that is full of metaphysical profundity. He also hates her, and wants to run off with his sultry mistress (Abby Forknall).
They say evil is banal. Bartholomew's fantasies are plotted and executed against an intensely plain, unchanging backdrop of a 1970's house — much like Shaffer's play-turned-film Sleuth, a cat-and-mouse story with a similarly urbane villain in Laurence Olivier. Also calling to mind Hitchcock's Rope or Dial M for Murder, the claustrophobic stage setup quickly maps onto the anti-hero's closed-off, maniacal mind.
During a dialogue-less opening 25 minutes, we witness Bartholomew honing his technique; methodically extracting diverse utensils from his tool cupboard to seemingly go off and dismember a body; all fastidiously choreographed to classical music for macabre effect. Imagine American Psycho adapted for Brits: murder most mundane as Bartholomew pauses for a cuppa and wipes down the worksurfaces. There should probably be more blood, but we will see all is not as it seems.
Bradley Clarkson plays Bartholomew with gusto, blending plummy old-school with the complex insecurities that would doubtless befit a modern murderer. And, particularly in that opening slasher scene, director Tim Frost does well to elicit from us laughter, which is decidedly uncomfortable laughter. The script is, after all, loveable but twee; replete with an 'ello 'ello 'ello-ing Slow-Witted Policeman (Andrew Ashford), who has a helmet and a moustache. In one excellent scene, Bartholomew is in Breaking Bad territory, with an inconvenient corpse stewing in his bathtub just waiting to be discovered. Slow-Witted Policeman pops by for a beer, and necks not one but two Newcastle Brown Ales. "It goes in one end and out the other", chortles Slow-Witted Policeman, eyeing up Bartholomew's bathroom. Uh-oh!
For all its bright 70's aesthetics, the play is an earthy thing, full of this 'in one end and out the other' colour. The eroticism is unmissable: Bartholomew's despised wife (Zoe Teverson) practices gynaecological surgery, which is something he has a stab at as well, attempting to dissect women so as to explore that elusive feminine mystique. There's a lot of still-relevant gender commentary in there; Bartholomew looking for total exploitation of the women in his life but in fact appearing as a domesticated Dracula, baking practice body parts in the oven. The Upstairs at the Gatehouse production has an antiquated, gothic pleasure about it, and all the characters have their perverse charms.
Howard Loxton, British Theatre Guide
"pure entertainment"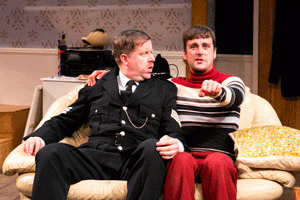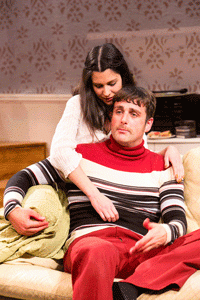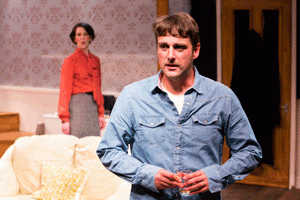 Norman Bartholomew is fascinated by real-life murderers. He seems to know the details of all the famous cases. It is an obsession that equips him with the knowledge to perpetrate the perfect crime. But why should he want to kill the pretty girl whose portrait he has just been painting?
For twenty minutes, without a single line of dialogue, we see him strangle her, strip her, dump her in a bath and then proceed to chop her up before consigning bits of her body to burn in his stove. It is a fascinating piece of theatre that Bradley Clarkson as Norman and his director Tim Frost have managed beautifully.
You watch for what he may have forgotten that is going to give him away—or where the production has slipped up. There are errors for sure but they don't matter. When a bluff policeman comes knocking on the door because a neighbour has reported his every action, you might imagine all is up for Norman but Shaffer's plot has so many twists and turns it turns into black and bloody farce.
From imitating the Brides in the Bath murder, Norman moves on to copy Crippen, digging a lime pit in the cellar in which to dump his wife, but that's all I'm going to tell you or it will spoil things.
Forknall is Norman's dishy girlfriend Milly and Zoë Teverson is the wife Elizabeth he's going to bury in the basement; this keeps you wondering where it can go next. There is a little bit of fake philosophy thrown in for good measure, but this really is pure entertainment.
Philip Lindley's setting exposes everything from kitchen and lounge to bathroom. Like much of the play it isn't entirely believable but it is all part of the mechanism that makes this cleverly contrived piece work.