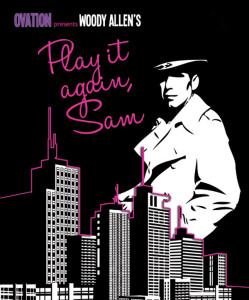 by Woody Allen

"One of the earlier, funnier ones" is often how Play It Again Sam is referred to when talking about the huge repertoire of Woody Allen's plays and films.
The first production opened on Broadway in 1969 with Woody Allen in the leading role. Playing opposite him was Diane Keaton, his love interest both on and off the stage.
Allan Felix (played by Woody) has just been through a messy divorce. This neurotic Jewish Now York film critic tries to resurrect his sex life…with little success. Obsessed by the movies, he calls on Humphrey Bogart (seen only by Felix and the audience) to help him out, give him advice and sort out the women in his life. The result is a three way love triangle which takes its inspiration from Casablanca. Full of clever one-liners and classic mis-quotes Play it Again Sam helped establish the comic genius that is Woody Allen.
'Play It Again Sam' played Upstairs at the Gatehouse
Friday 20th May – Sunday 26th June
Presented by arrangement with Samuel French Limted