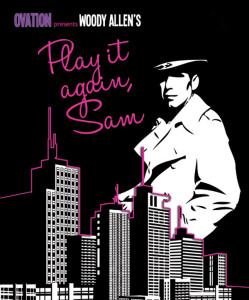 by Woody Allen

"One of the earlier, funnier ones" is often how Play It Again Sam is referred to when talking about the huge repertoire of Woody Allen's plays and films.
The first production opened on Broadway in 1969 with Woody Allen in the leading role. Playing opposite him was Diane Keaton, his love interest both on and off the stage.
Allan Felix (played by Woody) has just been through a messy divorce. This neurotic Jewish Now York film critic tries to resurrect his sex life…with little success. Obsessed by the movies, he calls on Humphrey Bogart (seen only by Felix and the audience) to help him out, give him advice and sort out the women in his life. The result is a three way love triangle which takes its inspiration from Casablanca. Full of clever one-liners and classic mis-quotes Play it Again Sam helped establish the comic genius that is Woody Allen.
'Play It Again Sam' played Upstairs at the Gatehouse
Friday 20th May – Sunday 26th June
Presented by arrangement with Samuel French Limted
Tim Frost - Allan Felix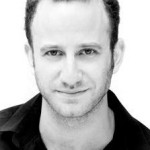 Tim started training at the Christel Arts Theatre School before performing for four years at The Open Air Theatre, Regent's Park. After completing his training at the Birmingham School of Speech and Drama, Tim went on to perform across all media. Theatre work includes: Aaron in Titus Andronicus (The Rose, Bankside); Student in Hello Again; and James Bates in They Shoot Horses, Don't They (George Woods Theatre). For the camera: Tap Dancer in Death Defying Acts; George in Thirteen; and Larry Kin in MPD. For radio: Hoppity in Hoppity the Traveller Goes North; and Gaic Taino in Aru and the Gaic Taino. Last year saw the staging of the musical Piramania! which Tim co-wrote. It previewed at Upstairs at the Gatehouse before going to the Edinburgh Festival Fringe. He is also the proud choreographer of London's leading male burlesque troupe – The Cubs.
Amy Bailey - Linda Christie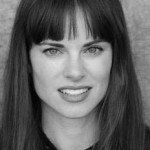 A native Texan, Amy moved to NYC at 16 to dance with The Joffery Ballet and then to London at 18 to dance with London City Ballet and London Ballet Theatre. In 2006 she understudied Ulla in the original cast of The Producers (UK Tour) and in 2007 played Laurie in Oklahoma! (Kilworth House). Later that year Amy filmed Nine at Shepperton Studios and Tim Burton's Alice In Wonderland. In 2009, she performed alongside Beyonce and Hugh Jackman, under Baz Luhmann's direction, for the 81st Oscars. Amy has featured in several films and TV shows including: Discovery Channel's Alive; Syfy Network's Legend Of Cain; and the viral hit A Girl Walks Into A Bar. She is also the face of Blackberry Torch 2011 campaign and performs regularly with several comedy impro troupes in London. www.amybailey.net
James Kermack - Dick Christie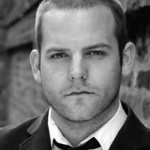 Theatre credits include: Manor (Soho Theatre Studio & Tristan Bates); John Proctor in The Crucible (Wateryard); 1 in 5 (Young Vic & Hampstead Theatre); Suburbia (Pentameters); Old Vic New Voices 24 hour plays (Old Vic); Newsrevue (Canal Café); Playlist (Arcola Theatre); A Slice of Saturday Night (C Venue, Edinburgh); Pygmalion (Old Vic-directed by Sir Peter Hall); Damaged (Liverpool Everyman); and For Once I Was (OVNV US/UK Exchange). Recent Film/Television credits include: feature film The Lost for Thamesgate Films (release date winter 2011); music video for Young Rebel Sets new single Lions Mouth (released June 2011); various sketches for Stuart Ashen (pilot – Hat Trick Productions) and Zack Zubar (pilot – Turner Entertainment Company Cartoon Network). James is now the face of the armed forces campaign Don't Bottle it Up.
Shaun Stone - Bogart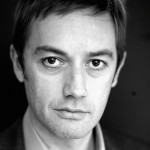 Shaun trained at The Poor School. Stage work includes: John in Alan Ayckbourn's Absent Friends; Bruce in Doug Lucie's Progress; the lead in the new play Faultlines (all at The Union); Stockwell (The Landor and Tricycle); Twenty Twelve a new play by Ade Ikoli (Soho Theatre); Tales From The Terraces (King's Head); Diary Of A Single Man (Theatre Royal Stratford East); Throwing Stones (Greenwich Playhouse); and Have You Seen My Cat? (Edinburgh International Festival). Television work includes: series regular in Murder City (Granada); five episodes of The Bill (Talkback Thames); Spy TV (Endemol); Holby City (BBC); She's Been Away (directed by Sir Peter Hall); Absolute Power, The Diary Of Rita Patel and Memsahib Rita (all BBC). Feature Films include: Is Harry On The Boat? (Ruby Films); It Was An Accident (Pathe); a lead in the short film Not For You for the ICA; Victim (Pure Films); and Stud Life (Blackmanvision) both due for cinematic release in 2011. Shaun is an experienced voiceover artist who has also appeared in many UK commercials.
Josephine Kiernan - Nancy, Dream Sharon, Gina, Disco Girl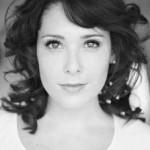 Josephine is a graduate of The Guildford School of Acting. She recently appeared in Pins and Needles (The Cock Tavern Theatre) and has just completed filming for Reels in Motion's feature film Pulp. Josephine worked with Richard Stilgoe on his musical Orpheus the Mythical (Yvonne Arnaud, Guildford). Credits whilst training include: Miranda in The Busybody (Mill Studio); Milly in Seven Brides for Seven Brothers (directed by Steven Dexter); and Deborah Pullman in The Fix. Josephine was also a member of the prestigious GSA Singers and performed at Her Majesty's Theatre for the Dora Bryan Tribute Concert.
Felicity Russell - Sharon Lake, Vanessa, Gallery Girl, Barbara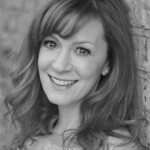 Felicity studied Musical Theatre at The Bristol Academy of Performing Arts. Theatre includes:
I Love You, You're Perfect, Now Change! (Canal Café and Edinburgh Fringe); Six Women With Braindeath (Soho Theatre); Shakespeare For Breakfast and A Midsummer Night's Scream (C Venue, Edinburgh); and News Revue (Canal Café). She also performed in the chorus of Deborah Warners production of Julius Caesar at The Barbican. Felicity can often be seen smiling in commercials or looking cool in Music Videos. Recent commercials include: T-mobile; and Mecca Bingo. Felicity is also a keen comedy writer and a stand up comedian performing under the name Fliss Russell.
Racky Plews - Producer for Ovation
Ovation has recently been awarded 'Best Theatrical Team'- Fringe Report Awards 2011.
For Upstairs at the Gatehouse as producer: Sam Shepard's Buried Child ; High Society ('Best Producer' nomination Off West End Awards); and Buddy – The Buddy Holly Story ('Best Entertainment' nomination Off West End Awards and Time Out's Critics Choice).
As director in residence: London fringe premiere of The Drowsy Chaperone 'Best Off-West End Production' nomination Whatsonstage and 'Best Director' nomination Off West End Awards; Into the Woods; The Young Ones; Side by Side by Sondheim; Starting Here Starting Now; and Cole.
As choreographer in residence: A Slice of Saturday Night ('Best Choreographer' finalist Off West End Awards); A Tale of Two Cities (Directed by Paul Nicholas); Forever Plaid; The Wiz; Hot Mikado; and Victoria Wood's Talent.
Other recent credits include: Resident Director at Trafalgar Studios for State Fair; Crazy For You (London Palladium); Aladdin (Qdos & JC Productions, Hastings); A Christmas Carol (The Kings Head 'Best Play' London Festival Award 2010); Fresher (Edinburgh Festival Fringe 'Most Promising New Musical' MTM Award 2010); Stop Dreamin' (Chas & Dave's new musical Directed by Ray Cooney & Carole Todd); The Tender Land (The Arcola); Big Bruvva The Musical (World Premiere); Marriage of Figaro (Shaw Theatre); La Traviata (Hampstead Garden Opera); Mac Bitch! (Perfect Pitch); and Assassins (Landor Theatre). Most recently Racky choreographed The Boyfriend (Her Majesty's, Haymarket) for Showtime Challenge.
John Plews - Director
John trained at LAMDA and spent several years in Rep including a long stay at the Theatre Royal, Windsor. He has directed and produced numerous shows including many for cruise lines Princess, Cunard and P&O. At Upstairs at the Gatehouse John has directed A Slice of Saturday Night; Buddy – The Buddy Holly Story; High Society, Come Back to the 5 and Dime, Jimmy Dean, Jimmy Dean; Lee Hall's Cooking With Elvis; Victoria Wood's Talent; It's Only Make Believe (which he co-wrote); Forever Plaid (also Edinburgh and National Tour); The Wiz; Hot Mikado; Little Shop of Horrors; Return to the Forbidden Planet and From a Jack to a King.
John wrote the stage adaptation of The Young Ones a musical based on the iconic 1961 film, which played over Christmas 2007 to critical acclaim. John, along with Katie, is responsible for the day to day running of Upstairs at the Gatehouse.
Suzi Lombardelli - Designer
As Designer: Fragments 2 (Riverside Studios); Less Than Kind (Jermyn Street Theatre); She From The Sea (LIFT Festival for Cleanbreak); Lesbian Bathouse (Assembly Rooms); Le Silence (White Bear Theatre); Apartment 2012 (White Bear Theatre); The Emperor of The Moon (Embassy Theatre, cssd); Shakespeare Scenes (Trinity College Opera); Pythonesque (Cowbarn), Richard III (Studio One, cssd), Oliver's Army (WebberDouglas Studio, cssd); Behind Closed Doors (Shoreditch Townhall Basement); Romeo and Juliet (Chipping Norton Theatre); Return To The Forbidden Planet (Chipping Campden Theatre).
As Costume and Assistant Set Designer: The House of Bernada Alba (Embassy Theatre, cssd); Assistant Costume and Set Designer Dealers Choice (Embassy Theatre, cssd) Associate Designer, Decline and Fall (Old Red Lion), Design Assistant, Charged (Soho Theatre) Costume Designer, The Captive (Finborough Theatre); Design Assistant, Pieces of Vincent (Arcola Theatre); Assistant Designer, No Way Out (Southwark Playhouse).
TV and Film credits include: Production Designer, Morning After (Cinematik Productions); Wardrobe Assistant, Jamie Oliver's Family Christmas; Assistant Art Director Short Lease, Assistant Costume and Makeup Designer Transit.
Suzi is resident designer for Theatre Company Equal Measure and graduate of Central School of Speech and Drama..
Howard Hudson - Lighting Designer
Howard won the 2011 Off West End Award for Best Lighting Design for the European Premiere of Rodgers and Hammerstein's Me and Juliet (Finborough) and Tomorrow Morning (Landor). Other nominations, The Drowsy Chaperone (Upstairs at the Gatehouse); Bent (Landor and Tabard).
Recent credits at Upstairs at the Gatehouse include: Buried Child, A Slice of Saturday Night, High Society, Buddy, A Tale of Two Cities. Other credits include, Hello, Jerry!, Smoke Joe's Cafe (Landor); State Fair (Trafalgar Studios); Cowardy Custard (UK Tour); People's Romeo, Miranda, Gandhi in South Africa (Tara Arts, UK Tour, India and Temple Church); Bed and Sofa (Finborough); The Consultant (Theatre 503); Just So (Tabard); The Boyfriend (Her Majesty's, West End); Educating Rita (English Theatre Frankfurt); 1936 (Arcola and UK tour); Classic Moments, Hidden Treasures and The Importance of Being Earnest (Jermyn Street); Twelfth Night (Creation, Oxford); Romeo and Juliet (Jermyn Street and tour to Poland); Yoroboshi (New Wimbledon Studio); The Shakespeare Revue (New End and UK Tour); Copland's The Tender Land (Arcola and Cochrane); Casanova (King's Head); Histrionics (Edinburgh). Associate credits with Mike Robertson include: Frances Rufelle, Lynda Carter, Caroline O'Connor (Garrick); Du ska få en dag i mårå… (The Norwegian Theatre, Oslo); Hair, Deathtrap, Five Guys Named Moe (English Theatre Frankfurt); www.howardhudson.net
Rachael Vaughan - Costume Associate and Media Consultant
Rachael is a Central School of Speech and Drama graduate in Design for Performance 2010. Originally from Bristol she trained in all aspects of Set, Media and Costume Design and has enjoyed working with a variety of directors and theatrical companies across London and the South of England. These include James Purefoy, Fanshen Theatre, Grainne Byrne of Scarlett Theatre and Jon Wright of Trestle Theatre Company. Her recent credits include: 74 Georgia Avenue and Death of a Nightingale (New End Theatre); and Frankly I Was a Fool for Love (touring Hong Kong with Fringe Management Theatre); Darkside Project with The Newcomen Theatre Group (W.A.M Studios); The Captive by Ben Ellis (The Finborough Theatre); Lesbian BathHouse, (Assembly Rooms – Edinburgh Festival Fringe 2010); and is a resident designer with Equal Measure Theatre Company.
George Kendall Smith - Sound Consultant
Having always had an interest in sound George began operating musical theatre shows such as Man Of La Mancha and Kiss Me Kate. The venues include The Electric Theatre, Yvonne Arnaud, The Watermill Theatre and Apollo Shaftsbury Avenue. George graduated from the Guildford School of Acting production course where he specialised in live sound. He also graduated from Alchemea's Live Sound Course in 2011 where he became a highly qualified sound engineer. Working as a Front of House engineer George has mixed many varieties of bands genres and orchestras for musicals along with creating and developing his own sound effects for shows
Amy O'Neill - Casting Director
Amy trained as an actress and spent nine years in the business as a performer before working in casting.
Her Casting Director credits include: The Cradle Will Rock (Arcola Theatre); The Magic Hour (Soho Theatre, Writers Avenue); The Temple of The Soul (Soho Theatre, Writers Avenue); Beautiful Thing (UK Tour, Giddy Ox Productions) and a First Direct commercial. Amy has also been Casting Assistant on various film, TV and photographic projects for Marilyn Johnson; Kate and Lou casting; Tree Petts and Sarah Crowe. Amy is also an agent's assistant at Jonathan Arun Associates.
Katie Joos Glasheen - Assistant Director and Voice Coach
Kate is pleased to return to the Gatehouse for her second production as Voice Coach and first as Assistant Director. In addition to voice and accent coaching, Kate is also a professional actress, dancer and puppeteer and has performed in regional theatres across the United States.
Recent Voice and Accent Coach Credits: Draw Me A Bird (Peut-Etre Theatre Company); Buried Child (Upstairs at the Gatehouse); Side Effects (dANTE or dIE Theatre Company).
Linda Hapgood - Stage Manager
Since graduating from Central School of Speech and Drama in 2010, Linda's stage management credits include: Deathtrap (Noel Coward Theatre); Tosca (New Diorama); Less Than Kind (Jermyn Street Theatre) and Antony and Cleopatra (Central School of Speech and Drama).
Productions whilst a student at CSSD included: Much Ado About Nothing; Macbeth; Les Liasions Dangereuses; Generation; The House of Bernarda Alba and Le Nozze di Figaro.
Sarah Kier - Scenic Artist
Sarah trained in scenic art at Central School of Speech and Drama and is now working successfully as a freelance scenic artist. Recent production credits include: Onegin; Tannhauser; Hayfever; A Flea in Her Ear; Verdict; Jekyll and Hyde; Betty Blue Eyes; Diary of a Nobody; Macbeth; Much Ado About Nothing and Batman Live.
To see a portfolio of Sarah's work please visit www.sarahkier.com
Erin Quist - Sound and Lighting Operator
Antony Morgan - Poster Design
Aline Waites, Ham & High
****
"Here's looking at you kid." "Round up the usual suspects."
Casablanca was, like Hamlet, chock full of quotations – and Woody Allen makes good use of them in this early masterpiece of wit and pathos.
The stage version first appeared in 1969 and when it was filmed in 1972, it kick started Allen's long film career, garnering him more Oscar nominations than any other writer in Hollywood history.
As the audience enter the theatre, director, John Plews sets the scene by showing newsreels of 1969 and when the lights go down we see the final scene of The Maltese Falcon starring Humphrey Bogart, idol of film reviewer Allan Felix, who has just been abandoned by a wife bored with watching films and longing to spend her time skiing- naked.
We are allowed from time to time into Allen's obsessive/neurotic imagination as the company act out scenarios of what might happen, what did happen and what he wants to happen. These mostly involve young women and Josephine Kiernan and Felicity Russell between them play eight widely differing roles.
Some of these are girls found for him by his friends. Dick and Linda are trying to help him find another bride, but his confidence is so shaken that he ruins every encounter by his nervousness.
The acting throughout is faultless and each character is funny in its own right. Tim Frost is the nearest thing to Woody Allen that it is possible to be. He is ably backed by Amy Bailey as Linda and James Kermack as Dick, with frequent appearances from Shaun Stone as the imaginary Bogart to whom he runs for advice on how to handle women.
My favourite exchange as he tries to secure a date with a depressive intellectual:
"What are you doing Saturday night?"
"Committing suicide"
"What about Friday?"
The brilliant set by Suzi Lombardelli must be mentioned and the evocative music – Rodgers and Hart's "Manhattan" and of course "As Time Goes by" – the song that Sam actually played.
Claudia A, Film News
What's shorter than Woody Allen's height? The first act of this entertaining fringe production of Woody's famous stage play.
Don't let that put you off, for truly great things reveal themselves throughout Act 2 and 3. For example: superb acting, a stellar set, witty lines, laughs and pathos and a tale of the human condition.
For those not familiar with Allen's play or film, the action of Play It Again, Sam takes place in a New York apartment on West 10th Street in 1969 (the same year as the original play opened on Broadway, starring Allen and Diane Keaton).
The story revolves around Jewish Allan Felix (Tim Frost), a nerdy and neurotic film critic whose love life is in tatters when his thrill-seeking wife (Josephine Kiernan) walks out on him. Watching the movie 'Casablanca' (several quotes and misquotes in Allen's play stem from this classic drama noir), he dreams of being just as cool as Humphrey Bogart. Minutes later, the ghost of Bogey materialises in order to help Allan secure prospective new dates and a possible new wife – with equally hilarious and disastrous consequences!
From then on, we witness James Kermack as Allan's best friend Dick Christie playing matchmaker in vein, while Amy Bailey is a revelation as his loyal yet disillusioned wife Linda. Felicity Russell has the challenging task of portraying various new love interests while Shaun Stone's 'Bogey' does a great job of being there 'without being there', a shadow figure who semi-mumbles his perfectly timed one-liners in best and stoic Bogart tradition.
However, it's leading man Tim Frost who manages to bring the right amount of gravitas to his otherwise bumbling and nervous character – he's full of sexual fantasies but utterly hopeless when it comes to deliver even the most simple of chat-up lines. Frost neither impersonates nor caricatures Woody Allen but simply plays Allan Felix in his own way. By doing so, he makes his character believable and turns him into a real person we all can relate to.
While the 1st Act is surprisingly short and leaves one wondering where characters and pace are going, the rest is on the right pace and perfectly flows, with all the performers interacting in tune.
A big round of applause must also go to Suzi Lombardelli's exquisite set (the apartment is crammed full with classic movie posters and objects scattered about), while director John Plews managed a great (and surely not easy!) job in putting this quality cast and production team together (not to mention acquiring the rights to the play). Play It Again, Sam is a real treat not just for Woody Allen and Humphrey Bogart fans but for all those who appreciate a good night out at the theatre.
Howard Loxton, British Theatre Guide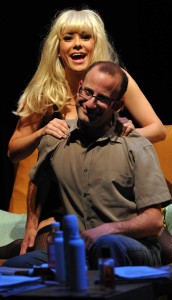 This revival of Woody Allen's 1969 Broadway play about a neurotic New York film critic and journalist whose wife has just divorced him is a delight. Tim Frost as Allan, the role Allen wrote for himself, may look rather like him but he makes the part his own. He is well matched by Amy Bailey, lovely as his best friend's wife Linda who, with her property-dealing, business-obsessed husband, is trying to set the nerd up with a girl. While Allan's wife (Josephine Kiernan) wanted to ride naked on a motor bike through Europe, unfortunate Allan is a man who, though he spent his entire honeymoon in bed, did so with dysentery. Without her he's a mess.
A succession of newsreel and film clips from Vietnam to Woodstock, Robert Kennedy to Diana Rigg and James Bond set the date as the audience settle (you can compete with your partner in identifying what they all are) to end with a 'turn off you mobiles' title that's a change from this theatre's traditional announcement. From then on director John Plews keeps the comic action fast running, slowing down just a little to allow romance to almost poke its head in as Allan and Amy find themselves increasingly attracted.
Suzie Lombardelli's set offers a West 10th Street apartment plaster with movie posters. Its layout is an architectural oddity, but it works very efficiently for the pop up or pop in appearances of Allan's ex-wife and of his adviser on women, none less than slouche-hatted Humphrey Bogart, whenever Allan's memory or imagination need them, which is often. Shaun Stone is a wonderfully one-dimensional Bogart and James Kermack is Amy's preoccupied husband, always ringing the office on arrival to say where he can be contacted next.
Felicity Russell plays a succession of girls that Allan tries to date, in life or in his imagination, most of them don't bite his line but with one his luck seems to be changing, and Kiernan doubles as some others, including a crazy disco dancer.
The gestures are bold and neither text or production is particularly subtle: Allan is dysfunctional so the set is littered with his dropped clothing, but the timing is right, its heart is in the right place and the laughs keep on coming. Enjoy it!
James Buxton, Extra! Extra!
Who is Woody Allen? Is he that nervous, witty, Jewish Film maker from the lower East Side? Or is he rather a character destined to play a parody of himself, a supporting actor in the film of his own life? Play it Again, Sam debuted on Broadway in 1969 was a run-away success, and was eventually made into a film. Allen wrote and starred in the main role as Allan Felix (Tim Frost), a neurotic, self deprecatory bag of nerves, a projection of Allen's personality and vehicle for his switch blade wit which couldn't backfire.
We follow Allan Felix (Tim Frost), a film critic who spends all his days watching silver screen classics. Nancy, (Josephine Kiernan), his wife leaves him to find a 'real man,' preferably one with a motorcycle and long hair. Felix's friends, Dick (James Kermack) and his wife, Linda (Amy Bailey) take it upon themselves to lift him out of his misery by introducing him to the leggy, Sharon (Felicity Russell). Things go typically tits up for Allan, despite receiving advice on how to seduce women from Humphrey Bogart (Shaun Stone), who begins making cameo appearances in his life. As we enjoy his excruciating blunders and exquisite one- liners we discover that the girl of his fantasies might be sitting right under his nose.
Tim Frost is just the right blend of spluttering nerves and babbling energy, excelling at evoking Allan's acerbic wit. His Jewish lilt savours Allan's accent and brings the flavour of fast talking Manhattan to the leafy borough of Highgate. Frost excels at comic timing and his cringe worthy antics never fail to amuse as he kicks over his coffee table and collapses over his record player, generally acting the klutz. His relationship with Keirnan is amusingly desperate, as she struts across the fantastic set, all bubblegum chic and nasally New York accent in a crop top and tight jeans, she commands his lust and throws it back in his face. Bailey as Linda, compulsively tidies Allan's apartment, acting the dreamy home-maker, obedient to the role Dick has given her. Bailey demonstrates a cool elegance through her fine poise as she vividly expresses Linda's emotional integrity with her yearning eyes that long for the passion Dick denies her. Kermack as her husband, plays a slick, arrogant business man of the 1950's, who talks of emotions in terms of investments and conveys well, the innate comedy of a man who takes himself so seriously he has to update his colleagues over the telephone every other minute about where is going to be that afternoon. A profoundly prophetic insight into how society would eventually evolve. Twitter anybody?
Allan's hallucinations of Bogart are brilliantly handled, as scenes from his favourite movies begin to infiltrate his life and reflect his own situation. Hudson has the lights turn steely blue when Bogart enters, creating a sense of a shift from reality to the world of Allan's imagination. When Stone appears as Bogart from Casablanca in a trench-coat and trilby, he bestows his virile one-liners in an amusing "schmokin hot" accent, with a neat spareness.
Life imitates Art in Play it Again, Sam, especially the classic movies of the '40's and '50's and the play are testament to the influence these films have exerted over Woody Allen. Plews's excellent direction allows Allan's fantasies of the silver screen to come alive in fantastic interludes, when Kendall – Bush's dramatic film music, strikes up and the actors engage in famous encounters from these timeless classics in the ubiquitous apparel of the time. All that's missing are the plumes of smoke left behind by a disappearing train.
Suzi Lombardelli's set is a brilliant recreation of a Manhattan apartment, which has been painstakingly designed with a great deal of love and attention. Classic movie posters decorate the walls while clothes and takeaway cartons are discarded on the floor. A spiral staircase creates a second level, and is used inventively for the club scene and Allan's feverish film watching. Lombardelli ingeniously uses the blinds to project film scenes on to and it also allows a backdrop of Manhattan to dominate the set, painted onto the wall behind. The city is a living presence in the play and an important reminder of Woody Allen's inextricable relationship with New York, as much as his fondness for women.
Play it Again, Sam, is laugh out loud funny and will have you in stitches. Woody Allen is without a doubt a comic genius. His ability to pen witty one liners which take their humour from his own inadequacies and neuroses appeals to us all, not only for their self deprecating qualities, but also, his talent to create realistic characters who we can sympathise with, but at the same time laugh at. Plews has done a fantastic job of doing justice to the material, which despite its age is as vigorous now as it was in its heyday.
Anna Lowman, Exeunt Magazine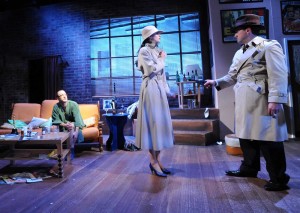 This Woody Allen play was first performed in – where else – New York in 1969, but it has been a long while since it was last staged in London. On this hugely enjoyable showing, though, it's hard to work out why it hasn't become a director's favourite. Funny and fast-paced, it boasts one zingy one-liner after another, and offers director, actors and audience alike the chance to have a hell of a lot of fun.
Perhaps it is difficult to find actors willing to step into Woody Allen's shoes. He originally played the lead, Allan Felix, and he's a quintessential Woody character: neurotic, nervy, and self-analysing but also quick-witted and intelligent. We first meet film critic Allan huddled away in his bedroom, mouthing along to lines from his favourite movie, The Maltese Falcon, and trying to avoid the reality of the divorce he's just had to finalise. As the play goes on, he attempts to find romance once again, helped out by his best friend's wife Linda, whom – inevitably – he ends up falling for.
It must have been impossible for the man who has here taken on the role – Tim Frost – to read Allan's lines without hearing Woody Allen's voice while doing so, so he deserves huge credit for delivering them with immaculate timing but without ever descending into a straight-up impersonation. Allen is definitely evoked, but Frost's performance is such that you never find yourself comparing him overly with the "real" thing. Dejected and lethargic one moment, fizzing with nervous energy the next, it's a performance that relies on great physicality as much as the capacity to deliver a gag, and Frost proves himself more than up to the task. He keeps the energy levels high and the audience onside even though he's playing someone who is, ultimately, a remarkably self-absorbed character.
It's not Frost's show alone and he is ably supported by the rest of the cast. Amy Bailey makes Linda a warm and sympathetic, someone whom Allan can't help but fall in love with, and while her work-obsessed husband Dick could easily be two-dimensional, James Kermack ensures there's something for the audience to engage with. Perhaps most impressive of all, however, is just how much Shaun Stone manages to get out of his role as Bogart, the actor who steps out of the screen to help Allan win and woo his 'dames'. He may have precious few lines, but his questionable 'treat 'em mean, keep 'em keen' advice is delivered with deadpan brilliance.
Indeed, director John Plews has elicited uniformly enjoyable performances from his cast, and he's added some neat visual jokes, too. And the production looks great; the large performance space is plastered with movie posters and littered with TV dinner cartons to recreate Allan's messy New York apartment.
In fact, the only real problems here are with the play rather than the production. In this effort at least, Allen displays a surer hand with comedy than he does with pathos, meaning the key emotional scenes don't quite match the impact of those which have been written purely for laughs. But it hardly matters. The gags are great, the performances strong and, perhaps most importantly, it's simply impossible to watch without smiling.
Vicki York, Totally Theatre
Woody Allen's play Play It Again Sam got a standing ovation at the Gatehouse in Highgate, London last night.
The first stage production opened on Broadway in 1969 starring Woody Allen and Diane Keaton. Play it Again Sam revolves around New Yorker Allan Felix who has just been through a messy divorce.
This neurotic Jewish film critic tries to resurrect his sex life – with little success. Obsessed by the movies, he calls on Humphrey Bogart for help. Bogey then gives Allen advice on the women in his life. The result is a three way love triangle which takes its inspiration from Casablanca
The play opened on 20th May in Highgate and will run until June 26th. The comedy is all still there. It may not be Woody Allan, but director John Plews, has found a London Jewish equivalent in Tim Frost, shortish, bespectacled and almost as neurotic. Frost began with Woody Allen's ghost to contend with, and was overly concerned with the physicality of neurosis, but he left this behind as he moved further into the play, and relaxed into the role.
Amy Bailey, tall, and slender took on the role played by Diane Keaton. Bailey, eased her way slowly into the part and gave the supporting role all it deserved, whilst James Kermack playing her husband was in character from the off. Kermack often cast asa soldier or gangster took on the role of business 'failed gangster' with gusto and was able to capture the many transformations of his character with a good sense of comedy.
Josephine Kiernan playing Nancy, the ex wife and several other roles has energy and presence which will take her far. Her charisma began the play in a way that was captivating and was maintained with each subsequent entrance.
Felicity Russell was a chameleon as she invented herself over and over again in every cameo role.
Increasingly funny as the play progressed, what this production lacked in emotional substance was replaced with some magical direction in the second half which gave this production its own identity.
I am sure that this production will improve with each performance and is worth a visit.
Sarah Smyth, Camden New Journal
ACCORDING to Humphrey Bogart: "There's no secret, kid. Dames are simple. I've never met one that didn't understand a slap on the mouth or a slug from a .45."
Not so for Allan Felix (Tim Frost), a 29-year old writer who is mid-divorce, down on his luck and on the verge of a nervous breakdown.
Neurotic, nervous and cripplingly self-aware, Allan embarks on a string of shambolic blind dates, guided by his friend Dick (James Kermack) and his sympathetic wife, Linda.
This romantic comedy is classic Woody Allen territory. Inevitably, Allan falls for the kind and sincere Linda (played with poise by Amy Bailey) and faces a dilemma of loneliness and betrayal. The play is peppered with interludes featuring "Humphrey Bogart" (Shaun Stone), whose hammy one-liners contain some of the worst advice imagin­able.
However, the real elephant in the room is Woody himself. The shadow of Allen, who played the part himself in the 1972 film, looms large, and it's hard not to feel like everything else is mere imitation.
This aside, Frost's comic timing, masterful accent and convincing physicality result in an authentic performance and carry the show.
Bailey matches him well as the woman of his affections, and the two have a genuinely lovely onstage dynamic.
There's also an unexpected gag with a trap door, for which I doff my hat to director John Plews.
Not Woody Allen's best, or the freshest of offerings, but well-acted and worth a visit.