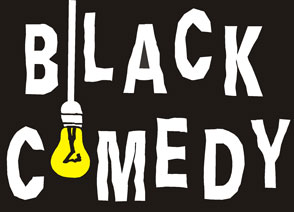 by Peter Shaffer
Black Comedy is an unusual play in which light and dark are reversed on the stage; when the lights go out for the characters they come on for the audience. This is an idea borrowed from classical Chinese opera when duels supposed to be taking place in total darkness are hilariously re-enacted by two men with much ducking, wild thrusting and bumping into each other.
Black Comedy develops this tradition in one of the most hilarious displays of pure comic invention ever seen on the stage. The scene is sculptor Brindsley Miller's flat where he has to cope, not only with an electrical failure, but the simultaneous presence of a deb fiancée, her irate military father, a neighbour from whom he has borrowed some expensive antiques and his former girl-friend. And, as his guests fumble in the dark in full view of the audience, the wit of the dialogue complements the physical situation in which they find themselves.
Tim Berrington - Brindsley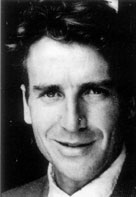 Tim Berrington co founded the Louder Than Words Theatre Company after completing his degree in Performing Arts at Middlesex University. His latest theatre work was as Trigorin in The Seagull at the Aldeburgh Festival. TV includes a stint in Brookside, Ralph in Carla Lane's Screaming, Gone to Seed, Poirot, Men Behaving Badly, Harry and Saturday Night Armistice. Radio includes a series with Struck Off and Die for Radio 4 and the Tony Hawks Show on Heart FM. Tim has also worked as a stand-up comic and this is his third show in Edinburgh.
Finty Williams - Carol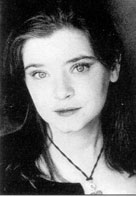 Finty has split her time equally between film (The Mystery of Edwin Drood and Secret Rapture), television (The Torch and Tales from the Crypt) and the theatre. At Manchester Royal Exchange she appeared in Pride and Prejudice, at the Watermill Theatre in Wendy Toye's production of Lloyd George Knew My Father and the national tour of The Clandestine Marriage which was directed by Nigel Hawthorne. Finty's most recent part was in The Misanthrope at the Pentameters.
Di Langford - Mrs Furnival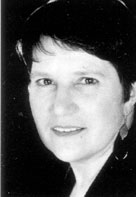 Di's theatre work includes Six Characters in Search of an Author and Ting Tang Mine at the National Theatre; The Silver King and A Patriot for Me at Chichester Festival Theatre, Wealth, Roister Doister and Fighting for the Dunghill at the Croydon Warehouse. Film credits include Britannia Hospital and The Rachel Papers and for television Jury, Rumpole, Birds of a Feather, The Bill, Against All Odds and Harry Enfield and Chums.
Frank Ellis - Colonel Melkitt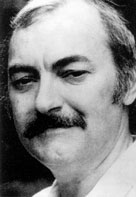 Frank has been acting for 35 years. In London he has appeared at the Theatre Royal, Stratford in Land of The Dinosaurs; the Mermaid in Treasure Island with Bernard Miles, the Comedy in Little Shop of Horrors and Sadlers Wells in Jeanne. He also played Mordcha the Innkeeper in a National Tour of Fiddler on the Roof. In 1992 he played several parts in Ken Hill's Phantom of the Opera at the Shaftesbury. Frank has been in numerous television productions including Accused, Johnny and the Dead, Finney, Eastenders, The Chief, Anna Lee, Lovejoy and London's Burning. His films include Buster, Old Flames and Squaring the Circle.
Alan Helm - Harold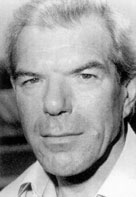 Alan appeared at the 1986 Fringe in the Argentinean play The Boxer, directed by Giles Croft which won a Fringe First Award. He also played here last year at the Festival Theatre in The Wizard of Oz and was reminded of his first visit in 1960 with John Hanson in The Student Prince. Alan's career started when he ran away from home at the age of thirteen to join a tour company of No Room at the Inn. Under age, he toured for a month before the Company Manager, John Osborne(!), returned him to his parents. His more recent work includes The Deep Blue Sea with Penelope Wilton at the Apollo and Ken Hoare's new play Glyn and It.
Victoria Jeffrey - Clea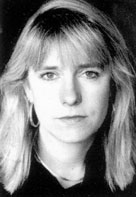 Victoria has worked extensively in the theatre, her most recent credits include Synchronicity and The Road to Nowhere (Hampstead), The Merry Wives of Windsor (National Tour), Wit's End and Jam (New End Theatre, Hampstead), Newsrevue, which she also directed (Canal Cafe) and An Evening with Robert Baggio (Fringe 95). TV credits include Lovejoy, Aunties Sporting Bloomers, Prospects, Rude Health and Streetwise. Film credits include Harold Washington and The Naked Cell. She is also one half of the Award winning female comedy double act The Totally Naff Tarts (available for Royal Weddings, Bar mitzvahs, Knitting Circles and Car Boot Sales).
James Rowe - Schuppanzigh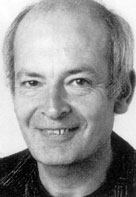 James trained at Guildford and went on to gain experience at the Yvonne Arnaud. James has had a wealth of experience in the theatre, films and television. He recently worked on the film Dame Flora. In addition, he has been seen frequently in television series such as The Vet and The Bill and his most recent theatre part was as The Pedant in The Taming of the Shrew at the Wimbledon Open Air Theatre.
John Martin - Bamberger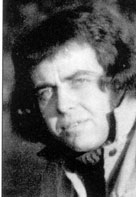 John is very thrilled to be making his Fringe debut in the part of Bamberger. Touring the reps, previous noticeable roles have included 2nd Officer in Twelfth Night, 3rd passer-by in Send Me No Flowers, Programme Seller in The Rocky Horror Show and Tall Rabbi in the crowd in Fiddler on the Roof. Georg Bamberger provides a new challenge in his long and varied career.
John Plews - Producer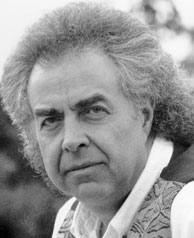 John trained at LAMDA and spent several years in Rep including a long stay at the Theatre Royal, Windsor where, in 1969, he was ASM on Michael Meacham's production of Black Comedy. He has directed and produced numerous shows including many for cruise lines Cunard and P & O. John (in partnership with Katie Plews) runs Ovation Productions, one of the country's leading producers of corporate events, organising conferences and roadshows for a wide variety of clients.
Simon Slater - Director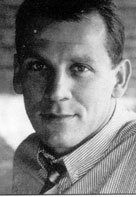 Simon has previously been to the Fringe as an actor. He took on the Bard in Edinburgh appearing in both Twelfth Night and As You Like It. Other recent stage work includes the Warehouse Theatre production of Sugar Hill Blues which he played at Hampstead. His face is well know to TV viewers for performances in Jasper Carrot's The Detectives and McCallum for Scottish Television. In the Autumn Simon will be seen in a new children's programme Out of Spirit, and he is currently shooting a three part drama entitled The Fragile Heart. Black Comedy is his debut as a Director for Ovation Productions.
Racky - Stage Manager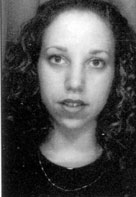 Racky is currently a student as the Arts Educational School in London, and has recently stage managed the pupil's production of the musical Dracula Spectacula. She has been to the Fringe many times although this is her Stage Management debut. Her real aspirations lie in choreography, and from September she will be studying Musical Theatre under Ian Watt-Smith. One of Racky's responsibilities during the pre-production period of Black Comedy has been the making of Harold Gorringe's priceless Chinese Buddha.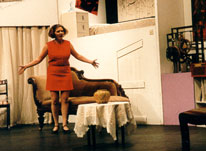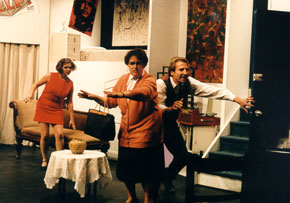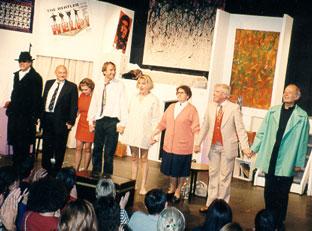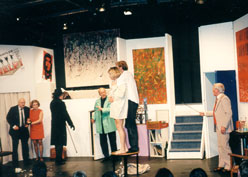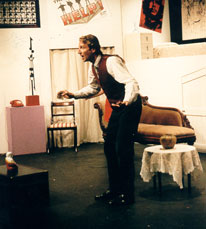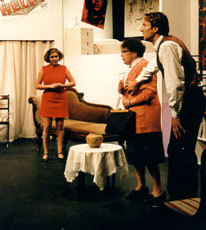 Brian G Cooper, The Stage
Ovation Productions' revival of Peter Shaffer's classic comedy is a total success from start to finish. The whole cast extracts the full potential for humour from both the odd situation and the cleverly funny script. For in this play, light and dark are reversed, light on stage denoting the characters are literally in darkness. The virtually endless possibilities for confusion and misunderstanding, doubled by the desperate situation of the young sculptor entertaining his fiancée and her angry father while awaiting a millionaire patron, only to be caught by his ex-girlfriend, provide constant hilarity.
Tim Berrington as young artist Brindsley stumbles around in highly entertaining style (his moving the furniture sequence is particularly funny), Finty Williams is splendidly jolly as deb Carol, Victoria Jeffrey excels as the vengeful Clea, and Frank Ellis plays the testy Colonel with steam coming out of his ears. Di Langford delights as the abstaining Miss Furnival mixing her drinks in the dark, while Alan Helm constantly amuses the gay neighbour. One of the funniest scenes is when James Rowe as the electricity repair man trained in German philosophy is fawningly assumed to be the long-awaited millionaire art collector.
Under Simon Slater's faultless direction the pace never slackens in this altogether crackling comedy performance.
Danielle Nagler, The Scotsman
Peter Shaffer's chaotic comedy of things going bump in the dark seems to have lost none of its appeal. Here a capable company handles it with the appropriate suavity, even if it does not always do full justice to its light and shade.
Tim Berrington is excellent as Brindsley, the hapless sculptor whose chances to impress a millionaire art collector and his fiancée's father go disastrously downhill when the main fuse blows.
Alan Helm, as his neighbour Harold Gorringe, is superbly camp. His reaction on discovering that his much-prized antique furniture has been incorporated into Brindsley's attempt at charade is a joy to watch, and displays an absolute mastery of the comic tragedy.
The Courier
Every now and again the Fringe uncovers a nugget of gold that shines brighter than any other, writes our Fringe diarist.
Ironically perhaps, this is definitely the case with Peter Shaffer's Black Comedy where light and dark are reversed for audience and cast.
Revising an age-old Chinese operatic ploy when the lights go out for the characters they go on for the cast this unexpected stage illusion creates an almost farcical situation of riotous humour in a laughter-packed show of comic chaos.
Shaffer is much better known for, dare I say it, darker pieces like the wonderful Equus but here he shows he also has a talent for producing the light-hearted as well.
Written in the middle of the swinging 60s, Black Comedy has lost none of its effect through time and indeed the show's superb cast bring out its best in a carefully honed and constructed production.
Black Comedy stars Tim Berrington as Brindsley the manic sculptor who carves out a special niche in the world of chaotic capers.
He is ably supported by other well-known small screen faces like Di Langford, James Row, Alan Helm as the over-the-top neighbour Harold Gorringe and Frank Ellis as the mad major. Black Comedy also provides an excellent showcase for the talents of actresses Finty Williams and Victoria Jeffrey whose comic timing is without fault.
Three Weeks
This is a revival of Peter Shaffer's unusual comedy in which light and dark are reversed. When the characters are lit, the stage is black-out, and when the electricity fuses, they're plunged into the whitest of lights.
The play centres around Brindsley, a struggling artist, and his whining fiancée. The lights go out and their neighbours crowd in, swiftly followed by an increasingly angry father and two equally irate Germans. Predictably, mayhem ensues.
Each member of the cast performs to perfection, coping easily with the darkness on the crowded stage. The plot is fraught with misunderstanding and deliberate deceit, but is beautifully delivered by the experienced cast.
This is a well-directed piece of theatre, hilarious physical, farcical comedy with a charmingly elaborate set.