by Bob Carlton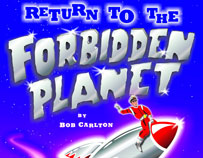 A brief history of telegenesis:
TELE (prefix), at a distance and
GENESIS (noun) creation, origin or beginning
Telelgenesis, was an attempt by Prospero Laboratories to create matter, both good and evil, from brainpower alone, including using bio-chemical or mechanical sources.
Although partially successful, such research would remain in the realms of cheap, pulp science fiction, until Doctor Prospero, the founder of the laboratories, could find a method of opening up the nine tenths of the brain never used by the average human being – the X factor.
The search for the missing X factor continued, until on a stormy night in the winter of 2009, mad scientist Doctor Prospero, aided by his scheming wife Gloria, worked late into the night in his laboratory to develop the elusive formula with which he would change the world. Gloria, jealous of her husband's success, overpowered him and sent him into hyperspace in an old shuttlecraft. Unknown to Gloria her infant daughter Miranda slumbered peacefully in the craft. Both of them were catapulted light years into the future. The entire project was closed down and all existing material destroyed by governmental order.
Fifteen years later, a routine survey flight, under the command of chisel-jawed Captain Tempest, leaves the earth's orbit with a new Science Officer aboard – a hard and bitter woman.
The story of telegenesis would have ended but for Captain Tempest and his crew.
Michael Instone - Captain Tempest

Originally from Birmingham, Michael's life as an entertainer started in the ring as a professional kick-boxer. He also trained as a dancer at The Midlands Arts Centre. He attended class at Birmingham's School of Speech and Drama. Not fulfilled enough Michael accepted a place at The Academy of Live and Recorded Arts, graduating in 1993. In 1996 Michael took three years out when he got heavily involved in the pop business, playing the bass guitar in a band called 'Pool'. After various single releases, an album launch and a UK tour, including television appearances the dream started to fade and Michael's love of the stage forced him to quit the band.
Stage appearances include: Blandon Grey in 'The Play' (Baron's Court Theatre), Prince in 'The Seven Dwarfs', T.I.E. Tour, Lysander, 'A Midsummer Night's Dream' (Worthing, Open Air), Jim, 'The Absence of Clocks', (Chat's Palace, Hackney), 'Gillette Man' (a one man show at The Bird's Nest Theatre, Deptford), Marquis De Mascerille, 'Two Precious Maidens Ridiculed' (The King's Head), Chorus, 'Angels from America', (The Shaftesbury Theatre), Will Parker, Understudy, 'Oklahoma' (No.1 UK Tour), Dancer / Singer, 'Dick Whittington', (Fairfield Halls, Croydon) and Phil in Godber's Up 'n' Under (Tour). Film and Television include: Jed, 'The Blindspot' (Avalon Motion Pictures), Peter, 'Ich Liebe Dich' (Firebird Productions), Henry Wooton, 'The Picture of Dorian Gray' (SF Envy Films), Benny, 'Friends Like These' (SF by Rodney Beckford), Mr Johnson, 'One Cup of Coffee' (SF, Firebird Productions), David, 'The Organ Donor' (Student Film), 50's Teenager, Dennis Potter's 'Karaoke' (BBC1 / Channel 4) and 'The Bill' (ITV).
Brenden Lovett - Doctor Prospero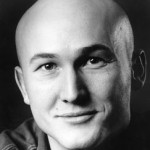 Since graduating in 1995 with a BA in Drama from Australia's Newcastle University, Brenden has worked in a wide variety of theatre and television. Highlights include Harold Prince's revival of 'Show Boat' in Sydney and Melbourne, Rodney Fischer's lavish production of 'The Merry Widow' (also in Australia), production singer aboard M.V. Kareliya for CTC cruises in the South Pacific and South East Asian oceans, 'A Midsummer Night's Dream' in Newcastle and 'The Dream for Kids' at the Sydney Opera House. Brenden has also appeared in numerous Australian television commercials as well as the off beat comedy series 'Pizza' for SBS television. In 2000 Brenden left Australia to study acting at David Mamet's Atlantic Theatre Company in New York then at East 15 here in London. Not long after graduating from E15 he started working on 'The Rocky Horror Show' and has been touring Europe as Riff Raff for the past two years. Audience's at Upstairs at the Gatehouse might also however, recognise Brenden as Orin (the dentist) Scrivello from Ovation's hit production last year; 'Little Shop of Horrors'. He's thrilled to be back again in this year's production of 'Return to the Forbidden Planet'.
Alex McNamara - Doctor Prospero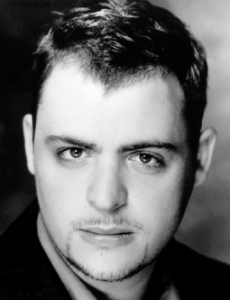 Alex attended Mountview Academy of Theatre Arts after gaining a BA Hons in Performing Arts &
Drama from Middlesex University. He was a junior at the Guildhall School of Music and Drama and
at fourteen became the youngest member of the National Youth Choir of Great Britain. Credits
include "Benny Anderson" in the hugely successful Abba tribute show, 'Abba Gold' (touring
extensively worldwide) and Puck in the Principle Theatre Company's production of 'A Midsummer
Night's Dream'. Training credits include Sammy in 'Blood Brothers', Moe in 'The American Clock and
Carl-Magnus in 'A Little Night Music' at the Judi Dench Theatre.
Some audience members may remember Alex playing Audrey II in Ovation's production of 'Little
Shop of Horrors' last year. More recently he played Eddie/Doctor Scott in 'The Rocky Horror Show'
for Newpalm Productions and over Christmas 2003 he appeared opposite Pop Idol finalist, Korben,
as Captain Hook in 'Peter Pan' at the Melton Theatre. Films include a bodyguard in the film 'Victim'
for Signal Productions and Pete in 'Bad Friday'. Alex is also an enthusiastic percussionist, cellist and
pianist as well as having a keen interest in martial arts.
Alan Howell - Ariel the robot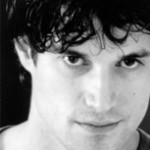 Since moving to London from the South West Alan has worked on many different projects and has toured the U.K several times in everything from wide variety of roles from straight drama to song and dance.Recent credits include: male lead in the video for pop singer Tracy Brennick and other pop promos including one for U2. Alan has starred in numerous short films and appeared on various television shows such as the series 'Lock Stock and Two Smoking Barrels', 'Close and True' and has also featured on programmes like 'Good Morning, BBC Live', 'BBC News' and Radio 4's 'Today Programme'. Other credits include, Tybalt in Romeo & Juliet, Flute in A Midsummer Nights Dream and the male lead in Jim Cartwright's , 'Two' as well as writing and directing scripts for other companies. He has played the trumpet in various wind bands and played guitar and sang in local rock bands. Alan is currently writing and recording an album with the band 'The Climb' and has just completed his first stint as the evening presenter on T.L.R radio under the name of 'Wolfie', which he hopes to be repeating soon. Alan is extremely pleased to be taking Shakespeare and Rock n' Roll into space.
Steven Rathman - Cookie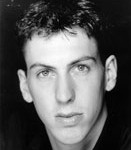 Steven trained at Mountview Theatre School and Graduated in July 2002 obtaining a BA(hons). Whilst at Mountview he appeared as Brink in 'Road' at the Westminster Theatre, Ted Blacklock in 'The Hired Man', Peacey in 'The Voysey Inheritance', Costard in 'Loves Labour's Lost', Mr Faulkland in 'The Rivals' and Banquo in 'Macbeth'. Since graduating he has toured with Quantum Theatre and has recently finished touring with a production of 'The Buzz' for Box Clever Theatre. Steven also teaches singing at Jigsaw Arts Theatre School and is a Director for Bexley Arts Partnership, having directed 'Look Back In Anger' for their 'Young and Gifted' workshop.
Cathy McManamon - Science Officer
Recent theatre includes: Anita in 'Girls Night' (sell out number one tour), Janine in 'Dare' (Bloomsbury), Agnetha in 'Believe' (Man In The Moon) Red Riding Hood in 'Into The Woods' (Westminster), Mrs Spencer in 'Merrily We Roll Along' (Mermaid) Amy in 'Company' (Westminster Studio) Mae in 'Mud' (Etcetera), Flora in 'Cold Comfort Farm' (Birds Nest), Gill in 'If You Loved Me' (Rosemary Branch), Ghoolie in 'Rocky Horror' (Lauderdale House) and Soloist in 'No Frills' (Kings Head). Film & TV includes 'The Borrowers', 'Star Wars Episode One', 'Grange Hill', 'Waking The Dead' and Commercials for AA, Clover Butter, IKEA, & BT. Pop video appearances for Madonna, and The Archangels (Mobo Award). Cathy performs her own cabaret act 'Shaken Not Stirred' at various venues .
Nicholas Sagar - Bosun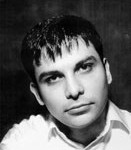 This is Nick's first musical on the London stage. Theatre includes: 'Godspell' for Pain & Panic Productions (Tolbooth Theatre, Stirling), Professor Bumble/King Christophe in 'Sleeping Beauty' for M&M Productions (UK Tour). Nick Created the role of Robert in 'February's Child' for Carnival Productions (Edinburgh Festival and Tour). Cabaret includes: Piano Vocalist/Cocktail Pianist for Live Business, Lead Vocalist with 'Blue Room Audio' (Corporate cabaret to 5 star hotels across UK) Bass Player for Ellie Jay aboard The Pride Of Hull, Lead Singer with cover band 'Out Of The Blue'. Nick has been Musical Director for several productions with Live Business and for Stageworx Theatre School.
Rebecca Oliver - Navigation Officer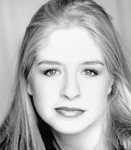 After graduating from the Italia Conti Academy of Performing Arts, Rebecca went to Germany to understudy and play the role of Christine in 'Das Phantom der Oper' (No 1 Tour). Since then she has performed in many theatre productions including the title role in 'Cinderella', Alice in 'Dick Whittington', and as a Kit Kat girl in 'Cabaret' at the Union Theatre, Southwark. More recently Rebecca has been touring the UK and Ireland as a Dancer and Assistant in 'The Fabulous Magic Of Dr Bondini' as well as teaching performing arts and piano to pupils aged 3 to adult. She is over the moon to be performing in 'The Return to The Forbidden Planet'.
Kate Buxton - Miranda
Kate trained at the Central School of Speech and Drama, prior to that De Montfort University. Kate has recently finished her second season with Mikron Theatre Company in which she played Christabel Pankhurst in 'A Woman's Place', marking the centenary of the WSPU. Other Theatre credits include: Jane Trevithick in 'All Steamed Up' (Mikron Tour), Lead singer and Musical director in 'Bad Girl' (Etcetera Theatre), Narrator/Whybird in 'Playdays Christmas Singalong' (no 1 Tour), Princess Bella in 'Sleeping Beauty' (UK tour), Pandora in 'Pandemonium a Greek Myth Adventure' (Pleasance Theatre). Kate is an accomplished Actor/Musician and Dancer and is very excited to be playing the role of Miranda in 'Forbidden Planet'.
Racky Plews - Skyllen / Choreographer / Vision Mixer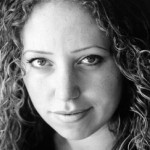 Racky trained on the Musical Theatre course at the Arts Educational School in London. She has just returned from the Middle East where she choreographed 'Rough Crossing' (Sh! Productions). Racky also choreographed and managed the National tour for Ovation's production of 'Forever Plaid' and London productions of 'From a Jack to a King' and 'It's Only Make Believe'. You can see her latest pop-style on Emily Blunt's music video (Sensation). Theatre credits include: Ronnette in 'Little Shop of Horrors', Penny in 'A Slice of Saturday Night' and Kim in 'Daydream Believer' (Upstairs at the Gatehouse) 'Banging the Drum' (YBS Dance Tour) Phantom in 'The Rocky Horror Show' (Lauderdale House). Racky has her own one-woman show which she performed last month Downstairs at Number 3 Green Street (M.D. Tom Attwood) and you can catch her tinkling the ivories and singing in some classy West End hotels.
Gareth Dylan Smith - Mike Rhoechip / Drummer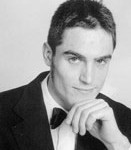 Since moving to London in 2001, Gareth has led a busy life drumming and teaching. He is Director of Music at Norfolk House School in Muswell Hill. As well as being the resident drummer at Upstairs at the Gatehouse he also plays with Aerosmith tribute band Toxic Twins. Gareth has spent the last two summers touring Europe with Irish folk/punk band, NECK and last year toured the U.S.A. With punk outfit the Eruptors. Gareth plays drums with cabaret artist Rod Melvin and is a regular collaborator with South African pianist/composer David Hoenigsberg on projects ranging from electro-acoustic opera to jazz improvisations on Schoenberg.
John Plews - Director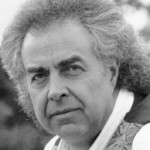 John trained at LAMDA and spent several years in Rep including a long stay at the Theatre Royal, Windsor. He has directed and produced numerous shows including many for cruise lines Cunard and P & O. At Upstairs at the Gatehouse John has directed Forever Plaid (also Edinburgh and National Tour) From a Jack to a King, It's Only Make Believe (which he co-wrote), A Slice of Saturday Night and Little Shop of Horrors. John is very much involved in the day to day administration of Ovation Theatres and Upstairs at the Gatehouse.
Oliver Jackson - Musical Director / Pianist - Edinburgh
Oliver trained at the LCMM and graduated with full honours, winning the Westminster Music Prize and runner up in the Contemporary Music Prize. He is a keen chamber musician and regularly performs both in the UK and abroad. He is accompanist for Molly Petrie at the Junior Guildhall and accompanist at LCMM. As an MD he has directed 'Sweeney Todd' and 'Merrily we Roll Along', by Sondheim, 'Closer than Ever' by Maltby and Shire at Richmond and 'Marriage' by Gogol at the Edinburgh Festival. Oliver teaches at Arts Educational School and was involved in the European premiere of 'Just So' by Stiles and Drewe.
Katy Tuxford - Designer
Katy studied Theatre Design at Nottingham Trent University. While there she designed 'Macbeth' in conjunction with Nottingham Playhouse. After graduating Katy has mostly designed for theatre, these shows include 'Outside Edge', 'Sylvia's Wedding' and 'Relatively Speaking' for the Mill at Sonning Theatre. 'Eclipsed' and 'Molly Malone' at the Riverside Studios. 'Ruffian on the Stair' and 'Funeral Games' at Pentameters Theatre. She is resident designer for Tenth Planet Productions at Upstairs at the Gatehouse, designing 'The Wordsmith's Lament', 'Daydream Believer', 'A Slice of Saturday Night', 'Duck Variations' and 'Squirrels', 'Jeffrey Bernard is Unwell', 'London Suite', and 'How the Other Half Loves'. Other designs include 'Sweet Charity' Watford Palace Theatre and 'Macbeth' for the Marlowe Society at the Cambridge Arts Theatre. After designing a sci-fi feature film called 'Parasite for 2000AD' comics, Katy is presently training as an Art Director with the BBC. She has worked on 'The Forsyte Saga', Granada, 'Eustace Bros', 'The Saturday Show' and 'He Knew He Was Right'. Katy designed 'Twelve Angry Men', Assembly Rooms Edinburgh 2003 which will be touring to Australia and New Zealand in Feb 2004.
Phillip Berry - Lighting Design
Phillip is currently in his final year at Mountview Academy of Theatre Arts, studying a BA (Hons) in Technical Theatre. He has been designing lighting since 1997 and has worked on various shows across the country, including the Edinburgh Fringe Festival and The Royal Academy of Music. Phillip is looking to branch into production management once completing his course, in order to expand his knowledge of theatre. Phillip would like to thank his partner Sarah for her past, present and future support throughout his sometimes manic schedules.
Selina Wong - Costume Designer
Selina was educated at Winchester College of Art where she studied Textile / Fashion Design. After working as Assistant Designer for Blanc de Chine in Hong Kong she moved to London to pursue costume design and styled for Amazing Jeans and Pur Magazine. In the West End Selina has worked on 'Mamma Mia', 'The Lion King' and 'Thoroughly Modern Millie'. Television includes: 'The Big Breakfast' (C4), 'Midsommer Murders' and 'International King of Sport' (Channel 5). Selina was the costume designer on Tenth Planet and Sh!'s productions of Neil Simon's 'London Suite' and 'Relatively Speaking' and Ovation's 'Little Shop of Horrors' all Upstairs at the Gatehouse. She has recently been working on the feature film 'Something Borrowed' which is due to be released in the summer of 2004 and has just finished working at the Young Vic on 'My Dad's a Birdman'.
Martin Walton - Video / Special Effects
A newcomer to working in theatre, but no stranger to live events, Martin Walton has spent the last fifteen years immersed in gadgets and gizmos, making sense of technical briefs to provide all types of audio-visual and video services. Clients past and present include Lloyd's of London, Debenhams plc, and a Mr T Blair to name a few. Martin has recently started work in the make-up special effects industry and examples of his work can be seen in the forthcoming movie, 'Evil Aliens'. coming to a cinema near you soon.
Jessica Martyn - Sound Technician / Hair / Make-Up
Jessica was educated at Queen's College, Harley Street where she studied Music Technology and Theatre Studies. She appeared in four productions at college. In 2002 she made her directorial debut with her college production of 'Little Shop of Horrors' and was then Assistant Director on Ovation's production of the same show . She is the regular sound and lighting technician for John Lenahan's 'Monday Night Magic', was the lighting technician for 'Forever Plaid' (Upstairs at the Gatehouse & Edinburgh 1999), 'From a Jack to a King' and sound technician on 'It's Only Make Believe', 'Daydream Believer', 'A Slice of Saturday Night' and 'Little Shop of Horrors' all Upstairs at the Gatehouse. Jessica recently completed a Theatrical Film & Stage Make-up course at The Delamar Academy and has spent some time assisting on 'Chitty Chitty Bang Bang' in the West End.
Angel Weiss - Stage Manager / Lighting Operator
Angela studied Stage Management at Guildford School of Acting and graduated in July 2003. Whilst there she stage managed 'A Little Night Music' at The Electric Theatre, Guildford, and 'Jack the Ripper', Bellerby Studio Theatre, Guildford. She deputy stage managed 'Dancing at Lughnasa', which went on a small tour of the local schools, as well as 'The Merry Wives of Windsor', performed in the castle grounds, Guildford. Since graduating Angela has been the Deputy Stage Manager for the British Youth Opera's production of Mozart's 'The Magic Flute', performed at the Queen Elizabeth Hall, South Bank and the Stage Manager for 'Masks', Oval House Theatre, Kennington. She is thrilled to be working on Planet with so many talented people.
Isabelle Hewitt - Deputy Stage Manager
Isabelle is in her final year at Camden School for Girls. She has worked as an ASM on 'A Slice of Saturday Night', 'Little Shop of Horrors' and 'Rough Crossing' (all Upstairs at the Gatehouse), and worked on lighting for the Royal Academy of Music. She recently co-choreographed and performed in her school production of 'Bugsy Malone'.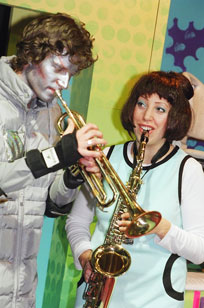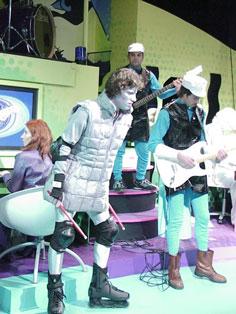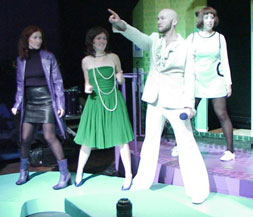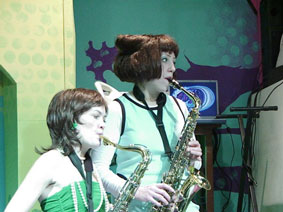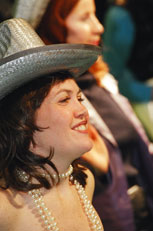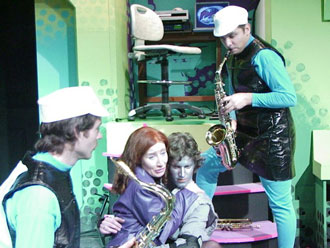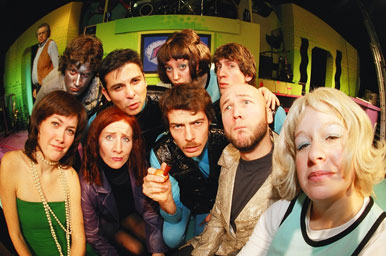 Aline Waites, Ham & High
GOODNESS Gracious, Great Balls of Fire! Christmas showtime again at the Gatehouse – a happening that never fails to surprise and delight. By some miracle and an immense amount of inventive professionalism, enthusiasm and sheer hard graft, this tiny 100-seat venue manages to create an atmosphere to equal any West End theatre with the additional intimacy afforded by the proximity of the audience.
The show is adapted from a 1956 sci-fi movie loosely based on The Tempest.
Bob Carlton's adaptation is spoofed up with sufficient lines plucked willy-nilly from any old Shakespeare play to produce chuckles of recognition from the audience. "Never was a story of more woe than that of Miranda and her Prospero". In addition, popular songs from the 50s and 60s turn it into a rip-roaring rock 'n' roll musical event.
Dr Prospero, a scientific genius who is working on telegenesis (the creative power of thought), is usurped by his jealous wife Gloria who exiles him to space along with his baby daughter Miranda. Sixteen years later, with the help of his faithful roller-blading robot Ariel, he summons up a tempest and shipwrecks a passing space shuttle.
The entire crew is "All Shook Up" and as they "Shake Rattle and Roll", the Ship's Captain, a truly decent comic-book hero, complete with moustache and pipe firmly clenched between his teeth, falls in love with Miranda, thus paving the way for further classics like Teenager in Love, Young Girl and Good Vibrations.
This hugely talented cast under the direction of John Plews are required not only to sing, dance and speak verse but to perform on a variety of musical instruments. Forbidden Planet won an Olivier award in 1990 and the author should be proud of this energetic revival with its futuristic set, its technical expertise and full-throated harmonies.
Recommended for rockers and Shakespeare buffs.
Richard Osley, Camden New Journal
Another all-singing, all-dancing Christmas show at Upstairs at the Gatehouse and another triumph for the family Plews.
Let's not beat around the bush: Return To The Forbidden Planet is a pleasure from start to finish.
No one should be surprised. Following the spotless productions of Christmases past, remember Little Shop of Horrors or A Slice of Saturday Night, it is no shock that theatre boss and director John Plews and his wife Katie, the show's producer, have hit the bullseye once more.
They are old hands at this Christmas musical lark now and are perfectionists to boot, sprinkling new sparkle into this space-age Shakespearean romp, a West End favourite 20 years ago.
Fans of blue-eyed rock 'n' roll will be in their element at a show stuffed full of jukebox delights.
An unfathomable plot – blame the bard, it's based on The Tempest – disappears into the distance with the show barely 10 minutes old. Even witty pre-recorded video pointers from celebrity oracle Angela Rippon, harping on about squid-like monsters and magic potions, can't save the storyline from being sucked away in a string of subplots. No matter.
The witty script, dizzy characters and, most importantly, breathtaking musical numbers glide over the plot-holes and keep the amusement level high throughout, relying only on the mildest dusting of audience participation.
There is a genuine talent on show here, most of the bright-eyed cast seem as comfortable playing an array of instruments as they are singing, dancing and skating around the creative, colourful playground of a set.
Example: Racky Plews, daughter of the backstage double act and reliable stalwart of past shows, plays saxophone and sings while simultaneously triggering the smart video links. Phew!
But it is unfair to pick out individuals. They all have big voices, big personalities and all supply big knock-'em-dead performances. Superb.
Dale Maitland Cartwright, North London News Group
Return to the Forbidden Planet, an intergalactic adventure of surreal proportions peppered with a cornucopia of classic rock and roll numbers, is the definitive remedy to the post turkey and stuffing period after Christmas.
John Plews's intelligent control of a manic troupe of actors, together with Oliver Jackson's musical direction, meant that those who assemble in the audience are in for a giddy guide through the cosmos. If pulp science fiction and loony toons are your bent these dark dreary nights, then this is about as good as you'll get to banish the January blues. Very much tongue in cheek and certainly very funny!
Dominic Maxwell, Time Out
Bob Carlton's 1983 musical is surely the best excuse ever devised for a cast to act like '60s pop stars while wearing spacesuits and showing off their Shakespearean chops. Inspired by '50s sci-fi classic 'Forbidden Planet', which was itself inspired by 'The Tempest', it pits the dashing Captain Tempest and crew against the evil-cum-tragic Doctor Prospero. Along the way we meet his bloodless buddy Ariel The Robot; a giant tentacular space alien; and some seriously good / bad puns: 'beware the ids that march', indeed. If you don't know the show – or its sources – you'll struggle to follow what's happening amid the Fisher-Price futurism of Katy Tuxford's wonderful set. So when Angela Rippon's pre-recorded, verse-spouting newsreader opens the second act with a recap – 'Vouchsafe to those that can't follow the story….' – tears of gratitude are in order. The cast's versatility is fabulous – swapping instruments as they back themselves very capably on the likes of 'Go Now', 'She's Not There' and (Prospero's theme tune) 'Don't Let Me Be Misunderstood'. The unbridled energy they give the numbers throughout John Plews's imaginative production continues the tradition of Gatehouse Christmas musicals. The cast master the tricky double of looking like they're having fun and taking their ludicrous predicament entirely seriously. This hi-tech show could reach warp speed.