RETURN TO THE FORBIDDEN PLANET
by Bob Carlton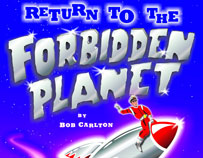 A brief history of telegenesis:
TELE (prefix), at a distance and
GENESIS (noun) creation, origin or beginning
Telelgenesis, was an attempt by Prospero Laboratories to create matter, both good and evil, from brainpower alone, including using bio-chemical or mechanical sources.
Although partially successful, such research would remain in the realms of cheap, pulp science fiction, until Doctor Prospero, the founder of the laboratories, could find a method of opening up the nine tenths of the brain never used by the average human being – the X factor.
The search for the missing X factor continued, until on a stormy night in the winter of 2009, mad scientist Doctor Prospero, aided by his scheming wife Gloria, worked late into the night in his laboratory to develop the elusive formula with which he would change the world. Gloria, jealous of her husband's success, overpowered him and sent him into hyperspace in an old shuttlecraft. Unknown to Gloria her infant daughter Miranda slumbered peacefully in the craft. Both of them were catapulted light years into the future. The entire project was closed down and all existing material destroyed by governmental order.
Fifteen years later, a routine survey flight, under the command of chisel-jawed Captain Tempest, leaves the earth's orbit with a new Science Officer aboard – a hard and bitter woman.
The story of telegenesis would have ended but for Captain Tempest and his crew.