by Tom Stoppard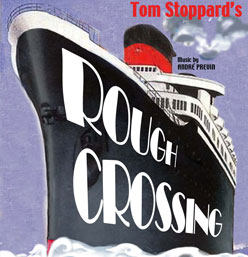 with music by Andre Previn
Tom Stoppard, author of The Real Thing, Arcadia, Shakespeare in Love and Rosencrantz and Guildenstern are Dead, gives us this hilarious spoof of Noel Coward's sophisticated comedies.
Adapted from Play at the Castle by Ferenc Molnar, with musical numbers especially composed by Andre Previn, Stoppard's script depends less on doors being flung open and slammed shut, than on linguistic jokes peeking through the portholes.
Set in 1932 on the ocean liner ss Italian Castle en route to New York, this play sparkles with rapid repartee, bilingual puns and dazzling wit.
Two flamboyant playwrights on a deadline, a temperamental leading lady with a secret, a fading matinee idol with lecherous intent, a composer with a bizarre speech impediment and a steward on his maiden voyage, who has not yet found his sea legs, provide an hysterical combination.
The only way to cross the Atlantic.
Keith Drinkel - Ivor Fish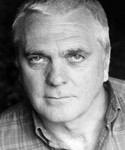 Born York 1944, Keith studied Drama & English at Birmingham University & then joined the Old Birmingham Rep where his work included Mosca in Volpone & Horatio to Richard Chamberlain's Hamlet. T.V. work includes A Family at War; I Didn't Know You Cared and How Green Was My Valley. Last Year Keith toured in a new farce Business Affairs, appeared in BBC's Doctors and Coronation Street. Keith also starred as Laurence Olivier in Casting Shadows – a new play at London's Old Red Lion since recorded for Radio 4 with Roy Hudd as Max Miller. Keith appeared as Squire Skinflint in Mother Goose at Worthing last Christmas and was seen in Judge John Deed. He has just finished co-starring in a new musical, Go Play Up Your Own End at the Birmingham Alexandra. Keith will soon be returning to Worthing to play Abanazer. Keith has a long association with Radio 4 and for two and a half years was on the Radio Rep (not all together!).
Nicola GoodChild - Natasha Navratilova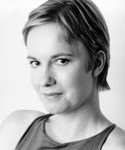 Nicola spent the first few years of her career playing Shakespeare's Helena, Bianca, Mariana, Hero and Juliet ( for longer than three weeks!) in very diverse productions…Bristol Old Vic, Award winning Fringe, schools, castles and Radio Four. Since then, theatre, radio and voice work, including short stories, radio drama, voiceovers and CD ROMs. Most recently, a benevolent fish like Queen and a French aristocratic, sadistic, erotic Vampire Countess for Sony Playstation 2's PRIMAL. Same old, same old. She has also done various short films and bits of telly. TV roles do not include The Bill. Nicola has done rehearsed readings at Shakespeare's Globe and at the National Theatre including World Premieres of two Tennessee Williams' plays.
Sam Kenyon - Adam Adam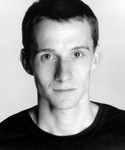 Sam Kenyon studied at Cambridge University before training at the Royal Academy of Music. Theatre includes: Ion, Les Justes (The Gate Theatre); Jerry Springer: The Opera (BAC/Edinburgh Fringe); Macbeth, The Othello Music, Love (BAC); The Demon Headmaster (National Tour); Stairs to the Roof (Chichester Minerva); Tropical Tree (Lyric Studio); Weill & Lenya (New End, Hampstead); A-Ronne, Con Voce (Almeida Opera). As a writer, his adaptation of Kurt Weill and Ira Gershwin's The Firebrand of Florence will be released on CD later this year..
Harry Meacher - Sandor Turai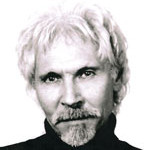 After winning the Ronson Award and The Principal's Medal at R.A.D.A., Harry went on to perform at the National Theatre, The Royal Court, the West End, Citizens Glasgow and most of the major English repertory companies. He has written several plays the most recent being In Love With Anton, Cardboard Dreams and Silvers Secret. Harry has played title roles in King Lear, Macbeth, Merchant Of Venice, Othello, Dracula, Sherlock Holmes, Richard 111, Platonov and Valmont in Les Liasons Dangereuses. He has directed and performed in Chekhov's Uncle Vanya (Time Out. Critic's Choice), Three Sisters, The Seagull and The Cherry Orchard. Film and television appearances include The Scarlet Pimpernel, Mating Behaviour and Rebecca's Ghost.  Recently he co-founded Leading Lady Productions who have just finished Rebecca's Ghost the first episode, of a six part television series. Harry has written over eight plays which have all been performed in London and on tour.. His screenplays include Lovers and Ghosts, Rainbird, The Albatros and The Sensualist.
Peter Stenson - Alex Gal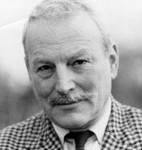 Theatre credits include: Resistible Rise of Arturo Ui (Bridewell Theatre), Still Time (Southwark Playhouse), Oktoberfest & Criminal Prosecution of Animals (Lyric Theatre Hammersmith), Satyricon (Phoenix Theatre London & New York), Maud Allen (Mayfair Theatre), Thunderbolt (Arts Theatre), Oresteia (Old Vic), Winter's Tale, Peer Gynt, Sacred Flame, Private Lives, Charley's Aunt (National Tours). Fringe: Revenger's Tragedy, Charley Sex Boots, Another Country all at (Man in the Moon), The Fundraisers by Tony Merchant, (Finborough Theatre), Venom (Drill Hall), Up in the Hide & One Orange for the Baby (Gate Theatre), Jew of Malta (Donmar Warehouse). Title Role in Sir Edmond Tilney, Royal Shakespeare Company's Clerkenwell Living Shakespeare Festival. London Premiere of Alan Ayckbourn's Amazing Mr A, Smith (Salzburg National Theatre). TV credits include: The Sad Decline of Arthur Maybury, You in Your Small Corner, Androcles and the Lion, Baby, The Queen and Jackson, Benbow Was His Name, Dr Who, Adam Adamant, Champion House, Age of Kings, Terry & June, Buccaneer & Rex in Tall Tales. Film Credits: The Haunting of M, Toomorrow, Girl In My Soup, The Room, Charity Begins at Home.
Rainer Wiseman - Dvornichek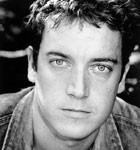 Rainer trained at Mountview Theatre School. His theatre credits include Alphabetty Spaghetti (Soho Theatre), Metro the Musical (Jermyn Street Theatre), Matchstalk Man (Bedlam Theatre Edinburgh & Tristan Bates Theatre, West End), The Sexual Life of the Camel (Man in the Moon), How The Other Half Loves, Bad Omens & The Secret Arch (Upstairs at the Gatehouse). Don Quixote (Dartington International Festival), Can't Pay Won't Pay (Hen and Chickens, Islington), Restorative Justice (Prison's Project). Film includes Reignited for Channel 4. Black Lion (Black & White Films) and Goats (London International Film School). He is currently filming the new Viz film Fat Slags and is also a successful commercial and voice over artist, as well as working on two feature film project commissions as a writer. Rainer would like to dedicate his performance in Rough Crossing to his Nan who recently passed away.
Alexander Holt - Director
Alex has worked in both the UK and South Africa in Theatre, Television and Film. Directing credits include: Most recently Jeffrey Bernard Is Unwell starring Kevin Colson, the UK premiere of Neil Simon's London Suite starring Christopher Cazenove, Matchstalk Man at the Bedlam Theatre Edinburgh, Les Liaisons Dangereuses, A Chorus of Disapproval, How the Other Half Loves, The Secret Arch, Cowardy Custard, The Wordsmith's Lament and Relatively Speaking all Upstairs at the Gatehouse London, Funeral Games and The Way of the World at the Pentameters London, A Midsummer Nights Dream as an open air production in Johannesburg, and Ultimate Islands first at Famous Grouse House and subsequent transfer to Dynamic Earth, Edinburgh which received a fringe first nomination. Also transferred How The Other Half Loves, Relatively Speaking and London Suite to Bahrain and Abu Dhabi for a limited tour with producer Susie Harriet. He has worked as assistant to Royal Shakespeare Company director John Barton in New York on a new film version of Playing Shakespeare for PBS. Last year he worked as Production Designer on the location feature film Welcome to Ibiza for Alpha Beta International and this year as Production Designer on the sci-fi thriller Parasite for Fearnort Films and Rebellion 2000AD. Recently he completed a documentary The Show Must Go On with Sensation Pictures for PACT which has just been aired in the Houses of Parliament. Alex is currently working as an associate producer on two feature films for London and Bulgaria. He has produced over 25 productions for Tenth Planet Productions and designed over 20 since graduating from Mountview in July 1997. He has also worked extensively both here and abroad as an actor.
Rachel Woodhead - Designer
Rachael's recent design work includes: For theatre; Catastrophe (The Gate), Coincidenze (Teatro Del Giglio, Lucca) Twelfth Night (Creation Theatre Company, Oxford) and Boom Boom Mr Goat (Theatro Technics). For film; Lace (London Film School), Beat (London Film School) and Romeo and Juliet (A team Arts). As design assistant; Twelfth Night (Southwark Playhouse), The Difficult Unicorn (Southwark Playhouse), The Red Demon (Young Vic) and Jephtha (Welsh National Opera).
Racky - Lighting Designer and Choreographer
Racky trained on the Musical Theatre Course at the Arts Educational School in London. She choreographed and managed the national UK tour of Ovation's production of Forever Plaid and also choreographed From A Jack To A King and It's Only Make Believe. Lighting credits include: The Good Doctor, London Suite, Romeo & Juliet, Cowardy Custard, The Secret Arch, Jeffrey Bernard Is Unwell, Daydream Believer and Duck Variations & Squirrels all Upstairs at the Gatehouse in London where she is the resident Technical Manager. She recently toured with Sh! Production Co. to the Middle East for their last production Relatively Speaking and can't wait to go again with Rough Crossing in October. Racky wishes you a Bon Voyage.
Jessica Martyn - Stage Manager and Technician
Jessica studied Music Technology and Theatre Studies at Queen's College, Harley Street. She stage-managed one and appeared in four productions whilst at college. and made her directorial debut with her college production of Little Shop of Horrors. Jessica was the lighting technician for Forever Plaid (Upstairs at the Gatehouse & Edinburgh 1999), From a Jack to a King and Sound Technician on It's Only Make Believe, Daydream Believer, A Slice of Saturday Night and Little Shop of Horrors all Upstairs at the Gatehouse.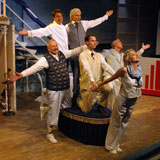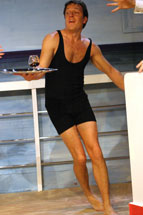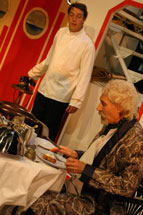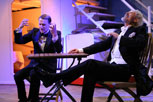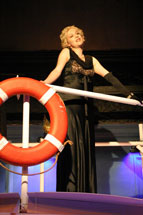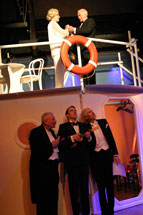 Richard Osley, Camden New Journal
When you analyse Tim Stoppard's clever circular farce Rough Crossing you realise how little actually happens. You see how this yarn of two pompous playwrights playing Cupid on an ocean liner sends you dizzy, spinning round and round in circles.
But herein lies the ingenuity of the script, spoofing the rum fun of Noel Coward's comedies and 1930s slapstick with craft and skill. A wordsmith's dream, the laughs are drawn out by incisive wordplay and cutesy puns.
Harry Meacher leads the way as scheming Sandor Turai with an expert attention to detail. Full of incredulous looks and hilarious indignation, his performance is a genuine delight.
Meacher is supported up by an exemplary cast, never out of their depth tackling these cognac soaked fools.
Peter Stenson deserves praise for his performance as Turai's scoffing sidekick Alex Gal, while Rainer Wiseman makes much mirth from his less than steady ship's steward.
And Keith Drinkel is perfect as the bumbling melodramatic Ivor Fish, the source of most of the mishaps aboard the luxury liner.
Nicola Goodchild had me on side when I read the sarcastic note in her programme notes: "TV roles do not include The Bill". Her performance wasn't bad either with lashings of melodrama as the ridiculous Natasha Navratilova.
The promise of musical numbers is eventually fulfilled but, given that the cast seemed more than comfortable with this sing-a-long fare, a few more would have provided some relief from the frothy wordplay.
Accordingly some of the extended exchanges, while cleverly devised, become a little tiresome.
The wit of the script and skill of the cast, however, rescues the day. Sinking into newly padded-seats I wondered whether I had ever seen a disappointing play at this market leader of fringe playhouses.
This charming pastiche was no exception to the rule.
Robert Shore, Time Out
There have been two major adaptations of Ferenc Molnar's 'The Play at the Castle' into English. The first, 'The Play's the Thing' by PG Wodehouse, was greeted with boos. The second, by Tom Stoppard, was more courteously received when it premiered in 1983, but it has rarely been revived and the piece is generally regarded as something of an oddity – and not without reason, since on the face of it, 'Rough Crossing' is a very un-Stoppardian thing, a light romantic comedy with songs.
Scratch beneath the (very superficial) surface, however, and what you find seems less uncharacteristic. Two writers, two actors and a composer are travelling to New York on an ocean liner, trying to find a new ending for a script. When romantic strife threatens the enterprise, salvation is sought in the gymnastic contortions of the English language, and the ability to make reality look like play-acting and vice versa.
There's much to enjoy in Alexander Holt's sturdy production of this very knowing farce, which is essentially structured around a series of variations on the ways of saying 'have a drink'. The excellent cast – led by Harry Meacher's saturnine Sandor Turai – squeeze a great deal of fun out of the visual gags and linguistic puns.