by Tom Stoppard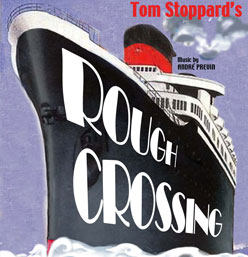 with music by Andre Previn
Tom Stoppard, author of The Real Thing, Arcadia, Shakespeare in Love and Rosencrantz and Guildenstern are Dead, gives us this hilarious spoof of Noel Coward's sophisticated comedies.
Adapted from Play at the Castle by Ferenc Molnar, with musical numbers especially composed by Andre Previn, Stoppard's script depends less on doors being flung open and slammed shut, than on linguistic jokes peeking through the portholes.
Set in 1932 on the ocean liner ss Italian Castle en route to New York, this play sparkles with rapid repartee, bilingual puns and dazzling wit.
Two flamboyant playwrights on a deadline, a temperamental leading lady with a secret, a fading matinee idol with lecherous intent, a composer with a bizarre speech impediment and a steward on his maiden voyage, who has not yet found his sea legs, provide an hysterical combination.
The only way to cross the Atlantic.
When you analyse Tim Stoppard's clever circular farce Rough Crossing you realise how little actually happens. You see how this yarn of two pompous playwrights playing Cupid on an ocean liner sends you dizzy, spinning round and round in circles. But herein lies the ingenuity of the script, spoofing the rum fun of Noel Coward's comedies and 1930s slapstick with craft and skill. A wordsmith's dream, the laughs are drawn out by incisive wordplay and cutesy puns. Harry Meacher leads the way as scheming Sandor Turai with an expert attention to detail. Full of incredulous looks and hilarious indignation, his performance is a genuine delight. Meacher is supported up by an exemplary cast, never out of their depth tackling these cognac soaked fools. Peter Stenson deserves praise for his performance as Turai's scoffing sidekick Alex Gal, while Rainer Wiseman makes much mirth from his less than steady ship's steward. And Keith Drinkel is perfect as the bumbling melodramatic Ivor Fish, the source of most of the mishaps aboard the luxury liner. Nicola Goodchild had me on side when I read the sarcastic note in her programme notes: "TV roles do not include The Bill". Her performance wasn't bad either with lashings of melodrama as the ridiculous Natasha Navratilova. The promise of musical numbers is eventually fulfilled but, given that the cast seemed more than comfortable with this sing-a-long fare, a few more would have provided some relief from the frothy wordplay. Accordingly some of the extended exchanges, while cleverly devised, become a little tiresome. The wit of the script and skill of the cast, however, rescues the day. Sinking into newly padded-seats I wondered whether I had ever seen a disappointing play at this market leader of fringe playhouses. This charming pastiche was no exception to the rule.
There have been two major adaptations of Ferenc Molnar's 'The Play at the Castle' into English. The first, 'The Play's the Thing' by PG Wodehouse, was greeted with boos. The second, by Tom Stoppard, was more courteously received when it premiered in 1983, but it has rarely been revived and the piece is generally regarded as something of an oddity – and not without reason, since on the face of it, 'Rough Crossing' is a very un-Stoppardian thing, a light romantic comedy with songs.
Scratch beneath the (very superficial) surface, however, and what you find seems less uncharacteristic. Two writers, two actors and a composer are travelling to New York on an ocean liner, trying to find a new ending for a script. When romantic strife threatens the enterprise, salvation is sought in the gymnastic contortions of the English language, and the ability to make reality look like play-acting and vice versa.
There's much to enjoy in Alexander Holt's sturdy production of this very knowing farce, which is essentially structured around a series of variations on the ways of saying 'have a drink'. The excellent cast – led by Harry Meacher's saturnine Sandor Turai – squeeze a great deal of fun out of the visual gags and linguistic puns.