Music and Lyrics by Stephen Sondheim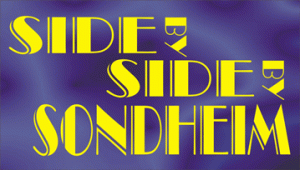 with additional music by Leonard Bernstein, Mary Rodgers,
Richard Rodgers and Jule Styne
Original narration by Ned Sherrin
Stephen Sondheim was born on 22 March 1930, the son of a wealthy New York dress manufacturer. However, when his parents divorced, he moved with his mother to Bucks County, Pennsylvania and young Stephen found himself in the right place at the right time. A neighbour of his mother's, Oscar Hammerstein II, was working on a new musical called Oklahoma! and it didn't take long for the adolescent boy to realise that he, too, was intrigued by musical theatre. Although he subsequently studied composition with Milton Babbitt, he chose to apply what he learned in the all-or-nothing commercial hothouse of Broadway. Like Hammerstein, he has written the occasional pop song (with Jule Styne for Tony Bennett) and dabbled in films (Stavisky, Reds, Dick Tracy), but, like Hammerstein, he has always come back to the theatre.
His initial success came as a somewhat reluctant lyricist to Leonard Bernstein on West Side Story (1957) and Jule Styne on Gypsy (1959). Exciting and adventurous as those shows were in their day, and for all their enduring popularity, Sondheim's philosophy since is encapsulated in one of his song titles: "I Never Do Anything Twice". His first score as composer-lyricist was A Funny Thing Happened On The Way To The Forum (1962) – a show so funny few people spotted how experimental it was: it's still the only successful musical farce. In the following three decades, critics detected a Sondheim style – a fondness for the harmonic language of Ravel and Debussy; a reliance on vamps and skewed harmonies to destabilise the melody; a tendency to densely literate lyrics. But, all that said, it's the versatility that still impresses: you couldn't swap a song from the exuberantly explosive pit-band score of Anyone Can Whistle (1964) with one of the Orientally influenced musical scenes in Pacific Overtures (1976); you couldn't mistake the neurotic pop score of Company (1970) for the elegantly ever-waltzing A Little Night Music (1973).
Sondheim hit his stride in the Seventies, forming a unique partnership of hyphenates with Hal Prince: a composer-lyricist and a producer-director working together to re-invent the musical. Some were plotless (Company), some characterless (Pacific Overtures), one went backwards (Merrily We Roll Along). But, as his onetime choreographer Michael Bennett put it, before you can break the rules, you have to know what they are – and Sondheim knows America's cultural heritage better then anybody. Follies (1971) is an affectionate and precise pastiche of Berlin, Kern, Gershwin, Dorothy Fields, Yip Harburg … With each new musical, he continues to test the limits of Broadway in plot, lyrics, music, or dialogue.
(Biography taken from various websites)