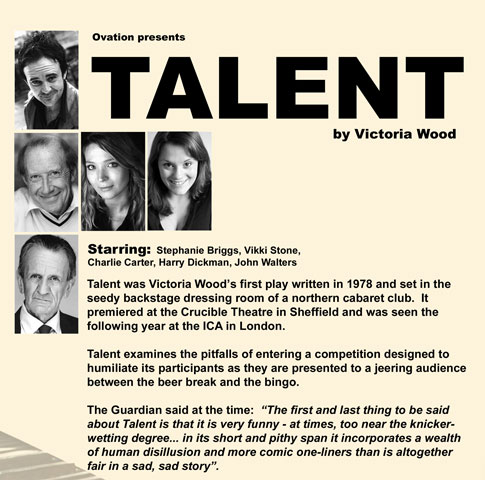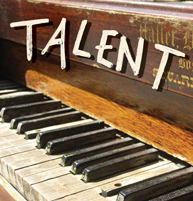 Stephanie Briggs - Julie

Stephanie trained for her Masters degree at Mountview Academy of Theatre Arts after graduating from the University of Birmingham with a BA Hons in Drama and Theatre Arts. Talent marks her return to Upstairs at the Gatehouse after her recent debut as Sian in Dinner
Credits whilst training include: Mabel Chiltern in An Ideal Husband (Criterion), Eva in The Accrington Pals (Pleasance), Millament in The Way of the World (Mountview), Beatrice in Much Ado About Nothing (Mountview), Irina in The Three Sisters (Mountview) God in The Mysteries: The Nativity (Mountview).
Theatre credits include: Steph in Playhouse Wrestlefest (Harlow Playhouse), Linda in Les Belles Soeurs and Moth in A Midsummer's Night's Dream (Allardyce Nicol Theatre).
Film credits include: Jackie in Close Call (short film), The Stripper in Lucky for Some (short film) and (Older) Evie in Essayette (feature film).
Adverts: Young Girl for Lyons Coffee.
Charlie Carter - Mel / Compere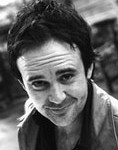 Charlie trained at Jackie Palmers and Dramascope. Theatre credits include: Malcolm in Dawlish Road (Soho Theatre Studio), understudy to six parts in Lone Star/Private Wars (Kings Head), Abraham/Norman/Saul/Xmas Spirit/Joshua in A Christmouse Tale (UK tour), Simion Adams in White Wedding (Upstairs at the Gatehouse), Sam/Neville in It's Xmas Carol and Henry in Best Men (Hen and Chickens), Armand in The Tour (London Palladium, God/Ensemble in Life on Earth (Theatre Royal Drury Lane), Jimmy in Dave's Turn (Union Theatre) and ensemble in Joseph and his Amazing Technicolor Dreamcoat (Theatre Royal Windsor).
TV credits include: Gavin Crane in The Bill, Lennie Smith in Dispatches, Tony in The Great Kandinsky, Adam in If Men Were Pregnant and Chris Ward in Newsnight.
Film credits include: lead role as Frank in Painted Lips, Robert in Paper Date, Whistling Man in Four Two Seven, Big Boss in Car Jack and Jimmy in Dave. Other short films include Charlie in The Winning Ticket the host of The Basement and the presenter of The Right Stuff Win or Lose. Charlie has done recording work as Gubbins on the story CD Cyborgeddon and the male vocals on Hansel and Gretel.
Harry Dickman - George Findley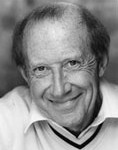 Harry can identify with this play as he had personal experience of taking part in Hughie Green's Opportunity Knocks in 1967 and New Faces in 1974. He readily admits that he was truly dreadful in both!
Born in Birkenhead Harry turned professional in 1961 with the newly formed Royal Shakespeare Company in London. He left after one play to become a Redcoat comic with Butlin's Holiday Camps! Recently he was a big hit in the West End as that 'dirty old man' Albert Steptoe in Steptoe & Son in Murder at Oil Drum Lane.
Other plays include: Antigone, Habeas Corpus, The Cherry Orchard and Duck Variations and a season at the National Theatre in Tales From Hollywood. He has appeared in many Musicals both in the West End, on the Fringe and UK Tours, notably: 42nd Street, The Pirates of Penzance, Peter Pan, Little Shop of Horrors, Fiddler on the Roof. The Pyjama Game (with a very young Catherine Zeta-Jones in the chorus!), Cabaret, Anything Goes etc. etc.
Harry has understudied and appeared for many stars including: Victor Spinetti, Tommy Steele, Jon Pertwee and his favourite artiste the late Anthony Newley in Scrooge.
TV appearances include: In Suspicious Circumstances, Mr. Charity, Now Who Do You Do? and the David Essex Show.
Harry is currently working on writing his own one-man show; a show about Jewish songs and humour and impressions, called Half Kosher! He's also written several plays, the latest one being a very unusual piece set in Auschwitz concentration camp.
Despite having no training at all in his profession he still loves to perform and is ready for anything for decades to come!
Vikki Stone - Maureen / Musical Director

Vikki Stone is a comedian, actress, singer and musician. She has had a somewhat varied performing career, which started at the age of six, playing the much coveted roles of 'Bandit 9′ and 'Orange Peel' in the school's nativity play. Other highlights include: backing singing for an Elton John Arena Tour, two shows in Lord Andrew Lloyd Webber's private theatre at his home, Sydmonton Court, playing a 'non sex role' in a gay porn film, performing her first full length musical comedy Show to Japanese tourists in a disused cinema in Bruges, an a capella musical about public transport in a tunnel under London Bridge station – (bizarrely to critical
acclaim!) and playing Frida in no less than four top Abba Tribute Bands. Vikki starred in two pantomimes and is now touting herself as a ukulele playing, musical comedienne.
As a stand-up comedian, she was recently in the Hackney Empire New Act of The Year 2008 Finals. Last year she was in the British top 20 of Last Comic Standing, an American TV shown on NBC and Paramount Comedy. She was also a Semi-Finalist in The Laughing Horse New Act of The Year Awards 2007. Venues played include: The Comedy Store, Downstairs at The Kings Head, Monkey Business, Spank, The Cock Tavern, The Poodle Club, Mirth Control, Laughing Horse, Amused Moose.
Theatre Includes: Beauty and The Beast (Theatre Clwyd), The Ladies That Lunch (Jermyn Street), West End Girls (Jersey Opera House), The Firebird (New Portsmouth Theatre Royal), Oklahoma! (Peacock Theatre), Silk Stockings (Sadlers Wells), Times Up! (Shaftesbury Theatre), Sweeney Todd (Sir Jack Lyons Theatre), Drive Ride Walk (Bridewell Theatre and Riverside Studios), Dead By 12 (Sound Theatre) and The Ragged Child (His Majesty's Theatre, Aberdeen and Glynebourne).
John Walters - Arthur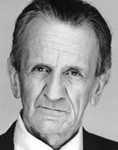 John trained at the University of Birmingham and spent many years teaching French before becoming an actor. His extensive theatre work includes three spells in the West End and numerous tours in the UK and Europe, as well as repertory at Bromley, Eastbourne, Plymouth, Salisbury and Southampton. Favourite roles include Gandalf in The Hobbit, Malvolio in Twelfth Night, Inspector Rough in Gaslight, Rafe Crompton in Spring and Port Wine, Ben Weatherstaff in The Secret Garden, Kipps in the West End production of The Woman in Black and most recently, Leonato in Much Ado about Nothing at the Tobacco Factory in Bristol.
At the cinema he appeared in Saving Private Ryan and Ever After. On the small screen his work includes Ferdinand de Lesseps in Panama Canal and Creon in a French version of Antigone, as well as appearances in Cold Enough for Snow, Darwin, Doctors and The Thieving Headmistress.
John also writes and translates, and his version of the Marivaux play The Game of Love and Chance was produced at the Nuffield Theatre, Southampton prior to publication by Methuen.
He is very happy to be working for the first time Upstairs at the Gatehouse and to be playing a character from his native county..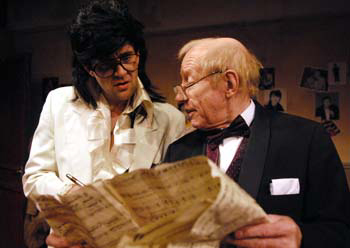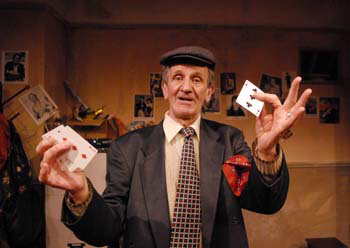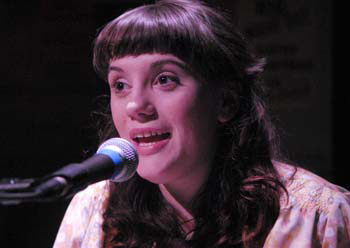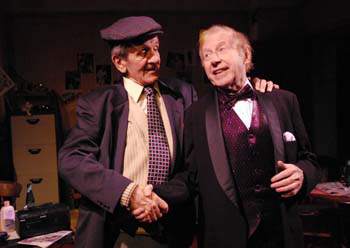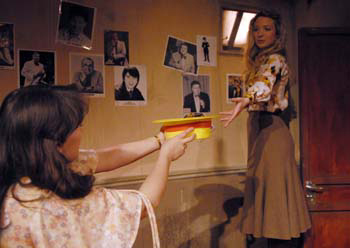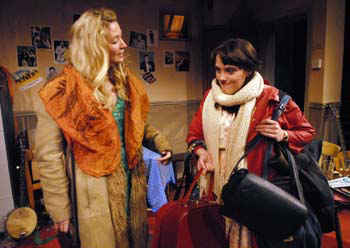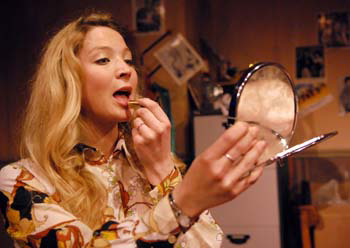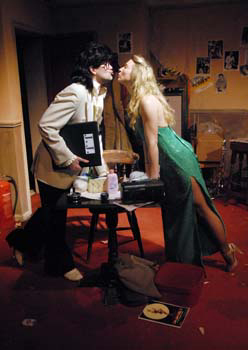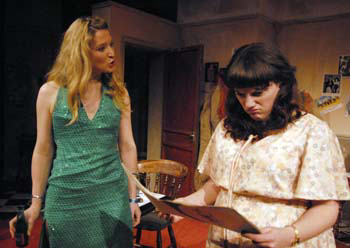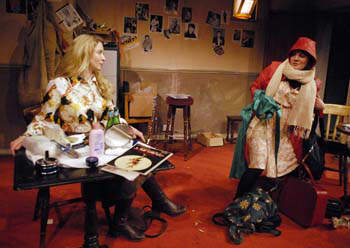 Aline Waites, Ham & High
Wealth of talent in Wood revival
TALENT
Upstairs at the Gatehouse, Highgate *****

WHEN the lights come up on the grubby red carpet sprinkled with dirty tissues, cigarette butts and coffee stains, we know exactly where we are. The metal filing cabinet, rickety furniture and the general sordidness of the ambience tells us that this has got to be the dressing room assigned to the turns" in a 1970s working men's club.
Written in 1978, this musical was Victoria Wood's first produced play but already she displays the quirky self-deprecating humour and sharp one-liners that are her trademark. For herself, she wrote the part of Maureen, an overweight piano player and figure of fun. This is given a well-judged performance by the immensely talented (and generously padded) Vikki Stone – who doubles as musical director. There is a terrific rapport between her and her friend Julie, the beautiful
Stephanie Briggs, who sings delightfully and has a real feeling for comedy. "You're too fat," says Julie. "It's glands!" protests Maureen. "You shouldn't eat so many!"
Julie is bent on a career in show business and is hoping to win the talent contest. She is somewhat erroneously described as "the little girl with the big voice" – but this has been the standard bill for thousands of young songbirds before and since.
A true breath of variety comes from Harry Dickman. He is ridiculously funny as a fourth-rate stand-up comic, a living repository of every joke ever heard on the halls – adding magic tricks and mind reading – all the workings of which can be clearly seen by the audience.
The droll John Walters makes a worthy sidekick as Arthur and, among other fooleries, the two of them do some hilarious hoofing.
Director John Plews has done a great job – creating an irresistible atmosphere – right from the word go. I think Ms Wood should be really happy. A final word must go to Mike Lees, the designer responsible for that revolting carpet and the stunning green dress worn by Julie for her stage debut. – Talent is a must see!
Ben Crain, Camden New Journal
TALENT, Victoria Wood's first play, is the comedienne's take on a familiar yet compelling story.
It's the night of a talent contest. Julie (Stephanie Briggs), office worker and aspiring singer, arrives in her dressing room. She informs her assistant, the overeating mate from school, Maureen (Vikki Stone), that she'll do anything to make it to the top. As the evening wears on, however, her dreams soon wear off.
Set in the north of England in 1978, it's a very English loss of innocence.
Ashtrays overflow and cigarette butts litter the floor. They can't find the toilet, so Julie pees in a showbiz bowler hat.
They are pestered by a comedy-magic act, amateur pensioners George and Arthur (Harry Dickman and John Walters) who remind Julie quite how far away from fame she is. However, it is when she meets Mel, the organist, and the compulsively lecherous compere (both played by Charlie Carter) that she receives her true education in the sordid realities of show business.
John Plews's well-crafted production is breezy and fun, only let down by a whimsical, drama-sparse plot. The play functions more like a showbiz revue: a series of stand-up jokes interspersed with songs, and a live bingo game with the audience after the interval. Some of the humour has dated over the years.
But when Talent works it sings. Walters and Dickman have some great moments, and Stone and Briggs do an admirable job with a dense script. The songs are beautifully executed and, juxtaposed with the naffness of the characters' lives, they add a dose of genuine pathos.
This is a show less about succeeding at all costs and more about the comic sadness of growing-up. If you're a fan of Wood, or a more contemporary equivalent, Peter Kay, it's well worth checking out.
Carol McGinn, Time Out
Rating: ***
Backstage at a talent contest, and a gorgeous northern hopeful is straddling a filing cabinet and pissing into a plastic hat, while her obligatory fat best mate does post-feminist revue-style twiddling on the piano. It's the homely and subversive sense of humour as much as the format and cultural references that identifies the youthful playwright. 'I thought coq au vin was a fuck in a lorry' is, of course, vintage Victoria Wood. This tributary team can't match the cuddly avenging spirit of '80s womanhood for talent. But they give this revival their nervous all – and Wood's extended sketch is robust enough to help carry them through.
Vikki Stone, who plays Wood's original role of sandwich-eating stooge and tinkles the ivories too, hints at a delicacy and comic depth in her performance that the others don't quite reach. There's not enough sense of the girls' friendship: they carry the play from quip to quip but without revealing what makes them tick. Mutual flashpoints, such as when Stone's Maureen is quietly willing to lose her cherry to the sleazy bullshitting club manager that her beautiful friend Julie (Stephanie Briggs) accurately despises, don't always break through the surface. Director John Plews knows his audience and plays it safe. It's never as irresistibly funny or poignant as it might be. But it works, thanks to the 'show-must-go-on' spirit .
Geoff Ambler, Reviews Gate
Expect lots of laughs, great Wood music, a hat-ful of wee and some inspired Bingo.
Written in the early years of Victoria Wood's career, Talent already displays her style, while Maureen is a character written and performed with her particular humour.
Set in the backroom of a nightspot during a talent contest, the story follows two friends, Julie (Stephanie Briggs), a pretty blonde office girl with singer aspirations, hoping to be noticed after winning the competition. And Vikki Stone's Maureen, her put-upon larger friend, along for support, fetching drinks and carrying the bags. Talent is a wonderfully observed piece of writing, interspersed with Wood's wit-filled musical numbers.
Stone, an accomplished young comedian, is a marvel in the role created by Victoria Wood and while watching her Maureen you see and hear Wood, and gain an understanding of the wisdom of a girl generally overlooked on the periphery of life, but with a strong sense of fun and a grasp of realities. Stone gains sympathy, as is apparent at the end of the evening when she decides to get her tissues ready and the audience scream No!Briggs gives Julie both blond naiveté and a nervous self belief, dreaming of using her never-seen talents to lift herself out of the drudgery of life. Wood's observations are as relevant today as they were thirty years ago when Opportunity Knocks was the X-Factor of the seventies. The celebrity-obsessed world we live in is still populated by Julies.
The other contestants we see are a marvellous pairing of magician and assistant in the form of Harry Dickman and John Walters, as George and Arthur, two aged friends with many wonderful comedy moments and more indication of the Talent Wood alludes to. Charlie Carter plays the evening's remaining parts of Mel and the Compere and it's as the Compere that he steals scenes, introducing both the casting couch for Julie and the front seat of his Cortina for Maureen.
Talent is rarely revived and it's a marvel to watch one of Wood's early works, brought to life by director John Plews who again makes The Gatehouse one of the best reasons to leave the beaten track and visit the Fringe.
Jack Courtney O'Connor, Morning Star Online
Jack Courtney O'Connor, Morning Star Online
Upstairs at the Gatehouse, London N6
"I HAVEN'T been as nervous since I played the Virgin Mary," says Julie (Stephanie Briggs). She's an aspiring singing star in a northern England seedy amateur talent contest in the late 1970s. "That's going back a bit," retorts Maureen (Vikki Stone), her long-suffering assistant.Comedian Victoria Wood, the play's author, knows a thing or two about talent shows. She got her first break after winning the ITV show New Faces at just 20 years of age.
John Plews's well-staged and extremely well-executed production drifts at times due to the lack of dramatic content in the writing. It has a rather thin plot. Office worker Julie is desperate to win the talent spot, hoping to be discovered and thus give up her boring day job. However, when she realises that the contest is fixed and that she is required to display her goods via the casting couch, she becomes disillusioned and rebels. The banter between Julie and Maureen is occasionally hilarious. Maureen is a curious mix of innocence and knowingness and one can see the germ of the Victoria Wood/Julie Walters double act. They are interrupted on occasion by comedy magic act "George and Arthur" (Harry Dickman and John Waters), who are brought on to "entertain the troops."
The lecherous compere Max and organist Mel are both well-performed by Charlie Carter and the songs are expertly handled. At times, the production is more like a revue with songs and routines and its antithesis would be Trevor Griffith's hard-hitting piece The Comedians, also written in the 1970s.
Perhaps this piece should be entered in the BBC White Working Class season as it can now be seen with sad irony as a chronicle of the loss of a Northern proletarian culture.