THE BLONDE BOMBSHELLS OF 1943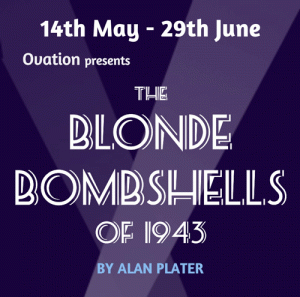 It's 1943 and Betty's female swing band urgently needs new recruits after losing them to the amorous attentions of nylon toting GIs.
Featuring songs from Glenn Miller, Fats Waller and the Andrews Sisters including Don't Sit Under the Apple Tree, Tuxedo Junction and T'aint What Cha Do (it's the way that you do it).
Inspired by Ivy Benson's all girl dance band. Adapted from the television film Last of the Blonde Bombshells.
The Blonde Bombshells of 1943 played Upstairs at the Gatehouse 14th May – 20th June 2014
Presented by arrangement with Samuel French Limited]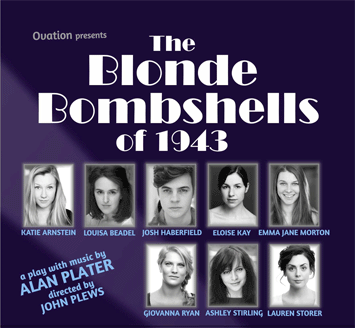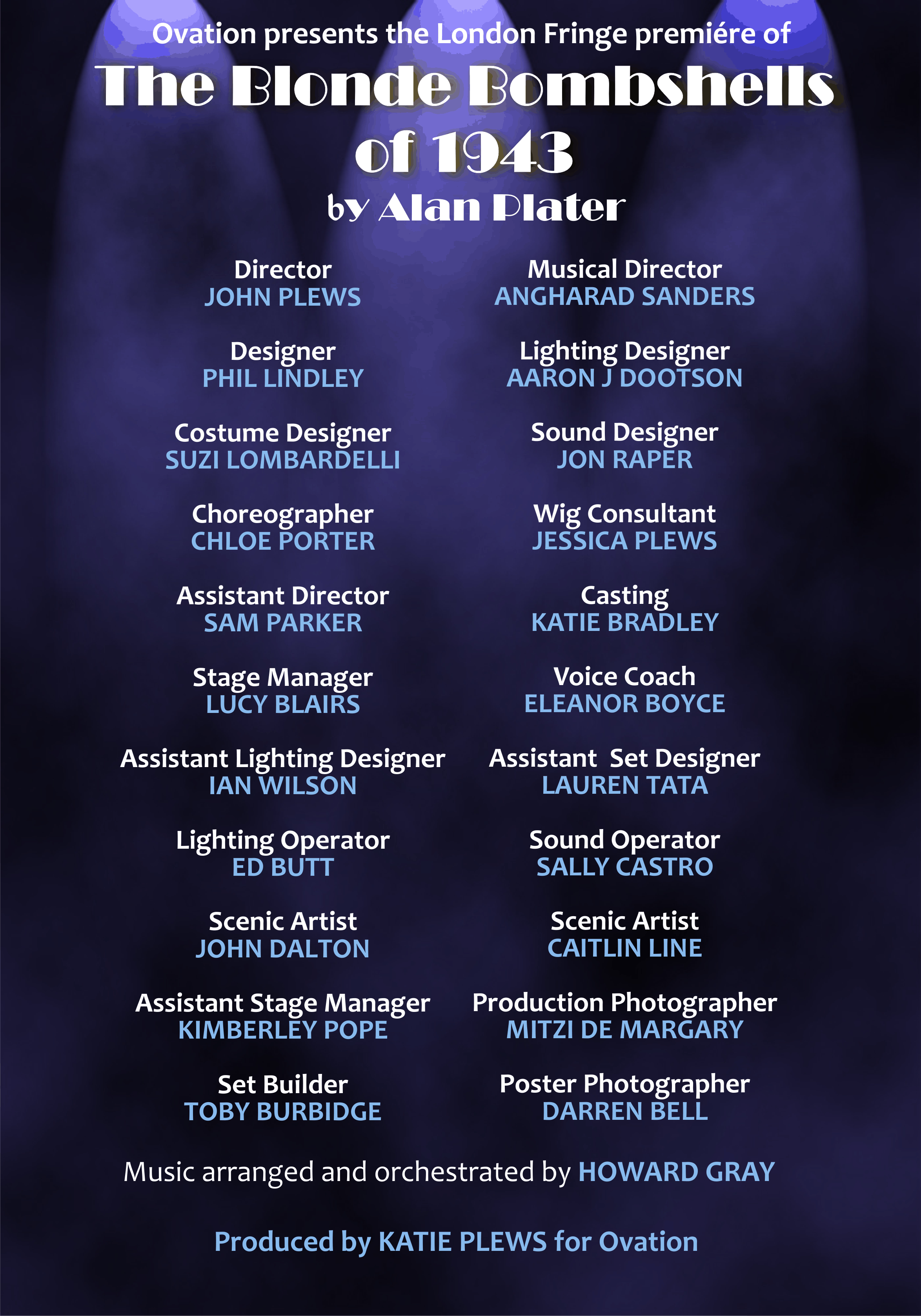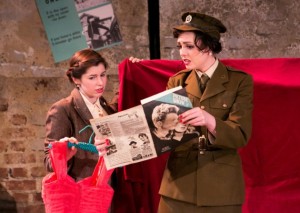 If music be the food of love, then musical theatre is a feast of happiness and The Blonde Bombshells is a banquet of delight.
Author Alan Plater went back to the past to produce this entertaining take on Ivy Benson and her all-girl band (one of the hit turns of the Second World War). The wartime songs, the sound of bombs and the air raid sirens set the atmosphere perfectly.
This eight-strong girls' band is led by Betty and comprises May on the piano, Grace on double bass and Vera on trumpet. Unfortunately, the other four members have fallen for the GIs who have infiltrated the country with their endless supply of nylon stockings. So replacements are needed for an important gig in an anonymous northern town (which turns out to be in Hull – the author's home town).
We enter the story as the auditions take place. It is a strange assortment of hopefuls – schoolgirl Liz, Lily, a nun, posh girl Miranda and, finally, Pat, who is a surprise to all – a splendid drummer – but he is the wrong gender. Pat is played by Josh Haberfield – looking great in his frilly pink frock and blonde curly wig. But the effect is somewhat ruined by the unmistakably masculine socks and shoes, fortunately hidden behind his drum kit.
Katie Arnstein is the ever-smiling nun who plays the ukulele and sings rude songs. Lauren Storer is the idiotic posh girl who can, nevertheless, raise a storm on the tenor sax and Emma Jane Morton plays the schoolgirl who is also a virtuoso. Louisa Beadel as Betty is the best of them all.
But they are all fabulous musicians, singers and comedy actors, with Eloise Kay as piano-playing May, and Giovanna Ryan and Ashley Stirling as Grace and Vera.
This is a stunning show with an unusually talented cast and directed with style so evocative of the period by John Plews.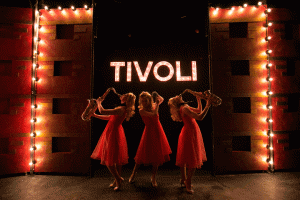 ALL-girl Second World War band The Blonde Bombshells have lost four band members to American GIs on their tour of British army bases and it's a motley crew that arrives to audition at the rehearsal space in West Yorkshire.
First up is schoolgirl Elizabeth, played by the utterly watchable Emma Jane Morton, whose naivety is matched in equal measure with musical talent. She is followed by a chirpy nun, a haughty upperclass WAF and cheeky chappy Pat, desperate to avoid getting drafted by playing drums.
It's a charming tale that could easily quickstep towards predictability but is held off with the odd snappy line from playwright Alan (Z Cars, The Biederbecke Trilogy, Barchester Chronicles) Plater, the most biting comments drawled laconically by war widows Grace and Vera.
Though a sweet-natured production, there is still space to honour the conflict of daily life on the home front. A potted timeline in the programme reflects this: 1943 was the year of the Dambusters raids but also saw Rodgers and Hammerstein premiere Oklahoma! and Bing Crosby sell over a million copies with Jingle Bells.
Hats off to the superb casting from Katie Bradley, for the musical numbers are an absolute delight, each member a talented musician. The band – seven women and one crossdressing drummer – romp through a setlist of 40s swingtime classics. Union Jacks are distributed to the audience in the second half and there's even a singalong to Tweet Tweet, Shush Shush, Now Now, Come Come. Nostalgia may not be fashionable but it sure does feel good.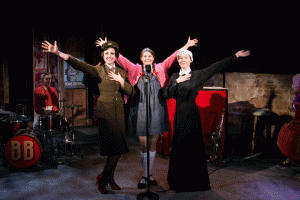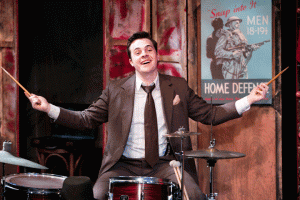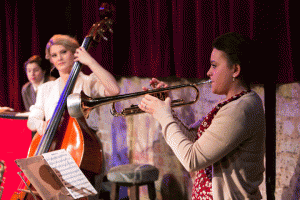 It is 1943 and all-girl's band The Blonde Bombshells has lost some of its members and is looking for musicians to make up its number in time for a gig which is going to be broadcast.
The simple storyline follows the band auditioning the available contenders, their instant induction and then presents that broadcast performance in a town on the east coast, unnamed for security reasons but soon known to be Hull.
It draws on the same background as Plater's early television drama The Last of the Blonde Bombshells. It shares some of the same elements but it is not a stage version of it. Here the whole experience of a Yorkshire schoolgirl entering the world of the Bombshells is encapsulated into just one day.
Emma Jane Morton kicks things off as the granddaughter of Elizabeth, introducing the story that her granny told her and singing the song that she so well remembers—an opening into which director John Plews cleverly segues from a "turn off your mobile phones" warning. The whole of this lively production has the same easy flow and that stops you from questioning such practicalities as the speed with which these new musicians pick everything up.
Elizabeth is the first of the auditionees turning up to face Louisa Beadle's bandleader Betty and her colleagues May (Eloise Kay) on piano, Vera (Ashley Stirling) on trumpet and Grace (Giovanna Ryan) on double bass. Next comes Lily (Katie Arnstein) a young nun still in her habit but sent by her Mother Superior, along with ukulele as a contribution to the war effort.
WRAC driver Miranda (Lauren Storer) with her society background and posh-accent may not be much good behind the wheel but soon earns her place on the saxophone—but they are still missing a drummer. However, they are still waiting for someone called Pat, what luck that will be her instrument.
It is! But she turns out to be he. Pat is a young man who's avoiding his call-up, which doesn't go well with those band members with a husband in a Japanese prison camp or at sea, but he's a good drummer and will put on a frock.
A newsreel film montage that covers the scene change between acts and gives a picture of just what was happening in 1943 an air-raid sequence and Phil Linley's set of a bomb-damaged ballroom are all reminders of just how things were in 1943 Britain but the mood of this show is mainly light-hearted.
It offers a celebration of the swinging tunes of the time (arranged and orchestrated by Howard Gray), which get sparkling performances as wartime drabness gets turned into dancehall glamour. There are lots of laughs on the way as Liz, Lily and Miranda become a British version of the Andrews sisters and Plews has assembled a team of talented performers who can act, sing and all play an instrument (or two). Just watching them display such skills is a delight.
Oh, and congratulations on the balance to sound designer Jon Raper and operator Sally Castro, only the mikes themselves give away that the actors are wearing mikes.
A schoolgirl, an army driver and a nun walk into an audition… no, this isn't the start of an elaborate joke but the plot of The Blonde Bombshells of 1943 performed Upstairs at the Gatehouse in Highgate. Europe is at war and several members of an all-female band have been lured away from rehearsal by some locally stationed GIs, meaning band leader Betty has just a few hours to recruit four new girls before the Blonde Bombshells perform live on the radio. Over the course of the next few hours stories are shared, air raids are endured and songs are sung as the various personalities prepare for their showcase performance.
There's little narrative drive here, no major dramas or distractions that prevent the women from reaching their final goal. There is an interesting contrast between the established members of the band who are cynical and worldly-wise, and the wide-eyed newcomers, but other than a few bawdy jokes, this isn't explored in any depth. Lauren Storer as Miranda an Oxford educated army driver is very funny as the posh girl in the north and Katie Arnstein as a nun-version of George Formby is hilarious, but these comic moments would work better if they were tinged with a bit of sadness. We learn that one band member's husband died early in the war and another is in a PoW camp, but this information is almost thrown away rather than utilised to show how the war was affecting those at home and what being in the band meant to these women.
The threat of war is missing from this production; it's talked about and the group takes shelter from a tiny air raid of one plane and bomb but the range of emotions war creates, from fear to exasperation, are missing. During one overlong scene-change, the audience is distracted by newsreels from 1943 projected onto the wall, and, while this adds little to the plot, the device could have been utilised in other ways, showing footage of aerial bombardment while the women wait it out in the bunker for example. Conflict has given these women the freedom to be part of the band as well as a light-hearted escape from what is happening outside. Emphasising this would have given a better context for the plot and more dramatic opportunity for the actresses.
This is described as a play with music but it's actually the music that's the most entertaining part. Several of the actors play multiple instruments and all sing well, capturing the spirit of the 40s with recognisable songs including 'Don't Sit Under the Apple Tree' and 'T'aint What Cha Do (it's the Way That You Do It)'. There was perhaps an overlooked opportunity in the early scenes to tie the song choice to the traits or troubles of a particular character which could have helped to flesh out their existence beyond this one day. Apart from a misjudged version of Glenn Miller's usually beautiful 'Moonlight Serenade', there are some lovely solos and the musical interludes build nicely into the radio performance that unites all the elements in a pleasing finale concert and high point of the evening.
The Blonde Bombshells of 1943 has a good base idea and some very funny moments, but go for the musical performances and don't worry too much about the plot.
The Public Reviews Score: 2.5 out of 5
****
Perched atop Highgate Village, the Gatehouse presents a challenging course of undulating hills en route from the tube. However, it's well worth the effort.
The story of Alan Plater's Blonde Bombshells takes place in 1943, a tumultuous year when the war finally turned in the Allies' favour. The Eighth Army had swept through North Africa and landed in Italy, the Dambusters heroic raid had fatally wounded Germany's engine room and Ivy Benson's all-girl band became the BBC's resident band.
Benson ultimately provides the inspiration for the story of a female dance band keeping peoples' spirits up while the men were away fighting. The production, always looked upon as a play with songs, and not a musical, divides into three neat acts.
The girls, led by saxophonist Betty, are frantically searching for new band members. They are confronted with Lilly, a banjo playing nun, Elizabeth, child prodigy clarinettist and Miranda, a spoilt army driver, who confuses tenor sax with the trumpet. But she soon realises it's the sax she can play, much to the relief of resident trumpeter Vera.
Just to complete the mix, we have Pat, boy drummer who sees the band as a way of avoiding joining the forces. It all makes for a glorious aggregation as the motley crew rehearse for their first appearance on the BBC.
Plater's characters are infectious and lovable as they slowly mould into a slick unit. The transformation of Lilly, Elizabeth and Miranda into a close harmony vocal group is striking and gives the band an added dimension. Acts 1 and 2 are merely scene setting and it's Act 3 when the action really begins, with the girls getting frocked up and ready to kick ass. And do they kick it!
All the legendary swing favourites are featured including 'moonlight serenade', 'it ain't what you do it's the way that you do it' and 'tuxedo junction'. The aforementioned trio also give it large, affecting a great reading of the Andrew Sisters, legendary vocal harmony group of the 40's.
Whilst newsreel footage of the era pins down the historical subtext, John Plews' production has a timeless quality and doesn't just rely on nostalgia to score points. This isn't just a show for the over 80s wishing to stroll down memory lane. Rather, it's a party that all ages can enjoy and if you learn something about history that's a bonus.
An unknown cast with limited experience prove nothing short of amazing, even though the venue, as good as it is, seems a little too cramped for an expansive production of this type.
The Blonde Bombshells of 1943 at Upstairs at the Gatehouse, London until 29 June.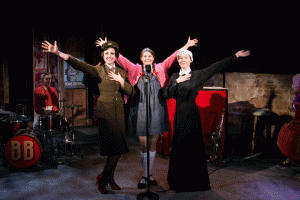 You probably remember it better as a TV movie with Judi Dench called The Last of the Blonde Bombshells but 14 years on from that we've got a revival of the original 1989 version of Alan Plater's 'play with music' at the Gatehouse in north London.
This is no earnest drama about the horrors of wartime but an extended comedy sketch based on the real-life Ivy Benson all-woman band resident on BBC 'wireless' at that time and enjoying huge national success.
In fact, it very nearly isn't a play at all as the storyline is so threadbare. Act II is pretty well all music with the eight-strong band of seven girls and a lone Jack-the-lad happy to wear a frock if it means avoiding getting called up swinging away as if their lives depended on it in their radio concert from the Hull Tivoli.
This a show that requires a different type of triple-threat performer, actors who can play a musical instrument to professional standard and sing, and resident director John Plews has chosen wisely.
At least that's the requirement for the three 'Valentino Sisters', innocent Liz getting her first snog (Emma Jane Morton), Lily the naive singing nun (Katie Arnstein) and posh-totty-in-khaki Miranda (Lauren Storer), but while the other girls get little chance to shine in the singing stakes, they all get to show their versatility on a variety of musical instruments.
The unlikely story is that, with a big radio show coming up that evening, bandleader Betty (Louisa Beadel making a strong professional debut and playing a mean soprano saxophone) needs four quick replacements after her troupe has thinned down a bit after encounters with Americans GIs.
In comes a naive schoolgirl who loves to sing, a ukulele-playing nun who performs the suggestive songs of George Formby without understanding their double entendres, and an upper-class Army girl from Oxford with the sort of airs and graces that the down-to-earth northern lasses cannot abide.
All get the gig because Betty is desperate as does the scared-to-fight Pat (Josh Haberfield) after his impressive drum solo – he can sing a bit too – and he gets fixed up with a pink dress and blonde wig after which, apart from the hairy legs, you can hardly tell the difference, especially on the radio!
And although there's the odd reference to one of the girls still mourning a long-dead husband, another not having heard from her man since Christmas, and a few home truths about a man's duty to serve his country, this is a show about the happier side of wartime when the girls didn't have to do their men's ironing, cooking and mending and could do their bit by entertaining the troops and their stay-at-home families.
There's an old Pathé newsreel of Churchill, Stalin and Roosevelt beamed on to a wall to create a genuine period feel, but it is all a jolly excuse for a bit of good old-fashioned nostalgia with swinging versions of the hits of the time. 'Body and Soul', 'Memories of You', 'Tuxedo Junction', 'Ain't Whatcha Do, It's the Way That You Do It' and 'Don't Sit Under the Apple Tree' all get rousing treatments with ace pianist Eloise Kay, Ashley Stirling (trumpet) and Giovanna Ryan (bass) all in terrific form as well.
The stars of my youth like Gracie Fields, Jewel and Warriss, Flanagan and Allen all get a mention and there are some lovely spiky northern putdowns for humour. When posh Miranda says she got her name from a Shakespeare character, one of the others is quick to respond: "Ooh, I must tell our Shylock when we get home."
It's all excellent experience for the young cast, Angharad Sanders is the MD, Phil Lindley the set designer, Suzi Lombardelli's costume designs hark back to a very different time, and Aaron J Dootson is responsible for the atmospheric lighting and effects.
Oh yes, and the audience had a good time too even if this isn't the greatest play in the world or even one of Plater's best.
Memories of Ivy cling happily to this play
Alan Plater's play about an all-girl band in wartime was inspired by the problems faced by Ivy Benson, the bandleader whose female band was a star act in Second World War Britain. Ivy's problems included keeping her girls, because among the hazards women faced in wartime Britain were the oversexed, over here GIs who kept taking them away from her.
The play finds Plater, a dramatist of great ability, marking time. He sets the scene brilliantly, sets-up plot points about missing husbands, gay bandleaders and draft-dodging lads and then settles for what is ultimately just another play about putting on a show. But his heart is in the right place, his dialogue inventive and true, and director John Plews has done a splendid job bringing it to life. The evening is a riot of laughs, a few tears and terrific music.
Betty, feisty little leader of the band, is auditioning newcomers to replace musicians lost to the Yanks. She ends-up with a sixth-form schoolgirl, a singing nun, a dim deb WRAC driver and a draft-dodging lad who plays the drums. Cue an air raid.
In act two, scene one they rehearse, and in scene two we get the radio performance they are making from Hull to the troops, with the draft-dodging drummer in drag.
Plews' first-rate cast sing and play splendidly, pretending to be not very good until that final scene. The last number – the schoolgirl, nun and deb have become the band's equivalent of the Andrews Sisters – is 'The Boogie Woogie Bugle Boy from Company B' and it is a riot.
Songs include 'Don't Sit Under the Apple Tree', 'Wish Me Luck as You Wave Me Goodbye' and many more. It adds-up to a delightful evening of big band sound.
Hints about husbands missing in action, worried wives drinking too much, and the dilemma of the boy reluctant to fight might have been resolved dramatically to considerable effect, but that would make it a different play. As it stands, this one works. Plater as a dramatist knew what he was about and Plews and his cast do him justice.