Ovation in association with Alex Segal presented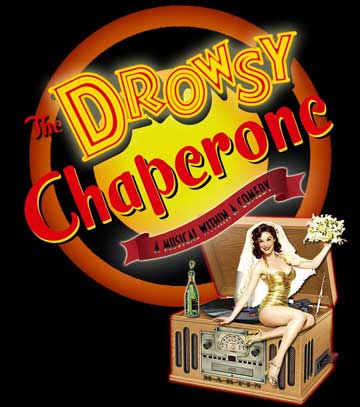 The London Fringe Premiere
The Show
OVATION in association with ALEX SEGAL presented the London Fringe Premiere
of The Drowsy Chaperone from 23rd September – 31st October 2010
Music and Lyrics by
LISA LAMBERT & GREG MORRISON
Book by
BOB MARTIN & DON MCKELLAR
Presented by arrangement with JOSEF WEINBERGER LIMITED
on behalf of MUSIC THEATRE INTERNATIONAL of New York
Story
It all begins when a die-hard musical fan plays his favourite cast album, a 1928 smash hit called The Drowsy Chaperone and the show magically bursts to life. Audiences are instantly immersed in the glamorous tale of a celebrity bride and her uproarious wedding day.
History
The Drowsy Chaperone started in 1997, when McKellar, Lambert, Morrison and several friends created a spoof of old musicals for the stag party of Bob Martin and Janet Van De Graaff.
In its first incarnation, there was no Man in Chair, the musical styles ranged from the 1920s to the 1940s, and the jokes were more risqué. When the show was reshaped for the Toronto Fringe Festival, Martin became a co-writer, creating Man in Chair to serve as a narrator/commentator for the piece.
Following the Fringe staging, Toronto commercial theatre producer David Mirvish financed an expanded production at Toronto's 160-seat, non-profit Theatre Passe Muraille in 1999. Box office success and favourable notices led Mirvish in 2001 to finance further development and produce a full-scale version at Toronto's 1000-seat Winter Garden Theatre. During that production, Linda Intaschi, Associate Producer of Mirvish Productions, invited New York producer Roy Miller to see the musical. Miller saw potential in the show and he optioned the rights.
With Canadian actor and fund-raiser Paul Mack, Miller produced a reading for the New York's National Alliance for Musical Theatre on 5 October 2004 and invited Broadway producer Kevin McCollum. The reading captured McCollum's interest and eventually resulted in Miller, McCollum and Bob Boyett, Stephanie McClelland, Barbara Freitag and Jill Furman committing to producing the play. An out-of-town engagement followed at the Ahmanson Theatre in Los Angeles (2005), and after alterations, The Drowsy Chaperone opened on Broadway on 1 May 2006.
Nominations
BEST OFF WEST END PRODUCTION What's On Stage Awards 2011
BEST FEMALE PERFORMANCE (x2) Off West End Awards 2011
BEST MALE PERFORMANCE (x3) Off West End Awards 2011
BEST PRODUCTION Off West End Awards 2011
BEST DIRECTOR Off West End Awards 2011
BEST MUSICAL DIRECTOR Off West End Awards 2011
BEST CHOREOGRAPHER Off West End Awards 2011
BEST LIGHTING DESIGN Off West End Awards 2011
BEST SOUND DESIGN Off West End Awards 2011
BEST SET DESIGN Off West End Awards 2011
The Superintendent was played by the following guest actors: Ralph Bogard, Benjamin Bond, Chris Carswell, Tim Frost, Reeda Harris, Nicholas Howe, Ben James-Ellis, James Kermack, Jeremy Legat, Lucas Rush, Jos Slovick, Charlie Swan
Producer – Katie Plews for Ovation
Producer – Alex Segal
Director – Racky Plews
Musical Supervisor – Michael England
Choreographer – Fabian Aloise
Musical Director – Tim Whiting
Designer – Martin Thomas
Associate Costume Designer – Jean Gray
Lighting Designer – Howard Hudson
Casting Director – Ellie Collyer-Bristow
Dialect Coach – Marj McDaid
Asst. Director – Lucas Rush
Asst. Musical Director – Lee Freeman
Asst. Choreographer – Ashley Nottingham
Associate Lighting Designer – Simeon Miller
Sound Technician – Winston Gilbert
Lighting Technician – Gavin Maze
Props Supervisor – Philippa Mumford
Rehearsal Stage Manager – Rachael Tyagi
Stage Manager – Jeanette Klemeyer
Asst. Stage Managers – Saskia Wesley, Frankie Hollis
BAND
Keyboard – Tim Whiting
Flute/Clarinet/Saxophone – Hannah Lawrence
Trumpet/Flugelhorn – Karen Straw/Jamie Crook
Double Bass – Eric Ruperts
Drums – George English
"Siobhan McCarthy, best known for her leading roles in Mamma Mia, Evita and Hairspray, as well as and her role in ITV's Bad Girls, stars as the alcohol-fuelled chaperone." – WhatsOnStage Pre Publicity
"Really rather good! Two *very* cute Show Off innovations." – West End Whingers Twitter
"What absolute fun the Drowsy Chaperone is. Racky Plews' production fizzes with whacky characters and buckets of fun." –The Stage Twitter
"Amy Diamond, finalist in BBCs Over The Rainbow search for a Dorothy as the starlet-turned-bride Janet." – WhatsOnStage Interview
"Alex Segals The Drowsy Chaperone is a 5-star performance and makes you feel that life will turn out fine as long as you can hum a show tune." – Mr. West End
"Racky Plews' direction is slick and seamlessly blends with Fabian Aloise's choreography …" – The Stage
"Siobhan McCarthy is a hoot as DS and Ashley Day & Amy Diamond are wonderful as the romantic leads." – The Stage Twitter
**** "Siobhan McCarthy, plays drunk with deceptive mastery in the show's title role." – WhatsOnStage
"Under Racky Plews' direction this spoof of a late 1920s musical is given a lively revival that does credit to this Highgate theatre." – The British Theatre Guide
"Martin Thomas's design is a tour de force of ingenuity," – Camden New Journal
"That is quite simply perfect musical joy. The best show in town." – Reviews Gate
"This is a superb piece of musical theatre which uses a small budget and venue to motivate a sublime creativity. (In fact this is by far the most successful piece of theatre we have so far assessed – if there is any justice in the world it will to transfer to bigger and better things). It should win every Offie going!" – Off West End
***** "Five Stars is just not enough. The Drowsy Chaperone is amazing… Everyone MUST see it" – Ham & High
**** "Racky Plews' production is unapologetic theatrical candyfloss." – The Public Reviews
"I loved it. At its heart, it is a beautifully eloquent defence of old-school musical theatre, wrapped up in a tap-dancing, vodka-soaked, tuneful ball of fun: affectionate, nostalgic and most importantly, so very funny. Book now." – There Ought To Be Clowns
"What I couldn't have predicted however was the quality of the in-house company Ovation's work." – Dickie and Butch
"Siobhan McCarthy makes a wonderful Chaperone, playing the humour beautifully and belting out her torch songs with aplomb." – Broadway World
"Who cares about The Donmar Warehouse: get thee to the Gatehouse for Drowsy Chaperone!" – WebCowGirl