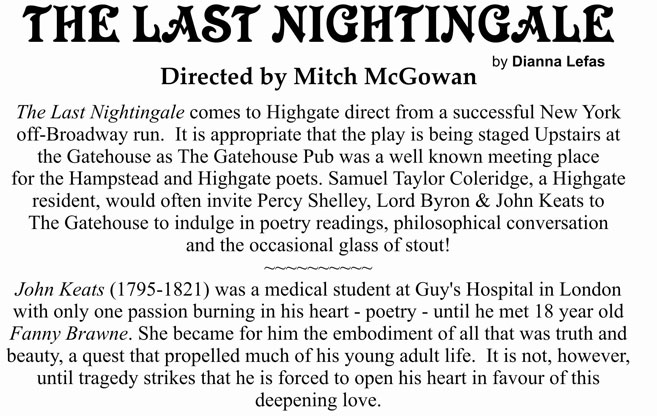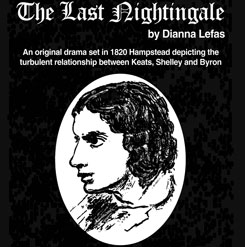 Ambjörn Elder - John Keats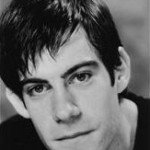 Ambjörn Elder trained at LAMDA. Last year he originated the roles of Daniel in Sarah Sigal's Dogfight and Ben Britain in Mudplay by Adrian Page. Further theatre credits include Snake in The School for Scandal and The Bloody Captain in Macbeth. He also played Alexandre Yersin, the discoverer of the plague virus, in Mysteries of the Great Plague for the Discovery Channel.
Anthony Jardine - George Keats, Percy Shelley, Charles Brown
Trained at Mountview Academy of Theatre Arts and Goldsmiths.
Theatre includes Jean in MISS JULIE for StoneCrabs (Greenwich Playhouse), Jim in THE GLASS MENAGERIE for The English Theatre of Hamburg, Leo in FLOOD for Modest Proposals, Claudio in MUCH ADO ABOUT NOTHING, Miles Gloriosus in A FUNNY THING HAPPENED ON THE WAY TO THE FORUM and various mice in ALICE IN WONDERLAND (all for Groundlings), Raymond Legendre in BEEN SO LONG whilst at Goldsmiths, Benvolio and Tybalt in ROMEO & JULIET for Lost, Slightly in PETER PAN for Kevin Wood Productions, Edward Prince of Wales in RICHARD III for York Theatre Royal (directed by John Doyle) and Ronson in OUR DAY OUT also for York Theatre Royal.
Film and television includes Shekhar Kapour's THE FOUR FEATHERS, SAM'S CIRCUS (directed by Robert Singer) and advertising campaigns for ZOO MAGAZINE and MTV.
Radio includes RESURRECTION for BBC Radio 4.
Chris Gutman - Benjamin Robert Haydon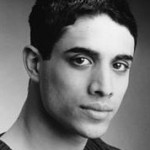 Christopher was born in Vienna and raised bilingually, speaking German to his Austrian father and English to his Indian mother. After his training at the E15 Acting School, he was engaged in a long running role in ITV1's soap Night And Day. Theatre credits include: Picnic, Orpheus Descending, Wait Until Dark and Tales Of Mumbai. In 2006 he directed and acted in the Victorian melodrama 'Vendetta' at the Edinburgh Fringe.
Dominic Cazenove - Tom Keats, Leigh Hunt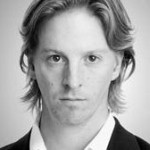 Dominic trained at the Academy of Live and Recorded Arts (ALRA). Recent stage credits include: Dromio of Syracuse in The Comedy of Errors (Tour); Sir Andrew Aguecheek in Twelfth Night (Broadway Theatre, Lewisham); Freddie Threepwood in Oh Clarence! (Britten Theatre); Algernon in The Importance of Being Earnest (Leatherhead Theatre); Caliban in The Tempest (Pentameters Theatre); Recent film credits include: Jacket in Take Three Girls (Inspired Movies), Felix in Badinage (Celestial Pictures), he has recently completed his Bollywood debut with WOW! (Spice Team Entertainment) and he will next be seen on screen as Michael Davies in Lady Godiva: Back In The Saddle (Lady Godiva Pictures), due in cinemas at the end of the year.
Kate Burdette - Fanny Brawne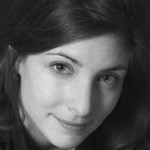 After graduating in English Literature from Bristol University, Kate trained at The Poor School, London where her credits included Olivia in 'Twelfth Night' and Karen Wright in 'The Children's Hour'. Her professional theatre credits include: Sybil in 'Private Lives' (Margate Theatre Royal), Hermia in 'A Midsummer Nights Dream' and Kitty in 'Charley's Aunt' (British Touring Shakespeare), 'Eyes Catch Fire' (Finborough Theatre) and 'Where Theres a Will' (Peter Hall, Theatre Royal Bath Tour). Her TV credits include 'The Debt' (BBC TV) and most recently 'Capturing Mary' directed by Stephen Poliakoff which is due to air in the autumn (BBC/Talkback Thames).
Kathrun Daw - Mrs Brawne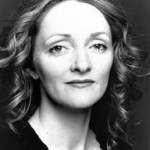 Trained at East 15 Acting School. Theatre included Deb/Mrs Noah – On Red Hill (Tabard Theatre – Pitch Dark Theatre), Olga – Masha and the Bear (Tabard Theatre & The White Bear – Pitch Dark Theatre), Miss Y – The Stronger, Fraulein von Kesten – Children in Uniform, Zosia – Auschwitz, Anna – Ivanov (Corbett Theatre – East 15).
Lorcan O'Toole - Lord Byron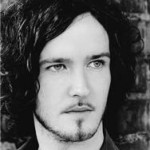 Lorcan trained at New York University, the Tisch School of the arts, his theatre credits include Algernon Moncruff in 'The Importance of Being Earnest' at the Ryan Theatre and 'Fred' in 'A Christmas Carol' at 'The Player's Club' (NY). He has worked in television playing 'Trey' in channel 4's: Totally Frank, and film, playing 'Desmond' in the 2006 Feature: 'Mrs Palfrey at the Claremont' with Dame Joan Plowright. Lorcan is also a screenwriter and Film-maker having completed two short films and is currently working on his first-feature: 'The Night Child'.
Thomas Hopkins - Joseph Severn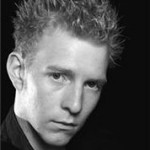 Thomas trained with the national you music theatre before studying English and drama at Middlesex University and then going on to study musical theatre at the Urdang Academy.
Theatre- Scrubs the musical (Workshop), new world stages New York, Pirates of Penzance, The Golden Hide Pirate ship, Pippin, The Union Theatre, Beyond The Sea, The Bridewell Theatre, The Waltz of the Toreadors, LLT productions.
Television and Film- The Golden Compass, Chris Weitz, The Apprentice, Talkback productions for BBC two, Inside Al Qeada, the National geographic channel.