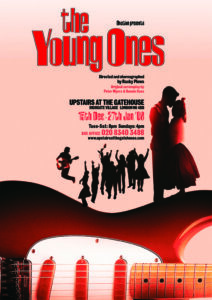 Original Screenplay by Peter Myers & Ronnie Cass
Stage adaptation by John Plews
A GREAT FAMILY SHOW FOR ALL THOSE
ROCK AND ROLL REBELS!
Set in 1961, The Young Ones is the story of a group of teenagers fighting to save their local youth club from imminent demolition at the hands of property tycoon, Hamilton Black. They decide to raise money and awareness of their plight by putting on a variety show, promising that a mystery singer will top the bill. But who is this heart-throb hipster who will whip the local teenagers into a frenzy and help raise enough cash to save the day? What is his connection to the property tycoon? All will be revealed with much song and dance.
The Young Ones was originally written as a screen vehicle for Cliff Richard, at the time, Britain's answer to Elvis. This adaptation for the stage is packed with top ten hits including Livin' Doll, We Say Yeah and, of course, The Young Ones. It is also evocative of the early 60's, the era that witnessed the emergence of 'The Teenager', the bête noir of parents and the authorities alike. For those who remember the movie the first time around, re-live your youth – for those too young, come and see what your parents held hands to in the back row of the Odeon!!
Director / Choreographer: Racky Plews
Musical Director: Dom Carter
Set & Costume Designer: Mike Lees
Lighting Designer: Howard Hudson
Props Designer: Gemma Harris
Stage Manager: Kate Lewis
Sound Technician: Jennifer Parente
Production Assistant: Kamali Teabout
Artistic Adviser: Saffron Myers
Poster Design: Scarlet Graphics
Set Builders: Showtime
Technical Design: Les Broughton
Master Carpenter: Jethro Shirley-Smith
Lighting Rigger: Simeon Miller
Video Editing: Matthew Jones
Photographer: Scott Collier
Lighting & Video Operator: Simeon Miller
Produced by: Katie Plews