All shows listed under 'Scripts For Hire' are available for both professional and amateur theatre companies to perform in the UK or world-wide. Please call or email Ovation for availability and costs.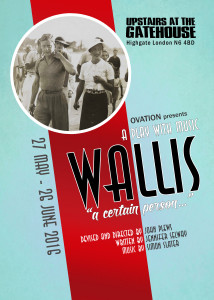 A PLAY WITH MUSIC
Set between 1931 and 1936, Wallis is centered around the love affair that led to the biggest constitutional crisis in modern Royal history.
Just how did Mrs Simpson, a divorced American, capture and keep the heart of the playboy prince?
What secrets lay beneath the scandal that rocked British Society and threatened to bring down Stanley Baldwin's Government?
CONTAINS STRONG LANGUAGE AND SCENES OF A SEXUAL NATURE – NOT SUITABLE FOR CHILDREN UNDER 12
Katie Arnstein - Pearl Jones
For Ovation: Lily Jackson in the actor-musician show The Blonde Bombshells of 1943
Katie trained at Birmingham School of Acting.
Stage credits include: Rosie in Rosie's Magic Horse (Southwark Playhouse); Viola in Twelfth Night (Principal Theatre/Bloomsbury Open Air), Miranda in The Tempest (Young Shakespeare Company/ European Tour) and Emily Moby in Charlotte Sometimes (The Oxford Playhouse). Katie is delighted to be working with Ovation again.
Robert Hazle - Raymond Crabbe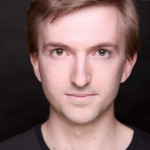 Robert trained at Drama Studio London.
Theatre credits include Calamity Jane (Watermill Theatre National Tour dir. Nikolai Foster); Parkway Dreams (Eastern Angles); Much Ado About Nothing (Rose Playhouse, Bankside); Boris Godunov (Brockley Jack Theatre); Twelfth Night (Infinite Jest); Ludwig Live! (Peaceful Lion); The Soldier's Tale (East London Music Group); Amahl and The Night Visitors (Opera Capital Arts); The Picture of Dorian Gray (The Alchemic Order); A Christmas Fair (Wokingham Theatre); and Orion And The Dark (Peaceful Lion).
Concerts include Noye's Fludde, What You Will – In Concert; An Ivor Novello Gala Celebration Epiphany Concert with London Cantamusica. He is also a member of the Players' Theatre Club's company of Music Hall performers.
Robert's work as MD includes: Much Ado About Nothing (Wolf-Sister); Nutcracker the Musical (Peaceful Lion); Parkway Dreams (Eastern Angles); Ruddigore (Forbear! Theatre) and Bardolph's Box (Up The Road Theatre and Liverpool's Unity Theatre).
www.roberthazle.com
Eliza McClelland - Lady Cunnard / Lucy Baldwin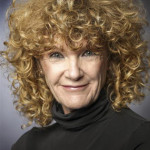 Eliza trained at LAMDA.
Extensive theatre includes: Pat and Margaret (Stoke); September Tide (Aldeburgh); What the Butler Saw (Basingstoke); Dr Faustus and Home & Beauty (Oxford Playhouse); The Clandestine Marriage (Bristol Old Vic); Stepping Out (York); Summit Conference (Worcester); The Provok'd Wife and Peer Gynt (Cheltenham); Private Lives and Top Girls (Leicester), Noises Off (playing three different roles in four different productions in Cheltenham, Chester, Southwold and York); and an Ugly Sister in Cinderella (Leeds City Varieties) – to name but a few. TV work includes: Constance Kent, Tickets for the Titanic, The Bill, Peak Practice, Casualty, Inspector Lynley, Breaking News and Action Stations. Liza e is an experienced after dinner speaker and is much in
demand for her one-woman entertainments: A Woman for All Seasons, To Be(ad) or Not to Be(ad) and A Christmas Garland. Eliza appeared in the one-woman show Female Parts by Dario Fo at the King's Head which transferred to the Arts Theatre, London.
Bernard O'Sullivan - Stanley Baldwin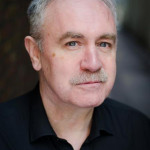 Bernard trained with the London Centre for Theatre Studies in 2005-2006.
Recent credits include: in 2014 – the Gaoler in Tilo Ulbricht's Heresy; Sir Toby Belch in Twelfth Night; Pliny in Shaw's The Apple Cart; and Bob in Matt Brothers's Four O'Clock; in 2015 – Father Pimen in Pushkin's Boris Godunov; Major Monckton in The Tulip Tree; Father Hart in Yeats's Land of Heart's Desire; and Detective Paterson in Diego Sosa's Faustaff, and this year Dr Burke in An Apple a Day, and Old Mahon in The Playboy of the Western World.
Lee Ormsby - Edward 'Fruity' Metcalf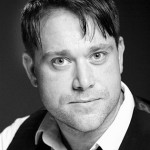 Lee is an actor, singer, musician, arranger and composer.
Over a career of thirty years, his acting credits include: The Phantom of the Opera; The Lion King; Chess in Concert at The Royal Albert Hall; Sweeney Todd; Grease; The Great Jewish American Songbook and Sunset Boulevard. For TV he has appeared in Channel 4's The Josie Lawrence Show; HTV's The Honey Siege; The Weekend Starts Here; and as Detective Anders for several major stories in ITV's Emmerdale.
As a cabaret artist he has worked throughout the world as a vocalist for P&O Cruises, and his first composed musical Paradise Lost, inspired by Milton's classic poem, was released last Christmas on the SimG Records label, and is in development for a fully-staged production next year.
Lee regularly produces concerts and fundraisers for charities including The British Heart Foundation, and Save the Children, and has recently finished two and a half years as Pumbaa in Disney's The Lion King, including 10 months in the Swiss Premiere production in Basel, Switzerland.
Alice Pitt-Carter - Lady Thelma Furness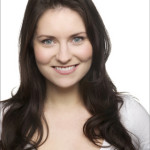 Alice trained at Mountview Academy of Theatre Arts.
Theatre credits include: The Woman (A One Woman Show) In The Shadow (The Market Theatre); Sarah in Three Little Birds (New Diorama); Actress & Margarite Xirgu in Olives and Blood (Brixton East).
Whilst training her theatre credits include: Ina Pasportnikova in White Rose; Joy/Dr Holmes/Musician in This Is A War; Mrs Waterman/Miner's Wife & Keith's Mam in Spend Spend Spend; Anna Antonelli in The Rink; Maria in Compleat Female Stage Beauty; Ophelia in Hamlet; Dani in The Sugar Syndrome; Aline Solness in The Master Builder; Elizabeth Proctor in The Crucible; Lily in Punk Rock; Olivia in Twelfth Night.
Film credits include: Jo in Tea+Cake (KRR Productions) – nominated for Best Lead Actress at the International Film Festival (2016); Alice in Forever Tomorrow (Ben Rider Productions). Radio credits include: Carleton Hobbes Radio Competiton; Otter Baby in The Waterbabies; Queen Anne in The Three Musketeers. Other credits include: Gracie-Lou Banks in Secret Cinema – Back to the Future (Fabien Riggall);Vocalist with The Springfields (Mike Hurst); Head Maid in Secret Cinema – The Grand Budapest Hotel (Garrett Moore).
Grant McConvey - Edward, Prince of Wales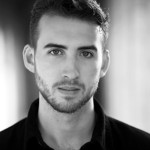 Grant graduated from Guildford School of Acting in 2015.
Theatre whilst training includes: Prince John in Blondel; Gomez Addams in The Addams Family; The Caretaker in The Other School; Bernado in West Side Story; Polixenes/Florizel in The Winter's Tale; Apollo in The Oresteia and Sir John in Me and My Girl.
Theatre credits include: Norman Smith in The Sessions (Arena Tour), The Great Jewish American Songbook (Upstairs at the Gatehouse) and Side By Side By Sondheim (Jack Studio Theatre). Grant was a finalist in the Stephen Sondheim Student Performer of the Year 2015 and won the Stiles and Drewe Best New Song 2015 prize.
Workshops include: Father Taylor in Rebel Song and Jason Lancaster in Becoming Nancy directed by Jerry Mitchell.
Emma Odell - Wallis Simpson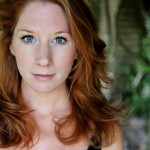 Emma trained at the London School of Musical Theatre.
For Ovation: Cinderella/Flute in Into the Woods
Recent credits include: Mrs Cratchit in A Christmas Carol (The Castle, Wellingborough); Gwendolen in The Importance of Being Earnest, Vivvi in Improbable Fiction, Pauline in The Lady In The Van, Mrs Nordstrom in A Little Night Music (Pitlochry Festival Theatre 2015 season); Singer in Thursford Christmas Spectacular; GOD (London Theatre Workshop, Stephen Sondheim Society); Mrs Giant in Jack and the Giant (Chipping Norton Theatre); Cathy in The Last Five Years (Battersea Barge); Belle Poitrine in Little Me (All Star Productions); Lead vocalist/actor on board the Queen Elizabeth (Cunard); Thersites/Penelope in Troilus and Cressida (Dogs with Crowns); Penelope Toop in See How They Run and Rose Trelawny in Trelawny of the Wells (Pitlochry Festival Theatre 2011 season); Soloist in Prom 19: Sondheim at 80 (Royal Albert Hall); Hebe in HMS Pinafore and Peep Bo/Katisha in The Mikado (UK tour, Opera Della Luna); Lady Macbeth in Macbeth (S4K UK Tour); and The Fingask Follies (Upstairs at the Gatehouse).
Emma has performed in various cabaret and reviews, with Fenton Gray and Charles Miller in Shakin' the Blues Away (Battersea Barge) and It's Only a Way I've Got (St James Theatre and Hoxton Hall) and with her own shows Life is Just a Bowl of Cherries, Help Is on The Way and Starry Eyed. Emma is a BBC Fame Academy Bursary and Performers' Fund winner.
Tom Slatter - Ernest Simpson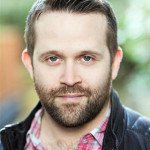 Tom's credits include: RSC, Savio(u)r, Sell A Door Theatre Co, London Grey and Green Theatre Co, London Comedy Writers, Blackshaw Theatre, Tik-Sho-Ret Theatre Co, Foolish People and Sturdy Beggars.
Screen Credits include: Slate4Films, Embankment Films, National Geographic, Discovery Channel and NEWSNIGHT on BBC.
Radio credits include: Wireless Theatre Company and Roundhouse Radio.
Written by Jennifer Selway
Original Music by Simon Slater
Devised and Directed by John Plews
Designer – Emily Bestow
Lighting Designer – Sam Waddington
Casting – Katie Bradley
Assistant Director – Katharina Huchler
Costume Supervisor – Harriet Fowler
Production Manager – Chris Silvester
Technical Advisor – Les Broughton
Stage Manager – Georgina Pead
Scenic Artist – John Dalton
Assistant Stage Managers: Emelia Hutchinson & Emily Hill
PRODUCED by KATIE PLEWS for OVATION
Susan Elkin, Musical Theatre Review
****
Jennifer Selway's fictionalised account of the troubled relationship between Wallis Simpson and the Prince of Wales counterpoints it against the friendship between a gay valet and a perky maid who often function as commentators.
Robert Hazle is outstanding as the valet, camply self deprecating and insightfully intelligent about everything the upper classes are doing. He is also one of the finest actor musos I have ever seen, performing Simon Slater's rippling, rapier-sharp songs with incisive warmth from behind a piano on an upstage mini platform.
Since this is a play with music rather than musical theatre, these tacked on numbers are the totality of the music in what is otherwise a straight play. Good as they are, they feel like a welcome bonus rather than an integral part of the action. Katie Arnstein gives a fine performance as Pearl, the maid who becomes a – sort of – partner to Hazle's character. They work well together and create a real sense of affection.
Emma Odell, dark and slender, finds plenty of depth in Wallis' character. Yes, she's manipulative, imperious, demanding, needy, simpering, seductive and as capricious as Cleopatra. On the other hand, she's no mere gold-digger and we feel at the end that she is trapped where she doesn't really want to be.
Grant McConvey as David – the Prince of Wales – looks oddly like Prince William and has enough royal bearing to be convincing. In Act II he throws himself at her feet like a dog, shouts at Baldwin (Bernard O'Sullivan – good) and, somehow, eventually retrieves a little dignity.
The supporting cast is strong with lovely cameo work from Eliza McClelland first as the drunken, drug-crazed Lady Cunard, and then as the feisty, sensible Mrs Baldwin. Alice Pitt-Carter delights as Thelma Furness, whether she's flirting, gossiping or miffed.
Full marks too to Emily Bestow for her neat set. The playing space at Upstairs at the Gatehouse is quite spaciously transverse with the audience to one side. She uses every inch of it and includes a hinged table, a sofa which is slid in and out of a cupboard, and a flat which pivots to offer two different scenes. The rest of the stage is furnished with, for example, bookcases and desks, so that we move quickly from the Simpsons' house to 10 Downing Street and the home of the valet and maid.
It's an enjoyable, thoughtful, wittily scripted piece of theatre, devised and directed by John Plews. Catch it if you can.
John Nathan, Jewish Chronicle
****
Jenny Selway's new play tells one of the best-known stories from one of the least explored perspectives. Where you might expect it to be populated with Whitehall mandarins muttering their disapproval in corridors of power, we have instead American heiresses and a couple of gossipy British servants providing catty commentary on our promiscuous, decadent often Nazi-loving upper classes.
The title, of course, refers to the American social climber whose charms caused a constitutional crisis in 1936 when King Edward VIII (Grant McConvey) gave up the monarchy to be with her.
If there's a moral to this show, it's be careful what you wish for. As the married Wallis, an excellent Emma Odell transmits the steely determination with which the socialite betrayed her husband and inveigled her way into the royal court – only to be marooned in a relationship, it's suggested, after the former King was cut loose by the British establishment. But the focus here is on her rise, a trajectory accompanied with songs (lyrics also by Selway) sung with Cowardesque piquancy by Robert Hazle.
John Plews's production goes on for about two (repetitive) scenes too many. And given the title I wanted to know more about the relatively modest beginnings that drove Wallis's ambition, and more on life after abdication, only not without one of those tedious flashback plays, please.
But as it stands this is still one of the most engaging and best acted shows I've seen on this stage, and a better option than many a West End offering.
Julia Rank, The Stage
***
Wallis Simpson humanised in diverting rendering of the Abdication crisis
The 1997 Edward-and-Mrs-Simpson West End flop Always was a gushing affair that depicted the couple as the most heroic of lovers. Fortunately Wallis: A Certain Person, Jennifer Selway's long-winded and gossipy but ultimately emotionally nuanced play with music, takes a less rose-tinted look at this notorious liaison.
Making Wallis Simpson sympathetic is not an easy task. Selway rightly doesn't try to rehabilitate Wallis as a misunderstood romantic heroine and doesn't sentimentalise the way in which the great passion was very much on Edward's side and more smothering than romantic.
As Wallis, Emma Odell is all angular aloofness and drawling nonchalance, unashamedly flouting the rules of mistress-hood by behaving like a disagreeable wife. Grant McConvey perceptively portrays the Prince of Wales as an emotionally stunted man-child wholly unsuited to power, even of a ceremonial kind.
John Plews' production evokes a world of cocktail parties and naughty weekends in the country. The revolving set contributes a real sense of luxury but the moving around of the furniture between the many changes of setting undercuts much of the tension, a particular snag when the story is so well known.
The musical element is provided by the framing device of a gay valet (played with warmth by Robert Hazle) and his parlourmaid wife. These interludes help to cover up the scene changes but more entertainingly send up the bizarre institution that is the monarchy: something that it is possible to disapprove of but still be fascinated by.
Howard Loxton, British Theatre Guide
Wallis is, of course, Wallis Simpson, mistress then wife of Edward, Prince of Wales. Devised by its director John Plews and written by Jennifer Selway, this is a fictional presentation of their developing relationship from 1931 to their marriage. It paints a real seeming picture of an unbalanced relationship shown in the context of their intimate social circle.
It begins with Wallis and her husband Ernest Simpson being invited to dinner by fellow American the Viscountess Furness, the Prince of Wales's current mistress. They are there to add formal respectability to the lovers' liaison. Before we meet these posh people, the Prince's valet fills in the back-story, explaining things to a new maid as they lay the table.
In a structure as artificial as this society's mores, this couple act as a kind of a chorus. Camp valet Raymond provides a Cowardesque musical commentary to cover scene changes. Played by Robert Hazle and Katie Arnstein, they are much more likeable than their so-called betters.
Thelma Furness doesn't expect marriage from David (as intimates know Prince Edward). She says it's more fun being a mistress than a wife-in-waiting, but, when she goes abroad and asks Mrs Simpson to look after David in her absence, she doesn't expect Wallis to become her replacement. David, however, becomes besotted with Wallis who loves the attention, the jewellery gifts and the social prominence it gives her, though, as Thelma points out, "you don't even love him. I do!"
Alice Pitt-Carter gives Thelma Furness genuine feeling and Emma Odell and Tom Slatter as Wallis and Ernest Simpson suggest that they get on together: a caring and compliant husband to match a demanding wife—he even blows her nose for her while her nail varnish is drying.
Jennifer Selway doesn't give us royal romance so much as Wallis Simpson, social climber. She may gain a smidgen of sympathy as she is caught up in much more than perhaps she intended, but it is her ruthless ambition for a place in society that dominates this characterisation. It provokes growing resentment among the circles in which she wants to move.
Grant McConvey presents an immature, none-too-bright David. We are told he can put on a good show for public appearances if briefed for them but seems mainly out for a good time. He seems to have ladies lining up for a royal liaison and a particular penchant for American women. But what makes the Prince fall in love with Mrs Simpson? Could it really be some exotic sexual technique she picked up in Shanghai that enthralls him? That is what society gossip says.
Gossip is what drives this play, fashionable Lady Emerald Cunard (Eliza McClelland) at the heart of it and even the Prince of Wales's equerry Edward "Fruity" Metcalf (an urbane Lee Ormsby) joining in, though doing his job loyally.
The intervention of PM Stanley Baldwin (Bernard O'Sullivan) seen with his wife Lucy (a neat double from Eliza McClelland) add a more documentary touch but still in the spirit of satirical comedy.
There is an elegant set by Emily Bestow but the time taken to accomplish its multiple changes slows down the action, despite the distraction of Simon Slater's musical numbers. The lively tunes and tongue-in-cheek levity of Selway's lyrics makes one wish there were more of them and integrated into the action.
Despite the importance of these events in British constitutional history and the shadow of fascist connection hovering over them, the plotting is lightweight and, though John Plews's direction brings out the humour and lively performances, this could be pushed a little further into being an all-out musical.
William Russell, Reviews Gate
He got what he wanted, she got trapped. Well worth catching.
Plays and films about Edward V111 and Wallis Simpson abound, mostly pretty terrible. Whether one needs another attempt at telling their story is anybody's guess, but this reworking of a tale often presented as the greatest love story ever told – he gave up his throne for the woman he loved – is very well worth catching.
This Wallis as an adventuress, a brash, clever, witty once divorced married woman from Baltimore who became the mistress of David, the Prince of Wales, and lived to regret it for the rest of her life. She was doing what she had always done when she arrived in London with businessman husband Ernest Simpson – collecting jewels, making society friends, indulging in the high life and playing the field with his consent. She ended up like a fly trapped in amber.
David was a spoilt, sexually inadequate child man who always got what he wanted – the complaisant society wives who serviced him for a start – someone to whom nobody, in spite of a pretty dreadful relationship with his father, had ever said no.
It is not a great love story, but a story of obsession, of a woman doomed to endure a marriage she did not want and a totally pointless life for decades to come.
Jennifer Selway and Ricky Plews have devised a smart, brittle and entertaining play framed with a collection of songs by Simon Slater in the manner of Noel Coward sung with brio by Robert Hazle.
Things are helped by fine performances from Emma Odell, lanky and suitably striking, as Wallis, and Grant McConvey, baby faced and oozing petulance, as David. Alice Pitt-Carter has some choice moments as the ousted mistress, Thelma Furness, and Lee Ormsby is suitably nasty as the courtier and fixer pal, Fruity Metcalf, who bought off the embarrassments on behalf of his boss.
It is a tale about different times, different attitudes. The British public was kept in the dark about the affair, divorced women were social outcasts, and the politicians and churchmen behaved almost as badly as the Windsors. The result is salutary to say the least and quite unlike the home life of our current dear Prince of Wales. Designer Emily Bestow has created a terrific set which changes before one's eyes as the action moves fron the Simpson's flat to the Ritz, to the Furness home, and to Fort Belvedere in Windsor Great Park.
Aline Waites, Ham & HIgh
****
Fresh light on woman who won a king's heart
Everyone knows about the American divorcee that cost Edward VIII his throne.
Now, Jennifer Selway has researched the matter thoroughly and discovered more information about Wallis Simpson and her background.
It was difficult to understand why the Prince – the good-looking playboy – should have fallen so deeply in love with 'That Woman'. She was not beautiful, aristocratic or rich.
She wasn't even very nice, but she had something that kept the Prince close to her, that even drove him to give up the throne for her.
She was good company, a witty and lively conversationalist, so why couldn't they have just remained friends? Was it an excuse for him to evade his heavy responsibility?
It certainly wasn't her idea. She was ambitious and would have been delighted to be Queen, but it seems she was reluctant to marry him when she knew he would have to abdicate.
Selway's play deals with their meeting, their romance and ends with their marriage.
We are kept up-to-date with the story by another couple – the butler (Robert Hazle) and housemaid (Katie Arnstein) – who have their own romance and are privy to the superior couple's perverted sexual tastes.
The butler also plays the piano from time to time and gives us witty commentaries – à la Noel Coward – to music by Simon Slater.
Emma Odell gives a completely convincing performance as Wallis and the prince is played by Windsor look-alike, Grant McConvey.
There is a great deal of very funny bitchiness from the rest of the cast.
They joke that from the size of Wallis's hands and feet, she must have been a man. Luckily, the press didn't pounce on that information until the Prince announced his abdication on the BBC.
A very entertaining evening with many revelations, and originally devised by John Plews who directs the production. Well worth the trip to Highgate.