All shows listed under 'Script Licensing' are available for both professional and amateur theatre companies to perform in the UK or world-wide. Please call or email Ovation for availability and costs.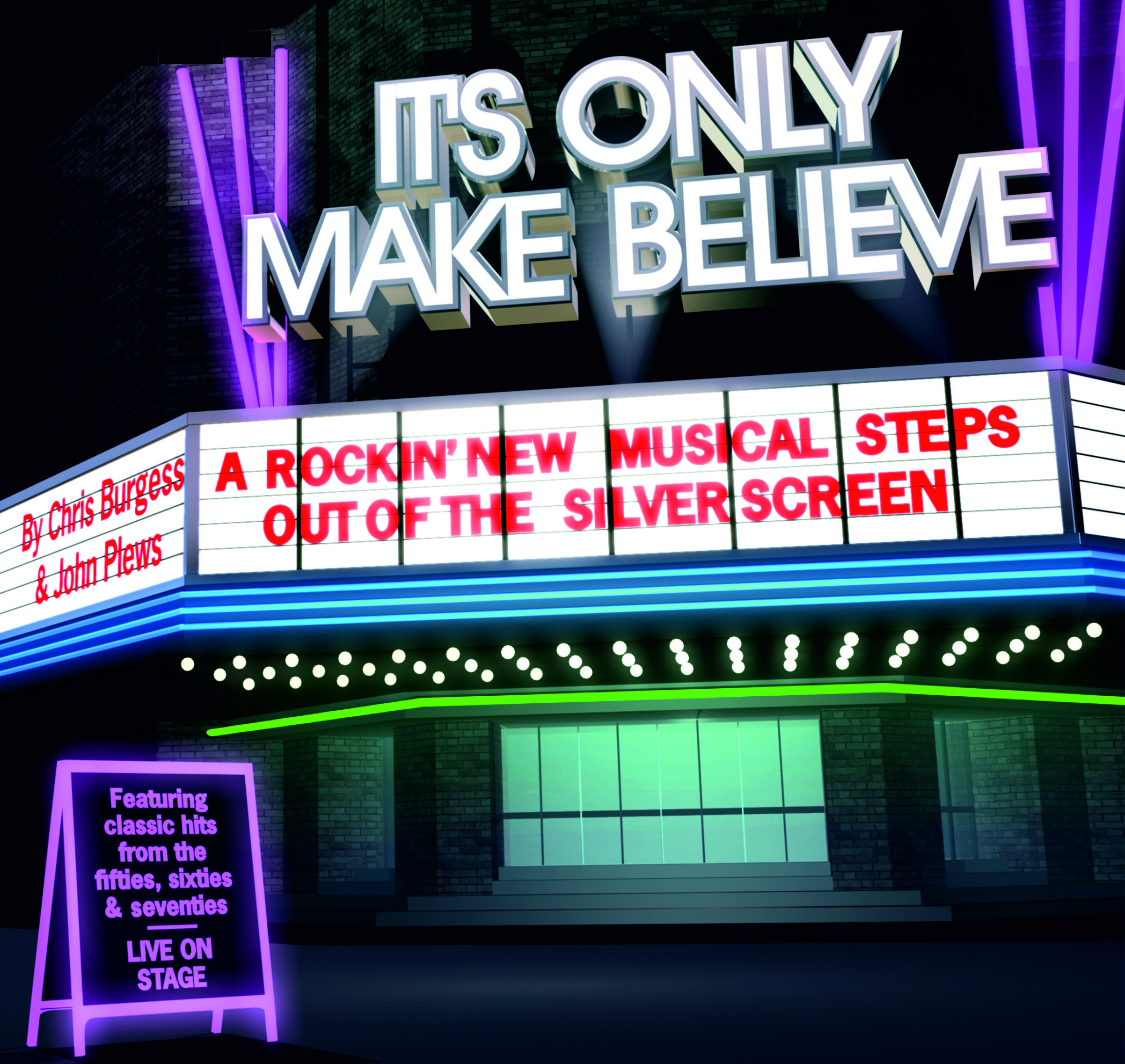 It's Only Make Believe is a jukebox musical devised and originally directed by John Plews and written by Chris Burgess. The songs are all popular tunes that were successful in their own right. It's a fun show and should be staged with entertainment being the key reason for putting it in front of an audience. Tongues, especially where the make-believe characters are concerned, should be firmly in cheeks. The show can be produced with a four piece band (can be expanded to eight).  The show requires a minimum cast of nine (5 female/4 male) and a maximum of sixteen to include a six boy/girl ensemble. Act 1 and Act 11 run approx 55mins each. 
The action takes place over two months between November 1977 and January 1978. (There is also a one song flashback to 1942). The setting is the foyer area of 'The Roxy' a derelict north London cinema. There are four 'American language' versions – one set in New York City, one in Miami Florida, one in Los Angeles and one in Kansas City – with appropriate changes.
The leading lady Carol and her boss, high-flying businesswoman Bev, are trying to refurbish a derelict cinema and turn it into a movie café where films, drinks and food will be available under one (repaired) roof. Carol's fiancée Kevin, a bit of a wimp, (he later reinvents himself) has been employed as the surveyor and we also meet Carol's wheelchair-bound Gran who worked at the cinema as an ice-cream girl thirty five years earlier. Carol's ex-boyfriend (an architect) is also employed by Bev and is trying hard to re-kindle the relationship.
Carol opens some rusty old film cans and out pop an assortment of 'B' movie stars whose films have never been shown. These "characters" (not ghosts but "make-believe" characters) have been languishing in the cellar for years and are determined to help Carol as long as she, in return, puts their films "back on the silver screen where they belong". We meet Brad Maguire – the all-action American hero (a cross between Indiana Jones and Errol Flynn); Donna Deecup – fifties icon and blond bombshell; Frankie de Chino – Mafia hit man and star of 'Mother's Day Shoot Out' and Lola Del Monte – the Spanish seductress who always says yes!
The film characters become involved with Carol and try to solve her problems. In an interesting twist we discover that Carol's granny once had an affair with the actor who played Brad Maguire. Eventually Carol and Bev's dreams are realised and the Roxy is set to re-open with a season of 'B' movies 'Gone but not Forgotten!'
IT'S ONLY MAKE BELIEVE - CAST BREAKDOWN
(all ages are approximate playing ages)
Beverly (Bev) Goodwin (aged 30)
Nominated for Business Woman of the Year
Smart, self assured, willing to take a risk
Carol Hawkins (aged 25)
Bev's hardworking assistant
Makes Bev look efficient. Constant boyfriend trouble
Kevin (Kev) Sinclair (aged 25)
Surveyor and boyfriend of Carol
Starts as a bit of a wimp. Transforms himself into a Travolta style disco king
Andy Milburn (aged 30)
Smooth talking Architect, Carol's ex-boyfriend
Sharp dresser – doesn't mind who he treads on to get what he wants
Gran, known as Jessie or Mrs H (aged 60 – in Act II Scene 2 she is 25)
Carol's grandmother (played in a wheelchair)
Sweet old lady who was wild in her youth
Should be played by a young actress as she needs to age down to 25 in one "flashback" scene
Brad Maguire (age 30-35)
Lead character and star of 'In Search of the Turquoise Pharaoh'
An all American hero – a cross between Errol Flynn and Indiana Jones
Donna Deecup (aged 25-30)
Fifties pin-up and star of 'The Girl in the Lurex Stockings'
Owes much to Jayne Mansfield and Marilyn Monroe
Frankie de Chino (aged 30-40)
Mafia hit man featured in 'Mother's Day Shootout'
Italian-American mix of Jimmy Cagney & Al Pacino
Lola del Monte (aged 25-35)
Spanish seductress, star of 'The Bride of Barcelona'
Carmen Miranda on heat – the girl who always says "yeth"
Harold C. Jenkins (aged 35-40)
Bank manager
Small one scene cameo – a little bit John Cleese<
Mr Richardson (aged 35-45)
The Bailiff
Five line part with a stick-on moustache
Workmen (all in hard hats)
Ensemble or can be played by the principals
(Andy, Harold C Jenkins and Mr Richardson can, if necessary, be played by the same actor)
IT'S ONLY MAKE BELIEVE - STAGE SET
The interior of the foyer of THE ROXY cinema. The audience should see the box office area and maybe the stairs leading to the circle etc.
There are three exit / entrances. (1) a door (wide enough for a wheelchair) which goes out onto the street (2) a door which says 'staff only' which leads into the cinema's offices and (3) the lift shaft where the elevator doors have either been removed or are hanging from their hinges. The lift shaft should be somewhere near centre stage, the other two doors can be either SL or SR depending on the layout of the theatre.
Two or three levels within the foyer area would be good for the musical numbers. Two stools can be used by the 'box office' and Carol needs a desk and a swivel chair.
A trap door or hydraulic lift it can be used to bring the movie characters up from the cellar and back down again. On their first entrance smoke and moving lights can be used to create the illusion of the make believe characters. If a trap or lift is not available, the characters can 'climb' out of the shaft but the effect is better if they 'rise'. In Act 1 Scene 1 there should be a 'DANGER' sign or black & yellow tape over the entrance to the lift shaft.
THE ROXY should have peeling wallpaper, torn film posters (pre 1957), broken windows, corrugated iron and exposed brickwork. The overall appearance should be of a cinema that has been derelict and unused for twenty years.
There is an option to slightly improve the look of THE ROXY during the interval, as if the renovation work has just begun.
WORDING FOR THE PROGRAMME
The action takes place in 'THE ROXY' a derelict cinema in North London. Act I: Scene 1 End of November 1977 Scene 2: A few days later< Act II: Scene 1 January 1978
Scene 2: A moment in 1942
Scene 3: January 1978
IT'S ONLY MAKE BELIEVE - MUSICAL NUMBERS
| | | |
| --- | --- | --- |
| PAGE | SONG | LEAD VOCAL |
| 11 | Big Time Operator | Bev |
| 14 | Oh Carol | Kevin |
| 16 | The Great Pretender | Gran |
| 19 | The First, The Last, My Everythin | Brad and Donna |
| 23 | Mack the Knife | Frankie |
| 26 | Sway | Lola |
| 29 | Way Down | Andy plus Carol |
| 31 | When Will I See You Again | Carol |
| 34 | Why Do Fools Fall In Love | Lola and Frankie |
| 36 | Come Back My Love | Brad |
| 39 | Never Can Say Goodbye | Kevin |
| 42 | Money | Bev |
| 45 | I Wanna Be Loved By You | Donna |
| 47 | It's Only Make Believe | Carol and Brad |
| 52 | As Time Goes By | Frankie |
| 54 | My Boyfriend's Back | Carol |
| 56 | Knock on Wood | Kev and Carol |
| 58 | Rockin' All Over The World | Andy |
WALK IN: Seventies compilation CD (any upbeat tracks not in the show) PRE-SHOW: Love is the Answer (Van McCoy) (for the 'radio' announcement) INTERVAL: Seventies compilation C.D. BOWS: Love is in the Air (John Paul Young) WALK OUT: Summer of '42 (Biddu Orchestra)
SOUND FX: Recorded voice over (page 23)
IT'S ONLY MAKE BELIEVE - MUSICAL NUMBERS - DESCRIPTION
UK performance rights for all songs can be obtained from PRS
1. Big Time Operator. The least known of all the songs in the show, it was a UK top 30 hit for Zoot Money in 1966. Bev starts the show with a powerful vocal.
2. Oh Carol. Huge hit in UK and USA for the singer / songwriter Neil Sedaka in 1959. Kev sticks to the original arrangement.
3. The Great Pretender. First top ten hit for US vocal group The Platters in 1955. Gran sings from her wheelchair with a lot of emotion.
4. You're The First etc. Brad & Donna sing this Barry White disco hit as a duet to Carol.
5. Mack The Knife. Recorded by many, many artists, this should be a swing arrangement in the Bobby Darin style for Frankie to show off his song & dance routine.
6. Sway. Originally a hit in 1954 for Dean Martin. This version should be in a sultry Jazz style for Lola to show off her sexiness.
7. Way Down. Although made famous by Elvis (he recorded it in 1976), the song was written by Laying Martine Jr and has been recorded by several other singers and bands. Andy can almost "do an Elvis", especially if he also plays the guitar.
8. When Will I See You Again. Although a hit for The Three Degrees (1973) Carol can show off her vocal range in her first solo number as she pines after Kev. BV's from Lola and Donna.
9. Why Do Fools Fall In Love. Classic Doo-Wop fifties song (by Frankie Lymon) used in rock 'n' roll style as a rousing finale to the first act.
10. Come Back My Love. Originally a US hit for The Wrens in 1955 we use the UK hit arrangement by the group Darts from 1978.
1. Never Can Say Goodbye. One of the classic disco hits (Gloria Gaynor – 1974) we switch sexes on the song as Kevin tries to explain to Carol why he's come back to her.
12. Money. Although the song was recorded by many R&B groups it was The Beatles who made the song famous with John Lennon's rasping vocal. Bev sings our version with determination – she really does need the money.
13. I Wanna Be Loved By You. No pretence, this is a straight steal of the Marilyn Monroe version. A great showcase for Donna Deecup.
14. It's Only Make Believe. Originally a country hit for Conway Twitty in 1958. We use the more powerful arrangement that became a hit for UK group Child in 1978. The title song – a big duet for the two main characters.
5. As Time Goes By. Originally written in 1931 for the Broadway musical "Everybody's Welcome" it became internationally recognized as the featured song in the movie Casablanca. Frankie can show off his vocal talents by singing the Dooley Wilson version.
16. My Boyfriend's Back. In 1963 the song spent three weeks at number one on the US charts for girl group The Angels. It has been covered many times since but Carol and her backing singers should stick to the original sixties girl group sound.
17. Knock On Wood. Huge sixties soul hit for Eddie Floyd, we use the disco version arrangement recorded by Ami Stewart. Rousing last song with a great repetitive chorus. Everybody on stage except Andy.
18. Encore Song. As the rock n' roller, Andy has usually taken the lead but everyone should join in. Rockin All Over The World (Status Quo) or Gimme Some Lovin (Spencer Davis / The Blues Brothers) are both great audience hand clapping songs to end the show. Either one can be used after the bows.
RECORDED MUSIC - DESCRIPTION
Walk In / Interval Music. A compilation of late 1977 hit tunes (as long as they are not in the show).
Love Is The Answer. Typical instrumental loved by cheesy D.J's who liked to "talk over" tunes.
Love Is In The Air. The reason for using this for the bows is that the band should come out and take a bow with the cast. Unusual, but the musicians (and the technicians) should receive their deserved credit. The song was used for the final credits of the Australian movie "Strictly Ballroom".
Summer Of 42. The Biddu Orchestra's disco version is a good walk out track, the film having been mentioned in the show.
Apart from the crashing timber near the beginning, the only SFX is the Italian "translation" on page 23. The voice-over should be done as a "soft whisper" in the style of "for the viewers at home only".
Modern radio mics can be used if well-hidden. However, it's a nice touch if Frankie uses an old fashioned Shure skull type mic for "As Time Goes By".
Minimum required is a four piece band:
Piano / Keyboards
Guitar
Bass
Drums
In addition, one or two saxes (tenor and / or alto) and second keyboard (especially useful for "disco strings" and other instruments).
"It's Only Make Believe" is available for both professional and amateur companies in the UK and the rest of the world. There are four 'American language' versions – one set in New York City, one in Miami Florida, one in Los Angeles and one in Kansas City with appropriate changes.
If you would like to produce "It's Only Make Believe" please contact John at Ovation's London office on: 44 (0) 7973 502 189 email: john@ovationproductions.com